fStop Warrior Project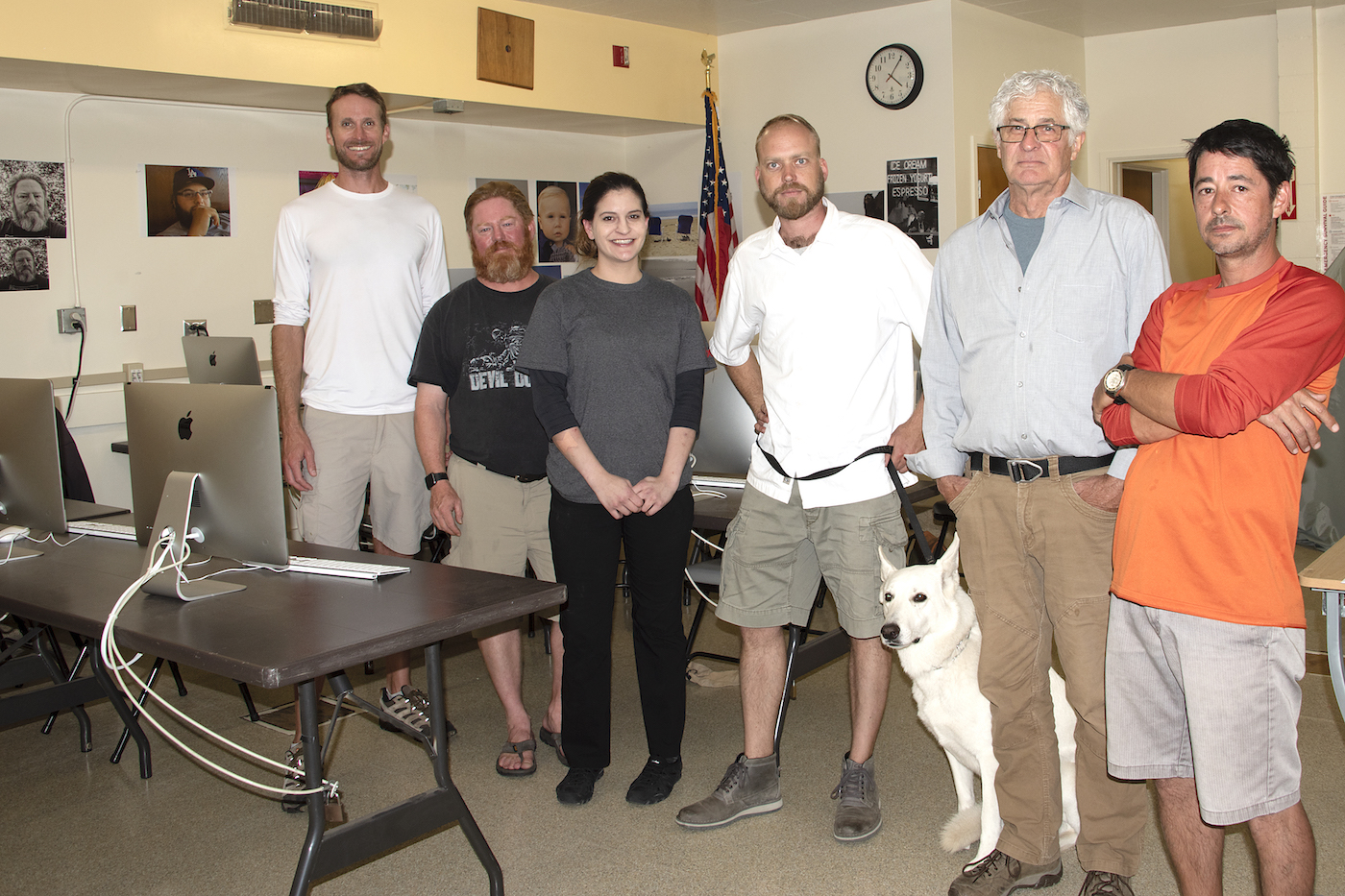 9/11," the same code we assign in the United States to call for emergency services, also marked the 18th year since the immeasurable attack on our soil with catastrophic loss of lives, many unanswerable questions and thousands of people to honor who gave unconditionally to respond to the emergency call at the Twin Towers. The four attacks killed approximately 3,000 people from 93 nations; 2,753 people were killed in New York, 184 people were killed at the Pentagon, and 40 people were killed on Flight 93, along with many first responder deaths since. A result of the attack was increasing our military forces in Iraq and Afghanistan, and now our 9/11 veterans are joining many fellow veterans of other wars to find a new path in their life when they return "home."
Last week, Rob Robinson humbly emailed me about a new class he was taking in photography and wondered if I would consider writing about it. He shared, "I recently started working with the fStop Foundation, a Santa Barbara based non-profit organization dedicated to improving the lives of military veterans who have served since September 11, 2001. Our flagship program is called the fStop Warrior Project, a free, college-level photography course offered through the Santa Barbara City College School of Extended Learning. Alongside fellow veterans, the class offers students military camaraderie in the civilian world, recreating the unique bond shared among military service members. Together, they explore new skills that could turn into a rewarding hobby or even a new professional photography career. As a military veteran and class graduate myself, I stand behind the program and hope to share it with my fellow vets who aren't yet aware of the opportunity."
The class instructor and founder of the fStop Warrior Project, Terence Ford, Rob and I met at their SBCC Wake Campus classroom to talk about this pertinent opportunity available for all U.S. Military Veterans. Some students who just graduated the first session were also there to share a bit about themselves and what the class means to them. The first session was successful, so Terence set up a second session that started on September 10.
The classroom they were given to use is an unused section of the Wake Center's cafeteria. The students helped to transform it into a classroom. There is a U.S. Flag on a stand proudly in the corner surrounded on both sides with the prints of the students' photography assignments on the walls. There are long tables with iMac computers, updated Adobe Photoshop software, a Canon large-scale printer, digital cameras, and other supplies for the students to use.
Terence said, "The iMax computers were purchased by the SBCC Foundation and the Adobe software comes from SBCC. Canon donated the PRO 1000 printer and sometimes supplies the ink and paper, otherwise we need to purchase the paper and ink using our fStop Foundation funds, which is a 501(c)3. The inks cost $50 per cartridge and the printer has 12 separate cartridges! Right now our biggest need is more DSLR cameras for the students."
We talked a bit about Terence's background and how the program started. He said, "I grew up in Chicago and attended the London Film School. I have taught photography at The Pathway Home in Younteville, California, for three years and then invited by USMC to bring the program to the active duty WWB for three years. I never served in the military but I did work at the Wounded Warrior Battalion (WWB) at Camp Pendleton for three years presenting digital photography as art therapy to wounded marines and sailors who were being medical retired due to their injuries. For the fStop Program at the SBCC Wake Campus in Santa Barbara, I am the instructor and the Executive Director of the fStop Foundation that supports it. I am also the co-founder of the Fellowship of Brothers, a Post-9/11 veterans support group, that meets every Monday night the Veterans Building in Santa Barbara. Been doing this about 10 years now. My commercial photography website is: www.terenceford.com.
A few of the students who have taken the class shared their experiences for our readers:
Stefan Landfried: "U.S. Navy Medicine and half time with the Marines doing front line medicine three and a half years, finished course of duty 2010. I was definitely a different person getting out than before, not every program is perfect for every veteran. This program helped. I always liked photography, learning it in a class with fellow vets was comfortable. Some assignments helped me with dealing with interactions with people. I also like Project Healing Water Fly Fishing SB."
Darian Marino: "Air Force two years as a munitions technician building non-nuclear rockets, bombs and missiles, discharged due to injury with internal partial decapitation. I enjoyed being in the military, I wish it was longer. It was weird being back with civilians especially in the work environment because there is no structure or discipline. I like the class 'cause for a while I felt that I didn't fit in with civilians or other vets mostly cause my trauma from the military had sexual assault involved and stuff like that. But everyone was really supportive with each other in the class, people would help me with the computer, no one was judgmental. I took pride in the pictures I took and definitively look forward to the next class."
Matthew Nancarrow: "Army 2002 – 2005, deployed during the invasion of Iraq 2003 and spent a year in combat. Upon returning from the military, I went to school and failed, so I started in the professional world. I had a slightly difficult time coming back, my brother was in the same unit as I was in, so coming back I had someone very close to me and easy for me to lean on. In 2012, he committed suicide, my grandmother passed away, my uncle drank himself to death and my dad moved away and stopped talking to me. I associated photography with loss. Here in this class I did more nature photography than people. The class sent me a photo of Rambo taking a photograph of a monarch butterfly! It was so great, I loved it, and my response was no shit there I was man, that was the image that defined my fStop experience."
All the students expressed a mutual respect for each other and the thread that sews them together. Please spread the word to all veterans, we are here for each other in this class.
Rob's 9/11 tribute on his Facebook page sums it up well:
"On September 10th, 2001, I left basic training at Lackland AFB, TX as a new airman in the United States Air Force Reserve. I arrived at Sheppard AFB that evening ready to begin my training the next day as an F-16 Crew Chief for the 419th Fighter Wing at Hill AFB, UT. Then the world changed. My military service and the experiences I've shared with my fellow service members has been and continues to be a highlight and driving force in my life. I am thankful to have served with such incredible individuals, and to be one of the fortunate who made it back home. To those who did not, I salute you and the family and friends you left behind. Thank you all for your service and your sacrifice. My hope is that, 18 years later, we may begin to find true reconciliation and healing. The United States of America is something special, and while it is important to remember our struggles and the sacrifices made by heroes, never forget should not mean never forgive or move beyond. I hope that one day, my oldest son who is only two months younger than the war on terror, and every other human being with whom we share this planet, will know a world without conflict and division… indivisible, with liberty and justice for all."
411:Photo Class: contact Terence Ford: ford@pipeline.sbcc.edu All class materials supplied for free, no prior experience required.
Fellowship of Brothers 9/11 Peer Support Group Every Monday 1830-1930, SB Vets memorial Building, email: info@fstopwarriors.com
You might also be interested in...