A Dance Ode to West Side Story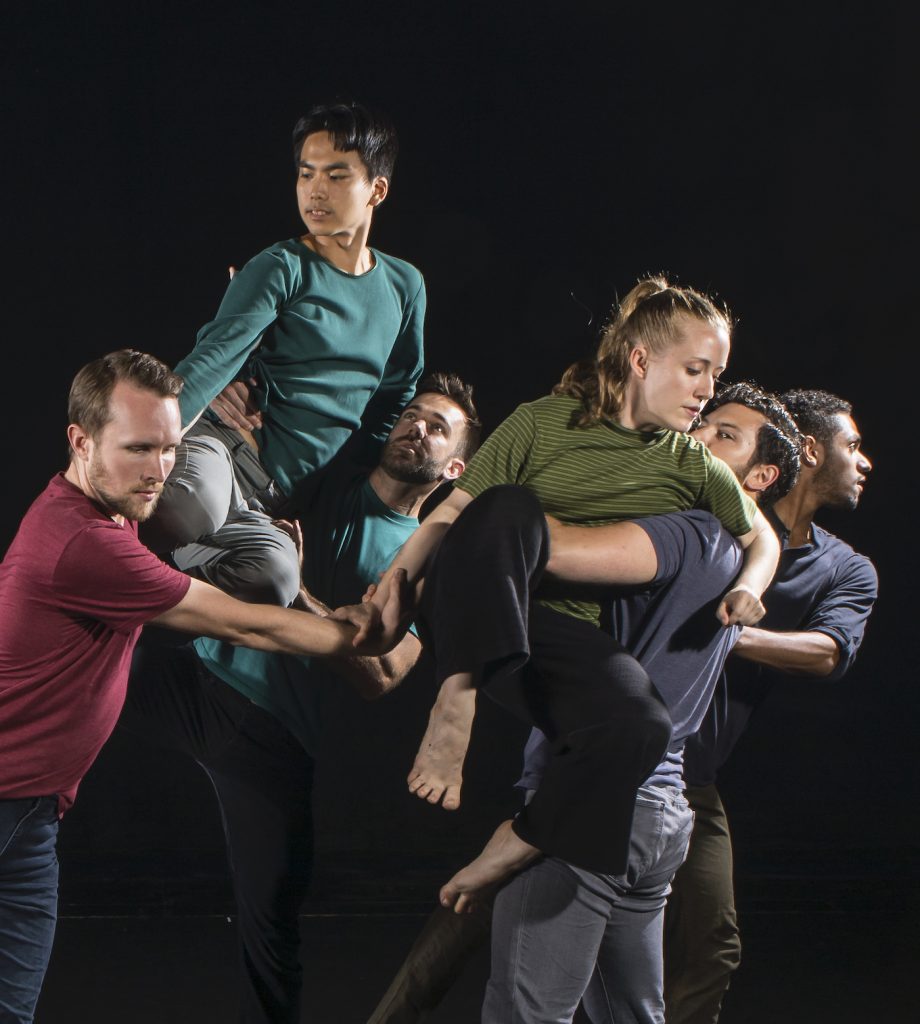 Imagine West Side Story without the West Side. Or the story. Any story.
That's the premise taken on by choreographer Doug Varone, a longtime favorite of SUMMERDANCE Santa Barbara/Santa Barbara DANCEworks, long-running annual residency series at the Lobero that comes to a close this week after two decades with this weekend's debut performances of Somewhere. The half-hour piece is how the veteran dance architect Varone is executing his bold idea of stripping the narrative from Leonard Bernstein's iconic musical score for West Side Story and in its stead creating a work in which the movements largely come from his intuitive impulses, movement games, and the energy generated by the score's sounds and structure.
"No Jets. No Sharks. No Maria. No Tony. No Bernardo. No Riff. No Anita. No New York City." That's how Varone described the situation confronting him, the dancers and the audience for his latest project, making clear the warning that the portrayal of the characters, story and dance sequences will be missing from the new piece. The caution was originally delivered at the beginning of three "Friday Club" sessions last month that allowed contributors to see snippets of sections and how they were created, followed by discussion with Varone and his company members.
It bore repeating the following week because Varone's concept is not only ambitious – in fact it's the first time anyone has ever been given permission by the Bernstein estate to use the music without the story – but also perhaps, and even purposefully, a bit mind-boggling.
Even to him.
"The vocabulary (of what we're creating) is not dramatically-driven," Varone explained. "It's just form and function… The complicated aspect is how not to get sucked back into what we all know, what we bring when we hear the score. The music has a lot of 'baggage' – it's part of our cultural identity. I can see the movie all the time if I let myself go there."
Indeed, the musical is so indelible and iconic, some can even remember the movements somatically. Julie McLeod, the longtime Santa Barbara dance impressario who was a member of the dance "swing" team during West Side Story's original Broadway production in the 1950s, realized that when she saw an early rehearsal of sections of Somewhere at the Lobero.
"When I heard the score, my legs started twitching in the movements I'd done 62 years ago," she said. "They were doing different choreography to the same music, but my body was doing what Jerome Robbins did."
So, imagine the hurdle our collective memories will have to surmount to be present with Somewhere when the work premieres at the Lobero on Friday and Saturday evenings, September 6-7. For Varone, crafting the work represents the closing of a circle that began when he made up movements and dance moments in his bedroom as a five-year-old listening to the West Side Story soundtrack on an LP, long before the Robbins' choreography and musicals in general pushed his career choices as a dancer and creator.
"I grew up listening to the music, and it just compelled me to move to it back then," he recalled. "It wasn't something I thought about. I was making small little dances that were meaningless, just moving around to music for the first time."
Now, Varone has a chance to revisit the music once again without much else to consider besides the sounds and sensations that arise.
"It's been liberating to take charge of the score without any real sense of dramaturge behind it, and to give myself permission to not live in that world… It's been a dream for me to step into this music in a completely different manner, to let different stories be told, and let your imagination fly with it."
So Varone and his dancers have been reacting to musical moments, momentum, relationships and energetic shifts, sometimes through improv or other games, and often prompted by what the choreographer can communicate with his own body.
"We're taking a look at the sounds that pushed the story forward, just not the story we know," he explained. The remarkable score tells you the architecture of how to build a dance. It has its own engine."
Still, Varone is not only aware that most people could be confounded by not seeing the story that goes with the score, but is actually eager to engage.
"I want to know, what is the reaction when the curtain goes up and I'm delivering these steps that you aren't used to? What's that internal dialog? How does that challenge you? How do you choose to enter into the work? What can you find that's new? That's what fascinates me."
As a choreographer who creates work that people can viscerally feel, Varone is curious about the conversation, aloud or otherwise, that might be generated by Somewhere.
"In my own way, I'm paying homage to the score itself," he said. "There's a great humanity to the musical. This piece has the great potential to serve that idea in a well-meaning way. I have high hopes that it will tour, and can be used to talk about perceptions… Because life is like that: We have judgments and expectations. Are we so set in what we think we know that we aren't able to change? I want to open up that dialog."
Rest assured, though, that Varone & Co. won't leave the audience in a bewildered or dissonant state. After intermission, Somewhere will be followed first by two short piano pieces, a solo to a Chopin nocturne danced by the choreographer at last year's 10th Anniversary DANCEWORKS celebration, and a duet set to a Rachmaninoff prelude. The evening ends with Lux, a work Varone began choreographing at the tail end of an earlier residence here 13 years ago that takes its title from the music, Phillip Glass' "The Light." The company built the first 17 minutes of the piece in less than a week, and it has gone on to be a hallmark of the company, including in the majority of programs since. This weekend's performance represents its first full production in Santa Barbara, a fitting close to the two decades of SUMMERDANCE Santa Barbara/Santa Barbara DANCEworks that ends when producer Diane Vapnick retires after the weekend.
"I wrote it after a period of creating darker pieces for operas and theater where everyone died at the end and I wanted to enter a different universe," Varone explained. "It has great optimism to it. In today's times, it's wonderful to send people back out into the night with something uplifting. And it's great to finally bring it back home."
Dance Dimensions: Summer Lab Closes
The culmination of a six-week dance intensive offered in UCSB's second summer session, the dance concert features new works by faculty member Delila Moseley, Christina Sanchez, and Brandon Whited, plus pieces by dance students Colson Lynn, Camille Locke, and Jeff Schultz. Ballet, contemporary, improvisation and theater pieces will all be represented. The free performances are 8 pm Thursday through Saturday, September 5-7, plus 2 pm on September 7-8 at the Ballet Studio on the UCSB campus. Call (805) 893-2064 or visit www.theaterdance.ucsb.edu.
You might also be interested in...