Woodstock Photography Exhibit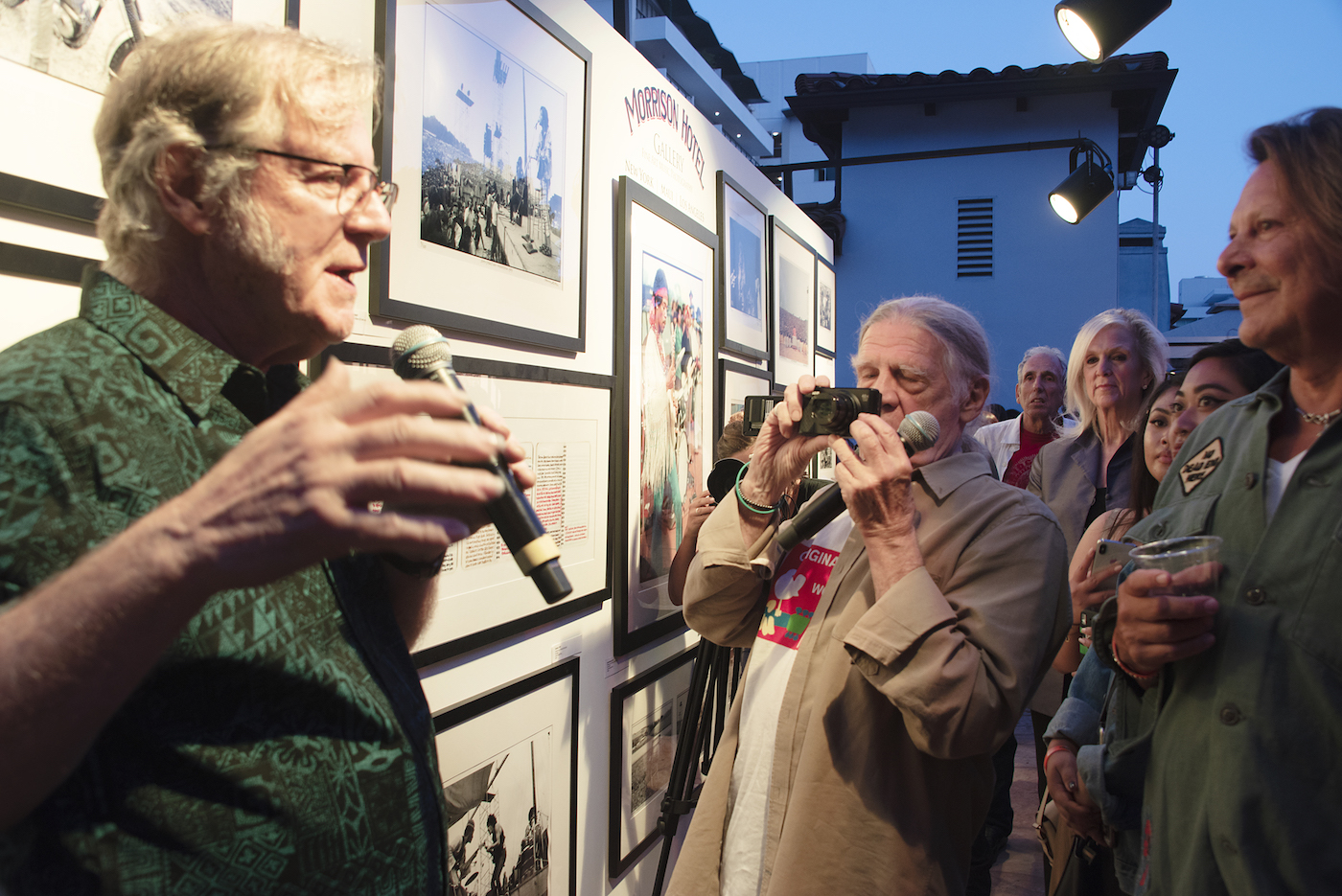 The prestigious Morrison Hotel Gallery (MHG) held a VIP exhibit soirée to launch their newest photography exhibit titled, "Woodstock: 3 Days That Lasted 50 Years," at their Los Angeles Sunset Marquis Hotel gallery on Wednesday, August 7, followed by openings in New York City and Hawaii. Thanks to Dawn Kamerling, The Press House PR for the MHG, I was invited to cover their Los Angeles event.
The exhibit features framed archival silver gelatin and digital prints in black and white and color taken by photographers official photographer of Woodstock Henry Diltz, Al Clayton, Amalie R. Rothschild, Baron Wolman, Danny Clinch, David Gahr, Eddie Kramer, Elliott Landy, Frank Stefanko, Graham Nash, Jim Cummins, Joseph Cultice, Ken Regan, Lisa Law, Norman Seeff, Rowland Scherman, and Sam Erickson. Key photographs shown at the gala were: Jimi Hendrix playing his guitar solo of the United States National Anthem "The Star-Spangled Banner," Johnny Winter, John Sebastian, Janis Joplin and The Who by Diltz; The Band by Seeff; Joan Baez and Arlo Guthrie  by Landy; Santana, Grace Slick, and classic images of the attendees by Wolman. MHG print framing is done by Brian Mazor, formerly of Santa Barbara.
Celebrity photographer Timothy White welcomed the guests and introduced Diltz, Michael Lang (one of the four original Woodstock founders), musician John Sebastian (The Lovin' Spoonful), and photographer Baron Wolman. They shared their memories of the festival and talked about each photograph as the guests toured the exhibit with them.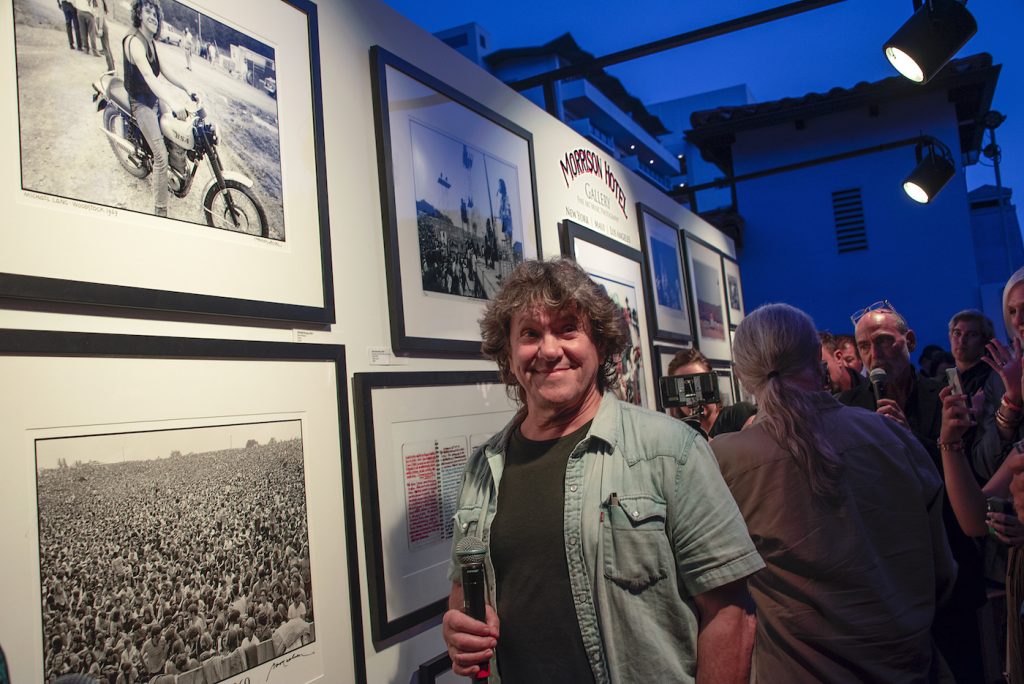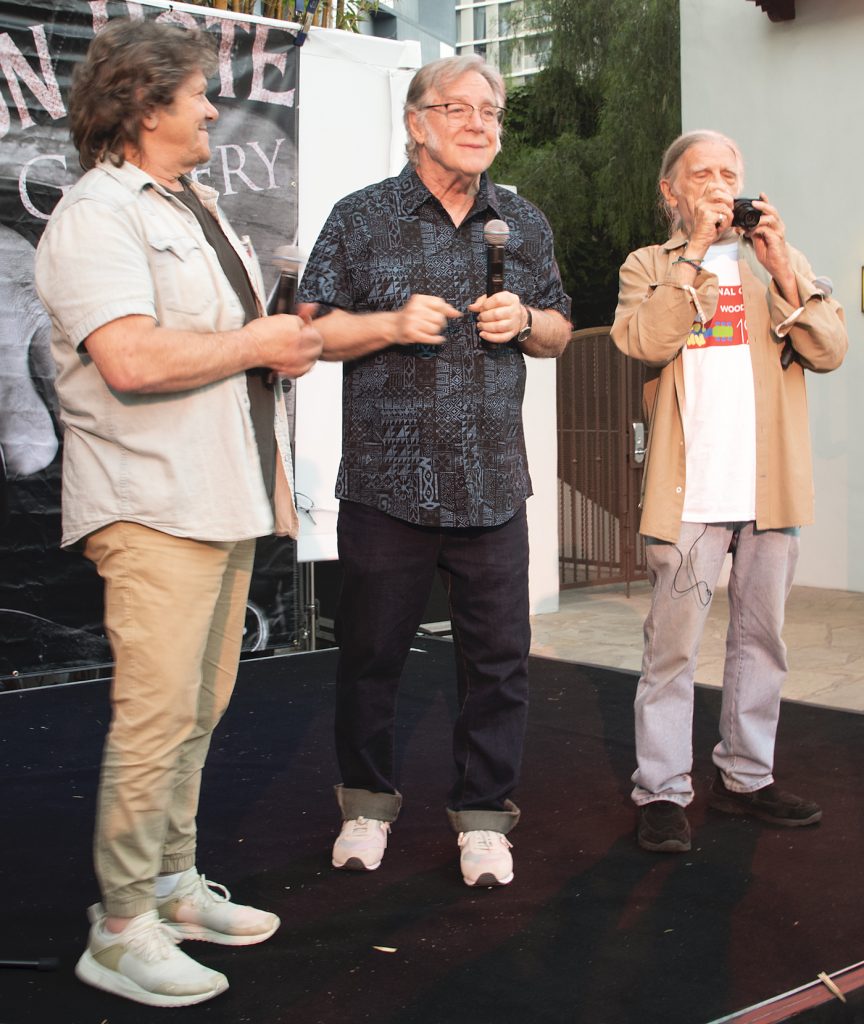 They talked about convincing Richie Havens to open the event (Sweetwater was supposed to but couldn't get there), who played for three hours and made up the song "Freedom" as he had run out of material; Max Yasgur, a republican who supported the Vietnam War, who chose to rent his 600-acre dairy farm in Bethel, New York for the event settling on approximately $75,000; the iconic playing of the "Star-Spangled Banner" by Hendrix occurring at dawn simply because the band schedule was six to eight hours behind; a photograph of Diltz's personal notes from the event that reveals the goings on for two weeks from set up to take down; and Swami Satchidananda's appearance, which was requested by Lang to set a tone of peace at the beginning of the festival due to the overcapacity amount of attendees at 500,000, who said, "let us find peace within ourselves first." The presentation closed with guests invited to have a photo op with Diltz, Lang, and Sebastian on stage taken by the MHG's event photographer.
Guests included Kelly Kathleen, Gianluca Gibbons, Alexandra Tweten, filmmaker AJ Wedding, KLOS radio's Sarah Garcia Cano, Steve Jones (The Sex Pistols), Julia Oxman, Gabriel Olsen, Alison Martino, Jerry de Wilde, Eric "ET" Tecosky with Katrina Nelson, Ross Halfin, James T. Miller, and Kimberly Faye Davison.
Lang's new book, Woodstock: 3 Days of Peace & Music, was available for purchase with a personalized signature from him and Diltz at the opening. The open bar and hors d'oeuvres were prepared by the Sunset Marquis Hotel's James Beard Award-Winning Chef Michael Schlow.
The MHG is inviting anyone who attended the original Woodstock Festival to contact the gallery to participate in a special legacy project: www.morrisonhotelgallery.com
411: The Morrison Hotel® Gallery was founded in 2001 by former record company executive and producer Peter Blachley, music industry professional Richard Horowitz, and music photographer Henry Diltz, and is joined by NYC photographer Timothy White in representing the top photographers of music in the world.
You might also be interested in...