The Accidental Abstract Artist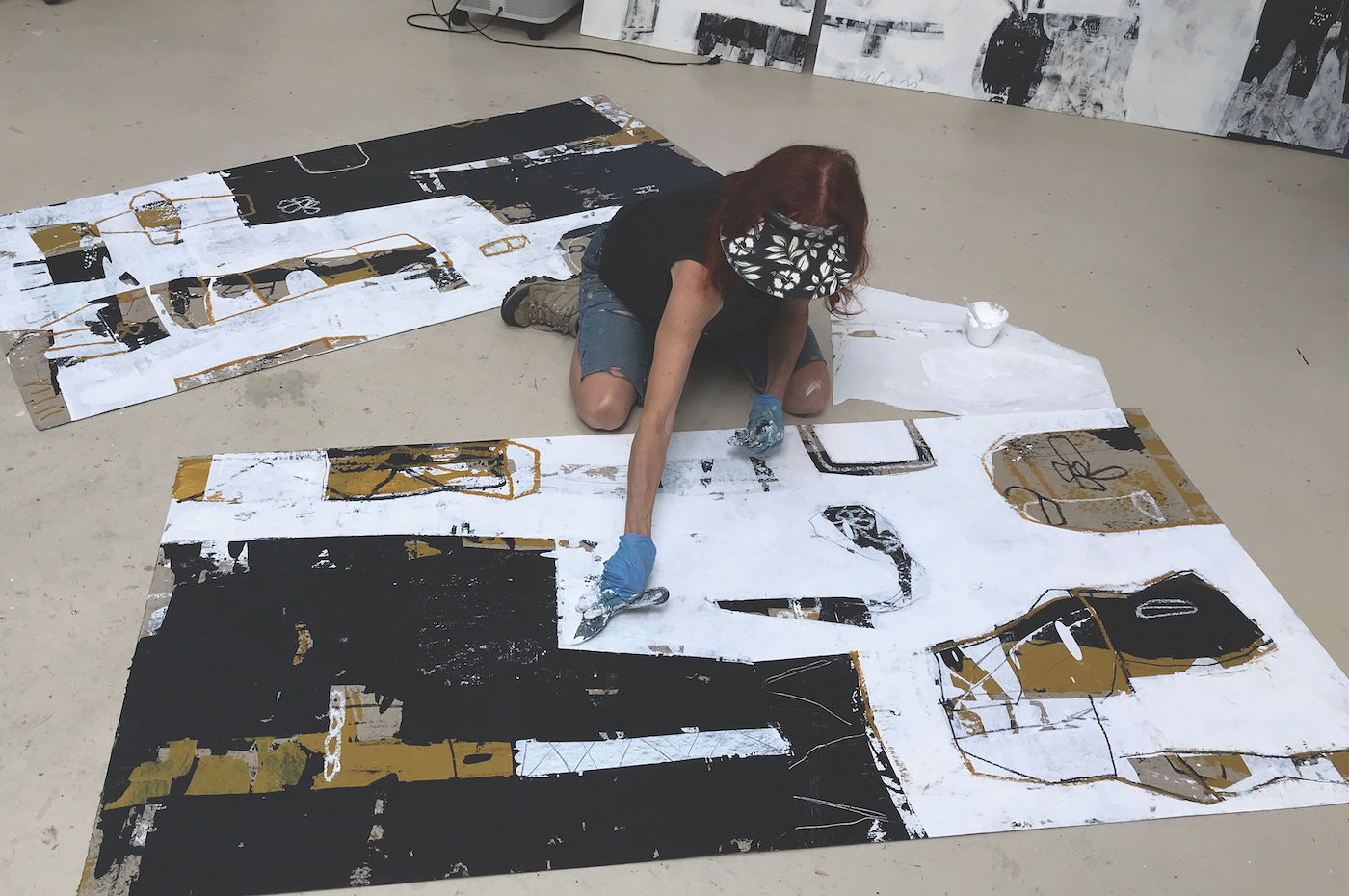 Peggy Ferris knew she wanted to be an artist ever since her childhood on Long Island, when she used to escape a chaotic family that included four sisters by heading into her room to draw. "I was really intrigued with capturing images, particularly of horses, trying to catch its spirit in a drawing," she said, sitting on a couch in her Foothill Road-area living room decorated with dozens of her abstract paintings.
The desire to capture spirit on canvas still holds. But back then her parents strongly discouraged her from pursuing art in college at UCSB (the family moved to L.A. when she was in junior high), so Ferris earned a degree in English, then defiantly and abruptly left for Europe in 1977 seeking exposure to fine art. A seven-month trip became a two-year stint in The Hague, where she attended the Royal Academy of Art, studying graphic design and apprenticed with a local design firm.
Lured back to the state by her parents' offer to pay for her studies at the Art Center College of Design in Pasadena, Ferris graduated with honors, then soon returned to Santa Barbara, where she launched a two-decade career as the sole proprietor of a design firm where her client list included ones as diverse as Elvis Presley's Graceland and Forest Lawn Mortuary.
In the early 2000s, bored by the migration of design work to websites on the Internet, Ferris returned to the fine arts, quickly finding success – perhaps perceptibly enhanced by the once ubiquitous lawn signs directing traffic to her open studio in Montecito. This Labor Day weekend, Ferris will once again throw open the doors to her five-year-old live-work space called Chaparral Studios as part of the annual Santa Barbara Studio Artists Tour.
"Experiencing art in person is so special," she said. "You're seeing where it was made, the paint on the floor, the big mess. It's really great to be around the energy of original art."
Q. How did you make the transition from graphic design to fine art?
A. Actually, it happened accidentally. I hurt my wrist playing tennis and it was too painful to work with a mouse. So, I got a tablet with a pen. One day I was talking on the phone on headset, just doodling on the tablet in Photoshop. All of a sudden I looked down and saw that I had an amazing piece of art that looked like an eight-foot painting. That's when the light went on. I thought, "I'm going to do this." I had picked up the thread of what I was doing in Holland many years earlier, which I had always meant to get back to. At that moment, I knew it was my exit from graphic design. It was a huge vision: right away, I flashed forward to a solo show of my paintings.
I dropped most of my design clients, and took a painting class at Adult Ed, and two years later I had the solo shows, one at Sansum Diabetes Clinic, then in the Funk Zone, in 2004.
From graphic design to abstract art seems like a huge leap.
It is, but the paintings I was doing at that time were first designed on my computer. I'd create them by free hand, and then paint them exactly to match. They were hard-edged paintings, which were really planned out, and it was pretty laborious. But I did it for four years.
How has your painting evolved since then?
The biggest transition was to working really loosely and spontaneously. I realized it was such a better way to paint for me. That was the beginning of what would become my style: lots of mark making, minimal use of color, attention paid to color and composition. It's the designer's eye applied to fine art. At first, the forms were very architectural, similar to graphic design, as if a newsletter were being transferred to a painting. It was a format I was familiar with.
Then that phase wore itself out, and I started painting even more loosely, with more of a gestural style, particularly after moving to Via Chaparral, where I'm more connected to nature, and everything feels more organic. I think people are very affected by their environment. I started painting more minimal pieces with more subdued colors that reflected the huge open spaciousness here.
Your technique is quite fascinating. I see lots of layers in the work.
It's a reductive process that incorporates gestural abstraction. They're created by putting a lot of information down on the canvas, just random paint and marks, gestures with chalk or markers, to have something to work with. Then the material information is reduced, eliminating parts of them by painting over and simplifying, choosing, and isolating shapes to save.
Given how intuitively you work, I'm wondering how your art serves you? Is it expression, communication, exploration, or something else?
Painting is a way of out-picturing retained impressions or emotions from my subconscious. I don't know what I'm going to come up with when I start. It's a process, and it's really pleasurable, the act itself. It's very engaging.
Are we supposed to understand your art, to know where the imagery comes from, or what it means? Or even what the process is?
I don't think it's necessary. You can always read the artist's statement, which describes the thinking in creating them, a window into understanding. Each of my series has a different story. But often it's not revealed to me until after the series is finished. So it's also a way of knowing myself. People generally respond viscerally to my paintings. They just resonate with them, maybe because it's an honest unfiltered expression. The viewer might have a completely different relationship with a painting than I do, which is great.
Speaking of which, has your relationship to your work changed over time?
By now, I know who I am as an artist. Your artistic point-of-view stays the same, like DNA. My personal aesthetic is a combination of very refined and funky at the same time, like my home (which find old rusty miniature tractors displayed on shelves next to beautiful sofas and below many of her paintings). That doesn't change and I strive to get the painting to match my own aesthetic impulse. The way I paint is the way I dress, is the way I decorate, is the way I dance, and the way I talk. It's a continuum; they're no longer separate. It's why I like being here, in a fluid live-work space. My life is integrated with making art. There's no real distinction between the two.
Given that your studio is right next door, do you find yourself painting every day?
No, I paint in spurts. It's important for me to keep the energy fresh. If I paint every day I tend to repeat the same moves and it becomes a little formulaic. I prefer to almost "forget" how to paint between sessions so that the energy is more about discovery than repetition. It's like the skillful enactment of improv vs. a comedy act of prepared material in which all the pauses, inflections, and punchlines are premeditated for a predictable outcome.
Two weeks after the tour, you have a new show opening, Unhinged, opening at the GraySpace gallery in the Funk Zone, along with fellow abstract painter Francis Scorzelli and assemblage artist Dug Uyesaka. What can we expect?
My pieces represent the Forager series. I call it that because the process is about foraging to find the parts of the painting you want to keep. It's also a metaphor for life. I can be something as simple as choosing an apple out of a bin, or spying beach glass on the sand. You're always looking for those special things. That's how I end up with a painting. It's a random sample of things I found interesting in the work.
Finally, I have to ask what was up with those "Abstract Art Studio Sale Open" directional signs that blanketed Coast Village Road when you lived in Montecito.
I'm not sure whose idea it was between me and my (realtor) husband. But I was too mortified to put them up myself, so he did it, just using real estate-type signs to direct people to my studio. It was just a few at first, mostly in the summer. Then it kept expanding. It was astonishing how many people followed them up to my studio. It was a treat for them to see the setting and the space where I created my paintings. People were enraptured with all of it and I sold a lot of work. I think people are just hungry for company, for human contact. I heard the most unbelievable stories as they came through. It wasn't just about selling my art, but also connecting. I loved it. But then the signs started getting knocked over, so it was time to move on.
(The 2019 Santa Barbara Studio Artists Tour takes place August 31-September 2. The opening reception is 5-8 pm the Friday before at Santa Barbara Fine Art Gallery, 1324 State Street [in the Arlington Plaza] where the public is invited to preview the tour, get a map showing the location of the 35 artists – including five in Montecito – and buy tickets. Studios are open Saturday and Sunday 11-5 and Monday 11-2 pm. Visit www.santabarbarastudioartists.com.)
Also in Art
Brian Anders Chessmar, a graduate of the Art Institute of Chicago, has been a Santa Barbara-based sculptor since 2004. Working in the mediums of stainless steel and bronze, Chessmar's creations can be seen throughout Santa Barbara, notably in the recently remodeled Cottage Hospital's boardroom terrace and central garden. This weekend, Chessmar Sculpture Studios is having a grand opening and reception for a new gallery at 320 East Anapamu Street from 3:30-9:30 pm on Saturday, August 31. The new space serves as both showroom and office and comprises both indoor and outdoor spaces to display sculptures. Live music, passed hors d'oeuvres, and wine will be offered, plus a silent auction of a sculpture for charity, while the artist will speak at 6 pm. Call (805) 637-7548 or visit www.ChessmarSculpture.com.
You might also be interested in...