Lauding a Leading Lady in Comedy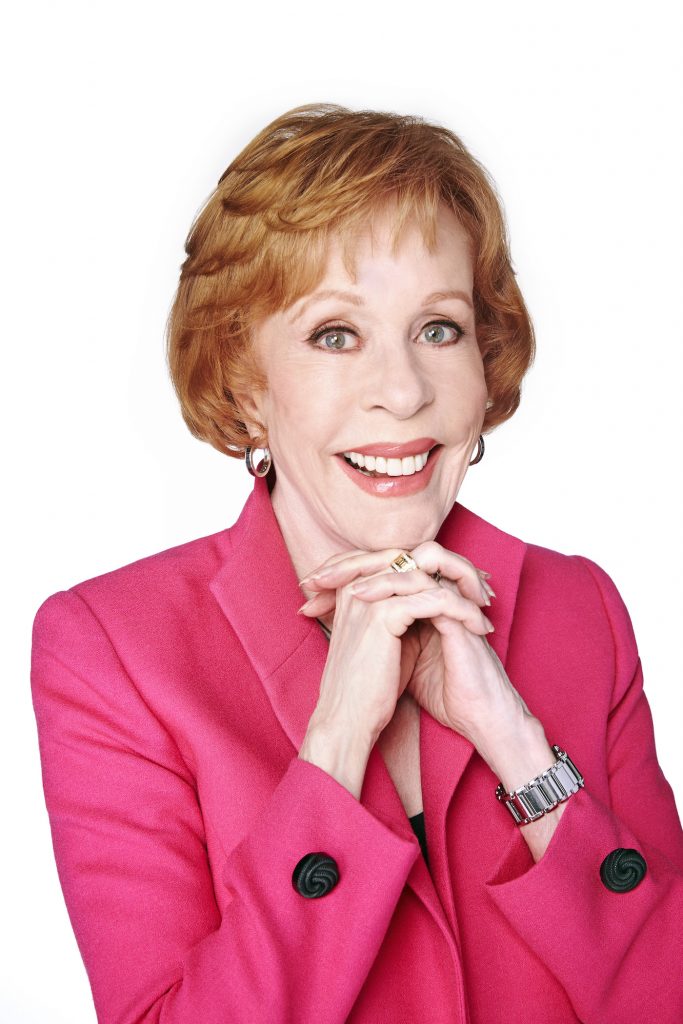 We're not pulling your ear – pardon, leg – when we tell you that Carol Burnett, the funny lady whose career dates back nearly six decades – is coming to downtown's jewel of a theater next month to be honored as a Granada Legend.
They could hardly have picked a more worthy or highly decorated entertainer, as the comedienne-actress has won Emmys (the first in 1962!), Golden Globes, People's Choice Awards, the Peabody and a Grammy, and has been the recipient of Kennedy Center Honors and the Presidential Medal of Freedom. She was inducted into the Television Hall of Fame and has a star on the Hollywood Walk of Fame. The City of Los Angeles named an intersection near her alma mater Hollywood High School "Carol Burnett Square", while CBS Studios dedicated "The Carol Burnett Artist Entrance" in her honor. Just three years ago, Burnett was bestowed with the prestigious Life Achievement Award honors from her acting colleagues at the 2016 SAG Awards, while earlier this year at the Golden Globes, Burnett was honored for Achievement in Television, the first recipient of a new award that is named for her.
After switching from journalism to a theater major at UCLA, Burnett began performing in New York City nightclubs, then received a Tony nomination in 1959 for her role in the Broadway hit Once Upon a Mattress. But it was back in Hollywood that the buzz really took hold, as Burnett turned appearances on The Gary Moore Show into a 10-year deal with CBS that led to the launch of her own 1967-78 variety series, The Carol Burnett Show. Despite running during a very turbulent period in Vietnam War-era America, the non-political show was a smash across big cities and small towns, in the Northeast, Midwest, South and everywhere, averaging 30 million viewers per week, the shows invariably closing with Burnett tugging on her ear. The one-size-fits-all format still works today, as evidenced by the enormous ratings for the 2017 airing of The 50th Anniversary of The Carol Burnett Show special, and the release earlier this month of a 21-disc DVD Box from Time Life, featuring every classic skit from the series and a whole lot more.
But Burnett didn't stop when the show ended, instead burnishing her reputation by penning several New York Times bestsellers, co-writing a Broadway play with her daughter, starring in any number of films, including movie adaptations of the musical Annie and the play Noises Off, directed by Peter Bogdanovic, and several more, plus numerous TV specials and guest shots on series, from Glee to Law and Order: SVU.
The 5th Annual Granada Theatre Legends Gala takes place on Friday, September 13, and this year also honors Opera Santa Barbara, one if its resident companies, as well as former Santa Barbara Center for the Performing Arts board president Dan Burnham and his wife, Meg, who actually live above the theater in the Granada Building penthouse. (More on them later). The event comes just shy of two decades after the irrepressible Burnett and her husband, Brian Miller, relocated full time to Montecito after spending just a single summer in what was supposed to be merely a weekend getaway home.
The 86-year-old comedy icon graciously spoke about her career and life in Montecito over the phone earlier in August.
Q. Let's start with staying local: what is it about Montecito and Santa Barbara that had you moving up here permanently back in the early 2000s?
A. It's like the Riviera without the French. Not that I don't like the actual Riviera, or the French, but it's just so beautiful here, and the locals are very nice. We've made some very good friends. Also, it's a very artistic community. There are so many people in show business, artists, musicians. There's a lot to do. The restaurants are great. And the traffic isn't horrible like it is in L.A. I can go to the grocery store (Vons) and be back in half an hour. In L.A., that's half a day's trip!
Speaking of the arts, what is your relationship with the Granada?
I have gone to a lot of the shows there. I saw Bernadette Peters, who was one of our regular guests on the show. Way back we saw Marilyn Horne with Barbara Cook. Kristin Chenoweth, who is also a dear friend will be there in September, too, so we'll be there for that. It's a beautiful theater, and I love seeing music there. [As far as the Legends], I was friends with Michael Towbes and his widow, Anne, who over the past few years said they would love to honor me, but the dates weren't working out because I was on tour every time. But I'm available this year so I'm really looking forward to it. A lot of my friends will be there. And it should be a lovely evening. There are others being honored that night too, and I can't wait to meet them, too!
I know you've talked about this before, and wrote about it in your most recent book. But I've still got to ask: Why do you think your variety show was so successful?
We were never topical, very seldom did we talk about what was happening in the world. We just went for the funny bone. But it wasn't just me. The whole rep company was wonderful. There were plenty of sketches where I'd be supporting Tim or Vicky, or they'd been supporting each other, not just me. We had great chemistry. Not every show was a gem, of course. But the audience could see how much fun we were having, and how much we loved each other. I think that was a big part of it… A lot of people grew up with our show. It was appointment television. There was no TIVO, no other way you could watch the show. I get so many letters about how the family would get together and watch the whole lineup, and they would bond. I'm thrilled that audiences of all ages still love it. I'm very grateful.
Why can't American TV do that anymore? Wouldn't it still be successful?
I think so. Funny is funny. You just need to relate to real life. But what happens today with a lot of comedians is that they want to be edgy, bordering on being mean. I'm not a prude, but I'm awfully tired of people making jokes about body parts. It's just not classy.
Well, you mentioned classy, so we've got to talk about the dresses. Will you be wearing one of those fabulous Bob Mackie creations at the Granada?
Probably. I wear them when I do my Q&A shows. They hold up. They're beaded, so you don't have to worry about ironing them! I've got one that's 40 years old and it looks fine.
You did that evening show here in town a few years ago. What's the draw for you?
It's just like what I used to do on my show but for 90 minutes. There is nothing planned or planted. I'm flying without a net. People just raise their hands and I call on them and they ask whatever they want to know. I enjoy it because it keeps the old "gray matter" ticking. I have to be on my toes and stay in the present, not thinking about what I did yesterday or what I might do tomorrow. So it's very good for me.
I know you do the Tarzan yell at those events. Will we hear it at the Granada with 1,300 people in tuxedos and evening gowns in the audience?
(Laughs heartily.) Only if somebody asks me to. Maybe if they do, I'll say, "You do it first!" When someone recognizes me and asks for it, I usually say yes, but not in a grocery store or a movie theater. I could scare people!
It seems you are nowhere near ready to retire.
Oh, no. Not at all! I go on the road a lot. I'm going to Canada in September, and back East in October. And there's my writing, and an occasional guest shot on TV shows. If they want me, I usually do them. I enjoy it all too much to stop.
So, Oscars, SAG Lifetime, Kennedy Center honors. Where does Granada Legends land?
It means a lot because it's my hometown now. It's gone by so fast I can remember when we were the newcomers. It's awfully nice to be recognized at home.
You might also be interested in...