Memories, Regrets, and Resurgence: Crosby Doc Opens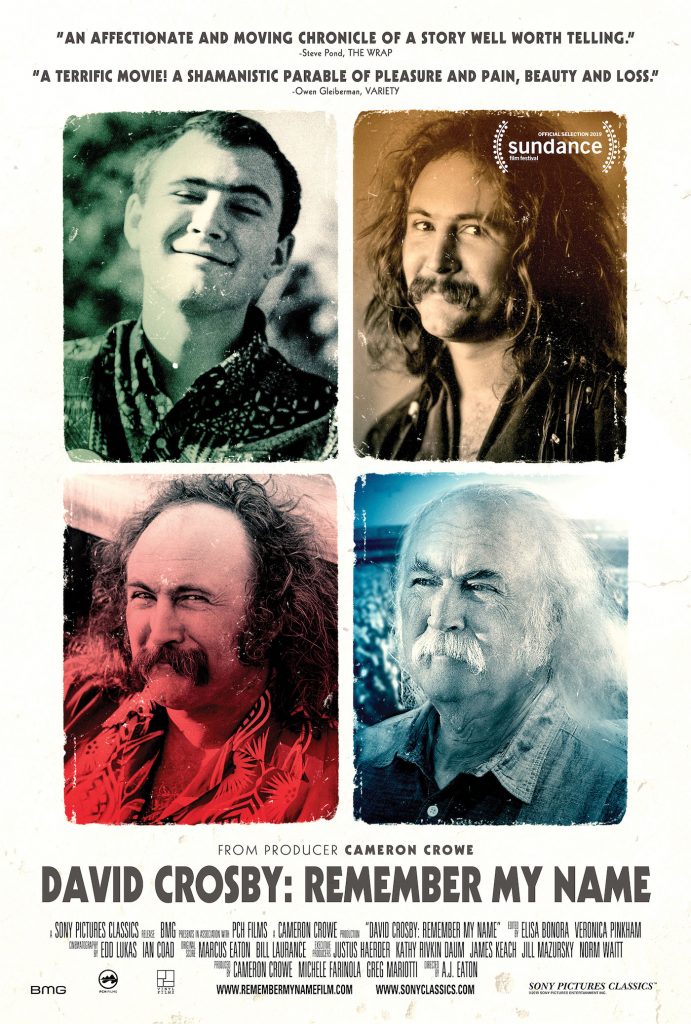 Watching David Crosby: Remember My Name at a SBIFF screening at a sold-out Lobero Theatre back on Super Bowl Sunday last February 3 was a thrilling but almost excruciating experience, made even more so knowing that the aging Santa Barbara-raised rock star was seated just a few rows away, watching himself sing, and squirm, on the screen. Remember My Name traces his career as a cultural force from his early days as a founding member of The Byrds, through the four-plus decades of Crosby, Stills & Nash (and sometimes Young) on up to his recent resurgence with the new, youth-oriented acoustic-based band Lighthouse. Biographical documentaries of living artists just don't come any more real or raw, as Crosby shares his regrets, fear, and disappointments as well as his still-hopeful exuberance about the healing nature of music over the 95 minutes of the film.
Remember My Name began shooting not long after the 2015 dissolution of CSN, when Crosby was battling his ongoing health issues – including a liver transplant as a result of Hepatitis C as well as three heart attacks – as well as other obstacles. Along with lots of archival footage, an interview conducted by Cameron Crowe serves as the heart of the film, as Crosby tackles questions from the former journalist-turned filmmaker (Crowe's biographical Almost Famous was about his time touring as a 17 year old with the burgeoning CSN) – a seemingly relentless series of queries about the rock star's poor choices and foibles.
"He asked me hard stuff. Some of what I went through is very hard for me to look at. But it was the right choice to tell the truth the way we did," Crosby told me in a brief one-on-one interview echoing the official post-screening Q&A session a few minutes earlier. "I've had a checkered history, a lot of ups and downs. [Cameron] was merciless. He asked the toughest questions I've ever been asked. And they hurt… I wound up wanting to cry a couple of times, which you can tell."
Indeed, Crosby said, some of it was so painful, he insisted that a couple of sections be edited from Remember My Name. "I only had one job. All I had to do was not lie… [But] there were at least two things that I said [later] could not go in the film under any circumstances. And they're both there. I didn't have final cut. But it's a good thing… We weren't interested in doing a prettified version of my life… It's a remarkably honest picture. It's not comfortable being the subject of it – like being naked in public. But I'm happy how it came out."
In the doc, Crosby, who turns 78 on Wednesday, reveals the low-down of, and takes responsibility for, his feuds with former colleagues Young, Nash, Stills and Byrds' founder Roger McGuinn – all of whom he is no longer in contact with – and also confronts his drug-addiction issues. But Remember My Name isn't all gloom and doom. There are lots of scenes of musical triumphs, and even more about his relationship with the former Jan Dance, his wife of 32 years, who speaks lovingly of her husband, although she also waxes about her fear that the road-dog rocker may simply not come home from one of his tours, succumbing to a health issue while on tour. Still, the few scenes about Crosby's late-in-life resurgence with his new bands – the Lighthouse show last fall, also at the Lobero, was one of the highlights of the year – provides something of an upbeat ending for the movie.
"That band has a really wonderful chemistry," Crosby told me. "They're young and brilliant and great musicians. And it's a cooperative effort, which makes it a very emotionally rewarding experience."
Remember My Name was acquired by Sony Pictures Classics at Sundance, where it screened just a week before its SBIFF debut at the Lobero – where Crosby, a former Crane and Cate School student, first performed at 17. But the distributor took six months to release the film in major cities. It opens this Friday, August 9, at SBIFF's Riviera Theatre for a three-week run through August 29. Biting the bullet once again, Crosby will be on hand for another Q&A session following the first screening, at 5:15 pm.
You might also be interested in...