Body-Mind Centering Association Conference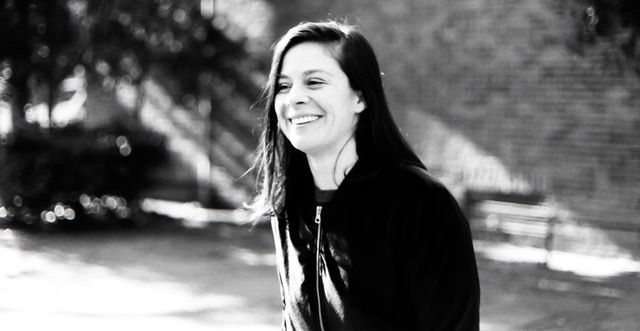 brooke smiley (lowercase is intentional) was born and raised in Los Olivos but has spent the better part of the last decade overseas as a professional dancer and researcher. smiley has danced with the "rebellious" Michael Clark Company in London as well as with Fabulous Beast in Ireland, where she helped reimagine "Rites of Spring" among other works. She has conducted improvisation and movement research with residencies in France, Ireland, and New York, including solo performances. She employed her background in earth architecture and indigenous justice via staging dances at Standing Rock, and she's also a graduate of California Institute of Earth Art and Architecture (CalEarth) with experience in building earth domes and other structures. (Her newest work, "Permission to Heal," a life-sized adobe Venus of Willendorf, was fashioned from mud from the Montecito debris flows and exhibited on State Street as part of the 2018 State of the Art Gallery Exhibition.)
But it wasn't until about five years ago when she came across a Body-Mind Centering workshop with founder Bonnie Bambridge Cohen, randomly, through some colleagues at UCSB where she now teaches, that all of her interests and pursuits came together in a meaningful and enlightening fashion that has deeply influenced her life and relationships.
"It changed everything for me," smiley said. "It brought together what was happening on a cellular level with what happens on an environmental, outside level. It brought internal and external together in a very empowering way."
Less than two years ago, smiley graduated from the BMC Somatic Movement Educator program and is currently training as a therapist and practitioner. Next week, she's hosting the 34th annual Body-Mind Centering Association conference being held at UCSB.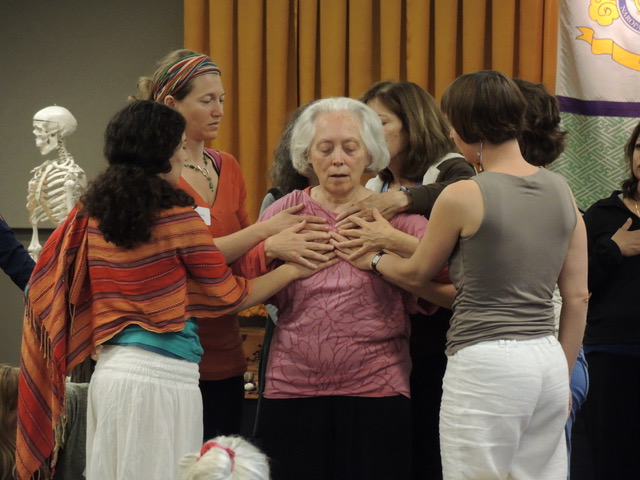 Body-Mind Centering brings together practitioners of movement practice (yoga, dance, athletics, martial arts, etc.), therapeutic fields (medicine, occupational therapy, physical therapy, psychotherapy, child development, etc.), and the expressive arts (visual arts, music, etc.), with programs and courses for professional development and/or personal growth. Officially, it's a highly experiential, somatic approach to embodiment, movement and consciousness developed by Cohen over the last several decades, to promote the conscious embodiment of anatomical, physiological, psychophysical, embryological and developmental principles, utilizing guided movement, intentional touch, voice, expressive arts, and a developing awareness of the play of conscious attention, or mind.
"BMC offers a space of learning from the body as a way of discovering more choices in the mind," smiley explained. "It encompasses learning through movement, studying the body systems on a cellular level, learning our developmental movement patterns, and experiencing our anatomy by embodying it and considering movement as a source of consciousness. It's a dialogue; not a place of arrival. It brings me into my nature, into who I am and the memories I hold, and gives me space to enter into new choices and re-patterning."
For the 2019 conference, which takes place August 7-10, with a pre-conference event on August 6-7, and Bonnie Bambridge Cohen's post-conference workshop August 10-11, smiley chose the theme of "Self and Other."
"I landed on that because it's something worth bringing into focus on a community level as I notice boundaries between people," she said. "It's about meeting Other as self – whether Other is another person, the Earth, a region, a country. It's time to bring value to our differences and acknowledge the health in our interdependence."
Local practitioners, students and the merely curious are invited to join visitors from around the world in attending the conference on the UCSB campus, the heart of which consists of nine different breakout sessions, each with up to six simultaneous workshops or discussions led by dozens of BMCA professionals and others, plus evening performances and opening and closing circles. Among the titles of the topics are "Body Tales: Sound and Movement Storytelling," "Spiraling: Journey to Connectedness through Somatic Improvisation," "Boundaries, Connection, and the Movement of Relationship," "Witnessing your Self," "Voicing the Bones, Blood, and Glands," "Inner Skin," and "Haptic Encounters: Embodying Reciprocity," to name just a few. The conference's theme of Self and Other also forms the basis for many of the other workshops and seminars, in such areas as time, touch and yoga, among others.
smiley is teaching a workshop called "Relaxed Animals," which is about the Moro Reflex, an involuntary primitive reaction to a perceived threat that can show up in our adult bodies with physical and psychological effects, such as anxiety, heightened state of awareness, hyperactivity, and low self-esteem in response to stress, fear or discomfort. "I want to hold space for all the stages and I'll be bringing tools to integrate and resolve the primitive reflex."
Other than the times she's booked, though, "I'm going to have a hard time myself choosing what to go to," smiley admitted.
"But," she added, "you can't go wrong with any of them."
For details, the full schedule, registration and more, visit https://bmcassociation.org/conferences/2019-bmca-conference.
The NEST Fest Debuts
The New Earth Star Tribe, a new Santa Barbara collective nonprofit that seeks to both gather healers and artists in the community to connect with each other and co-create events, goes public this weekend via a one-day mini-festival. Think of NEST Fest, which takes place 2-10 pm on Saturday, August 3, at the new Community Healing House at 402 East Valerio Street, as something on the continuum between Lucidity Festival and the monthly Conscious Networking gatherings with speakers, healers, and vendor booths that was held at Unity in 2017-18.
"We all share a similar vision," explained Alisa Deen, a Santa Barbara native yoga teacher and coach who formed New Earth Star Tribe with business coach John Reason and relationship and empowerment coach Sky O'Connor. "NEST Fest is a mini-festival where we're creating a festival feel like at Lucidity, with the same sort of transformative, connectedness you might experience there. But we're bringing it into our own neighborhood, at a private community house where we live."
Deen said NEST Fest will also serve as a gathering place for practitioners to network and provide an experience of their offerings. "It's a place for business to cross promote, and for people to connect beyond the event itself."
To that end, there will be two full stages of activities with live music and much more. The Central Outdoor Stage will host a "Wet & Wild" Ecstatic Dance with DJ Baldemar, featuring sprinklers and other water devices to add a different dimension to the free-form dancing. That environment will also feature the official opening circle to set intentions, plus acro yoga, a silent disco dance (in which the participants wear headphones that pipe the beats simultaneously to each dancer), a Primal Play with Ka Luna Ki Ato.
Events taking place inside at the Sound & Movement Temple include Heart-Centered Kundalini and Breathwork with Peter Stephan, Taste of Tantra with Jenny Bee and Jacqueline Pleasure Initiatrix, Yoga Embodiment with Alisa Deen with Lisa Osborn from YoungLiving Essential oils, NVC & Empathic Communications Play Shot with Catherine Cooley, The Science of Miracle healing with Dr. Stephen Ezra West, Galactivation Sound Healing Journey with Ka Luna, Gabi and Alisa, Third Eye Lions Gate Activ8tion with Anya, and Crown Chackra Initiation and Channeling with Gabi.
Other offerings include a tea lounge that also serves cacao and other elixirs with pillows and couches "where people can just hang out," Deen said, plus a "squish lounge" for couples and others to spend time together connecting physically, including cuddling.
The practitioners and performers at this first event are members of the founders' community, including the weekly Dance Tribe ecstatic dance and other healing arts. "It's people we know and then based on work on mouth," Deen said.
Scheduling the inaugural summer event for Fiesta weekend was no accident, she said. "It's alcohol-free, because we have the goal of providing a new wave of house parties to allow deeper connections, a free and safe-haven space to express yourself openly without needing to use alcohol. It's more about wellness, and mindfulness and self-expression. We're wanting to draw people who want to cultivate a healthy community around them and have support as we learn more about ourselves and be with those who love to express themselves."
Admission is by suggested donation of $20, although no one will be turned away for lack of funds. Proceeds will go back to the movement to secure the venue space and share with the artists. Visit www.facebook.com/events/431750044343010 or www.eventbrite.com/e/nest-fest-summer-2019-tickets-65197468383.
'The Flip' at Pacifica
A "flip," writes Jeffrey J. Kripal, the chair of the Philosophy and Religious Thought Department at Rice University, is "a reversal of perspective," "a new real," often born of an extreme, life-changing experience. It's also the title of Kripal's ambitious, visionary program for unifying the sciences and the humanities to expand our minds, open our hearts, and negotiate a peaceful resolution to the culture wars. Combining accounts of rationalists' spiritual awakenings and consciousness exploration by philosophers, neuroscientists and mystics within a framework of the history of science and religion may signal a path to mending our fractured world. Dr. Kripal, who is also the associate director of the Center for Theory and Research at the Esalen Institute in Big Sur and previously taught at Harvard Divinity School, is the author of eight books, including The Flip, based on the program.
Kripal will be offering a two-hour introduction to the program, subtitled "Epiphanies of Mind and the Future of Knowledge," 7-9 pm this Saturday, August 3, at Pacifica Graduate Institute's Ladera Campus. Admission is by donation ($25 suggested, any amount accepted). Dr. Kripal is also a featured presenter at Pacifica's upcoming Trauma Studies Certificate Program, which takes place over four weekends from September to next May. Call (805) 969-3626 or visit www.pacifica.edu.
Mastering Manifesting in Montecito
The stunning Thomson Sanctuary on East Valley Road in Montecito is the site for a three-hour workshop for people to learn how to master the art of manifesting in order to consciously create what your heart desires, in any area, from relationships to abundance, success, and vitality. The 4-7 pm event on Saturday, August 3, is based on the concept that humans are constantly manifesting things through thoughts, words, and actions, already creating their own realities, but it isn't always clear what's conscious or unconscious. Are you creating what your heart desires, or more of what you do not want?
Guided by Ragan Thomson, the Montecito-based spiritual coach, healer and divine facilitator, the Mastering the Art of Manifesting workshop will help participants understand how manifestation works, learn the steps and techniques of manifestation, visualize what you want and make your intentions clear, recognize the beliefs, behaviors, and mental barriers that are blocking you, work on reducing sabotaging thoughts, fully accept that whatever you want can be yours, and consciously create your own reality. Admission is $55, with discounts available for multiple enrollees. Visit https://raganthomson.com/the-art-of-manifesting for details and registration.
You might also be interested in...