The Girl from the Lighthouse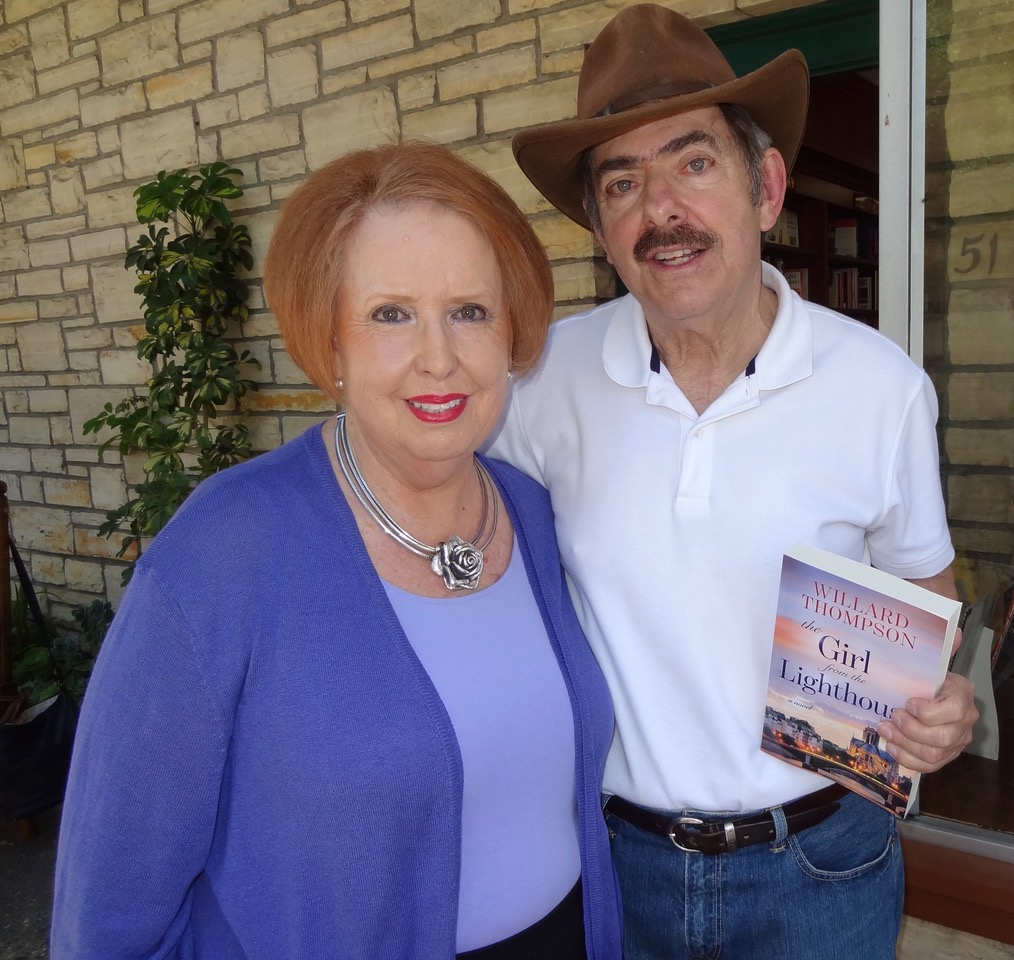 Friends and fans gathered at the Tecolote Book Shop in Montecito's upper village for a book signing of Willard Thompson's latest novel, The Girl from the Lighthouse. His wife, Jo, had treats for us with rosé wine and finger sandwiches.
This is not Willard's first historical novel. He has written a trilogy with Dream Helper, Delfina's Gold,and Their Golden Dreams, plusanon–fiction book, Keepers of the Light: The History of the Point Conception Lighthouse.
The inspiration for this latest story was a painting Willard saw at our Museum of Art about the Victorian era in Paris. The painting is now on loan to the Paris Musée d'Orsay. It shows three generations of women who really couldn't go anywhere without a chaperone. There is no Eiffel Tower in the background. It hadn't been built yet. Willard and his wife Jo go to Paris every spring and live for a month so he has the real feel of France.
In Willard's latest novel, Emma Dobbins is raised by her father, a lighthouse keeper at Point Conception. Her mother had left them. When her father dies, she is on her own and ends up as an artist in Paris where she was going to study at an art school. She had been sketching all her life. To discover what happens to her is a compelling story.
Willard says, "The best writing advice I ever received came from a playwright, not a published author. He showed me how to bring my reader and my characters as closely together as possible without intruding my own voice on them. During the process, I have serious conversations with my characters who often correct me when I get off track."
Willard is a gold medal-winning historical fiction writer and a graduate of the Santa Barbara Writer's Conference. He and Jo live in a charming guest cottage at Casa del Herrero in Montecito. If you'd like to contact Willard, his website is willard-thompson.com. 
20th Fiesta Finale
The Profant Foundation for the Arts is celebrating their 20th Fiesta Finale gala at the El Paseo Restaurant. There are traditions, great cuisine, costumes galore, music, and flamenco dancing while raising funds for scholarships in dance, music, literature, and visual arts.
The picture you see on the cover has a very personal meaning for the four Profant daughters: Michele, Marie, Musette, and Mignonne. Lerin's painting, "Spanish Dancer," adorned their father John Profant's office for years. He himself had danced flamenco and the petite brunette reminded him of his wife, Lyn. It became the first tableau for the launch of Fiesta Finale in 2000 – a painting come to life.
Nearly one hundred years ago the Profant family became involved in the cultural side of our community. John's father was Dr. Henry Profant, who was a founding partner of Santa Barbara Clinic, later to join with Sansum Clinic. Henry and his wife Mabel helped found CAMA and were on their board for over 50 years. They also supported the Music Academy of the West. They brought classical music to the Courthouse Sunken Gardens to celebrate Fiesta.
In 1950, a young woman and her sister visited the Courthouse tower and heard the docent describe how romantic the annual Fiesta was with the first full moon of August overhead. So the girls went to the heart of Fiesta at the time, El Paseo, where a handsome young man asked one of them to dance. He was a trained Jose Manero dancer (and had a business career) and she was a ballerina. That would be John Profant and Lyn. They soon married and raised four daughters, building a float for every Fiesta Children's Parade to celebrate the anniversary of their meeting. The four girls remember standing on tiptoe, peeking in the El Paseo window to see the performances never dreaming they would one day be producing it.
At the Fiesta Finale there will be professional entertainment. Dancers Kristen and Serge Chmelnitzki, who own Arthur Murray Dance Studio, will be featured along with Ricardo Chavez and his fiery flamenco company. There's always a costume contest that I judge. Just appear. I'll find you.
For this perfect way to end Fiesta 2019, call 805.705.9179 or go to Mprofant@aol.com for reservations. Tickets are $225. Most people do costumes, but cocktail attire is an option. Viva la Fiesta!!!
You might also be interested in...