London? We Have Lift Off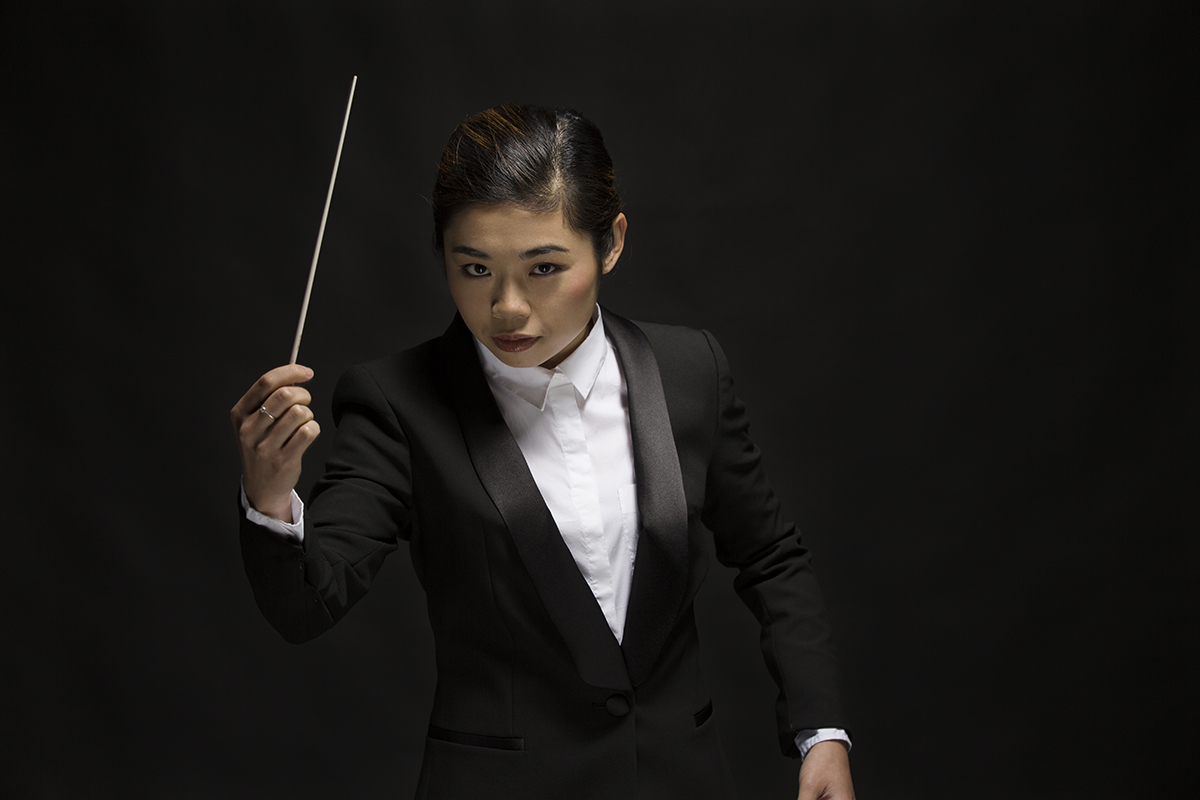 The Music Academy of the West transforms the Granada Theatre into Mission Control for a special London Symphony Orchestra space-themed family concert next Friday, July 12, kicking off three straight days of different programs with the esteemed British orchestra in the second year of its partnership with MAW. The Voyager program, which incorporates excerpts from eight classical works in a one-hour show, takes its title from the 1977 NASA spacecraft that contains a "Golden Record" full of music and messages selected by a committee chaired by Carl Sagan. It includes 115 images and a variety of sounds from nature plus musical selections from different cultures and eras, and spoken greetings from Earth-people in fifty-five languages, in the hope that someone, or something, will one day hear our messages of hope and understanding.
Gareth Davies, the LSO's 19-year-veteran principal flutist who is also a writer and presenter, devised and co-scripted the LSO's Voyager story as part of a series of educational family concerts. The tale finds a distant traveler named Kepler, who, having discovered one of the Voyager probes, beams herself down to Earth learn about humans and life on our planet. The narrated video presentation includes excerpts of music spanning more than 200 years, which range from Beethoven's best-known symphonic opening to Holst's famous piece "Jupiter" (from The Planets)and the John Williams-composed music that accompanied Elliott as he soared over the forest in the film E.T., all played live by the LSO.
Elim Chan, who conducted Voyager when it played in London last summer, and, not coincidentally, led the Academy Festival Orchestra in a performance of Holst's The Planets at the Granada a few weeks later, takes to the podium at the Granada for the special family concert. She talked about the piece and more via email earlier this week.
Q. You didn't come from a musical family and you were studying medicine, specializing in psychology and forensic science for a couple of years at Michigan. What sparked the switch to music and conducting?
A. I had been very interested in psychology and forensics when I was young, being a huge fan of shows like CSI, Sherlock Holmes, and other detective and crime stories. I have also always loved music as well, having sung in choirs since I was a child and all the way through graduate school, played piano and cello. However it was for a long time a hobby, and when I went to Smith for undergrad, I decided to focus on psychology and sciences, until I got a chance to conduct the Smith College chorus and orchestra during my sophomore year in the Dies Irae in Verdi's Requiem, and that has sparked and fueled my determination to pursue my passion in music.
You are returning to MAW for a second season as a guest conductor. Last year you conducted the fellows Academy Festival Orchestra. How was it to work with these musicians who are perhaps only a few years younger than you? Is there are kinship/mentorship element for you in such endeavors?
I very much enjoyed working with the fellows in the Academy Festival Orchestra last summer. Their level was incredibly high, and their enthusiasm to perform at their best was palpable. I graduated from Michigan four years ago, so I am not that far ahead from many of the fellows in MAW, and I found moments when I learned something new about the music from working with them, and I also got inspired by their openness to try new ideas and different ways to make music.
What makes Voyager succeed as a family concert? And how does it also appeal to adults at the same time? Seems like a delicate balance.
I think Voyager is an amazing project that has the power to speak to people of all ages. It's a simple, curious and heartwarming story about a distant traveler, Kepler, who having discovered a Voyager probe, beams herself down to the concert hall, in this case, Granada Theatre, to learn about humankind, and meanwhile she also is in need of our help to get her home to her distant galaxy. The music excerpts are all fantastic masterpieces, and represent wonderfully humankind's sounds, science, imagination, thoughts, and feelings across history. The audience is a part of the story as we are united as humankind as we get to know Kepler. I am excited to present this at MAW to the Santa Barbara audience!
Do you have a special affinity for space exploration, meaning does the theme have an appeal for you beyond the music?
I won't say a special affinity, but I have always been fascinated by the cosmos — space has been such a powerful source of inspiration for the arts and entertainment business, and the more we as humankind learn about the galaxy and the stars, the more we realize the vastness of the unknown realms, but that won't stop humankind's determination and hope to keep exploring and asking questions.
You will be returning to the piece after conducting it last summer at the Barbican. Given that the performance in synced to a film, I don't imagine there's a lot of leeway, but are you able to adjust your approach in returning to the work?
Yes. Certainly I have to be very precise with the timing of when the excerpts are played so it makes sense with the film, however, once I start the excerpt, it's up to me to interpret and shape the music, and I hope to bring out more details in the music this second time around.
You have worked with the LSO for more than four years now. How have you grown as a conductor through that ongoing association and how has working with one of the world's great orchestras enhanced your approach and career?
The LSO musicians are impeccable and they always deliver their best in concerts, and they are also generous and kind people, so from their knowledge in the repertoire and guidance, I have learned and grown a lot over the few years. Every time when I get to work with the LSO, it pushes me to my limits as an artist as the musicians are very fast and perform at such a high level, and with not a lot of rehearsal time, I have to be efficient, but also go into all the details in the music and run wild with my imagination during the process. It's incredibly nerve-wrecking, exciting, and rewarding! 
This Week @ the Music Academy
Friday, July 5: Just a few years ago, the Solo Piano Competition didn't even exist. Now, it's a pretty big deal, as the eight fellows employ flash and finesse to compete for a cash prize, an international recital tour with stops including London Symphony Orchestra's St. Luke's venue, career consulting with 21C Media Group, and much more, including performing the world premiere of a piece commissioned by MAW for the winner. (1 pm; Hahn Hall; $10 [sold out])… Time was the program for the Picnic Concerts was never announced in advance, as part of the fun was to just show up and see what the fellows featured according to their fancy. Times change. Now it's not just the compeers and compatriots who are in on who is playing what when, all of us are privy to the program. Bring your own picnic to enjoy in the gardens before the concert. So tonight we'll be hearing Brahms' Horn Trio in E-flat Major, Op. 40, performed by Han Na Lee on violin, Steven Harmon on horn, and Clayton Stephenson on piano; Dvorak's Quintet for Piano and Strings in A Major, Op. 81, played by Njioma Chinyere Grevious and Coco Mi on violins, Molly Wise on viola, Marcie Kolacki on cello and Arthur Wenxuan Wang piano; and Schuloff's Concertino for Flute, Viola, and Double Bass, delivered by Ariel Chapman on viola, Jakob Gerritsen, on double bass and Austin Brown on flute. At least you can ask your caterer or deli man to surprise you with the fixin's for the pre-concert picnic on the lovely grounds at Miraflores (7:30 pm; Hahn Hall; $40).
Saturday, July 6: 'Tis a rare thing indeed for student orchestras to have the opportunity to work with a cutting edge composer-conductor, let alone one as in-demand as Matthias Pintscher, the Music Director of the Ensemble Intercontemporain, the world's leading contemporary music ensemble, founded by Pierre Boulez. Pintscher also premiered two of his works during the just-concluded 2018-19 season, including Nur, a new concerto for piano and ensemble performed by Daniel Barenboim and the Boulez Ensemble with Pintscher at the podium in January, and Shirim for baritone and orchestra performed by Dietrich Henschel and the Tonhalle-Orchester Zürich conducted by Kent Nagano in June. And next summer he will serve as the Music Director of the Ojai Festival, programming, curating and performing in the prestigious weekend that takes place just days before MAW begins its summer festival. In tonight's "Vienna Connections" AFO concert, Pintscher will lead off with his own 2003 work, towards Osiris: Study for Orchestra, a short work exploring the Osiris myth and its meaning through the centuries, a piece that represents the first material composed of what would later be developed into a larger orchestral work (titled Osiris), which would be premiered in 2008. The eight-minute piece will be followed by Alexander Zemlinsky's Sinfonietta, which has been described as "what Viennese music can sound like without Schönberg's influence… (residing) somewhere between Mahler-style late-romanticism and a linear objectivity." Closing out the program is The Piano Quartet No. 1 in G minor, Op. 25, of Johannes Brahms, orchestrated by Schoenberg in 1937, at the instigation of conductor Otto Klemperer, premiered just down the road by the Los Angeles Philharmonic. (7:30 pm; Granada Theatre; $10-$100).
Tuesday, July 9: The full London Symphony Orchestra will be performing in three various configurations this coming weekend, July 12-14, including the Voyager family concert at the Granada (see above for an interview with conductor Elim Chan), and next week's issue for more details. But first, a select few of the LSO musicians will join MAW regulars for tonight's Festival Artists Series concert. Up first is Takemitsu's Toward the Sea, with flutist Gareth Davies – who also devised and scripted the LSO's Voyager story – and percussionist Neil Percy, followed by Dohnanyi's Sextet in C Major, Op. 37, with LSO violinist Carmine Lauri, cellist Tim Hugh and horn player Timothy Jones joined by MAW violist Karen Dreyfus and pianist Margaret McDonald. The night of transcontinental music and musicians closes with MAW faculty members taking Messiaen's famed Quartet for the End of Time, featuring Jorja Fleezanis violin, Alan Stepansky cello, Richie Hawley clarinet, and Conor Hanick piano. (7:30 pm; Lobero Theater; $46)… MAW and the Santa Barbara Public Library's joint off-campus community events in advance of the West Coast premiere of Jennifer Higdon's operatic adaptation of Cold Mountain continue with a free discussion of the historical novel by Charles Frazier that won the 1997 National Book Award. (5:30 pm today & Thursday, July 11, plus 3:30 pm Saturday, July 13; Central Library, 40 E. Anapamu St. [today], Ridley-Tree Cancer Center Resource Library, 540 W. Pueblo St. [July 11], Carpinteria Library [July 13]; free).
Wednesday, July 10: Today's special vocal masterclass focuses on Jennifer Higdon's opera Cold Mountain, as Mosher guest artist Isabel Leonard and MAW teaching artist Jay Hunter Morris – who created the roles of Ada and Teague at the opera's world premiere at Santa Fe Opera in 2015 – will share their expertise with the Vocal Institute fellows as they prepare for their performances in MAW's West Coast premiere production next month (3:15 pm; Hahn; $10 [sold out]).
You might also be interested in...