A Woman of Our Times
To say that Barbara Greenleaf is accomplished is like saying Clark Gable was "cute."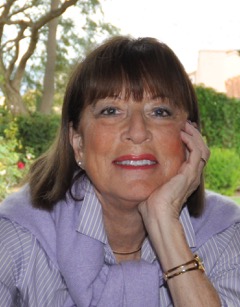 Barbara, the author of the blog Parents of Grown Offspring (POGO) is a whirling dervish and if you don't look quickly you will miss her. She is one very busy woman with all interesting things going on and as far as I can tell she has been this busy since the age of ten. At that tender age she wrote a letter to the editor of Wall Street Journal and much to her amazement, he wrote her back with some wonderful advice. She was hooked!
Barbara was born in Manhattan Beach, Brooklyn, New York and lived there until she was seven when the whole family, mother, father, and sister Susan, moved to Hewlett. Her father was a builder and that started Barbara's love of buildings and how they are laid out in a city. Her mother, a stay at home mom, loved to read and eat chocolates. Barbara happily shares both traits! She went to high school in Hewlett and upon graduation entered Vassar. Her sister, Susan, went on to become a professional painter just as Barbara went on to become a professional writer.
Barbara first wrote for The Book of Knowledge, a children's encyclopedia, then for The New York Times in their book and education department. She also went on to become a contributing editor for McCall's Magazine. She actually wrote for several publications and is the author of six books and about to come out with her seventh, but more about that later. She has loved writing all her life, but she has so much more up her sleeve. All of us who write know how isolating writing can be. She dreamed of putting on a suit and going to work and being with other people, So, after writing four books she went back to work. Growing up, she always had an entrepreneurial bent but not until she and her husband Jon (President of Western Region of Merrill Lynch) moved to California where she had a job waiting, did she return to work. The company was called Videostar Connections, putting together video conferences and doing PR. After a short time, she started two businesses of her own, Greenleaf Video Inc. and Strategic Communications, in both Los Angeles and Santa Barbara. She then sold one to a public company and split the other one into two. As a kid growing up, girls were not encouraged to go into business, but she loved it as much as writing, sometimes even more. She continued her education at Hunter School of Urban Planning to explore her love of buildings. Somewhere along the way the family started coming up from Los Angeles to Santa Barbara on weekends (we all know where that's going) and pretty soon they admitted to themselves they had fallen in love. They moved full time to SB about twenty years ago. She became a consultant for Antioch University and did that for about two and a half years and then finally came on to the staff as Director of Institutional Advancement, where she was responsible for community outreach, development, and alumni affairs.
During this time, she saw in the Hadassah Magazine that they were having a Jewish Film Festival in San Francisco. She turned to her husband and said, "Santa Barbara needs one of those." Of course, she started one, ran it for six years and is proud to say it is still going strong! She never had anything to do with film, let alone Jewish films, but once she gets an idea, she researches it and then goes ahead and does it.
The thing I love about Barbara's books is that she writes about where she is in her life. When she was working, she wrote a handbook for working moms. At that time she also wrote inspirational books for teenagers who weren't so brilliant in school but maybe had acumen they knew nothing about. She wrote about how they could go about getting jobs and how to find out what their strong points were. To fill in her free time, as if she had any, she worked with the Don's Net Café at Santa Barbara High School and was on the board of More Mesa Preservation Coalition. Whew!
Barbara, and Jon, by the way, now have two grown up married daughters and four wonderful grandchildren, which they dote on.
And now this brings us to Barbara's latest book, This Old Body, which will have its first book signing on Thursday, June 27, 7-9 pm at Chaucer's Books. It will also be available at Tecolote Book Shop in the upper village and available on Amazon. I love the title, but as far as I can see it has nothing to do with Barbara!
When I asked her age, she said with a smile, "I like to quote the humorist, Suzy Toronto, who says, 'I wear a size beautiful and my age is fabulous!'"
You might also be interested in...