Robinson Redux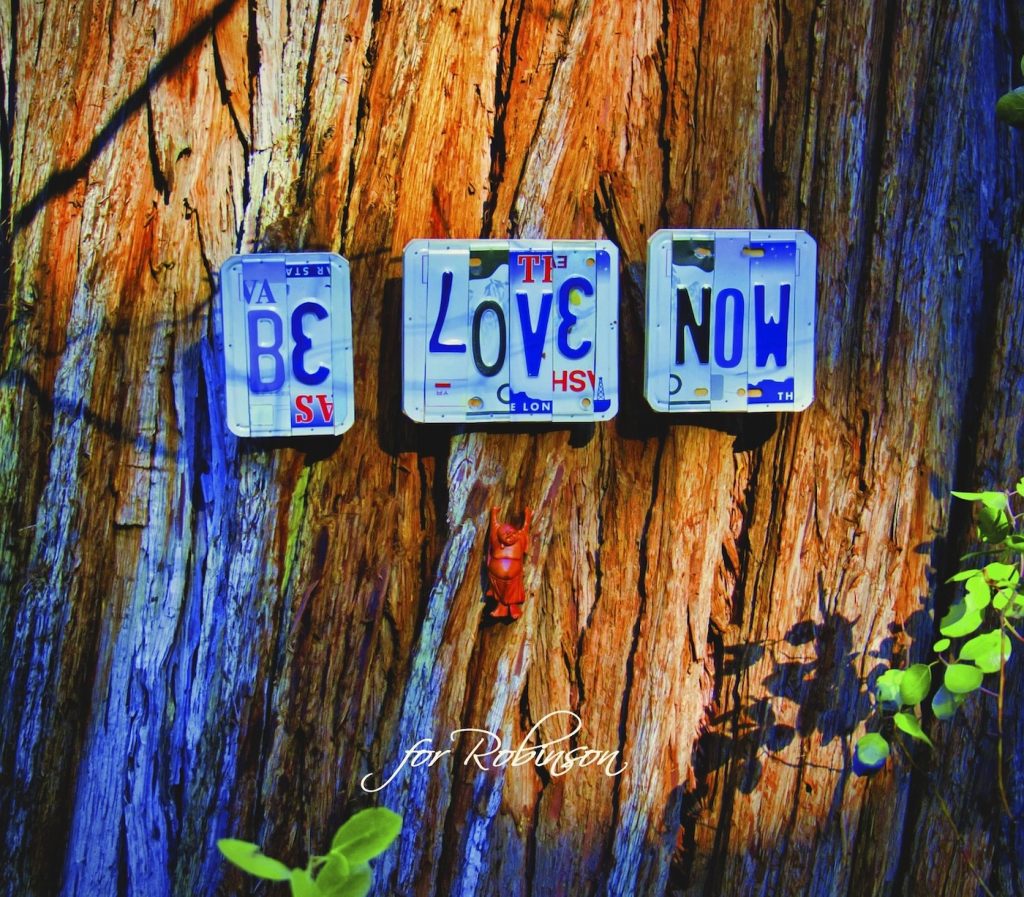 The Santa Barbara singer-songwriter community was devastated when the tirelessly eclectic producers, sound engineer, and songcrafter Robinson Eikenberry died unexpectedly on July 4, 2017. The 35-year local resident who graduated from Crane School in Montecito was honored soon after with a memorial concert at the Lobero Theatre, where many of the Santa Barbara artists he worked with over the years offered tributes in song, including several written for the event.
A year later, Eikenberry's mother Mary Jane Franus woke up one morning in her Napa area home with the idea of creating a tribute album to her son, and reached out to some of the artists, receiving more than 40 responses. The result is a 40-song, double-CD set, Be Love Now, that recalls Robinson's spirit in song and other messages from local luminaries Glen Phillips, Jamey Geston, Alastair Greene, Sean McCue, Susan Marie Reeves, Jesse Rhodes, and many others.
"I always knew Robinson was creative and a special unusual person who was loved in Santa Barbara, but I didn't know the magnitude of it and the extent of his reach," Franus said. "It's been amazing all the people who have reached out since he passed, it just unfolded. But it makes sense because Robinson was a great listener even as a little boy. He always wanted to bring out the best in people. I think he was as much a music therapist as producer."
Nearly three-quarters of the album's artists have already confirmed that they will appear at the CD release party and concert at the Center of the Heart from 4-10 pm on June 8. We'll have interviews with a couple of them in next week's issues. Visit www.robinsoneikenberry.com for details.
New Lease on Life 
Emmy-winner John Chester thought he had left filmmaking behind when he and his wife, Molly, purchased the 200-acre Apricot Lane Farms in Moorpark, partly to keep a promise to their rescue mutt that they would stay together for life even as the dog's incessant barking got them evicted from a San Fernando Valley apartment. The desire to go back to the land and engage in organic farming proved far more challenging than they'd imagined as the effort to turn fertile land that had been abandoned by a company that grew a single crop faced several setbacks. They were able to restore equilibrium via employing Alan York, an agricultural guru who had a one-track solution: "diversity, diversity, diversity." The process of getting there would seem to make for a dry documentary, but The Biggest Little Farm is anything but, a charming, funny and very moving film that uses all sorts of cinematic techniques (animation, drone shots, slo-mo, and night-vision cameras, to name just a few) to capture the journey of interdependence.
Maybe that's because John Chester took eight years to make the movie.
"I didn't know I was going to make the film until five years in," he told the audience when Farm screened at SBIFF last winter. "We were capturing footage the whole time and I knew we could tell a story that would look intoxicating and beautiful, but I didn't want to tell it unless I knew that it was working."
The Chesters had ideas of the way they wanted to go about farming and revitalizing the land, but it was York who showed them how much further they could go, John said. "It became an intoxicating pursuit that was almost embarrassing to tell people about early on because most of them thought it was impossible. The goal was to show that in the film."
There are scenes of animals being born with lots of help from the Chesters and other farm hands, including one of John reaching in to help a cow deliver its calf. "That happened a few days ago before we left for this trip promoting the film," Molly told the SBIFF audiences. "Let's just say we can't find his wedding ring anymore." John added, "So now I'm married to a cow named Firefly."
That folksy, humanistic hands-on approach is part of what the movie so compelling as both a personal story and a nature doc, as do moments when their hard work comes to naught via predators or insect invasions, and death scenes among favorite animals. But each issue was tackled, and organic, symbiotic solutions found, which is why Apricot Lane is now thriving in every aspect. The film has received raves from critics and fans during its first weeks of national release, and opens this Friday, May 31, for a two week run at SBIFF's Riviera Theatre.
SBIFF Segues, Part II
Loopers: The Caddie's Long Walk, the feature-length film documentary on golf's historic caddie profession that also proved popular when it had its world premiere at SBIFF 2019, opens nationwide next Friday, June 7, including at Santa Barbara's Plaza de Oro cinemas. Narrated by Bill Murray – himself a former caddie who scored an early comedy hit as the star of Caddyshack – Loopers explores the personal bond that a golfer and the fellow who carries his clubs can develop through their hours of time together that goes beyond mere schlepping. The film didn't win any awards at SBIFF, but it did take home best documentary prizes from the Cleveland International Film Festival in April and the Newport Beach fest in early May. Opening comes just a week before the U.S. Open at Pebble Beach, one of the iconic courses where the doc was shot, a list that also includes Augusta National, St. Andrews, Carnoustie, Prestwick, Ballybunion, and Lahinch. Visit www.loopersmovie.com for details.
Meanwhile, SBIFF's new Education Center – officially named The Barbakow Family Center for Film Studies to honor Jeffrey and Margo Baker Barbakow, the Montecito couple with close ties to the festival – has its grand opening at 5 pm on Thursday, May 30. The 3,600 sq. ft. location in at 1330 State Street is designed as a flexible space that includes several creative classrooms, a screening room, community meeting space, movie library, and editing suite for filmmakers. Visit www.sbiff.org for all things related to the film festival.
Further Focus on Film
While surf movies have long been a staple as a sidebar at SBIFF, the cult classic screening out at UCSB Pollock's Theater dates back even further than the festival's 35 years. David Elfick's Crystal Voyager, which serves as both a portrait of the surfing innovator George Greenough, who wrote and narrates the film, and a love letter to surf in the Santa Barbara Channel from Rincon to Hollister Ranch, will be shown in a newly restored digital version of the 1973 doc at 7 pm Thursday, May 30. Elfick, now a robust 74, will be on hand for a post-screening discussion with author Garth Murphy and UCSB film prof Alexander Champlin. Free admission.
Trekkie alert: also coming to Pollock this week is Star Trek, J.J. Abrams' take on the half a century old franchise starring Chris Pine as a young Capt. Kirk and Zachary Quinto as Spock battling Eric Bana as a time-traveling Romulan. Editor Maryann Brandon joins Pollock Theater director Matt Ryan for a conversation following the 2 pm screening on Saturday, June 1.
You might also be interested in...