Hair Today, Song Tomorrow: 4Q's with Cohen Choir Director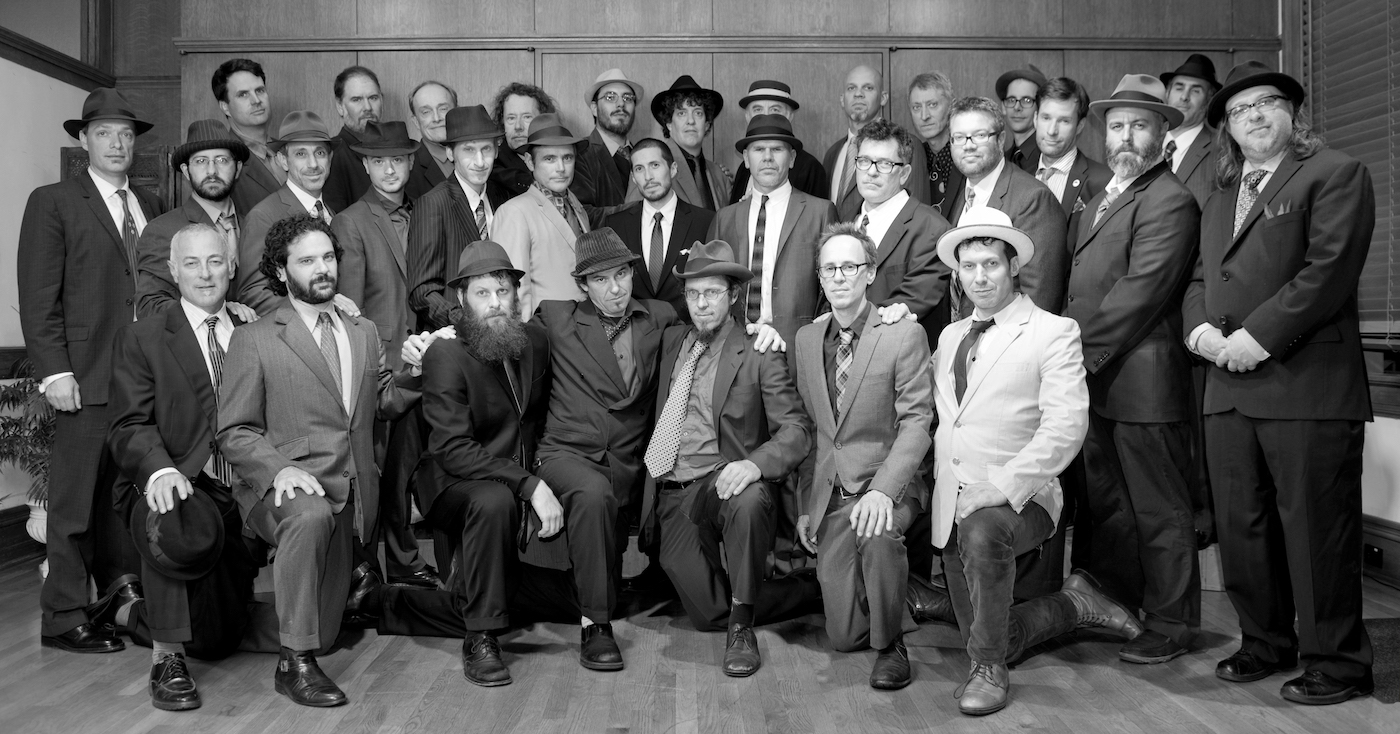 The idea of Conspiracy of Beards – the Bay Area-based all-male choir that sings its own original, a cappella arrangements of Leonard Cohen songs – was conceived of in a dream by a co-founder's brother. San Francisco performance artist Peter Kadyk even journaled about the dream, which came complete with the choir's name, before he passed away in 2003. His brother Patrick and their friend Daryl Henline, who has a degree in vocal performance, gathered a small group of friends to learn and sing a couple of Leonard Cohen songs as a tribute to Peter. One thing led to another, and before long the choir grew to 30 members – ranging from carpenters and landscapers to lawyers and tech company employees, some of whom have had prior choir experience while others never before sang in public – which has performed all over the Bay Area and toured to New York and Europe.
Dressed in suits and ties, Conspiracy of Beards performs arrangements that draw on everything from barbershop and doo-wop to jazz and Gregorian chant, all intended to capture both the emotion and humor of Cohen's literate songs. Henline, who still directs the choir, discussed CoB – which makes its Santa Barbara debut 6 pm Sunday, May 19, at SOhO – over the phone on his way to the weekly San Francisco rehearsal last Monday night.
Q. Why a choir devoted solely to Leonard Cohen?
A. He's like your friend, one who opens the conversational door to places you might not go otherwise. In a friendly, considerate way, he asks what matters and why? How do you sit with your relationship to being? And unlike most musical artist, he grew old still writing new music. He didn't just stand on old songs like "Chelsea Hotel", "Suzanne" and "I'm Your Man". but created a new body of work about a being a much older man and then one who was dying. It's a really beautiful body of work, full of intimacy, about the arc of life and the aging process.
It all seems ironic as Cohen had a very gravelly voice, almost a growl, whereas choirs are usually all about vocal beauty.
It wasn't always pretty how he sang, but the truth is we aren't either. We don't sound like your typical choir. I just wanted the choir to get to the place where the men mean what they're singing and explore the meaning of the words. So much of it is a question.
Did Cohen himself ever hear the choir?
No, but pretty early on I wrote him a letter about what we were doing because it felt important to reach out and thank him. I said we are dining out in your trousers, but it came from a place of deeply honoring his work and that he didn't have to worry about our zealous devotion turning into stalking. He wrote back and sent us all lapel pins and other stuff. Whenever we played in New York his sister and a number of his writing partners and colleagues would come, but he never did.
So do you have to sport facial hair to be a member of the choir? That's like the opposite of the New York Yankees' policy.
Being part of Conspiracy of Beards makes every man think they have to grow a beard. And we all have at some point along the way, at least as much as we can grow one. But (to allude to a Cohen song) beards are like raincoats – you don't need them all year round. And as one of our former members once said, "The beard is in the heart."
No SOS in Sight: Speaking of Stories Exits Stage Left
Santa Barbara's storytelling series Speaking of Stories comes to a close this week after 25 years of presenting actors reading short stories for live audiences. The series has fallen victim to the times, a casualty of having an aging and dwindling audience whose replacements lack both the attention spans and appreciation for works of literature.
But before the series calls it quits, some of its most popular performers, including Montecito author T.C. Boyle – who will read his recent "Walk Between the Raindrops," his fictional short story sparked by last year's Montecito debris flow that appeared in the New Yorker in July – are giving it one last go. Also appearing Sunday afternoon and Monday evening, May 19-20 at Center Stage Theater are famed actors and longtime SOS contributors Joe Spano, who will bring Benjamin Percy's "Refresh, Refresh" to life, and Ovation Award-winner Faline England, who starred opposite Spano in Rubicon Theatre Company's production of Heisenberg earlier this year, who takes on Rick Bass' "The Blue Tree." Then there's one more entry, from Saral Burdette.
Who?
"You look at those other three names, and then there's me, the least likely person to be reading at the final performance," Burdette said earlier this week. Indeed, the Ojai resident's only acting experience prior to SOS came decades ago at SBCC, and she works as a celebrant, someone who officiates at wedding, funeral, and other ritual occasions.
But if you look closer, Burdette's participation makes a lot of sense. It was at SBCC that she met director Maggie Mixell, the Montecito resident who had just taken over the reins at Speaking of Stories and was looking for authors. After taking on Amy Bloom's "Silver Water," Burdette wrote her own stories when she returned to read five more times over the series' duration, becoming one of the first performers to read their own works. And as Speaking of Stories ends the current format in favor of its increasingly popular The Moth-style evenings of personal stories – there were 60 different true first-person accounts performed this last season alone – Burdette would seem the perfect veteran to enable the transition.
Especially since her entry is titled "Speaking of Stories."
"It's about my experience with Maggie over the years going back to that first time which felt like such an honor," Burdette explained. "She and the series have taught me about sacred reading, how it gets richer and more rewarding over time… I learned how to write a story that's connected to an audience, not a song and dance thing, when you tell the truth, and how to be vulnerable as a reader. Each time taught me something new."
When Burdette heard that SOS was coming to a close, she submitted a piece for one of the Personal Stories events only to have Mixell suggest they save it for the finale. Burdette was thrilled. "I mostly just wanted Maggie to know how much she's mattered to me. I wanted to say something about what it's like to be believed in, how much it takes to get an amateur like me on the stage, and how much a great director changes the stories, helps you to unpack them.
"Both the stories and I always end up different."
Blues Bonanza: Cray, Castro & Carvan
Santa Barbara may no longer be the blues mecca it was during the 1980s and early 1990s, when the clubs were crowded with people clamoring to hear bands boasting original tunes. But for two consecutive nights this weekend, and another one on Monday, locals have a chance to hear some of the best contemporary blues axmen and singers in venues just a few blocks away downtown. Robert Cray, the 40-year veteran with five Grammy awards, membership in the Blues Hall of Fame, and the Americana Lifetime Achievement award to his credit, kicks off the 12-bar bashes with yet another appearance at the Lobero on Friday, May 17. The following evening, Tommy Castro comes back to town for his first visit in almost a decade at the Carrillo Recreation Center via the Santa Barbara Blues Society. Although the searing guitarist and soulful singer has yet to pocket a Grammy, he has taken home half a dozen Blues Music Awards; guitarist Nick Moss and harmonica player Dennis Gruenling serve as special guests for his two sets following an opening one from Tim Buley. Finally, shuffle on down State Street to the Red Piano, where Carvin Jones, who Guitarist Magazine named "One of the top 50 blues guitarists of all time," rips it up on Monday night.
You might also be interested in...