Tap into Stage Percussion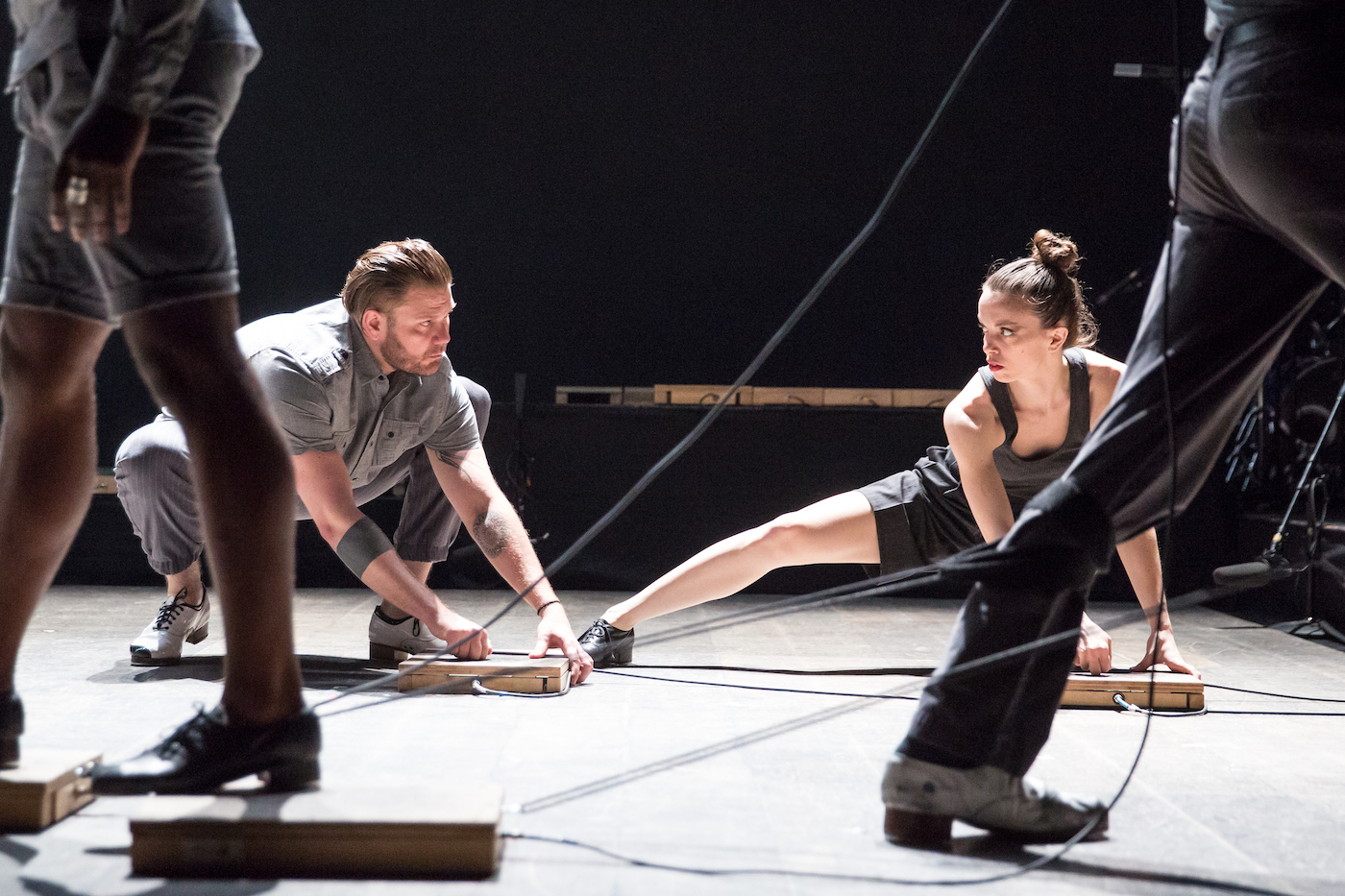 Pianist Jeremy Denk isn't the only MacArthur Fellow returning to town under the auspices of Arts & Lectures this week. Michelle Dorrance, the founder of the New York City-based dance company that bears her name, won the prestigious prize back in 2015. ETM: Double Down is the title for her latest evening-length work that merges the traditional form of top with modern technology, and combines rhythm with interactive electronic music technology. The entire stage becomes an instrument as the eight dancers performing on electronic tap boards accompanied by plus three musicians playing live together fashioning unique works that are both visually and aurally astonishing. The work, presented at 7 pm Sunday, May 5 at the Granada Theatre, represents an exploration of a collaboration between tap dance and more recent street dance trends in hip hop and house.
More Dimensions in Dance
MotionTheatre Dance Company's "Journey," which performs at Center Stage Theater at 2 and 7 pm also on Sunday, May 5, features the premiere of two works by company founder/director Maria Rendina Frantz's "Trois Saintes de la Mer" a mystical dance choreographed to the complete "Moonlight Sonata" by Beethoven, and the title piece, a dance about 1920s immigration set to music by Italian composer Nino Rota. Also on the program are contemporary ballet and modern dance pieces performed by students at Frantz's Santa Barbara Movement Arts, plus three original contemporary works featuring dancers and graduates of the UCSB dance program, with inspirations including concepts of self-awareness, the effects of human noise pollution on the lives of marine mammals, and searching for understanding and closure from a traumatic relationship. Tickets are $20. Call (805) 963-0408 or visit www.centerstagetheater.org.
Santa Barbara Dance Theater returns to the Lobero May 8-9 with a program that includes a re-working of Andrea Schermoly's "Moonscapes"; a revival of artistic director Christopher Pilafian's "Anemone,"with composer Gianna Abondolo performing live; the premiere of "95 North," UCSB assistant professor Brandon Whited's work on wanderlust; and the West Coast premiere of "Swept In," by award-winning New York "b-girl" Ephrat Asherie, which will be performed by the UCSB Dance Company. Tickets cost $21-$54. Call (805) 963-0761 or visit www.lobero.com.
Art | Architecture on Film
UCSB Arts & Lectures, which presents a number of touring film festival events, also curates one of its own, a two-day nine-film immersion in exploring human creativity in both people and their projects. The festival ranges from Rem Koolhaas' skyscrapers to street art in Obey Giant: The Art and Dissent of Shepard Fairey, the 100th anniversary of the Bauhaus school, Yayoi Kusama's hallucinatory polka dots, and a Santa Barbara favorite via Leaning into the Wind: Andy Goldsworthy. Filmmaker Tomas Koolhaas will make a special guest appearance for the screening of REM, which examines the works of his father, the legendary architect and master provocateur Rem Koolhaas, from both the artist's viewpoint and through the eyes of those who inhabit his works.
The screenings all take place downtown at the Paseo Nuevo Cinemas over the weekend of May 4-5. Admission is $8 per film (Obey Giant is free), or $40 for a full festival pass. Call (805) 893-3535 or visit www.ArtsAndLectures.UCSB.edu.
Further Focus on Film
The 2012 film Gulabi Gang set in the badlands of Bundelkhand in central India, follows the group of rural women that travels long distances to fight for the rights of women and Dalits. Director Nishtha Jain will join moderator Bishnupriya Ghosh, UCSB English and Global Studies professor, for a discussion following the free screening at 7 pm Tuesday, May 7, at the Pollock Theater on campus… SBIFF in cinemas: Tell it to the Bees, a British lesbian romance set in early 1950s directed by Annabel Jankel and starring Anna Paquin and Holliday Grainger, which had its U.S. premiere here in February, becomes the first of the movies from SBIFF 2019 to screen commercially when it opens this weekend.
You might also be interested in...