MAW's Solo Piano Competition Winner Returns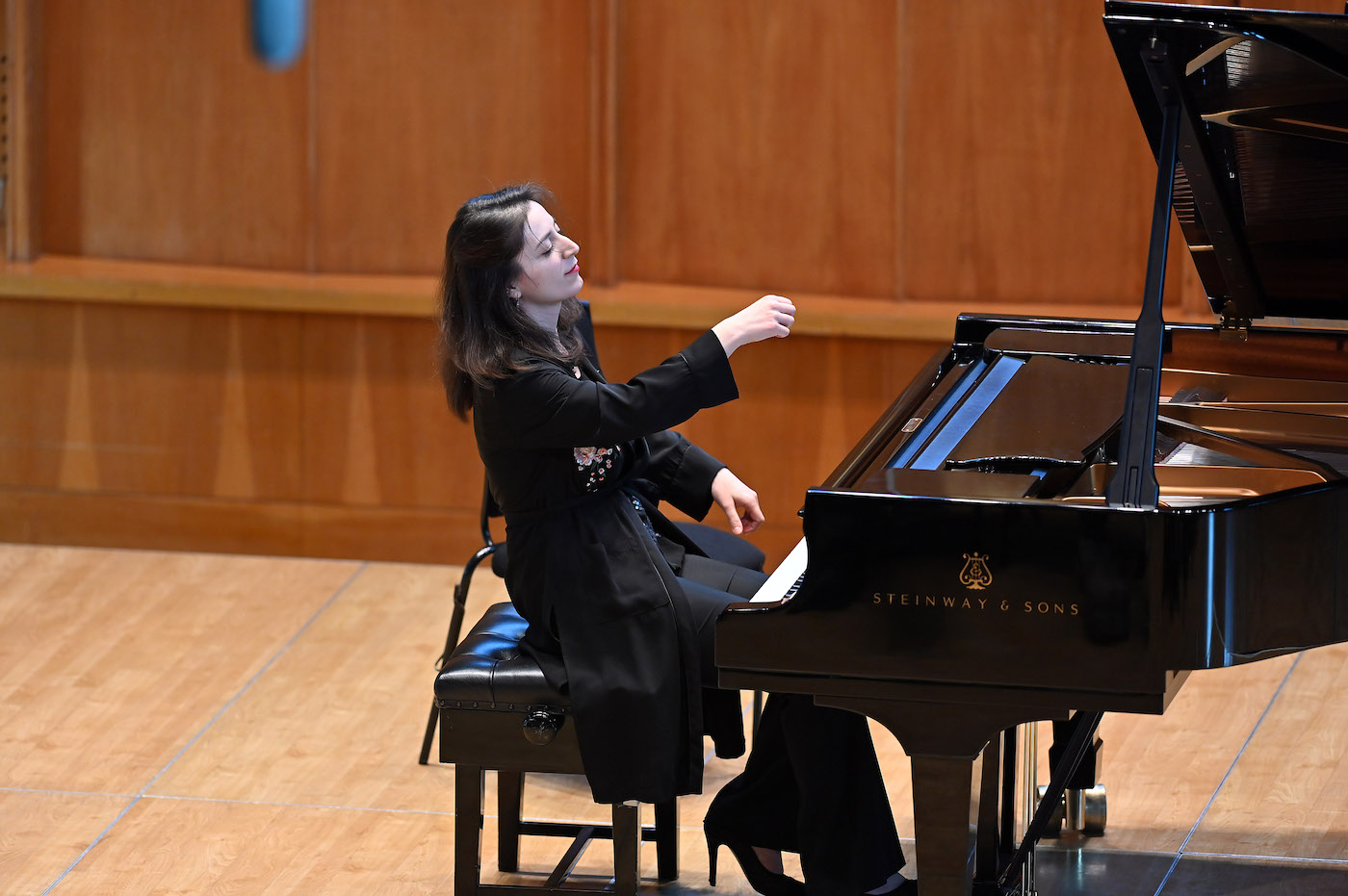 Sophiko Simsive, who won the Music Academy of the West's second annual Solo Piano Competition last summer, was a little bit shaken when she answered the phone on Monday afternoon. She'd just learned of the fire at Notre Dame, and had yet to come to terms with the ongoing devastation. That personal connection might seem a bit foreign for a native of Georgia, the former Soviet Republic, who has lived in the United States for half a dozen years. But it turns out that Paris is one of her favorite cities, one she visited frequently while spending the formative years of ages 15-21 in Amsterdam.
"Those were crucial years, where I developed my identity as a person," she explained. "Those memories are very fresh in my mind."
Simsive's development on the piano began much earlier, at age three, when Sophiko's piano teacher mother brought her only child to the studio while she gave lessons to pre-teen youngsters. "I would sit on her lap while she taught for hours," Simsive recalled, adding that it's only second-hand that she knows of her first time touching the keyboard. "The story goes that one day out of nowhere I went to the piano and played a Georgian lullaby that she'd been teaching for months, apparently flawlessly using both hands. That's when she realized I was talented. But at first it was more of a game with us, our way of having fun."
Playing piano is still a lot of fun if a decidedly more serious endeavor for Simsive, who will return to the Miraflores campus on Saturday, April 27, to perform in the local segment of her four-city tour, part of her prize for conquering the competition at the 2019 Summer Festival. The recital program features Bach's Italian Concerto, BWV 971, and Chopin's Preludes, Op.28, as meaty appetizers before Simsive offers a world premiere performance of Elizabeth Ogonek's Orpheus Suite (after Rilke). In her program notes, the composer, who created the four-movement piece for the pianist as part of the prize package, describes the work as "an extended rumination" on the four stanzas that comprise the final poem in Rainer Maria Rilke's 55-poem cycle "Sonnets to Orpheus". Ogonek – who often takes works or literature, art or other forms as inspiration – writes that "the images, metaphors and concepts" exhibited in Rilke's words are "reflected, refracted and transformed" in the piece.
Simsive finishes up her master's degree at Yale this spring before heading to New York to pursue a doctoral degree at Manhattan School of Music in the fall. She spoke over the phone from the New Haven campus.
Q. How are you approaching Ogonek's piece that was written for you?
A. I had to brush up my knowledge of the poem because it had been a while. What I think is very cool about this set four pieces come is how much they contrast with each other. Vocal music in general has been a huge inspiration for me – the Schubert and Schumann song cycles are among the best pieces of music ever composed – so that she chose to write a piece inspired by poems was very special to me…
Instead of interpreting the text, she's portraying the mood, employing a lot of fascinating compositional techniques with lots of layers to the voicing. She uses a wide range of the keyboard, taking advantage of its diversity to coax out the voices… I think what she wanted to portray a feeling of rhythms rather than being strictly in time. It's its own character idea. So it's not very easy to perform; I spent a lot of time counting and practicing to be able to execute it.
Does it speak to you, resonate, or capture something about you?
With all the layering of voices, it's creating colors with extreme contrast. I'm fascinated by that myself, and she captured that quality perfectly in the first movement. And the second is extremely rhythmic and dance-like, very hard to play, which I asked her to do when we met in the summer… We have a lot of similar aesthetics in music. We like the same composers, and have similar priorities in music. We connected easily and there was a good chemistry.
In general, how do you express yourself through the instrument and achieve the balance between your own interpretation and the composer's intent?
When I learn a new piece – and it's changed a lot during the years, especially at Yale recently – I do some research about the composer, the politics, and country circumstances that might have inspired the composer. I do that before I even touch the piece to find out what he was wanting to say. And I learn it without listening to anyone else's interpretation until I know it because I know that subconsciously I can't help but get influenced by their ideas. I always tell a bit of a story internally to be clear for myself what I'm trying to say so it's clear for the audience. I put adjectives, feeling, and characters to the piece to make it more convincing to myself so that it comes through to the audience.
Obviously that must have happened during the competition last summer. Did you know you nailed it at the time?
No, I never have that feeling. I hated the moment I finished. I always do. I always think it went terribly and I'm surprised when there's a good outcome. Maybe it's an Eastern European devaluing of self, or at least not knowing that it was good. It's very seldom that I play that I feel like it went well because I always think about things that could have better. It doesn't sound healthy but it helps to push me to work harder. And it's enough that the audience enjoys it.
Well then, how is it to come back to Hahn Hall, the site of your triumph, for the tour performance?
It's a wonderful hall. The audience is very attentive and focused, and you can feel that they are with you every second of the way. But it also comes with some nervousness and anxiety because it's also where I was in a master class there where I was criticized in front of the audience. That's a very vulnerable thing. But mostly it feels warm inside my heart when I think of Hahn Hall. I can't wait to come back.
I'm curious given that you started playing piano at such an early age whether you ever had thoughts of doing anything else?
I had so many opportunities from early on, and I loved it, so it was just something that that was decided. But I did have an identity crisis in my early 20s. I grew up as child prodigy, always in front of orchestras where people would say, "Look at how young she is and she plays so well!" You can get arrogant that it will be that way forever. But when you are no longer a child, you have to work harder to stay on top and stay faithful to music. I struggled a little bit… But all that quickly resolved when I would go back to the piano itself, and I forget all my doubts of any kind when I'm on stage. Nothing else makes me feel this way. It's worth all the compromises. I get to do my dream every day.
You might also be interested in...