Kansas' 'Driving' Force Ronnie Platt: From Big Rigs to Big Gigs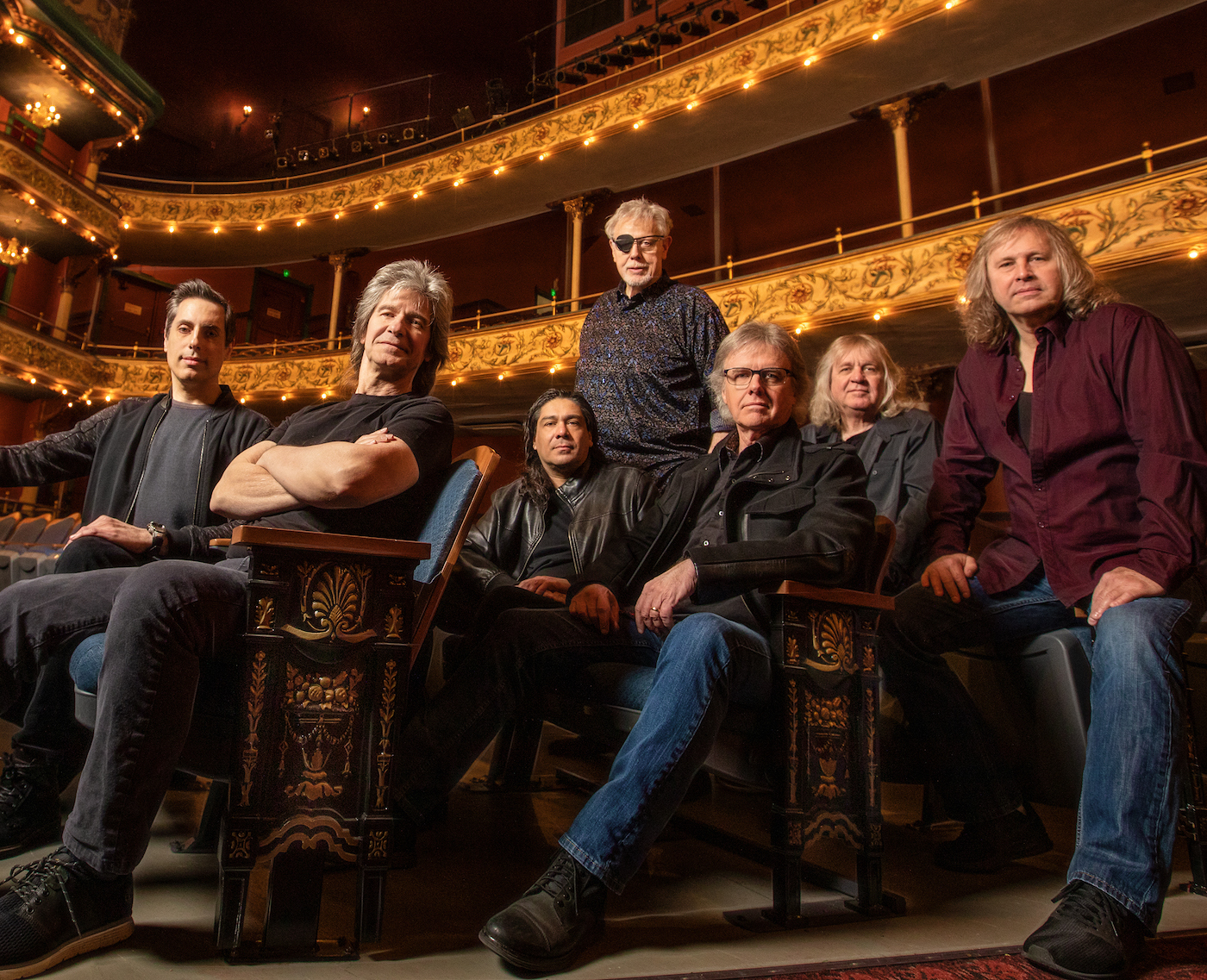 Rock singer Ronnie Platt had been making most of his money as a truck driver in Chicago for the better part of 25 years – singing along to Kansas' "Dust in the Wind" and "Carry On Wayward Son" on classic rock radio in the cab – when someone forwarded him the press release indicating that Kansas' original lead singer Steve Walsh was stepping down.
"I figured they must already have his replacement lined up, but why not give it a shot. They knew me from when I had stepped in as lead singer for Shooting Star for a few years," he said, recalling in details the events of five years ago. He was about to head over to his mother's house to mow the lawn the next day when he got the invite to fly down the following day for a meeting. He was checking email after one of the stops on his truck route a few days later when he got the word that he landed the gig.
"I was a little shell shocked at first," he said. "I mean, I've been a fan since the '70s when Leftoverture was on the radio all the time, and all the cover bands I've ever been in played Kansas hits. But I finished my run with the truck before quitting."
Joining the progressive rock band and started rehearsals calmed his jitters. But then he caught a VH1 "Behind the Music" segment where current Styx singer Lawrence Gowan revealed his difficult early days when he took over for Dennis DeYoung.
"Oh my God, talk about impeccably bad timing," Platt said. "I mean, there have been cases where the audience just yells "F— you" to the new guy. But it wasn't like that at all for me. From Day 1 I've just received an overall abundant acceptance of being in the band… I think from the beginning people recognized I have a genuine passion for this band. All I feel is love when I walk out on stage. And that makes me want to really kick ass. I put every molecule of energy I have into every note I sing, just selling it. I was on the other side for a long time and I know what it's like to have those expectations. I just want to meet them. I owe it to the fans to just rip it up."
Powered by his soaring vocals, Platt has taken Kansas to a new plateau that, while perhaps still paling in comparison to the band's heyday when they routinely sold out arenas, has found the revitalized group playing increasingly larger halls and more cities on each subsequent tour, which has included a cross-country jaunt in which they played Leftoverture in its entirety back in 2017 to mark the four decades since its release. Now they're on the second leg of another trek paying tribute to the 40th anniversary of Point of No Return, the band's highest charting and biggest selling album of all.
"I'm from the era when vinyl was king – when I put the needle on an album, I didn't pick it up 'til the side was done," Platt recalled. "I played Leftoverture almost nonstop for a long time, just pausing to flip the record over. The sequence of the songs got embedded in my mind. So to play them that way in concert just feels natural to me."
Platt's opportunity to contribute to a Kansas studio album came about two years ago, and that experience induced a bit of anxiety for a while. "That same fear factor of the first time I got on stage with them showed up in the studio when they asked me to co-write some songs. I'm writing lyrics for Kansas? For the band that [founding guitarist/songwriter] Kerry Livgren did all those classic songs for? Are you kidding?"
But, Platt said, once the nervousness passed, contributing lyrics for The Prelude Implicit became an organic experience. "For all of us who weren't original members, we're just so influenced by Kansas that creating new music in that Kansas feel just comes naturally. It's unconscious. We can't help but have some element of Kansas come out in us."
That's also how Platt stepped so seamlessly into Walsh's singing shoes. "I attribute the development of my voice to listening to Steve and Steve Perry [of Journey] along with Lou Gramm, who had incredible vocals. You're a product of your influences, you pick up elements of everyone who has inspired you. So it comes naturally to me to sing Kansas songs."
Still, he hasn't let his dream job go to his head. Not only has Platt held onto his truck driving credentials despite every indication that his duties fronting Kansas would seem to have some job security, but even his mom isn't that impressed.
"My sister worked for M&M making candy for years before she retired not long ago," Platt explained. "My mom still calls her the big success in the family."
(Kansas performs at the Arlington Theatre at 7 pm on Sunday, April 7. Call (805) 963-4408, or visit www.thearlingtontheatre.com or www.axs.com)
Also at the Arlington
NEEDTOBREATHE, the South Carolina-bred Grammy-nominated rock band fronted by brothers Bear and Bo Rinehart have played the Kids Helping Kids concert at the Granada in 2016 and 2018. Fifteen months later, the foursome forays across the street to the Arlington on Friday, April 6, to promote Acoustic Live Vol. 1, which, as the title indicates, is their first-ever live acoustic record… The following night brings Grammy winners Switchfoot to the venue in support of Native Tongue, the group's 11th album, released three months ago, exploring new textures and songs around the themes of bringing hope and love in these polarizing times, when, according to frontman Jon Foreman, "the loudest voice is often the voice of anger or fear." Colony House and Tyson Motsenbocker open.
Coming Out, Coming of Age, Coming to Terms, and Coming Home
Out of the Box, Santa Barbara's edgiest theater company, closes out its current season of Fun Home, the musical based on Alison Bechdel's best-selling graphic memoir about growing up and that won five Tony Awards including Best Musical in 2015. The so-called tragicomedy uses both humor and emotion to trace Bechdel's complicated relationship within her loving but dysfunctional family where her father's sexual secrets mirror her own; the ironic title refers to the family's nickname for her father's funeral home.
Reviewers have raved everywhere the show has played, mostly major cities. Out of the Box founder-director Samantha Eve's persistence brought it to Santa Barbara, it's first SoCal exposure outside of Los Angeles. Eve, who seemed even more excited than usual about presenting the musical, talked about OOB's black box production that performs April 5-14 at Center Stage.
Q. This seems like a show tailor-made for Out of the Box.
A. Yeah, I knew immediately when I saw it on Broadway that this was a perfect show for us. It's got an intimate feeling, with beautiful music, which is always high on my list. It has a very different sound, almost a little Sondheim inspired in the way that it's written – things that aren't always the obvious choice, harmonies that are a little crunchy, sounds that are a little off. But it's also a story that wasn't being told – a beautiful LGBTQ-friendly story about coming into yourself, who you are, who you want to be, and seeing your parents with a new-found maturity where you can realize that they are also independent human beings who weren't put on this earth just to be your parents.
The casting features three different versions of Alison at different ages. That sounds complicated.
Once you get to know them it's not hard to follow. We see her as an 11-12 year old pre-teen, then as a college freshman, and also an adult who is the narrator; we see it through her eyes. But she's not the most reliable narrator, and even she doesn't know what actually happened, so her drawings were based on memories. But each of the stories within the different ages progresses in a linear, chronological order.
The soundtrack album was very popular when it came out, but the music is different than a typical Broadway show, right?
Fitting music into dialogue is already weird, but a lot of the "songs" in the show are really spoken conversations underscored by music that lead into emotions and the music amplifies that. But the show is also like a comic strip in that it jumps around quickly, and the music as well as lighting and stages helps to indicate that. The pacing can be very quick.
The story sounds way too serious to be all that fun. How does that work?
There are moments that are really funny – like when Young Alison is helping the family make a fake commercial for the funeral home – and others that are heartfelt. What I love is that they're not blurred, which can come across as insincere. The show really honors her life authentically.
Lighten Up at Lights Out
Black Comedy, Peter Shaffer's one-act farce, comes to Carpinteria's Alcazar Theatre for a 10-day run April 5-14, when the fun work by the author of Equus and Amadeus gets its first local staging in years at the intimate Art Deco theater. The play – about a lovesick and desperate sculptor who tries to impress his fiancée's pompous father with furniture and furnishings "borrowed" from the absent antique collector next door who unexpectedly returns – was written to be staged under a reversed lighting scheme and the title itself a bit of a play on words. Jordana Lawrence directs a cast that stars Todd Bollinger as Brindsley, plus Kymberlee Weil, Claudia Kashin, Van Riker, Marlene Matosian, Melinda Yohe, Paige Sleep, and Stuart Orenstein. Details at www.thealcazar.org or (805) 684-6380.
OMG You Guys
Just as she did in the surprise hit movie Legally Blonde, Elle Woods tackles stereotypes, sexism, snobbery, and scandal in pursuit of her dreams, only this time with lots of songs as the touring production of the Broadway musical arrives at the Granada for two shows April 9-10. The timely coming-of-age story has been turned into a contemporary and sassy musical that moves almost as quickly as the back end of the bend-and-snap maneuver – which gets a hilarious dance treatment that puts the movie version to shame. Visit www.granadasb.org or call (805) 899-2222.
Classical Corner
A crowded calendar kicks off with the Quatuor Danel, which was founded in 1991 but only made its American debut during the 2015-16 season. Known for bold, concentrated interpretations of the string quartet cycles of Haydn, Beethoven, Schubert, Shostakovich, and Weinberg, the foursome will play Beethoven's Quartet in B-flat major; Op. 18, No. 6; Shostakovich's Quartet No. 6 in G major, Op. 101; and Weinberg's Quartet No. 6, on Friday, April 5, at Mary Craig Auditorium in the Santa Barbara Museum of Art… CAMA also has dibs via a double dose of performances starting April 5 at the Granada with the Royal Scottish National Orchestra – which is exactly a century older than Quatuor Danel – in a concert marking Rachmaninoff's 100th anniversary of arriving in the United States with a performance by Russian-American piano soloist Olga Kern in the composer's Rhapsody on a Theme of Paganini, Op.43. Also on the bill: Sibelius' Symphony No.7 in C Major, Op.105, and Prokofiev's Symphony No.5 in B-flat Major, Op.100. CAMA is also a co-sponsor of the Wednesday, April 10, concert with the world renowned New Oxford College Choir at Trinity Episcopal Church. The venerable ensemble, which was first established in 1379 and now includes 15 boy choristers and 13 adult clerks, will perform with a pipe organ from 1965, singing works from the 16th and 20th centuries from a wide variety of composers.
Meanwhile, Westmont's Chamber Singers are the special guests for the free Santa Barbara Music Club concert on Saturday afternoon, April 6, at the Faulkner Gallery, where they will perform several works followed by works for oboe and piano… In a chamber music showdown, that's also when the 4th annual Schubertiade benefit finds violinist Claude-Lise LaFranque and pianist Allen Bishop playing Mozart's Violin Sonata, K 379 in G major, and Beethoven's Violin Sonata, Opus 24 in F major, at Music Academy of the West's Yzurdiaga Hall… Finally the Santa Barbara Master Chorale is singing Ralph Vaughan Williams' "A Sea Symphony" at First Presbyterian Church Saturday night and Sunday afternoon, April 6-7.
You might also be interested in...