Embracing Embodied Emotions… and the Earth
Things have evolved since last we heard from Yemaya Renuka Duby, the healer whose Bones of Freedom technique was the centerpiece of her practice, including an introductory session at Yoga Soup last spring. While she's had some forays into nutrition and other modalities, Duby found herself drawn back to what had motivated her for years.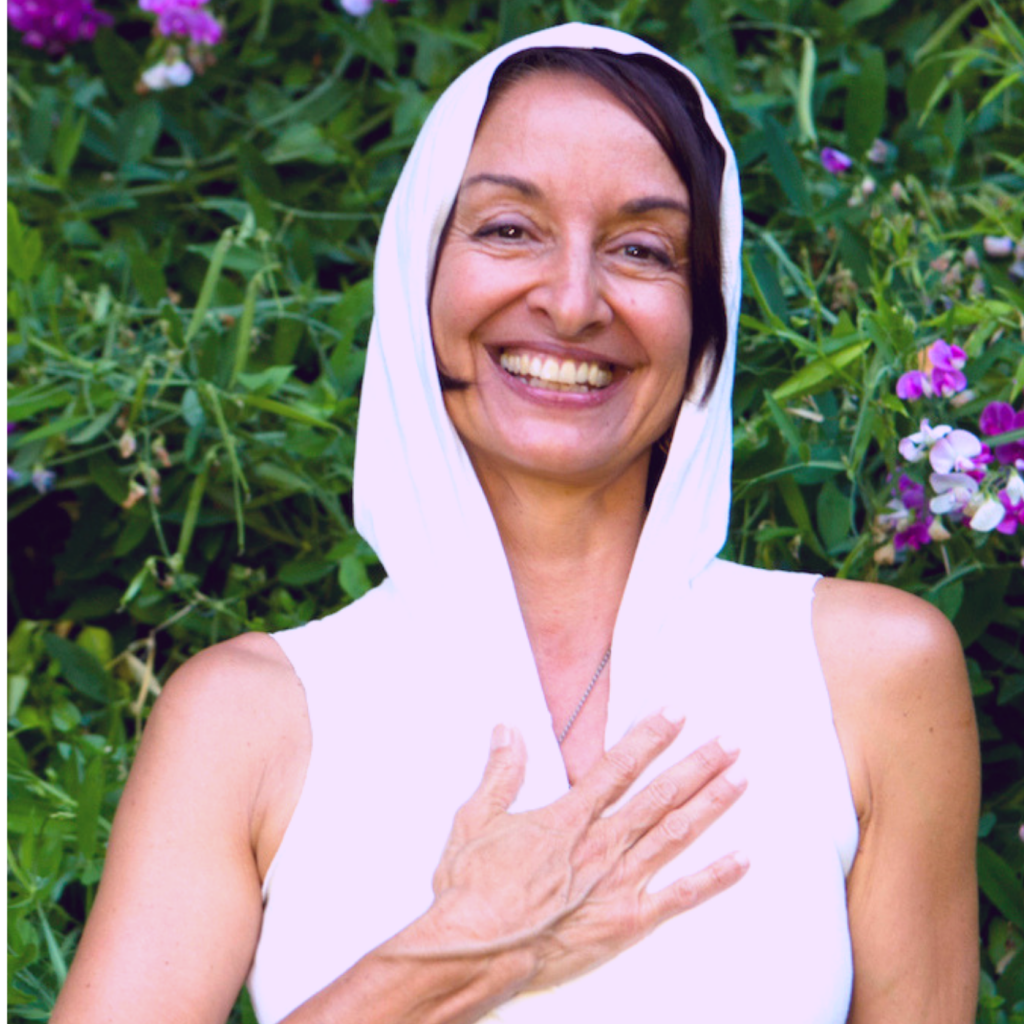 "My real love is working with people who have had trauma and childhood adversity," she explained. But now both the focus and the scope have shifted. "I'm still welcoming everybody, but now it's more about targeting entrepreneurs and other leaders who have environmental and social awareness but have been limited by early adversity. I want to help them create a healthier society to protect the planet."
Duby's new organization, The Embrace ~ Mentoring to the Heart of the Matter, is now offering more than Yemaya could as a private practice. "It's a team, a movement, to help people be more willing to feel their feelings, and befriend the uncomfortable emotions," she said.
The new program is an "extension of Bones of Freedom, going beyond doing one-on-one bodywork sessions and trainings to deeper, longer-lasting transformational work," Duby said, noting, "I've found a way to take people into a place of deeper embodiment congruent with their own vision, with power and freedom." Upcoming opportunities include a seven-month mastery program featuring seven modules – belonging, relating, expressing, forgiving, inviting, seeing, and trusting – each with extended explorations that incorporate Duby's expertise in Childhood Adversity Recovery and Trauma Healing.
This Saturday, April 6, at Yoga Soup, Duby will debut the new approach in an event titled "From Trauma to Embodied Wisdom," introducing people to her "Oceanic Wave of Feeling" process and the new programs as well as experience trauma release bodywork.
"It's both educational and experiential, with guided journeys, dancing, qi gong, storytelling and information about how we recover from trauma," she explained. "It's about helping people to discover on their own how to go as deep and get as free as they want to be. It's a form of life coaching, where they can move forward on their own. I want to give people tools to effect change on a much larger scale."
The end result is a path toward the physical and spiritual healing of the planet, she said. "When we start feeling, as we become more in touch with our emotions, our natural desire to protect the earth, our children, and next generation arises. You can't avoid it."
Lizzie's Lucidity Preview
Lizzie Smith, who has been studying Tea Ceremony for two years under Wu De and the Tea Sage Hut based in Miaoli, Taiwan, offers a special Silent Tea Ceremony at 3:30 pm on Friday, April 5. The new moon event offers an opportunity to cultivate stillness and acceptance of the present moment, so while sipping the tea prepared by Smith, participants will sit in reverent silence and connect to nature, ourselves, and one another. While tea ceremonies are abundant at the Lucidity Festival, which returns to Live Oak Camp next weekend, April 12-14, the nature of Tea Ceremony is very intimate, so only seven seats are available for Smith's ceremony at Yoga Soup, which can be reserved online with a sliding scale donation of $7-$15.
Soup's On
Ecstatic dance is also prevalent at Lucidity, even more so this year, but for those who don't want to wait another week, the new month brings April's First Fridays Ecstatic Dance to the yoga studio. The barefoot, substance-free, live DJ, get-down dance party starts with a Contact Improv Warm-Up from 7-8 pm, followed by the ecstatic dance 'til 9:30 pm, with music loosely following an ecstatic dance/5rhythms "wave" with slow and mellow music building to chaotic intensity and then returning to stillness at the end. Admission is $15, and all proceeds are donated to a local charity to support our community.
Elisa Rose's Embodiment Alchemy Series continues on Sunday evening with a focus on "Rest & Relaxation." Participants will connect to the power of your voice, the intelligence of your body and the creativity of your essence in an inner journey through a combination of somatic movement practices, vocal opening, sensory sensitization (blindfolding), dance, and playful wonder, with specific practices connected to the theme. "Sounds of the Heart" opened the series on March 31, and "Play & Creative Expression" closes it out on April 14. Admission to the 7:30-9 pm workshop is $25.
Sacred Spaces Signing
Santa Barbara Museum of Art Store hosts a visual presentation and book signing with Genevieve Antonow, whose book Santa Barbara Sacred Spaces is a historical and illustrative exploration of the Central Coast's diverse religious settlements, their distinctive houses of worship and universal spiritual paths amid the stunning landscape of the area. A keynote slideshow of shots from the book and more will be projected during the free 6-7 pm event on Thursday, April 4, to illustrate Santa Barbara's remarkable history as a place of spiritual wealth, diversity, beauty, and tranquility. Visit www.sbma.net/events/sacredspaces.
The Path of Self-Compassion
The next workshop from psychologist, meditation teacher and author Radhule Weininger, Ph.D., and her husband, palliative care physician Michael Kearney, will focus on how to emerge from a sense of unworthiness and self-blame into positive and healthy relationships with ourselves and others. Through the practices of mindful and loving awareness, self-forgiveness, self-compassion, and gratitude, participants will learn how to transform our habits of self-limitation. The 2-6 pm event on Saturday, April 7, will include lightly guided meditations as well as inquiry and sharing through structured, guided relational practice. Objectives include learning how to use the psychological and meditative building blocks of mindfulness of breathing and compassionate meditation as therapeutic ways to reduce stress, anxiety, and depression. Fee is $70.
April's Solidarity and Compassion Project – launched by Weininger and others in the wake of the 2016 election – takes a new tack via a World Café format. With a theme of "Active Hope," the 7-9 pm event on Wednesday, April 10, looks at climate instability and the change in weather patterns with increasing instances of droughts, storms, rising tides, and melting ice caps, from the lens of learning how to talk about it and what to do with the information other than vacillate between panic and paralysis. After a brief meditation and a talk, a series of open questions from Joanna Macy will invoke an interactive exploration of thoughts and feelings, gathering resources from spirituality, psychology, science, and community-building to support each other in finding new ways forward that free us to feel and act on behalf of a world where everyone's needs are respected. Rev. Julia Hamilton, MA, minister of the Unitarian Society, and UCSB climate scientist Catherine Gautier, PhD, join Weininger and Kearney for the event, which, in true café style, features tea, coffee, cookies, and music.
"Two Obscurations"
The new four-week series with Santa Barbara Bodhi Path's resident teacher Dawa Tarchin Phillips addresses how erroneous ideas, beliefs, and worldviews and afflicting emotions cloud our perception and insight into the true nature of our being and this world. The in-depth exploration of the only two serious hindrances on the path to awakening includes instruction on learning how to overcome them. "Two Obscurations" will be presented via Live Stream on site at the center as Philips travels 7-9 pm on Thursdays, April 4-25.
This weekend at the Santa Barbara center Khenpo Tsering Samdup – Phillips' counterpart at Bodhi Path San Luis Obispo – presents "Confession and Taking Hold of Bodhichitta" from "The Way of the Bodhisattva" by Shantideva. The program, which takes place 9 am to 1 pm on both Saturday and Sunday, April 6-7, discusses how pure compassion is a virtuous state of mind, which in turn is a meritorious state of mind. Only through accumulating great merit can one experience the purest compassionate state of one's mind. The two chapters from the book teach about skillful means of accumulating that merit which gives rise to most pure compassionate state of mind. Admission is $70 for both sessions or $40 each.
Coming soon: Sunday at the Center – Thursday's lecture meditations and Tuesday night's weekly meditation from Santa Barbara Bodhi Path members are about to get a new partner. Meditation sessions on Sunday mornings start on April 14 and will follow the Tuesday format of two 20-minute sessions led by Sangha members. Admission by donation…
Power of Presence
Phillips pulls back into town in time for one of his periodic retreats in the area. "The Power of Presence – Deepening Your Inner Peace, Joy and Freedom" – which takes place April 29 to May 3 at Zimmer Retreat Center in Ojai – offers participants opportunities to experience a deeply personal exploration of awakened presence through mindfulness and meditation practice. Phillips, a recognized master of "modern day awakening" will outlay an array of personal access points to greater freedom, meaning, and wellbeing, and gateways to experience the transformative power of presence in all areas of life and work. The retreat is comprised of periods of silent meditation, personal inquiry, wisdom teachings, interactive transformational exercises and Q&A sessions. Registration ends April 11. Visit www.powerofpresence.org.
Meditating at Mahakankala
Santa Barbara's other popular walk-in Buddhist center also has a new class series running this month. "The Art of Acceptance: Buddhist Meditations for Everyone," which takes place 6:30-7:30 pm on Wednesdays, April 3-24, tackles the tendency we have to regard difficult situations as concrete problems rather than realized that the difficult experience comes from the inside of the mind. If we were to respond to difficult situations with a positive or peaceful mind, they would perhaps transform from problems to opportunities for growth and development. Each class begins with a guided breathing meditation and culminates with a second meditation based upon the evening's topic. Everyone is invited to drop in to any or all classes in the course, which is perfect for beginners or those with meditation experience, via a $10 donation at the door.
You might also be interested in...