Art Hacks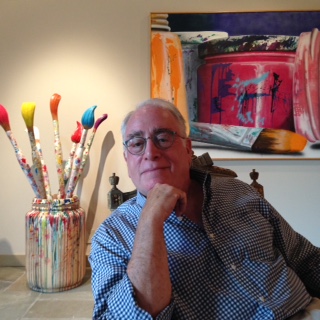 Montecito attorney David Gersh has just published his sixth book, How to Collect Great Art on a Shoestring.
David, who studied at UCLA and Harvard, says his latest work talks about how to acquire paintings by artists who are in the Guggenheim, the Whitney, and MoMA for just a few thousand dollars, not tens or hundreds of thousands.
"Their works are affordable because these artists have been forgotten," says David, who has written three art world mysteries. "Most artists are. Yet many are amazingly talented, their art is glorious, and living with great art is such a joy!
"I couldn't resist making the book fun. For millennials there's even a chapter on 'What is a Shoestring?' It took about year. I wrote and edited six drafts."
Welcome Back, Salonen 
Finnish conductor Esa-Pekka Salonen, former music director of the Los Angeles Philharmonic, returned to Santa Barbara for the third time as principal conductor of London's world-class Philharmonia Orchestra, part of the international series staged by CAMA – the Community Arts Music Association – which is celebrating its centenary.
It was 60-year-old Salonen's fourteenth appearance in a CAMA concert – 11 concerts with the Philharmonic between 1993 and 2008 and three concerts with the Philharmonia.
The 74-year-old orchestra, which is based at London's Royal Festival Hall, was in top form playing Arnold Schoenberg's Romantic tone poem Verklarte Nacht, originally a sextet later arranged for string orchestra, and Anton Bruckner's expansive Symphony No. 7 in E Major.
A sublime Granada evening…
You might also be interested in...