Brossé & Mozart: Great Minds Sync Alike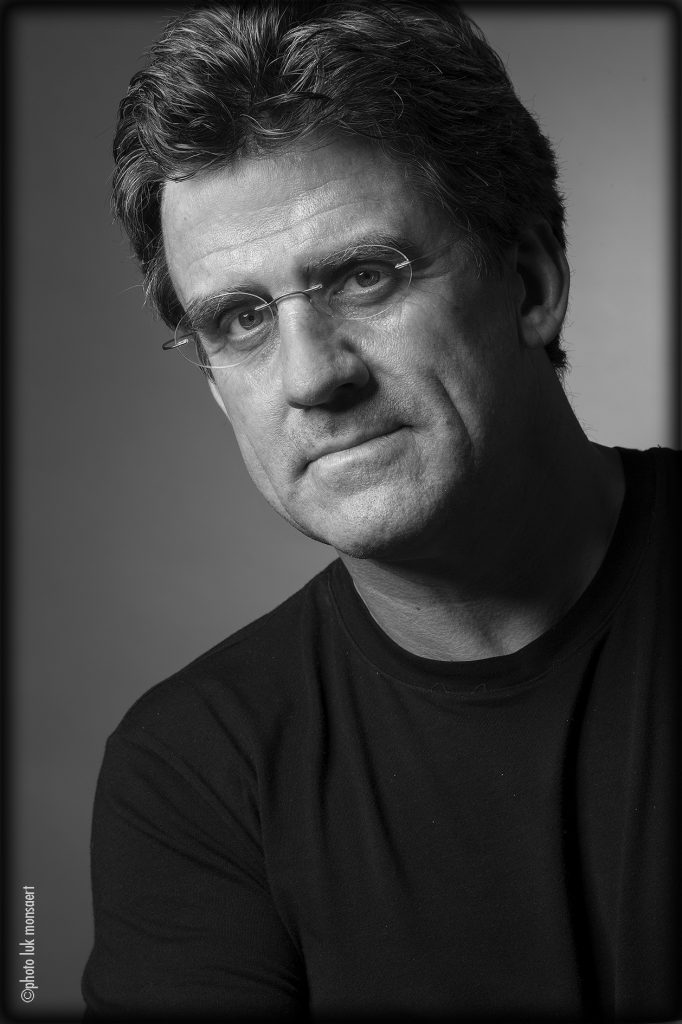 Four years and at least seven of his own scores ago, the distinguished conductor-composer Dirk Brossé made his debut with the Santa Barbara Symphony with the Granada's first live-to-screening synchronized musical performance since the installation of the theater's state-of-the-art rear-projection film system. Brossé and the members of the orchestra who often also frequently freelance on film scores in Los Angeles brought out the genius in Charlie Chaplin's silent romantic comedy City Lights. That was a piece of cake for the veteran musician who by his own estimate has guest conducted more than 120 orchestras all over the globe in his 40-year career.
The Belgium-born Brossé, who counts about 30 film scores and another dozen musicals among his more than 400 compositions, has also been pretty busy in the interim leading to this weekend's sophomore appearance with the local orchestra. The Music Director of the Chamber Orchestra of Philadelphia and the Ghent Film Festival in Belgium, where he also serves as a professor of conducting and composition at the School of Arts / Royal Conservatory of Music, Brossé keeps writing and wielding the baton, adding to an already impressive body of work. Most recently, he conducted "Brave in Concert," playing the Disney film score live to a screening in Brussels, and "Shakespeare in Concert," with a variety of film and theater clips, in Prague, just in the last two months, while back in October he stepped in for John (Star Wars)Williams in a milestone celebratory concert of the famed film composer/conductor's movie scores with the London Symphony Orchestra.
His duties in this weekend's pair of concerts (see the Entertainment Calendar on page 42 for details) addresses excerpts of important works by one of the great masters of the last millennium in Mozart, whose composing genius is exalted while his juvenile behavior pilloried in the jealousy-devours-you tale in the multiple Academy Award-winning 1984 movie Amadeus. Timing is everything in syncing to the screening, Brossé explained in an email interview from Belgium.
Q. What makes you so prolific, or rather, how are you able to do it all?
A. I am a fast worker and I try not to [waste] too much time. My life is quite structured. I do travel a lot but study most of my score on planes, trains, and during any lost moment. Composing I do in my studio. Then it should be quiet around me – and in my head.
How does composing affect, or relate to, conducting, and vice-versa?
It has been a long time struggle [doing both]. The composer wants more time to write while the conductor loves doing more and more interesting projects. I try to find the right balance. In summer I take time to write and during the years there are three to four cluster moments (4-6 weeks) of travelling and conducting.
The program here is Amadeus Live, with the score performed live by the symphony in sync with screening the movie. Were you a fan of the movie when it played theatrically? How does the film itself hold up for you?
It is one of the greatest films about movies about a composer ever made. I was a fan since the first moment. It gave an insight to a greater public of who Mozart was, or at least who he could have been. Of course it is an "interpretation" by a couple of screenwriters – reality was probably a bit different – but still, it gives an idea about Mozart's epoque, his life and his relationship with Salieri.
What is your approach or, more specifically, how do you keep things fresh and vibrant when conducting for a live screening or theatrical performance in which the visual focus is on something other than you and the orchestra?
I try to conduct every piece as it were the very first performance ever. I approach the score with fresh eyes and ears. Every performance I try to do something else in order to keep everything fresh and crispy. At the same time I try to conduct every concert as it was my last one. That helps keep me going…. [As far as] Amadeus, the challenge is to get everything synchronized with the film without [using] a click track. I hate click tracks because when musicians have to play to clicks, they sound like robots. [My] click track is the inner pulse I developed over the years. I know both the film and the score from memory.
'Art' Closing, Art Openings
DIJO Productions originally had no plans to stage its production of Art in downtown Santa Barbara, opting instead for the recently renovated appropriately art deco theater now known as The Alcazar in Carpinteria, where the show's two-week run came to an end last Sunday afternoon. But apparently, disappointing attendance means Karp beats Carp – as in the Karpeles Manuscript Museum on Anacapa, where DIJO will be delivering an extra performance of playwright Yasmina Reza's 25-year-old classic (translated from the original French by Christopher Hampton), a crisp, witty comedy about sniffing out authenticity vs. pretentiousness in both painting and friendship. The final show at 2 pm on Saturday March 16 will be "a bit minimal setting-wise, but the show can do without the niceties," said co-star Geren Piltz, who shares the stage in the 90-minute dramedy with Ed Giron and Bill Waxman. Anyway, it's free. So I guess the play really is the thing.
Meanwhile, bouncing back to an actual art gallery, the new exhibition from visual artist Stuart Carey – who last spring put paint to works by photographer Patricia Houghton Clarke to collaboratively mount a show cleverly called "Metamorphograph" – is part of another collaborative show called "Bounce!", which also features works by Charlie Patton, Taj Vaccarella, and Kurt A. Waldo, the show opens at MichaelKate Interiors in the Funk Zone this Friday, March 15, and hangs at the expansive furnishing emporium through mid-May.
Other shows opening during the bi-monthly Art Walk include "The Haley Collective: Homecoming," featuring works by Larry Mills, Jorge Rivas, and others, curated by Nathan Vonk, who got his start 15 years ago with the collective before moving on to become the art dealer-owner of Sullivan Goss. Luke and Micah Lamar's FunkFactory and Wallace Piatt's and Jill Johnson's Rodeo of the Arts Gallery are both having their grand openings during the 5-8 pm Funk Zone Art Walk.
Orchids Galore
The 74th annual Santa Barbara International Orchid Show, the country's largest and oldest celebration of the plant, returns March 15-17 to the Earl Warren Showgrounds for a three-day event featuring thousands of blooms highlighting the bold and beautiful horticultural innovations and evolutionary feats of more than 50 exhibitors and vendors from around the world. The show pays homage to more than 25,000 species of the uniquely captivating and exotic flowering plants, and boasts innumerable stunning and sweet-smelling exhibits and floral arrangements, orchid art and photography, orchid culture demonstrations, and sales from dozens of local and international vendors. The Orchids After Dark opening night fundraiser features gourmet appetizers from C'est Cheese, a no-host bar, Tiki tunes, exotica/lounge and Island music by DJ Darla Bea, and the chance to commune with the displays away from the crowds. Visit https://sborchidshow.com.
Thief of Letters
It's probably just a coincidence that UCSB Arts & Lectures is presenting Susan Orlean, the bestselling author of The Orchid Thief, this Thursday, March 14, on the eve of the annual Santa Barbara Orchid Show beginning its three-day run at the Earl Warren Showgrounds. Meryl Streep won an Academy Award playing the character of Susan Orlean in the wildly clever film adaptation that was called Adaptation. Orlean's latest, October's The Library Book, delves into the cold case about the fire at the Los Angeles Public Library in 1986 which destroyed 400,000 books. Orlean will talk with Santa Barbara's own literary treasure, Pico Iyer, in the next installment of the Speaking with Pico series at 7:30 pm at UCSB Campbell Hall.
Keep CALM and Write On
Mindy Johnson's latest book, Ink & Paint – The Women of Walt Disney's Animation, touches upon yet another area in which women's monumental role has been vastly unreported, revealing the thousands of unsung female artists behind the creative and technical advances within the animation art world at Disney. Johnson, who is an award-winning playwright, Grammy-nominated songwriter, musician and recording artist, film teacher and TV and film producer, is currently helping to develop the book for an eight-part docu-series to launch The Walt Disney Company's new streaming service Disney+.
Joining Johnson among the interviewed authors for this year's CALM Celebrity Authors' Luncheon, which starts at 10 am on Saturday, March 16, at the Hilton Santa Barbara Beachfront Resort, are Luis Alberto Urrea and Kate Quinn. A 2005 Pulitzer Prize finalist for nonfiction and member of the Latino Literature Hall of Fame, Urrea is the critically acclaimed and best-selling author of 17 books, including the 2016 his collection of short stories, The Water Museum, which was a finalist for the PEN-Faulkner Award and was named a best book of the year by The Washington Post and Kirkus Reviews, among others. Quinn is The New York Times bestselling author of seven historical novels, including The Alice Network, the Empress of Rome saga, and The Borgia Chronicles.
At least 10 additional authors will be on hand to autograph books and talk with readers, and among the most timely would have to be Jane Sherron De Hart, whose biography Ruth Bader Ginsberg: A Life benefited greatly from the near concurrent documentary RBG, which was Oscar-nominated. Also in the political realm, Jo Haldeman's In the Shadow of the White House, in which she tells her story as the wife of H. R. Haldeman, often referred to as the second most powerful person in the Nixon administration, and a convicted conspirator in the Watergate scandal. The luncheon supports the nonprofit whose mission is to prevent childhood trauma, heal children and families, and build resilient communities throughout Santa Barbara County. Details and tickets at http://calm4kids.org/events/celebrity-authors-luncheon.
Book 'Em
Kids get a double dose at 2 pm Sunday afternoon, March 17, at Chaucer's when author Hal Price, who is "on a mission to save the tradition of family bedtime stories," shares stories from his latest project, The Adventures of Eli Benjamin Bear – A Heart's Journey Home. He's bringing a special guest, writer Susan J. Busen, who will tap into her book Tap into Joy – A Guide to Emotional Freedom Technique to show parents how to help your children achieve freedom from negative emotions and limiting beliefs. The following evening at 7, Chaucer's Books hosts palliative medicine Dr. Sunita Puri whose debut book, That Good Night – Love and Medicine in the Eleventh Hour, delves into her background that formed her desire to enter the specialty as an attempt to translate the border between medical intervention and quality-of-life care. Admission to both events is free.
You might also be interested in...