Joel Weiss: Head of School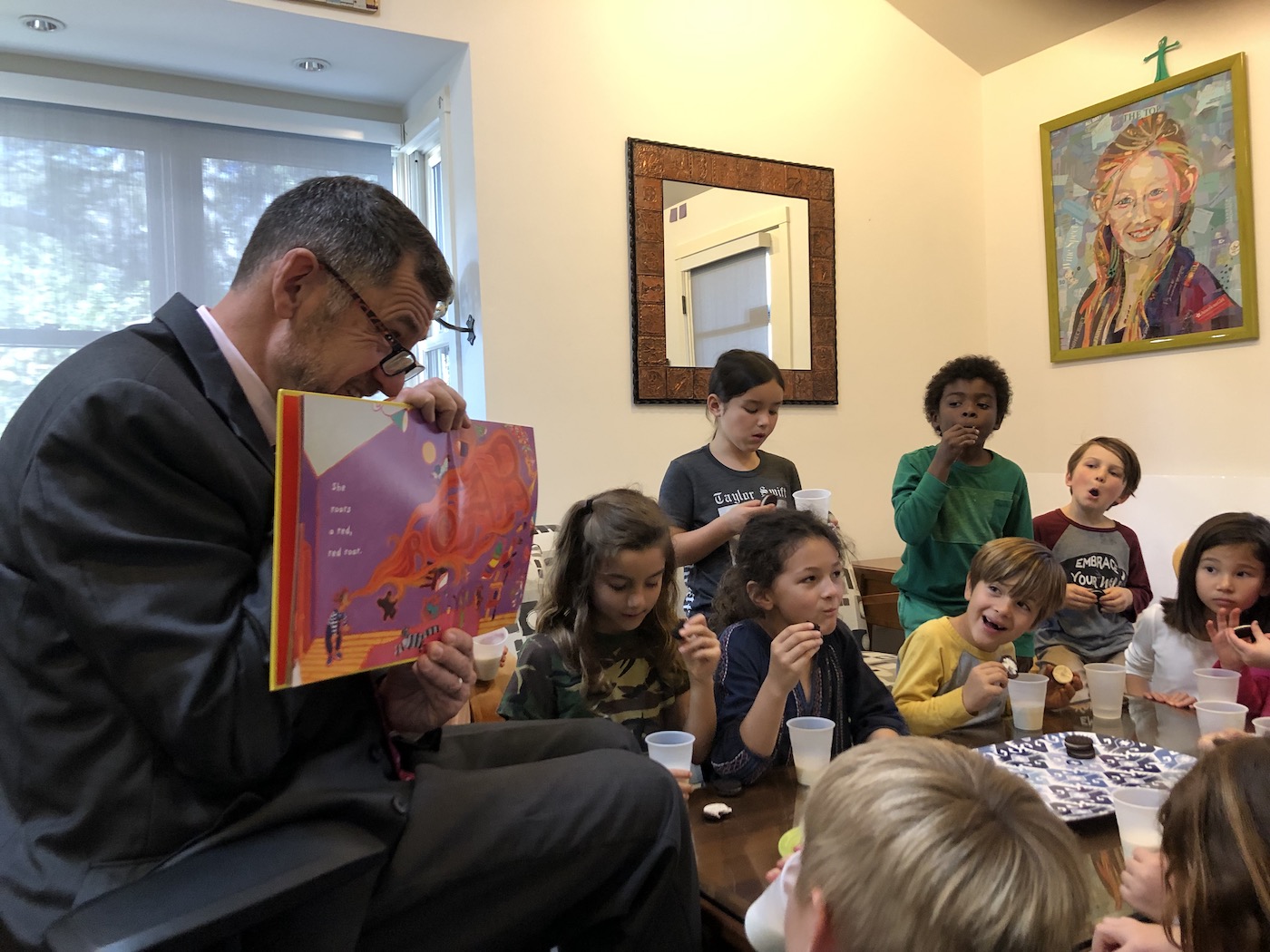 On a recent sunny day, I stopped by Crane Country Day School for a visit. It was one of those special days when the entire school was out on the quad being served a potpourri of luncheon delights. Food stands, tended by kids and parent-volunteers, burgeoned with a huge variety of offerings: everything from salads, veggies, and finger foods to a boxed stack of New York style pizzas. The entire student body, from kindergarten to 8th grade, enjoyed selections under the oak trees or in the sunshine.
"We grow most of the vegetables and green salad fixings right here on campus," explains Joel Weiss, Head of School. "Not the pizza, of course," he chuckles, munching on his first cheesy bite as we make our way down a hallway to his office. On the way I lingered, managing to stop every couple of feet to admire the student artwork on the walls.
Now in its 90th year, Crane Country Day School is a small school with a student population of around 250. "There's an interesting story about how the school was founded," reveals Weiss, now seated in his office. "It had to do with a dream… well, two dreams," he says.
One Night, Two Dreams
According to legend, William Crane and his wife climbed into their Model T for the lengthy excursion from Pasadena to Santa Barbara in 1926 to visit friends. During the first morning of their visit, Crane's wife casually mentioned a "silly" dream she'd had during the night that the two of them had moved to Santa Barbara and… established a school. Apparently her husband found her dream anything but silly, as he'd had the exact same dream. Soon after the night of the dreams, the couple began searching for property in Montecito. Two years later, in 1928, Crane School opened its doors to 31 students, mostly boys.
"The educational philosophy established by the Cranes is still in place and is the underpinning the of our curriculum today," says Weiss. "The Cranes believed in a 'hands-on' education, otherwise known today as 'experiential learning', that included the arts, trades, academics, and sciences. As an example, learning about the solar system had the students actually becoming the planets and walking their orbits around an imaginary sun. And that was 1928!" exclaims Weiss, adding, "Back in the day that was innovative teaching."
Mr. Weiss boasts that Crane teachers continue to follow in those early footsteps, combining both academic and experiential learning to explore science, technology and math. "Using both sides of the brain is what we are all about; our feet in both courts, the academic and creative. You see kids doing things, building, creating, acting on stage… you see that at all grade levels."
Teaching "Fractions"
Weiss laughingly recalls an incident from the early Crane years. "A math teacher, teaching the concept of fractions took a pair of scissors and cut his tie in half to illustrate parts of the whole. Great shtick… stays with kids and creates memory, and kids learn," he notes. "And this was pre-Depression, when most schools relied on rote learning and memorization – not the relaxed schools you see today."
Joel Weiss, who grew up in Chappaqua, New York, is the son of a Park Avenue lawyer and an artist mother. Weiss envisioned his future as an engineer, having been strong in math and science and surrounded as he was by doctors, lawyers, and business people. As a student at Swarthmore College, however, the doors flew open into to another world. "I found myself surrounded by a bunch of talented college students interested in art, music, poetry and the like. And randomly during my sophomore year, I signed up for an education course and stumbled into the world of schools."
Included in that course was actual work in the classroom with children. "My work with kids in the classroom was so refreshing," he says, "that I realized this was the calling I needed. Two of Weiss's teachers encouraged him to continue his education at Harvard University. "I sort of stumbled into that too… Luckily. Most of the other students at Harvard," he recounts, "were experienced teachers and I found myself with a bunch of adults, much like my parents' friends, who enjoyed the wider range of working people pursuing interests they loved. That was a wonderful chapter in my life."
Administration Beckons
Weiss found his way into teaching through his knowledge of computers, not well known or understood in the world of education at the time. "I had taken computer courses along with math and science and had that skill set already in place," he explains. Weiss's first job as a computer teacher brought him to California at Lick-Wilmerding High School, an independent day school in San Francisco. Similar to Crane, it provided the entire spectrum of education, both academic and hands-on. "The school had received a one-hundred-thousand-dollar grant to start a computer center and they put me in charge," he says. "Once again I seemed to be at the right time in the right place."
The opportunity to become an administrator came knocking at his door a few years later when the Dean of Students position at Lick-Wilmerding opened up. "This wasn't exactly part of my career plan, but I discovered I really loved being in administration. When kids messed up you got to be with them, to help them to learn, take on responsibility and navigate their way out of a problem… effectively counseling." A few years later when the Head of School at Lick-Wilmerding took a sabbatical, Weiss was asked to be acting Head until the man's return. "I got to do a lot of crazy things in one semester that I'd never anticipated," Weiss laughs. "Definitely scary fun, a quick learning experience and an opportunity to broaden my view." As a revered teacher and administrator Weiss remained at Lick-Wilmerding for a total of 14 years.
An offer from San Francisco Day School provided an opportunity to work with younger children from kindergarten through the eighth grade. At San Francisco Day, Weiss assumed the position of Head of Middle School and eventually acting Head of School. "By this time I was married and my wife, Mary Ann, a lawyer practicing in San Francisco, and I were both completely focused on our careers. And then… guess what? Our first child came into the world."
Coming to Crane
It was at that point that the Weiss family began to think about the possibility of relocating. Weiss began to look at potential schools and saw Crane Country Day School in Montecito, another kindergarten-through-eighth-grade independent school. "Everything about Crane just rang my bell," he says, "Just everything." Upon being offered the position as Head of School in 1999, the Weiss family packed their bags and headed south. Nineteen years later, he is pleased to be celebrating Crane's 90th year.
As our time draws to a close, cookies and milk are placed on the coffee table between us and Weiss's office door opens to admit a group of first graders to story time with the Head of School. "I love reading aloud to kids," says Weiss with a grin as he offers the children the treats on the table. Between bites of cookies and sips of milk, the first graders were absorbed in the storytelling.
As I slipped out the door, I was grateful for the afternoon and the opportunity to spend time with Joel Weiss, longtime Head at Crane Country Day School, another of Montecito's amazing neighborhood schools.
You might also be interested in...