Puppy Power: Collective Confers Jazz-plus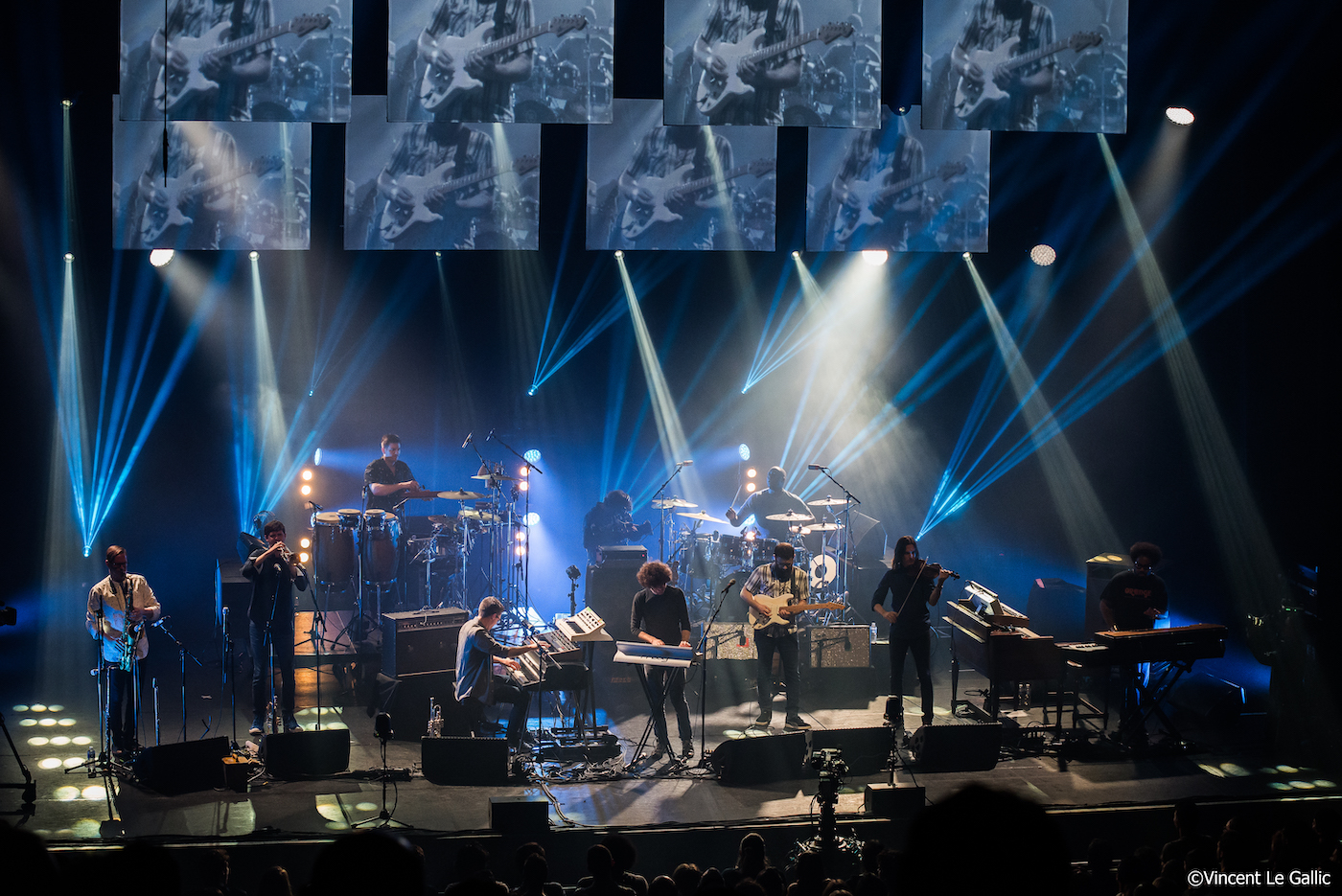 Trying to pigeonhole Snarky Puppy into a single genre would be a fool's errand, but suffice it to say that the three-time Grammy Award-winning Brooklyn-based collective that features a revolving cast of up to 25 musicians makes music that's at once heady, heart-centered, and headed for the dance floor, an amalgam they call "music for your brain and booty." Many of the members maintain busy schedules as sidemen and/or producers with such artists as Erykah Badu, Snoop Dogg, Kendrick Lamar, and David Crosby, and come together in Snarky to, for lack of a better phrase, let their freak flags fly.
Bassist and primary composer Michael League, who founded the band while he was still in college in 2003, talked about its evolution and impetus via email in advance of Snarky Puppy's Sunday, February 24, concert at the Granada Theatre.
Q. You grew up with folk music and a stripped down sound is still a lot of what you play. What fostered your desire to move into jazz and more complicated structures? And how does that satisfy what I imagine is still an affinity for folk/simplicity in music?
A. My interest in jazz came about largely through the influence of my older brother, Panayotis, who was playing jazz drums during my teenage years. He showed me bands like Modereko and Oscar Peterson's trio, and my dad had groups like Steely Dan in his record collection. I guess I just naturally traveled from CSN to Zeppelin to Steely Dan to Straight Ahead. They were gateway drugs of a sort.
What was the impetus behind Snarky Puppy, and how has that evolved over the years? How much reflects a desire to influence the listener vs. simply exploring your own interests?
Snarky Puppy was a vehicle for the music I was writing in my first year of college. It was a combination of my new-found interest in jazz and the music I grew up with, which had a more audience-accessible aesthetic. There was no agenda or mission statement. We were only trying to play interesting, original music that we related to.
How has going from relative obscurity to relative fame – and Grammy Awards – had an impact on the music? Has the vision stayed true?
If anything, it gave us more confidence to write the music we really want to write, knowing that now people will hear it. It opened many creative doors for us… after all, we were recognized for doing what we love. So it makes sense that the people who recognized us for that would want to hear more of what we love to do. It's actually been liberating as opposed to confining.
Band membership/participation is always in flux; what are the factors that help the group gel as an ensemble with such a flexible roster?
I think that the band's sound is a combination of an initial concept, the various personalities and musical tastes of the players, and the mentality of embracing everything that we experience in order to push our music forward. Everyone has their own voice, and their own story. We try to create a place where everyone can just focus on being themselves while serving the compositions. And I think that the fact that we've played close to 2,000 gigs makes the music gel in way that isn't possible without that amount of mileage.
I read a quote from you: "It's my instinct to pollute the sonic landscape with as many things as I possibly can." What's your process for honing and refining?
I'm so aware of this tendency that now I think I've gotten into the habit of doing the opposite, sometimes to a fault. I have little tricks I use to limit my instinct to clutter things up. But generally I've grown to love landscapes with space, so my intuition is changing towards doing that naturally. If a track sounds full before it's gone to mixing, you have too much going on.
From what I understand, there isn't much jamming. Is there room for improv or is it more tightly scripted like, say, Steely Dan?
There's loads of improvising. In fact there are very few moments during a gig in which no one is improvising. But "jamming" in the sense of free-form improvisation doesn't happen much. We have structures within which certain players can freely express themselves, and the structures are the things that make each improvisational section specific to that song. One of my favorite things about Snarky Puppy is the way in which we improvise as a group. The same song can be almost unrecognizably different from night to night based on a single thing that a single player contributes in a single moment. Everyone's ears are open, receptive to the subtleties floating around the stage from each individual player, but without disrespecting the essential content of the composition itself. This allows us to consistently deliver the emotional content of the songs each night while allowing the music to grow and breathe, creating a unique musical experience each night (for better or worse!).
Tariqh's Take on Teen Star
Tariqh Akoni won't be at the Arlington Theatre on Saturday night for the 10th Teen Star Santa Barbara finals, as the longtime music director for Josh Groban is on tour in Asia with the pop star. But you can bet a good part of his attention half a world away will be on the singing competition, as Akoni served as the mentor for the 12 young vocalists (10 finalists and two alternates) who are vying for the county's American Idol-style crown. (See the Entertainment Calendar on page 42 for details.)
"I was really amazed by the level of talent," said Akoni, who has spent 15 years with Groban, as he waited for his plane to depart New York for the Philippines. "They were really creative and very musical, and much more mature than I expected. I was really stunned."
It's likely the teens also took quite a bit from their time with Akoni, who took over mentoring duties from Kenny Loggins. "I looked at my role more as a musical director than a vocal coach, and coming from the perspective of the audience," Akoni said, describing the balancing act. "I wanted to give them tools to help them grow into their own artistry. But not so much that I was dictating how I would do it, or define things so specifically that I'm stifling them and not letting them find their own voices."
While trying to work within each singer's "skill set" to steer them toward what they would they need to win on Saturday night, Akoni did find himself drawn to a couple of the competitors, although he didn't play favorites. "There were two or three who really stood out and I remember being really struck when I first heard them. Some of them came in with such a strong sense of art, I'm really curious to see where they go from here. But this kind of showcase or contest is very subjective."
The level of professionalism by the teens outstripped Akoni's memory of his earlier self. "When I was their age, I wasn't near ready to do anything like this," he said as the final pre-takeoff announcements came over the plane's PA. "Hopefully, one of them can take my job and I can stop having to travel so much."
Oscar Olympics
In what is shaping up as an unusual year at the Academy Awards, the top handicappers (aka Oscarologists) are pretty much are split on picking the likely winners, as the guilds, BAFTA, and other indicators have also diverged. Surprisingly, all four of the acting categories seem to be up for grabs, as are many of the other major awards.
Still, it's a cinch that SBIFF will have already honored the man who will walk away with the Oscar for Best Director when the Academy Awards are broadcast live on Sunday evening, February 24, as once again all five director nominees were on hand for the festival's own award night which features interviews and discussion with each of the auteurs. On the other hand, the number of overall Oscar nominees were reduced by a sizeable factor when the 101 Freeway closure prevented two-thirds of the expected participants in the producer and screenwriter panels from being to attend their events on the first Saturday of fest. But it's virtually a given that several SBIFF attendees will be snapping up statues on Sunday as the Academy Award nominee quotient at SBIFF increased anyway, given that all 18 of the recipients of the Variety Artisans Award and participants in the Women's Panel are also up for Oscars, not to mention the nominated actors and actresses who received tributes.
How many familiar faces who just appeared in Santa Barbara will we see on the broadcast? And who will walk away with the biggest awards? If the idea of a host-less Oscar show for the answers makes tuning in at home seem a little lonesome, check out other Oscar viewing options including SBIFF's benefit pajama party at the Riviera Theatre complete with Red Carpet arrivals, food, drinks, prizes, and an auction, a free Academy Awards viewing party at the Alcazar Theatre in Carpinteria, or the free digital HD simulcast at the Arlington Theatre downtown.
Further Focus on Film
With SBIFF in the rear-view mirror, UCSB Arts & Lectures jumps back in with a different sort of movie marathon via the annual Banff Mountain Film Festival World Tour, boasting some of the best short films on mountain subjects from extreme sports to mountain culture and the environment shot in multiple exotic locations. The fest – a perennial favorite, as Santa Barbara has been a tour stop for the last 28 years – runs February 26 & 27 at the Arlington, with two distinct programs. Details and tickets at (805) 893-3535 or www.ArtsAndLectures.UCSB.edu.
Elsewhere, the co-working space known as The Sandbox joins the movie madness via hosting The Backcountry Film Festival, a celebration of the human-powered experience, on Friday, February 22. Created by the Winter Wildlands Alliance, a nonprofit working to inspire and educate the backcountry community to protect and care for their winter landscapes, the fest features 10 shorts encompassing adventure, environment and climate, youth outdoors, and ski culture. Admission is $10.
UCSB Pollock's Beatles Revolutions series screens Across the Universe, Julie Taymor's 2007 reimagining of the band's music as the soundscape for art, revolution, and love in the 1960s, on Wednesday, February 27. Veteran music and cultural critic Greil Marcus joins Carsey-Wolf Center director Patrice Petro for a discussion following the free screening.
Short Cuts 
The grand opening of the Magic Castle Cabaret across from the Andree Clark Bird Refuge was a singular sensation, boasting headliner Steve Valentine with the now semi-retired legendary 30-year Las Vegas magician Lance Burton – for whom one of the Cabaret's rooms is named – as opening act. Then there was Richard Sherman at the baby grand piano doing a medley of the hits he composed with his late brother from Mary Poppins and It's a Small Small World. We'll have much more down the road. In the meantime, you don't need to be a member to take in the larger scale illusions performed by The Clairvoyants, the Austrian mentalist duo who took second place in 2016 on America's Got Talent, when they appear (pun intended) at the Chumash Casino Resort's Samala Showroom on Friday, February 22…
Speaking of Stories is ending its long run after the current series concludes in the spring, but its Personal Stories segment – patterned after The Moth – continues to grow. Two full slates of true tales told by their local authors alternate twice at Center Stage Theater February 24-27, then they'll do it all again with 20 more original offerings from April 8-11… In between, The Moth Mainstage itself returns to the Lobero via KCRW on April 4.
You might also be interested in...