'Guest Artist' a Blast from the Past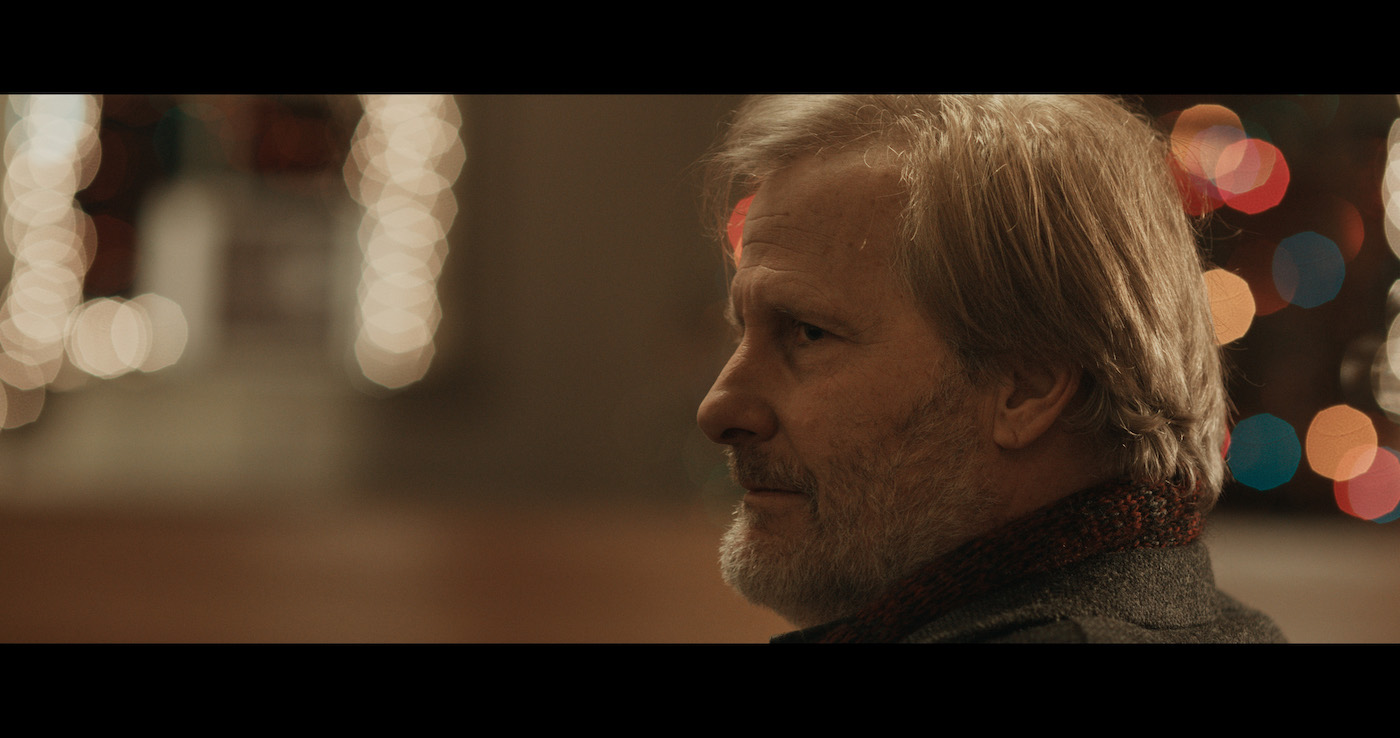 Guest Artist is the 10th of 18 plays written by famed actor-author-director Jeff Daniels that he has premiered at his Michigan-based Purple Rose Theatre Company, but only the second to be adapted into a movie. The 2006 work has only been produced a few times elsewhere, but the play still resonates for Daniels, who looked to his own past to fashion the story of a legendary but troubled Pulitzer Prize-winning playwright who comes to a small Michigan town at Christmas to mount a new commissioned work at the tiny company, his first work in 20 years because of an all-consuming sense artistic discontent, with alcohol as his only refuge. The cynical New Yorker is met by a young, aspiring, eager to please writer who finds himself having to challenges his literary hero to be the icon he'd hoped for.
The piece explores the tangled relationship between the dreams of youth and the wisdom of age, eagerness, and bitterness, and hope and despair. The twist is that Daniels, who also wrote the screenplay, stars as the drunken curmudgeon. What makes it even more fun and true-to-life is that the affable young writer is played by Thomas Macias, who is Purple Rose's stage manager with very little acting experience and is making his feature film debut.
Guest Artist was directed by Daniels' theater/TV/film acting-directing contemporary Timothy Busfield, best-known for portraying Elliot on the seminal 1980s series thirtysomething (he was also the White House correspondent who dates press secretary-turned-chief of staff C.J. Cregg on The West Wing), in his feature film directorial debut after hundreds of episodes of TV and countless plays. The movie has its world premiere at SBIFF on Thursday-Saturday, February 7-9. Busfield and the film's co-producer, the TV legend Melissa Gilbert of Little House on the Prairie fame and the former Screen Actors Guild president, who is also his wife, will conduct Q&A sessions after the screenings.
He talked about the film and his relationship to Daniels – whom he's worked with since both started out at the Circle Rep in New York in the 1970s, and whose plays he's produced since the 1990s – over the phone last week.
Q. What was it about the play that appealed to you?
A. It's a story about Lanford Wilson, the playwright (Fifth of July; Pulitzer Prize for Talley's Folly) both Jeff and I worked with and created roles with. I knew Lanford's eccentricities, and loved Jeff's personal take on him which is also my point of view of what Lanford was like, and the impact he had on people around him – he was not an easy guy. Jeff and I were both young and idealistic when we worked with him, and the story really represented aspects of experiences we both had. I wanted to help tell the story.
Also, Jeff and I both have theater companies and know the struggles, the issues, and how difficult it is to survive, and how difficult it is for playwrights to get their work made in the commercial film world. So there were a multitude of angles that made sense.
It sounds like it's based on a real event.
Loosely. There was an incident where Jeff had commissioned Lanford to come to Michigan and do a play for his company, and Lanford showed up drunk as a skunk and not wanting to work. So now Jeff's playing the character that's based on Lanford.
How was it to make your feature film directorial debut with this adaptation?
It was great because I have a lot of experience in theater and we were able to rehearse it in the space, block it more like a play than a movie, and use long shots and takes. We wanted to embrace the theater aspects because it's so heavy in the theme. I'm really happy with how it came out.
What makes the movie relevant to non-theater insiders?
First of all, Jeff is funny. And people will relate to these contrasting characters who establish a very Odd Couple feel – two opposites in the same environment. Add in the guy who runs the train depot having to live with these two lunatics – theater people! – for five hours. It's great to listen these two guys go at it before the twist near the end. Jeff's a great storyteller, and there's a very universal feel.
SBIFF: The End is Near
By the time you read this, at best only one of the Santa Barbara International Film Festival's tribute evenings remains on the schedule, and that's with Michael B. Jordan, one of the few awardees who is not up for an Oscar later this month. So if star-gazing on the Red Carpet and jostling with paparazzi are your thing, your festival has largely come to a close. But for the rest of us, the final three days of SBIFF 34 offer a wealth of opportunity as all the focus is on actual screenings and almost nothing else (save for a party or two), and there are literally more than a score of films that have yet to have their first showing. Two are previewed below.
Among the other coming attractions are screenings of all of the Oscar-nominated short films in all three categories (Live Action, Animation, and Documentary) that will continue post-Fest; the World Premiere of Peel, directed by Rafael Monserrate and starring Emile Hirsch (Into the Wild), Amy Brenneman (Judging Amy, NYPD Blue), in a quirky, coming-of-age story about a young man's journey to find and rebuild his broken family; Ordinary Gods, an animated short film written and directed by Jonah Ansell featuring the voices of Samuel L. Jackson and stars Kathy Bates.
Also on the horizon are Saturday's 10-10-10 Screenings, which just keep getting more professional every year. (One shot for four days on location at the mentor's not-even-one-year-old house on the Westside with a crew of nearly two dozen and even craft services.) And more good news: several of the popular films from the first seven full days that don't have repeat viewings over the final weekend not only have secured distribution, but have already lined up theatrical runs, including Santa Barbara dates down the road. At fest's end, SBIFF's year-round art house/foreign film screenings resume at the Riviera. Cinematic heaven continues.
You might also be interested in...