Pounding it with Paula: 6Qs with a Classic Comedian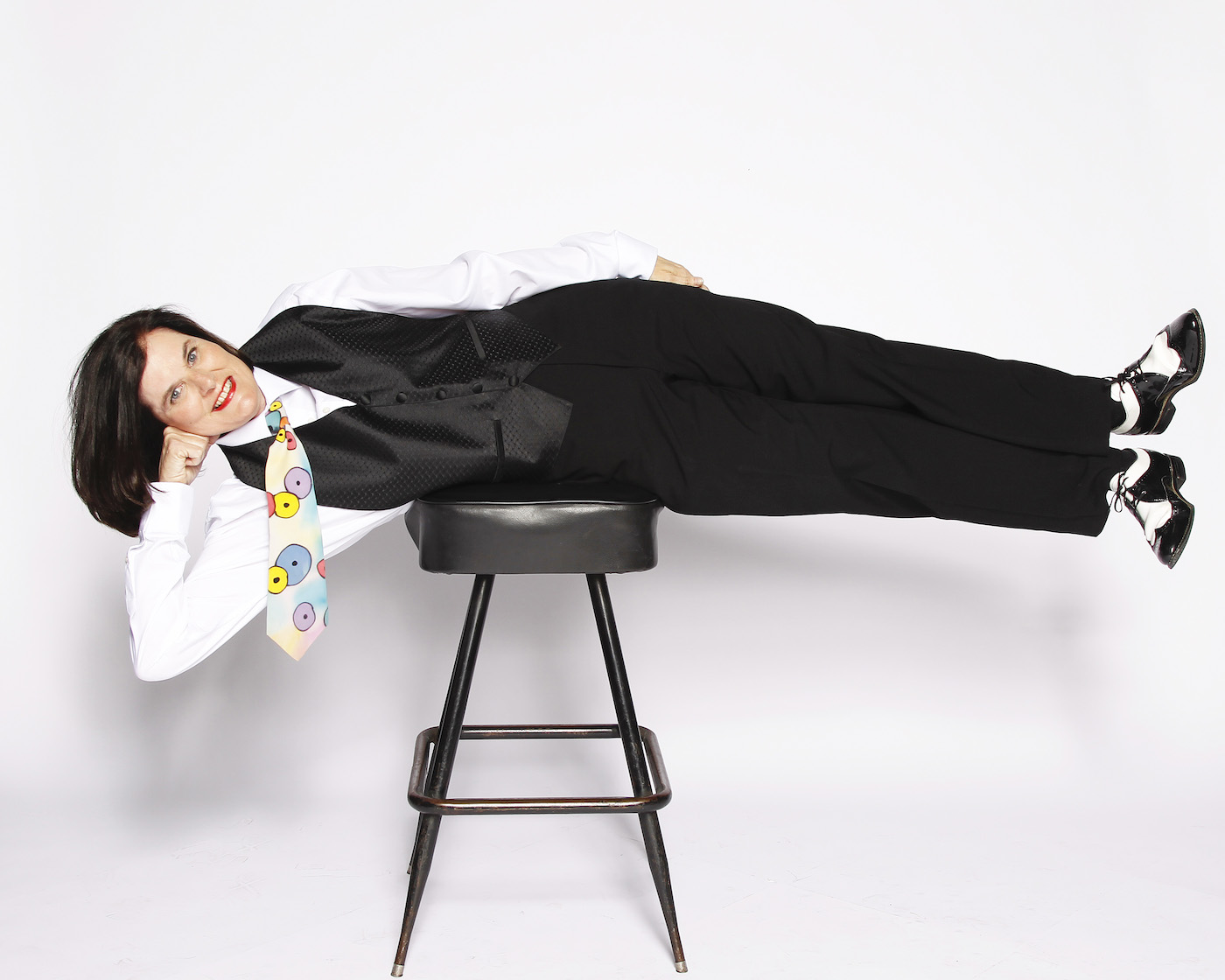 Paula Poundstone is the first to admit to a penchant for long-winded speeches, a tendency toward stream of consciousness rambling that would be confirmed by her colleagues on one of her longest-running gigs as a panelist on NPR's top-rated show, the weekly comedy news quiz known as "Wait, Wait… Don't Tell Me!" So the veteran comedian's comments over our 45-minute conversation have been severely truncated for this space, much like what happens to her on the podcast. "[Host] Peter Sagal tells me whenever I'm on the show, the taping runs at least an hour longer than usual," she said. "That's because I usually forget what it was I was talking about."
Fortunately, her stand-up appearances full of smart observational humor and witty off-the-cuff interactions with people in the audience have been honed via her decades of experience that date back to the Boston comedy clubs in the early 1980s, so Friday's show at the Lobero should get you out of the theater still laughing rather than lamenting.
Q. Your shows are mostly spontaneous. Do you have any set jokes at all?
A. No. I think of some stuff beforehand, and write it down. Not in its entirety. Sometimes I look at what I wrote and have no idea what it means. Usually it's just a list of subjects, things to bring to the forefront of my brain because I have a terrible memory. But there's also 39 ½ years of material rattling around in my head. The inside of my brain looks like one of those amusement park games where you step into a booth and they blow paper money around you, and you can keep whatever you can grab.
The shows are never the same partly because I have a really bad memory. But it's also because my favorite time of the night is talking to the audience. I just use what they say to set my sails for the show.
But you do react to the day's news?
Oh yeah. Especially now that I'm absolutely obsessed with it. I don't know anybody who isn't talking about it. I'm hoping that ends soon, but it doesn't look like it. I literally get up every morning and check to see if [President Trump] has been impeached yet. I have a little dopamine hit while I search and then I'm depleted right after.
That brings up the question of how hard it is to do your brand of comedy out on the road today in our incredibly polarized country.
I used to worry about [offending] part of the audience, but those people don't come to my shows. On the other hand, it's good to take your eyes off of politics for a night, so I only do a few minutes. But anytime anyone wants to know what I was doing today, it's always the same: I was watching MSNBC! When I leave the hotel room for the show, I turn off the lights before I turn off the TV!
You talk about your family and your life a lot. How much is true?
Well, I exaggerate. Slightly. The premise is always true. Maybe the rest of it… But the honesty is also what makes it funny. Parenting is f-ing hard! People want to know they are not alone… My family is mostly OK with it because they're not really paying attention… I was always secretly hoping that my kids might be deterred [from bad behavior] because they would worry that mom might talk about it. But it didn't work at all!
With all the podcasts and such, does stand up still hold a lot of appeal to you?
I love it! It's a very healing job. There may have been times that I didn't understand that the way I do now. The audience is my best friend, which I'm sure is a terribly mentally unhealthy thing but it's true. I just feel so comfortable in that setting. Laughing is good for the brain and the soul. In the spring, it will have been 40 years when I started, so I consider myself very lucky. I have a lot of layers of experience that help, which isn't to say that I don't screw up badly or say the wrong thing. But I've been at it long enough that I don't have to worry about not being able to anymore.
Speaking of that, the movie Punchline made it seem that comedians are notoriously unhappy folks. Is that true?
No! It's total BS. I don't know where the idea came from, although I bought into it when I was younger, and wore it like a crown of self-pity. But looking back I'm just embarrassed because our job is joyous! We get up on stage, talk about real stuff, and make people laugh. And then we go home and struggle with life like everyone else.
Classical Corner
Greek violinist Leonidas Kavakos, who enthralled a Santa Barbara audience with his unique timbre and astonishing technique when he accompanied pianist Yuja Wang in recital in 2017, returns to town for a program of Beethoven, Prokofiev, Bartók, and Enescu along with pianist Enrico Pace (7 pm Friday, January 25; Campbell Hall)… Opera Santa Barbara celebrates its quarter-century milestone with its 25th Anniversary Gala Concert in a non-stop hit parade of opera favorites sung by Isabel Bayrakdarian, Nina Yoshida Nelsen, Karin Wolverton, Audrey Babcock, and others, conducted by both former and current artistic directors Valery Ryvkin and Kostis Protopapas in honor of co-founder (and Montecito resident) Marilyn Gilbert (6 pm, Saturday, January 26; Lobero)… Santa Barbara Music Club's next free concert features pianist Steve Hodson, flute and piano duo Adriane Hill and Christopher Davis, and violin and piano duo Han Soo Kim and Neil Di Maggio playing works by Chopin, Debussy, Beethoven, and Carl Vine (3 pm, Saturday, January 26; First United Methodist Church).
Acoustic Alchemy
Singer-songwriters, folkies, and acoustic wizards abound as the inimitable Martin Sexton headlines over Chris Trapper at SOhO on January 26, the same night as Langhorne Slim, Stelth Ulvang of The Lumineers, and Chris Porterfield of Field Report play a "popup concert" at 8 pm in the Hotel Californian's Alhambra ballroom as part of the hotel's weekend-long Constellation event… Celebrated songwriter J.D. Souther, who has recorded many of his own albums as well as penned hits for the likes of the Eagles, Linda Ronstadt, Roy Orbison, James Taylor, Don Henley, George Strait, Trisha Yearwood, Brooks and Dunn, plays a show postponed from last fall at the Lobero at 7 pm on Sunday, January 27… That's the same day that percussion fingerstyle guitarist Don Alder – whose music combines textured melodic and rhythmic lines with fiery runs, soulful singing and sagacious storytelling – kicks of the Wooden Hall concert series for 2019 (4 pm; Alhecama Theatre).
You might also be interested in...