Eatery Updates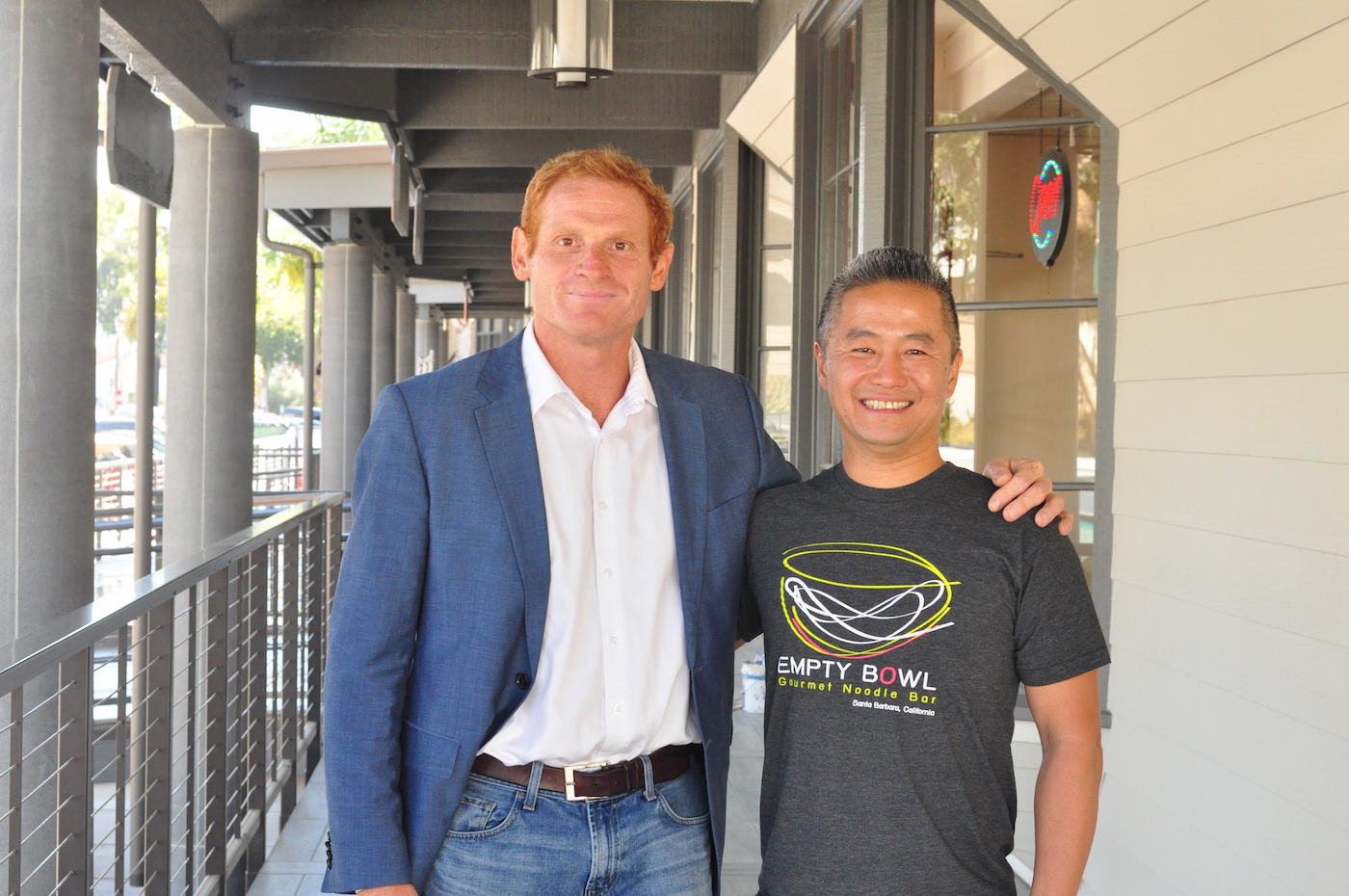 Several Coast Village Road restaurants have announced new offerings for the new year, including extended hours.
At Coast Village Plaza at 1187 Coast Village Road, Renaud's is now serving dinner with a "fast casual fine dining" service. Owner Renaud Gonthier said it has been a dream for many years to expand upon his patisserie and bistro's already award-winning menu, bringing a little more of his homeland to the community. Dinner guests can experience a new two- or three- course prix fix menu designed by Executive Chef Owen Hanavan. The menu will feature traditional French bistro items such as escargot, bouillabaisse, locally sourced farmer's market vegetables, a hangar steak served with onion soubise, and French onion soup, among other items. Small bites will be also be available a la carte, paired with featured wines from the central coast as well as the Provence and Bordeaux regions of France. Dinner will be served from 6 pm to 9 pm daily. Reservations: renaudsbakery.com/montecito-reservations.
Khao Kang, the new concept from the owners of the Empty Bowl Gourmet Noodle Bar at the Santa Barbara Public Market, will begin lunch service on January 14. Co-owners Jerry Lee, Emre Balli, and Nui Pannak describe the menu as elevated Thai cuisine, with a selection of specialty dishes not found on traditional Thai menus. Pannak, who heads up the kitchen, makes everything from scratch, including the house-made curry and chuchi pastes, stir-fry sauce, peanut sauce, and more. The recipes hail from Pannak's home in Bangkok, Thailand. The eatery, located in the downstairs space once occupied by Here's the Scoop, opened in November for dinner service, and will add lunch hours (Monday through Friday 11 am to 2:30 pm) beginning January 14.
At Montecito Inn, The Monarch and Chaplin's owners Phillip Frankland Lee and Margarita Kallas-Lee announced their third and final concept at the Inn: The Silver Bough will begin service Thursday through Sunday beginning January 31. The intimate space holds up to eight guests for an exclusive dining experience, bringing culinary theatrics tableside, according to Lee.
"Since arriving in Montecito, I've had an amazing time getting to know the locals through our food at The Monarch, as well as visitors from around the world," says Lee. "Silver Bough is by far my most ambitious restaurant to date, and after opening our first six restaurants, along with having the opportunity to travel the world and eat amazing food over the last few years with my wife Margarita, we are incredibly excited to share everything that we've learned, tasted, and experienced from our own unique perspective. The evening will be an event, one we hope that epicurean pursuers and open-minded explorers alike, will cherish and remember for many years."
Lee has culled an impressive troupe to execute the tasting menu dining experience, including sous chefs Danielle Van Steen (Church & State, BlueHour) and Robert Sandberg (Noma, Frantzen), and pastry chef Kallas-Lee (Scratch|Bar & Kitchen, The Monarch). The intimate space seats a total of eight guests up to the chefs' kitchen, bringing the culinary theatrics up close, in an immersive setting. Reservations will be handled much like ticket sales to a theatre, with release dates on the first day of each month, for the following month's performances.
At the conclusion of dinner, guests will have the opportunity to continue their experience with after-dinner drinks and aperitifs with the team. The all-inclusive tasting menu is paired with some of the world's greatest wines, finest spirits, craft cocktails, and tinctures made by the chefs themselves, all with a ticket price of $550/person (inclusive of tax and gratuity). For guests choosing not to imbibe, a unique and specialty non-alcoholic pairing will be provided. Dinner without alcohol will run $450/person (inclusive of tax and gratuity). There will not be any items or beverages available a la carte, and all dinners will be paired either with or without alcohol.
The 400 square foot space where the Silver Bough experience will take place is lined with Carrara marble, and houses a 16ft chef's counter featuring Quartzite imported from Brazil. The room is encased by dramatic, crimson velvet curtains. The center table used in "Act I" is handcrafted and modeled after a voluminous Ginkgo tree, completed with painted brass butterflies and a glass top, custom designed by award-winning American artist Michael Aram. Additionally, Aram designed and crafted all of the plateware and serving dishes. The eight modern chairs feature a solid chrome frame and a luxurious gray velvet upholstery. A custom-built stainless steel stove with gold hardware, made by Montague, is a stunning showpiece in the intimate, open kitchen.
The Silver Bough is located inside the historic Montecito Inn at 1295 Coast Village Road. A 7 pm seating is available every Thursday through Sunday. Tickets can be purchased at www.silverboughmontecito.com. 
You might also be interested in...