Reveling Into the New Year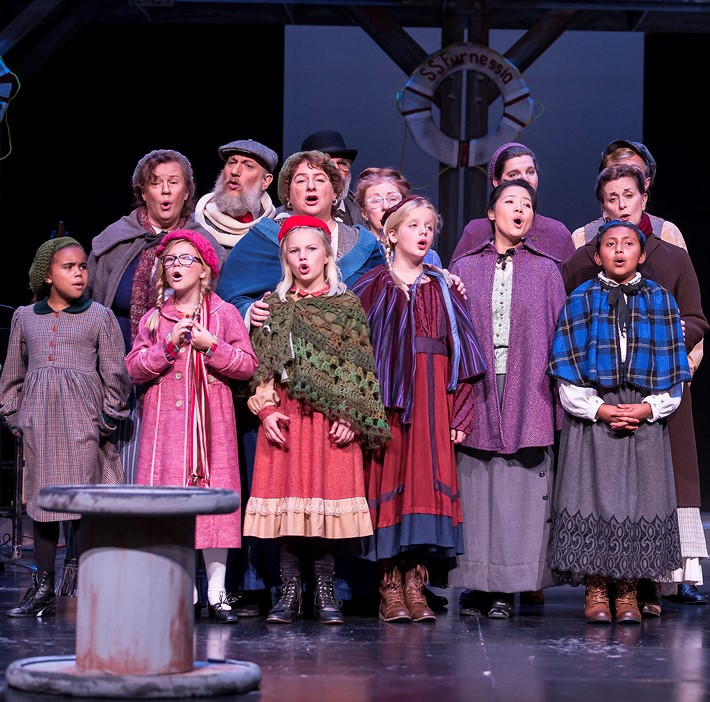 Santa Barbara Revels, presenting its 11th anniversary production at the Lobero, moved to Ireland this year after its Alta California Rancho period piece in 2017.
"We wanted to honor the strength and courage of the intrepid Irish emigrants who left their homeland in the early 1900s, specially those who might have traveled on the S.S. Furnessia, an actual steamship, that sailed from Londonderry to Ellis Island in December, 1907," says founder and producer Susan Keller, who also does the stage direction with Matt Tavianini, set and lighting design.
"While at sea, the emigrants bond with each other by dancing together, spinning stories, sharing songs, and enjoying their seasonal traditions."
Music director Erin McKibben and music arranger Nicholas Jurkowski excel, with Jason Lowe, Josh Jenkins, Bill Egan, Rich Hoag, and Courtney Simpson as the players, joining a heavenly host of musical groups including the Solstice Singers, the Yuletide Youth, the Children's Christmas Chorus, the Lord of the Dance and County Clare Dancers, the Belfast Brass Ensemble, the Pacific Sword Company, the Cloddagh Dance Company, the Kilkenny Coterie, and the White Star Rhymers.
Having seen all 11 shows since its inception, it was nice to see Susan's son, Matthew Shapero, in the chorus for the first time.
As she always proclaims: "Join us and be joyous."
We did – and we certainly were.
Delight in Drag
It was all quite a drag in the nicest possible way with Ensemble Theatre Company's last show of the year at the New Vic.
The production, The Legend of Georgia McBride by Matthew Lopez, stars versatile Stephen Michael Spencer who plays a financially struggling Elvis Presley impersonator at a Florida panhandle bar who gets demoted to a bartender.
The joint's owner, played by J. Stephen Brantley, hires two drag artists, amusingly played by NYPD Blue veteran Bill Brochtrup and Carlton Byrd, when Spencer's character has an epiphany and re-invents himself as Georgia McBride, in a hilarious, and often emotionally painful, transformation to a would-be Divine, with some delightful lip-synching numbers with the inevitable disco as well as country music and Shirley Bassey.
The show, directed by Jenny Sullivan, is a delight, with wonderful choreography by Ensemble regular Jamie Torcellini.
The production's standards are as high as the heels…
You might also be interested in...