Montecito Ballerina Gets Second 'Crack' at Coveted Role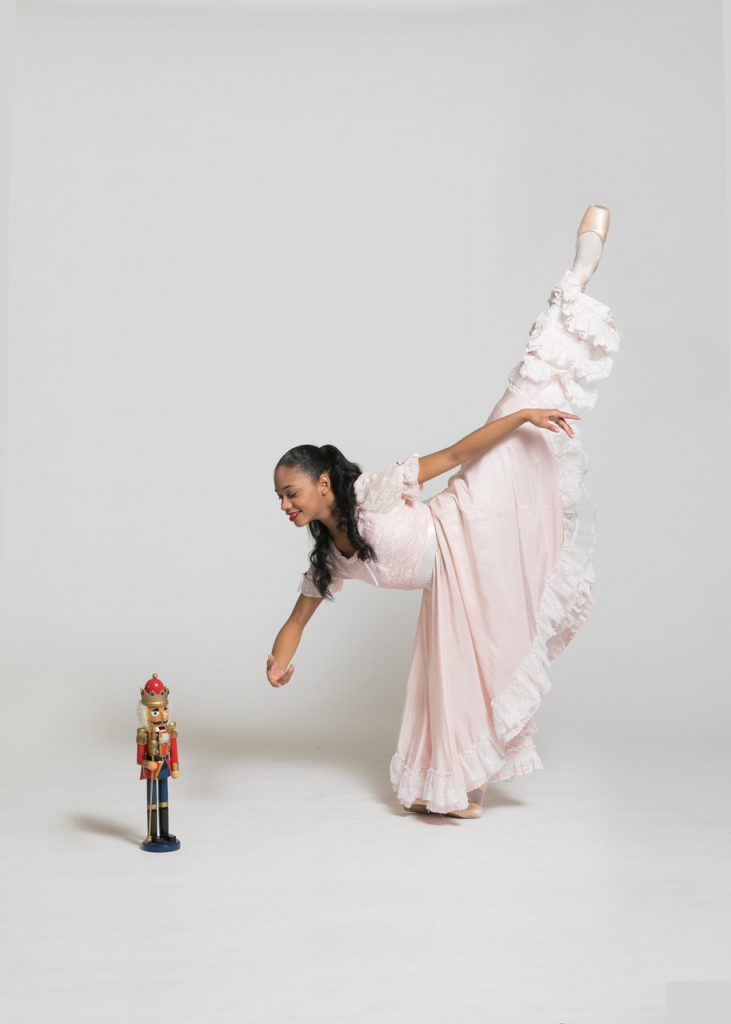 Last year, Isabel "Izzy" Fuentes achieved what is just about every teenage ballerina's dream – getting cast as Clara, the girl who gets to go on a fairy tale journey with the come-to-life title character of The Nutcracker, Tchaikovsky's famed Christmastime ballet, danced every December by Santa Barbara's State Street Ballet.
Then came the Thomas Fire.
Nobody imagined when the power lines in Ventura County first hit the ground that the blaze would become the then-largest wildfire in California history. But the sparks flew and the winds whipped up, and Thomas kept growing, soon reaching into Santa Barbara County and encroaching on the Montecito foothills. Like nearly all village residents, the Fuentes were evacuated from their San Ysidro area home, choosing to stay with friends in Santa Clarita, which was the Fuentes' home before Izzy auditioned and got accepted into Gustafson Dance program, necessitating relocating to Montecito in 2015. But a little thing like that wasn't going to keep Fuentes, then 15, from dancing the cherished role. Even if it meant a 90-minute daily commute from her former home.
"Driving back and forth every day for rehearsals alone was pretty hard," Fuentes recalled the other day. "I had to leave super early to get to rehearsal on time, and make sure I had all my things, ballet shoes, leotards, hair supplies, everything with me. The whole thing was just a big challenge."
Things weren't a whole lot better after arriving in Santa Barbara to practice for the performances, in which the State Street Ballet company dancers team up with talented students from Gustafson to provide a rare opportunity for young dancers to be on stage alongside the professionals. While snowflakes waltzed and flowers bloomed on the dance floor, the air quality in town was atrocious, and the dancers were in danger.
"During the fires, the ashes were everywhere," Fuentes said. "We were rehearsing with masks on so we could breathe because the air was so bad. But it was great to be working and not thinking about what was going on outside."
Imagine her disappointment, then, when the single performance in which she was scheduled to play Clara got canceled on December 16, the night of the famous final firefight when hundreds of first responders fully battled back the flames. Like most of her peers, Fuentes had been working hard, training diligently for years in hopes of getting to dance the most coveted featured role, a once-in-a-lifetime shot. And in an instant it was gone.
"When I got the call that the show had been canceled I was more in shock and disbelief than upset," she recalled. "I was just trying to process it all because I'd been ignoring the fire to focus on the actual show."
Fuentes did get to appear as a cadet in State Street's one salvaged performance of The Nutcracker, a chance she saw more as a blessing than a disappointment.
"I was so happy to be around my dance family, and be in the theater and the environment of dance and in that holiday spirit, she said. "The show was really wonderful. It was great just to be able to dance, because that's what I love to do most. It helped me heal from the evacuations. Dance helps me process information in general. So I was so happy just to be up on the stage and dancing."
Fast-forward a year, and Fuentes has been the beneficiary of a second chance to play Clara and once again journey to the Land of Sweets, a scenario perhaps even more unlikely than having a wooden toy come to life. But it wasn't just handed to her as a make-good from last year.
"Oh, no," she said." They don't do that. I had to audition again."
It's not a task she enjoys.
"Auditioning is not only scary and intimidating, you're also competing with girls who are your friends. But I don't like to look at it that way. I usually try to compare myself only to myself, and just perform my best."
Apparently that was more than good enough again, and Izzy will be portraying Clara for the Sunday afternoon performance at the Granada Theatre. She'll take on the evil rat king, beam at the nutcracker and twirl in his arms, dance solos, and marvel at all the impressionistic vignettes amid the huge cast comprised of State Street regulars and more than 100 students from Gustafson Dance, plus the Opera San Luis Obispo Grand Orchestra and Matilija Junior High Chamber Choir, opulent sets from Russia, and even a gigantic Christmas tree.
Not that it's come easy this year, either. Fuentes is just finishing up healing from surgery for an avulsion fracture in her ankle, a common injury for dancers. But pain wasn't going to stand in her way. Nothing was. "I booked the surgery around The Nutcracker so I could make sure not to be too impacted," she explained. "Those early rehearsals were hard because I wasn't fully recovered. So I was icing, taking ibuprofen, and doing exercises to get through. I wasn't sitting this one out. I kept telling my ankle 'You have to heal!' And telling myself, 'You can do this, Izzy. C'mon.'"
With her turn as Clara coming a year to the date from last year's canceled show, Fuentes is viewing the performance as the end of a cycle. "Sometimes it feels like the fires were yesterday, and other times it's more like it happened five years ago. Having another chance to perform Clara feels like a conclusion, the end of something."
But when the curtain comes down that will only be the beginning of the next chapter in her ballet life story, one that began at age nine – late for ballet – when her mom put her in a class for the first time, and she fell in love with an art form she wants to make her career. "I wasn't all that excited because I didn't know anything about it. But after my first class that was it. I was just crazy about it. Ever since that day I've just been so passionate about ballet. I could talk about it all day. I just love it."
Indeed, what some find limiting about the art form actually provides Fuentes with a measure of freedom. "There's something about the technique and the strictness in ballet that makes me feel more organized. I'm my highest self when I'm dancing ballet. I appreciate all of the different dance styles, but ballet is the way I express myself."
Seeing it Through: 4Q's with a Blind Boy
The Christmas show with The Blind Boys at UCSB Campbell Hall was also a casualty of the final mid-December defense during the Thomas Fire, as the smoke, ash, and threat caused a last minute cancelation. The show was booked for just a few months after the release of the famed gospel group's latest album, Almost Home, which traced the story of the band from when they first formed in 1939 as nine-year-olds at the Alabama School for the Negro Deaf and Blind to the present day. That journey has taken them around the world, earned induction into the Gospel Music Hall of Fame and earned them five Grammys plus the organization's prestigious Lifetime Achievement Award, and seen collaborations with artists as diverse as Bonnie Raitt, Solomon Burke, Lou Reed, Peter Gabriel, Willie Nelson and Bon Iver's Justin Vernon, to name just a few.
The make-good, coming exactly a year later on December 16 at the same venue (with the same opening act in the folk-blues singer Ruthie Adams) has its own poignant story, as longtime leader Clarence Fountain passed away in June, leaving Jimmy Carter as the only surviving original member. We caught up with "newbie" Eric "Ricky" McKinnie, a Blind Boys contemporary and sometimes sideman who officially joined as the drummer in 1980 and moved up to a front-row vocalist six years ago.
Q. Unlike the original five, you only went blind in your mid-20s, which must have been very traumatic as a young adult. How did it affect your approach and connection with music?
A. I was always singing and playing drums, and I wasn't watching my hands anyway, 'cuz it's like a typewriter – you know where everything is, you just got to get the right sound. So it just enhanced what I was doing. But that idea that one sense gets stronger isn't necessarily true. It's just when you are blind you have to depend on your hearing, your ears become your eyes. And it's like we always say: I'm not blind, I just can't see. I might have lost my sight but I never lost my direction. The BB have shown the world that a disability doesn't have to be a handicap. It's not important to focus on what you can do. It's about what you do. BB have always been dreamers. If you can dream, do the work and keep the faith, it all works out.
Unlike so many former gospel singers from the '50s who originated in the church but found a lot of success with secular pop music, the BB never strayed very far. Why is that?
Clarence and the guys always said that it was God that had seen after them, brought their hearts together and taken care of them. So they decided they were going to stay with Him. I feel that way too… Gospel music is from the heart and it talks directly to the heart. The BB sing from the soul. You can feel it. It's authentic.
What do you look for when considering collaborations? What makes it work?
All of the people we worked with along the way talk of their love of other people and they act that way. We learned to respect each other. Sure, the musical style might vary. But we listen more to the words of the songs and how they are delivered.
Will we hear a lot of Christmas songs at the concert from your two holiday albums?
We'll do some traditional gospel songs, songs people can relate to, things like "Go Tell It On the Mountain," and "When Was Jesus Born," "Silent Night," "Merry Christmas to You," done with gospel. Good old songs that people like. If you want to clap your hands or dance along, that's the place to be with the BB. We are singing happy songs. If you are feeling bad, we try to make you feel glad. Songs that you can dance to or just sit down and listen to the words. And it can heal. We have that song "Conference Table," which says there won't be any peace until God is seated at the table. We don't preach, but we do sing.
Classical Corner
The mid-December calendar blends Christmas and other winter-time offerings with regular recitals at area churches, theaters, and halls. Quire of Voyces' annual "Mysteries of Christmas" at St. Anthony's Chapel on Saturday night and Sunday afternoon, December 15-16, are the main attraction, as the Nathan Kreitzer-led ensemble sings a luminous selection of seasonal songs from its rich repertoire in what amounts to an acoustic castle. The 25th anniversary concert features transcendent interpretations of sacred a cappella works from the Renaissance era alongside contemporary and modern pieces, with much of the program sung in English. The arrangements are astounding, the harmonies truly heavenly.
Elsewhere in choral music, Edelweiss Choir of Santa Barbara will be accompanied by a string quartet and percussionist Julia Neufeld for Weihnachtskonzert (A Traditional Christmas Concert) at 3 pm Sunday, December 16, at Trinity Lutheran Church, 909 N. La Cumbre Road, featuring Christmas music from across the globe, including traditional carols. Singing will be in German, English, Latin, Spanish, and Italian, spanning a period from the 16th-20th centuries, with works by Michael Praetorius, Michael Haydn, G.F. Handel, and others.
The Santa Barbara Master Chorale community chorus also performs its annual Santa Barbara Sings! show at 3 pm Sunday, as Steven Hodson conducts a program featuring "Navidad Nuestra," a folk drama of the nativity based on the rhythms and traditions of Hispanic America by Ramirez. The American Riviera Children's Chorus and a high school chorus will also sing Christmas music from several traditions, while guest artists include guitarist Anthony Ybarra and contralto Carol Ann Manzi before the Lobero program concludes with an audience sing-along of favorite Christmas carols.
Audiences get to do even more at Unity Shoppe's 38th Annual Messiah Sing Along Hallelujah, which hunkers down at First Presbyterian Church 7:30 pm on Tuesday, December 18, when community members are invited to raise your voice on high and make a joyful noise via the classic from Handel.
In the instrumental world, the Santa Barbara Community Flute Ensemble presents a free holiday program at 5 pm on December 15, at First Christian Church, Chapala & Mission Streets, featuring selections from Tchaikovsky's The Nutcracker and Gustav Holst's In the Bleak of Winter, plus an arrangement of the first movement of Bach's Brandenburg Concerto No. 2.
Santa Barbara Strings' Winter Concert, featuring trumpeter Bill Williams joining the Vivace Ensemble of advanced string musicians in Tartini's Concerto for Trumpet in D Major and a concert-concluding combined large string ensemble performing traditional holiday favorites, takes place at 6pm on Sunday at Hahn Hall.
You might also be interested in...