Lights Up on Teens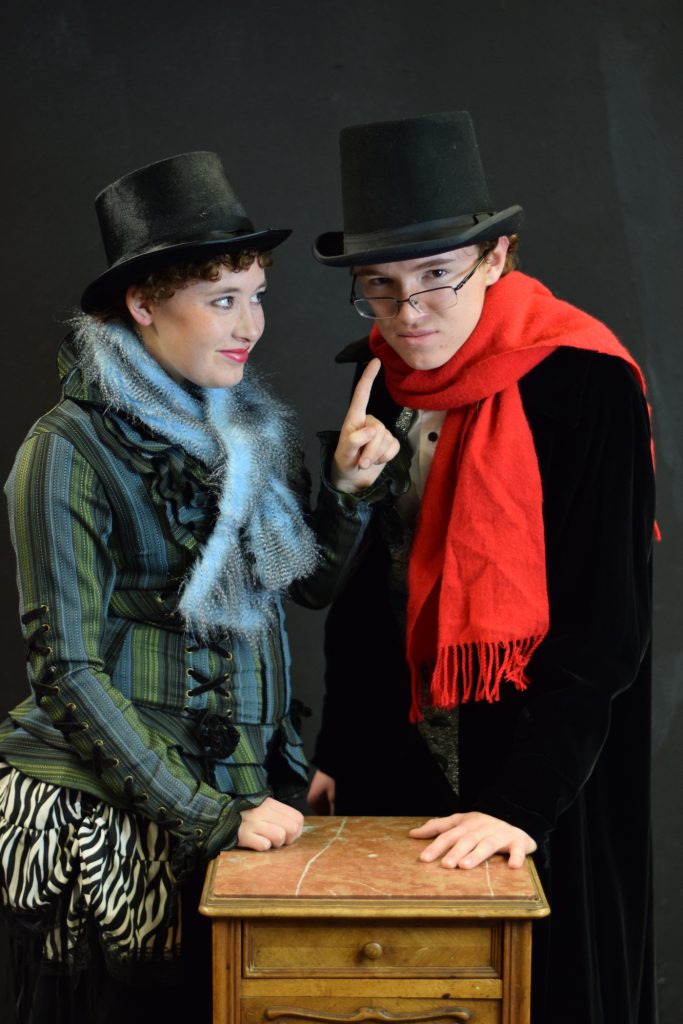 Lights Up! Theatre Company, a new school-year teen theatre conservatory program offering acting, singing, and dance instruction that just started in August, won't mount its first full production until spring, when the company will take on the musical version of Big Fish at the Marjorie Luke in April. But the teens were just too talented to wait til then, and after making their public debut as an ensemble performing songs from the '60s-era and some choreography as the opening act for the Roy Orbison tribute show at the Lobero, and signing up to sing Christmas carols at 6 pm this coming Saturday, December 15, at the pop-up shopping bazaar Santa Barbara Night Market in Paseo Nuevo, a smaller group will take on Charles Dickens' A Christmas Carol at Center Stage Theater for shows at 2 & 7 pm on Sunday, December 16.
The story of Scrooge would seem to be a fitting first show as the tale of redemption mirrors Lights Up's mission of "providing acting, singing and dance instruction in a nurturing and supportive environment". "We're catching these teens at twelve to eighteen, when they're coming into their own as individuals, and when their talents appear. It can be a life-changing event for them, as it was for me," said Amy Love, the program's director, who has taught and directed in local schools since 2007 and counts directing Storybook Theater productions and acting in Ensemble plays among her earlier local theatrical credits. "I love being involved in these moments where kids getting their first role can change a path. So I want to make sure that they're handled carefully, that the vulnerability they bring gets respected and cared for. I want them to have a flowering of who they are in a way that doesn't crush their souls."
Lights Up's take on Scrooge's perilous soul-in-jeopardy Christmas Eve journey goes easy on the tough stuff, the tales of greed, ghosts, grief, and eventually gratitude coming with a comedic twist. "It's still touching and tender, but also very theatrical and funny," Love said, adding that the show was originally only supposed to be a studio showcase for friends and family before it "grew into something bigger, with props and costumes." But the set is very spare, she said, so much so that the kids themselves play some of the props and set pieces. The carolers also sing as part of the show, with the audience getting to join in at the end. "It's a lot of fun," Love said.
Dance Dimensions
Momentum Dance Company celebrates five years in town with a new recital at Center Stage Theater at 7 pm Thursday, December 13. The theme of the program, "Believe," is woven into the choreography covering Tap, Hip Hop, Jazz, and Contemporary styles, to spread the message not only to the dancers, who range in age from 7-18, but also those experiencing the movement in the audience, perhaps taking in the director's message, "believe in yourself."
EDN! Santa Barbara's annual holiday show, which takes place 5:30 pm on Friday, December 14, at the Santa Barbara County Office of Education Auditorium, features performances by some of the weekly dance classes at area elementary schools, teachers, and various guest artists, plus "parent dance-offs," yummy baked goods, activities for the kids, and prize giveaways, not to mention beats by DJ Sparx and cheer from MC Omar. Info at www.facebook.com/events/166289450978153.
Inspire Dance Santa Barbara's Performing Groups dance a mini-version of The Nutcracker known as Clara in the Land of Sweets, complete with swirling dancers, silly mice, and more favorite Nutcracker characters in a show that's appropriate for ages 2 to adults, performed at 2:30 & 4:30 pm Saturday, December 15, at Center Stage.
Santa Barbara Centre for Aerial Dance has two more free open studio showings this week – 5-6 pm on Wednesday-Thursday, December 19-20 – when the school's pint-sized dancers co-mingle with the adult company known for its riveting programs at the Lobero each year. An hour later on Thursday, at 7 pm, SBCAD unveils new works from 12 of its advanced student choreographers in the disciplines of lyra, trapeze, fabrics, and corde lisse, in an atelier-style event, with wine and refreshments included in the $15 admission.
You might also be interested in...