3Qs for ETC's Jenny Sullivan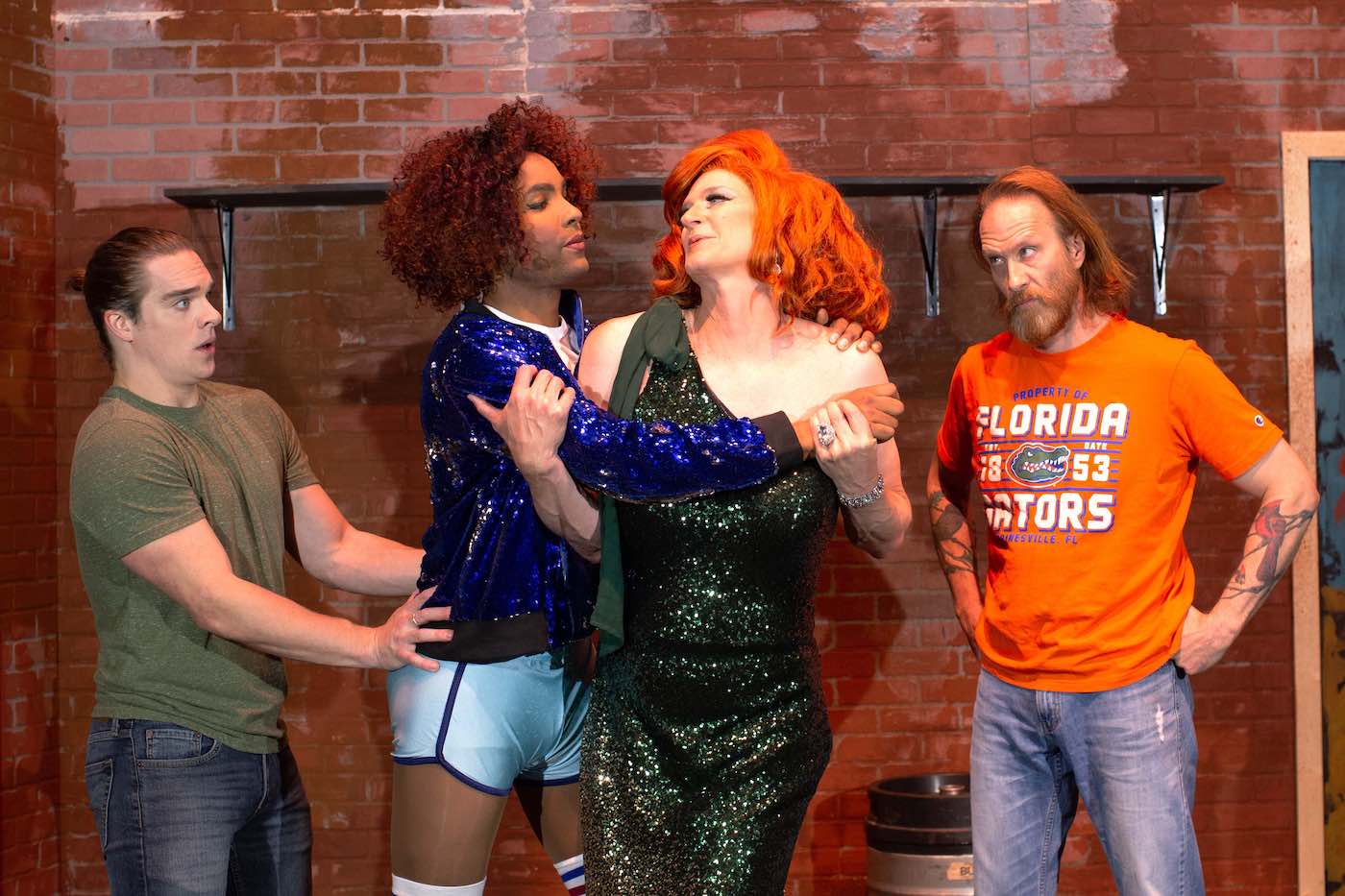 Long time Southern California and frequent Ensemble Theatre Company director Jenny Sullivan doesn't want people to make same mistake she did, which was to wait until the last performance of The Legend of Georgia McBride when it ran at the Geffen Theater in LA in spring 2017. "It was so funny and so moving. I just adored it," she said over the phone last week. "But I was frustrated because I really wanted to see it again."
So she was an immediate yes when ETC head Jonathan Fox asked Sullivan if she wanted to direct the company's production of the play by Matthew Lopez – whose previous works include the Civil War-era drama The Whipping Man and the gay-grief piece Reverberation – that runs December 6-23 at the New Vic. "I just howled!" she said.
Legend finds a struggling Elvis impersonator at a Florida Panhandle dive seeing his close relationship with his wife suffer before his professional prospects soar after a drag queen enters his life, turning the laid-back country boy to glittering, acid-tongued drag performer, as one reviewer put it. The straight-man-in-drag conceit, familiar from such works as Kinky Boots and Priscilla Queen of the Desert, results in a play called "stitch-in-your-side funny!" by The New York Times, but also emotionally evocative.
Q. How is Legend similar or different from other straight man to drag plays?
A. It's people who you would never think would have a connection finding each other. But that's true of every character in the play; it's a journey for all of them. There are real heartfelt emotions that arise through the relationships. I found myself laughing and then crying at the Geffen, and it's still happening in our rehearsals.
That's the goal of great theater in general. How does it work here?
It's about a guy learning how to grow up and be honest in his relationships, authentic in himself, and more accepting of other people, as well as what it is to be an artist. He's doing Elvis for fun, being a drag queen was never on his radar. But once he lands in it and becomes "legendary," it's really moving. What happens to him and his wife is the journey that forms the heart of the play. The characters come from a very real place; it's not just a great dress or a big wig, but three-dimensional characters taking risks.
I would think, then, that the casting is almost everything. All the actors are new to ETC. Were you familiar with them?
I knew some of them from over the years, but had never worked together. I've seen Steven Spencer in lots of Shakespeare up in Ashland. He's a real guy's guy, so it's fun to see him go through the transformation. Both of the actors who put on the high heels and do an art form that takes years for professionals to figure out have been very courageous, doing their research but also just diving into the deep end. It's a real pleasure to watch them.
RTC's 'Pacific' Pride
Just shy of 70 years after South Pacific premiered on Broadway, collecting eight Tony Awards (including best musical and all four acting categories) and receiving the Pulitzer Prize for Drama – and 10 years after the Broadway revival earned seven more Tonys – Rubicon Theatre Company closes out its 20th season with a two-piano version of Rodgers and Hammerstein's soaring musical epic set on an exotic island during World War II. Katharine Farmer directs a cast of 28 led by Tony honoree Ben Davis (Baz Luhrmann's La Bohème) and Madison Claire Parks (400-plus performances as Luisa in the historic Off-Broadway production of The Fantasticks). Farmer and RTC are approaching the piece as a play with music, much like Rubicon's prior productions of Fiddler on the Roof, My Fair Lady,and Man of La Mancha, and focusing on intimate, in-depth connection to the storytelling and the relationships. South Pacific runs December 8-23. 

Holiday Heroes: SOS Gets More 'Personal'
It's nothing personal, but Speaking of Stories' 25th season of performances will also be its last. It seems the popularity of the format featuring short stories read out loud by actors and others has waned over the last several years to the point where it's no longer financially feasible to mount a full season's slate of shows.
"It's just an evolution of time and space," explained Teri Ball, SOS executive producer of the series since it shifted to Center Stage Theater after almost a decade at the Lobero. "This format is a great one, and we have a small and loyal audience that loves us. But it's not large enough. Having a live experience in a shared space is probably even more important as people spend more time at home (watching Netflix or otherwise online), but we have to face reality."
So, following the annual humor-only weekend Nothing But Laughs on April 28-29 and the regular open-genre Celebration of Stories May 19-20 featuring performances by actor Joe Spano and Montecito's own T.C. Boyle, the series will grind to a halt. But the two presentations that comprise the other half of the final season will soldier on, as those events – which find local actors and writers sharing their own first-person true tales drawn from their own private lives – are actually growing in popularity, both in submissions and subscribers.
"It's a format that seems to really speak to people," Ball said. "Your friends and neighbors have incredible stories to tell, and we love hearing them share them live on stage."
So the SOS season kicks off December 6-9 with Holiday Memories, a brand-new entry that extends on the four-year run of its Personal Stories presentation, based on the radio program/stage show "The Moth," with the difference that all of the stories are actually fully written and rehearsed rather than improvised in the moment.
Twenty new tales covering Christmas and other Yule-time yearnings will be delivered by their authors in two completely different programs each presented twice over the weekend, with the performers including several well-known Santa Barbara actors (Michael Bernard, Ed Giron, Cami Helmuth) and well-published local writers (Gerald DiPego, Linda Stewart-Oaten, Julia McHugh) as well as relative newbies to both endeavors.
The stories range from memories from a senior who served as a POW during WWII to a 20-year-old's tale of the transformation of his relationship with his mother, and from creating a new connection a few days before a parent passes to having Christmas "ruined" by a fourth grader, not to mention the Christmas monkey.
"The stories are all over the place," Ball said. "Touching, heartwarming, hysterical, or all three."
What you won't hear, it turns out, are any tales about the twin tragedies that struck Santa Barbara last holiday season. "I thought we would get some of those, either for the holiday stories or the regular Personal Stories show in February, but it hasn't come up at all. I haven't seen any."
But Ball and team are pleased to be making a valuable contribution to local literature that wasn't in the picture when SOS began a quarter-century ago. "It's cool to know that some of these stories are written specifically for these shows, and wouldn't exist otherwise," she said. "I love knowing that we've provided an opportunity for people to write, and then get to share their experiences live on stage."
You might also be interested in...