Banned Camp: Kronos Quartet Sounds Off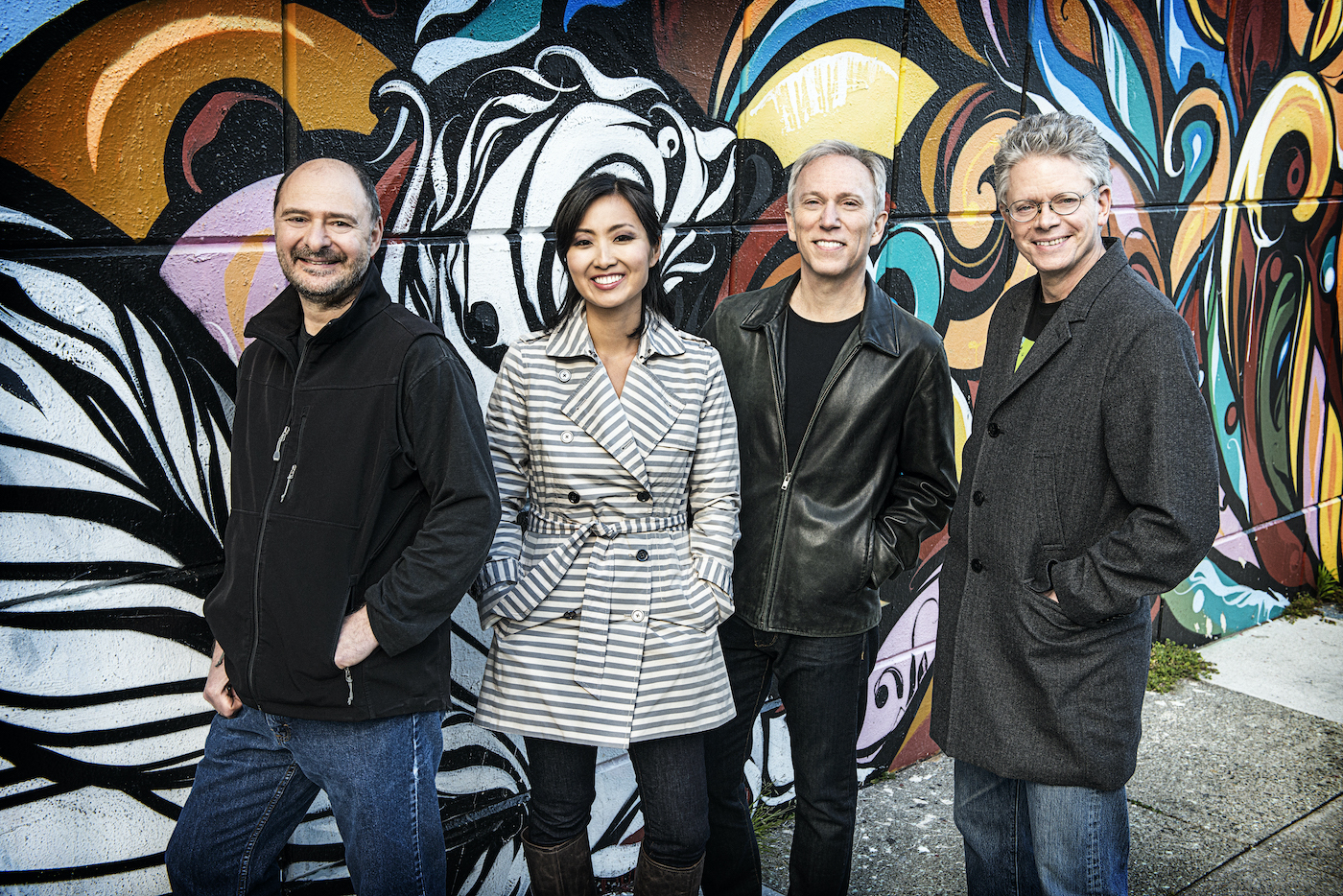 The Kronos Quartet has never shied away from controversy. Over the course of its 45-year history, the ensemble has exploded any previous notion of the limitations of the string quartet, embracing everything from ultra-modern composers and unfamiliar sounds to wildly unexpected and some would say edgy collaborations, most recently with "Sight Machine," a multimedia piece that visualizes a performance in real time using Artificial Intelligence.
Before Kronos Quartet even had its first rehearsal in 1973, founding violinist David Harrington asked his friend and former teacher Ken Benshoof to compose a string quartet for the new ensemble, the first of what has become more than 1,000 commissions, many of which have challenged even the most devoted fans of the very avant-garde quartet.
But nothing they've done has been as blatantly political as "Music for Change: The Banned Countries," its brand new program created in response to President Trump's early 2017 executive order limiting travel to the U.S. from Iran, Iraq, Libya, Somalia, Sudan, Syria and Yemen. Music for Change, which highlights composers from the original seven "banned countries" and others, includes newly-commissioned works (Aftab Darvishi's "Winds from South" and Dur-Dur Band (arr. Jacob Garchik)'s "Dooyo") as well as pieces from the existing Kronos repertoire, plus a closing collaboration with Iranian vocalist Mahsa Vahdat. The evening has only been performed once before, at Stanford, prior to arriving at UCSB's Campbell Hall on Tuesday, December 4, but the feisty foursome has plans to bring it around the country and overseas, as well as seeking context around the performances by involving Islamic Studies, History, Political Science, and other departments at various academic presenting institutions.
The larger goal is to foster connections between communities through cultural experiences, evoking exploration of the musical works to uncover the links between races, religions and countries rather than our differences.
Harrington talked about the project and other Kronos chronicles over the phone from his San Francisco home earlier this week.
Q. How did the concept for this program arise?
A. We were at a festival in San Francisco shortly after the first of Trump's travel bans. That very night we were playing music from Sudan, Iran, and Syria. I got the idea to make an entire concert of this music. It's taken a year and a half to put together, with a great deal of listening involved, but it was important because as the travel ban has evolved and expanded, it's become something so hateful, in my opinion, and a real detriment to American society. So every sound you will hear in the concert is from a Muslim-majority country. All of the interstitial music, the pre-show music, everything comes from elements from those countries. We're trying to make it an immersive experience in sounds that most Americans have never had a chance to hear before.
Can you talk about the construction of the program?
I advise our audience to get there early and absorb the music from the pre-show, when there will be all kinds of incredibly interesting sounds from Northern and Western Africa, the Middle East, Western China, all incredibly interesting. And then at a certain point the concert begins, the music just emerging from the pre-recorded sounds. We start with a piece written for us in the early 1990s by Franghiz Ali-Zadeh of Azerbaijan. We're trying to take our audience through an experience, telling a story without any words, just through the sounds and the instrumental colors, the sounds of cities, calls to prayer from a number of different sources, voices of children and elders. It's very tactile.
We put it together with the idea of allowing our imaginations to take over. Hopefully the experience will let the audience simply absorb it, and not even worry about where we are in the program, which piece is next. Just let it happen, and exist in time.
What do you think doing a program like this does for the audience? Is it meant to incite a response?
It will be great if people who hear our concerts feel energized and motivated by the elements that might be new for them. I wanted to create a counterbalance to the very shortsighted-ness and hatefulness coming at us right now. Musicians throughout the millennia have done exactly the same thing. They just didn't have as much opportunity, their societies weren't as open as ours. But there are things to celebrate even in our darkest hours. This is our way, to play music from places that none of us have ever visited except in our imaginations, hand-written by people who are being called our enemies, practitioners of a religion that has been called evil. To do that inspires us and makes us feel more alive and vital… We don't need to hit anybody over the head with slogans.
I'm thinking about something you said elsewhere about that in the early years of Kronos, you had a goal to create music that will protect people from harm. You called it "Bulletproof music." Is this a step in that direction, or an expression of frustration that you haven't found it?
I guess I am frustrated that I haven't found that music I've been looking for but which I know can exist. It might not set up a wall between us and harm, but music itself, if you find the right note at the right moment, it can totally change your life. I know that because it's done it for me, going to back to 1973 when I first heard George Crumb's "Black Angels" on the radio. It can bring about new viewpoints, and in that way it might be even stronger than a bulletproof shield.
Speaking of notes, you've been quoted as saying that "No matter if notes are the same on the page, I believe they should not sound the same. They need to reflect where you are at this point in life and where you are coming from." Can you expand on that concept?
Each note we make is a result of the ones that we've already made before. The note reflects what we know about life at any moment. We're always striving to make better notes, and for me, what that means is to have what comes out of my instrument be increasingly aligned with my inner world. And that's constantly evolving and growing and mutating, influenced by what I hear, or read, or seen in a movie, or discovered in a conversation. Music absorbs everything.
Stepping back into the bigger picture of Kronos and string quartet music, what keeps you enthralled with, as you once put it, "the magic" of two violins, viola, and a cello?
I'm not sure I know the answer to that. Some of us don't know ourselves what it is that pulls us in. I've loved the sound of the violin since I was a little kid. When I first heard Beethoven's Opus 127 quartet when I was 12, it just did it for me. And it still does. I love both the intimacy and the massiveness. What else can I say?
Finally, what can we expect at your free Listening Party on Monday night, December 3 (7 pm at Santa Barbara Wine Collective)?
I've got a lot of music I find inspiring, and other sounds that I like to share with people. I do these sessions once in a while, just a free-form experience playing lots of different things. People respond and we talk about it together, like with friends in your living room. You might be hearing seals from Antarctica or insects from Cambodia, music from anywhere. I'm not sure what I'll be doing until I get there.
Camerata Centerpiece
Beethoven may have been a jumping off point for the Kronos Quartet to seek a new idiom for the string quartet genre, but the composer was also the great innovator of his own time, particularly in his late quartets, still considered among the most masterful of the medium. Indeed, Beethoven's late string quartets, Opus 127-135, were the very inspiration for Camerata Pacifica's ambitious two-year "Why Beethoven?" project, which launched in September with some of his earliest works, including Opus 1, No. 1, and Opus 18. The programming of Opus 135 also marks the first occasion to welcome The Calder Quartet to the Hahn Hall stage on Friday night, November 30, when the much-lauded foursome will also anchor Arensky's 2 Cello String Quartet in A Minor, Op. 35, and Mendelssohn's Op. 20 String Octet, aided by Camerata's cellist Ani Aznivoorian, violinists Kristin Lee and Jason Uyeyama, and violist Richard O'Neill. Tickets are $58. Info at (805) 884-8410 or www.cameratapacifica.org. 
A Hitch in Time
Composer Nico Muhly's second new opera for the Met is a gripping reimagining of Marnie, Winston Graham's novel about a beautiful, mysterious young woman who assumes multiple identities that also was the basis for one of famed director Alfred Hitchcock's movie mysteries. Mezzo-soprano Isabel Leonard, a 2005 alumna of the Music Academy of the West, stars in the title role, taking center stage in the exhilarating story of denial and deceit, while baritone Christopher Maltman plays the man who pursues her with disastrous results. Robert Spano conducts and Michael Mayer directs the production that screens as an encore in the Live in HD series at Hahn Hall on Sunday morning, December 2. The re-simulcast also serves as a partial preview of the 2019 MAW summer festival, when the Grammy-winning Leonard – who The New York Times praised for "acting and presence (in Marnie) would do Maria Callas proud" – returns to Miraflores to serve as a Mosher Guest Artist. Tickets and details at www.musicacademy.org/marnie.
OSB Opportunities
Speaking of the Met, Alexander Elliott, who played Figaro last year in Opera Santa Barbara's Barber of Seville, made his rather unexpected Met debut last month when he stepped in to replace an ailing Mariusz Kwiecien as Zurga in The Pearl Fishers halfway through the show. "Elliott tore into the music with heated intensity, his voice a beguiling timbre of mahogany carried by boyish ardor," The New York Times reported, adding, "When he was done, the audience cheered."
Local residents get their chance to witness something unusual when OSB Operacurious event pairs wine tasting with Marco Lucchesi, founder and winemaker at Section Wines, at 10 West Gallery, followed by an intimate concert of Italian art song featuring the company's local singers. Email info@operasb.org for details on the Tuesday, December 4, event.
Finally, Opera Santa Barbara has announced auditions for next year's crop of Chrisman Studio Artists, the young singer who perform and cover roles in OSB's mainstage productions, conduct educational and outreach programs such as Noontime Concerts, and coach with artistic director Kostis Protopapas. Live local auditions by invitation only take place January 12-13. Deadline for materials is December 21.
Amerigo in Ojai
In more Music Academy news, the Amerigo Trio, comprised of MAW faculty violinist Glenn Dicterow and violist Karen Dreyfus – who formed the chamber music threesome with cellist Inbal Segev back in 2009 while they were still with the New York Philharmonic – are heading up to Ojai for an appearance at the Chamber On The Mountain series. The Amerigo, which has earned raves at virtually every performance, will play Beethoven's String Trio in E-flat Major, Op. 3, and Brahms' Piano Quartet No. 1 in G minor, Op. 25 (with pianist Bernadene Blaha) on Sunday, December 2, at the Logan House, which is adjacent to the Beatrice Wood Center for the Arts. Details at www.chamberonthemountain.com. 
Classical Corner
Westmont's 14th annual Christmas Festival, a retelling of the Christmas story by weaving narration with music from the Westmont Orchestra, College Choir, Chamber Singers, and Choral Union, takes place Friday through Sunday, November 30-December 2, at First Presbyterian Church, 21 East Constance Avenue. Details and tickets for this year's event, "Gloria in Excelsis Deo: The Song of the Angels," at www.westmont.edu/christmasfestival…. First United Methodist Church, 305 East Anapamu, hosts the Saturday, December 1, free Santa Barbara Music Club concert, featuring works that "reconcile old and new, nostalgia and progression," including Bach's Sonata in D for Viola da gamba and Harpsichord, BWV 1048; Schumann's Piano Quartet in Eb, Op. 47; and Alexander Borodin's Polovtsian Dances arranged for two pianos. Info at www.sbmusicclub.org.
Theater on the Edge
Two venerable pieces of literature get fresh perspectives via two local theater companies, one a well-respected professional outfit in its 26th season, the other a brand new one born out of an acting class at SBCC Continuing Education.
In Lit Moon Theatre Company's innovative staging of Tennessee Williams' American masterpiece, The Glass Menagerie – a re-mounting of its acclaimed 2016 production that runs November 29 to December 2 at Center Stage Theater – director John Blondell has once again cast 70-something company member Stan Hoffman as Tom, a character usually played by a man in his twenties. But the departure more than makes sense as the semi-autobiographical work that catapulted Williams from obscurity to fame in 1944 is actually a memory play, narrated by Tom. And Blondell has given it the usual Lit Moon emphasis on character, dialog and emotion. "Ours is a 'full-bodied' production," Blondell said in the press release. "It has psychological fireworks one minute, and beautiful fragility the next. This is a loud, messy, passion-filled dysfunctional family. Yet each retreats into their own imaginations in ways that are heartrending and heart breaking at the same time."
Meanwhile, Theatre Eclectic, the brainchild of veteran acting teacher (San Marcos) and actor Philip Levien (whose credits include appearances in more than 100 films and TV episodes), is undertaking a series of initial public performance. The company, which has the mission of "bringing together underrepresented artists to perform for underserved audiences in order to create a sense of community through theater," is mounting Devising America: Spoon River and Beyond, an original work thattakes a look at small town America, both past and present. "It pokes around some of the dark edges and tries to show us the pitfalls to avoid," Levien explained in an email missive. "It also seeks to inspire us to rise above the challenges of daily life. In today's fractured society, one in which we are isolated by technology and a tribe mentality, Devising America examines the concept of community, when it fails and when it succeeds. Through an eclectic mix of classic texts (by such greats as Edgar Lee Masters, Thornton Wilder, and John Updike) and diverse texts of modernity, this production strikes a positive note, ultimately, of what life in America can be."
The cast, members of Levien's tuition-free "Urge to Act" class through SBCC's School for Extended Learning, have wide levels of experience, but have been rehearsing and performing scenes at retirement homes over the last couple of months. The opens and closes at the same place and time where the class meets, 7 pm Thursdays, November 29 and December 6, at the Schott Campus Theater at 310 West Padre Street, with additional performances at Maravilla Retirement Community Clubhouse (5486 Calle Real, Goleta) at 2 pm December 1, and at Wake Campus Theater (300 North Turnpike), at 7 pm December 4. Admission is free. Visit www.theatreeclectic.com for details.
Scrooge by the Sea
For something more traditional, Carpinteria is performing their annual take on A Christmas Carol from November 30-December 9 at the Alcazar Theatre. Asa Olsson directs the all-local cast in the classic tale of greed and redemption. Tickets cost $5-$15. Visit https://nightout.com/events/a-christmas-carol/11-30-2018/tickets.
You might also be interested in...