Slow Sonorous Sojourn into the Songbook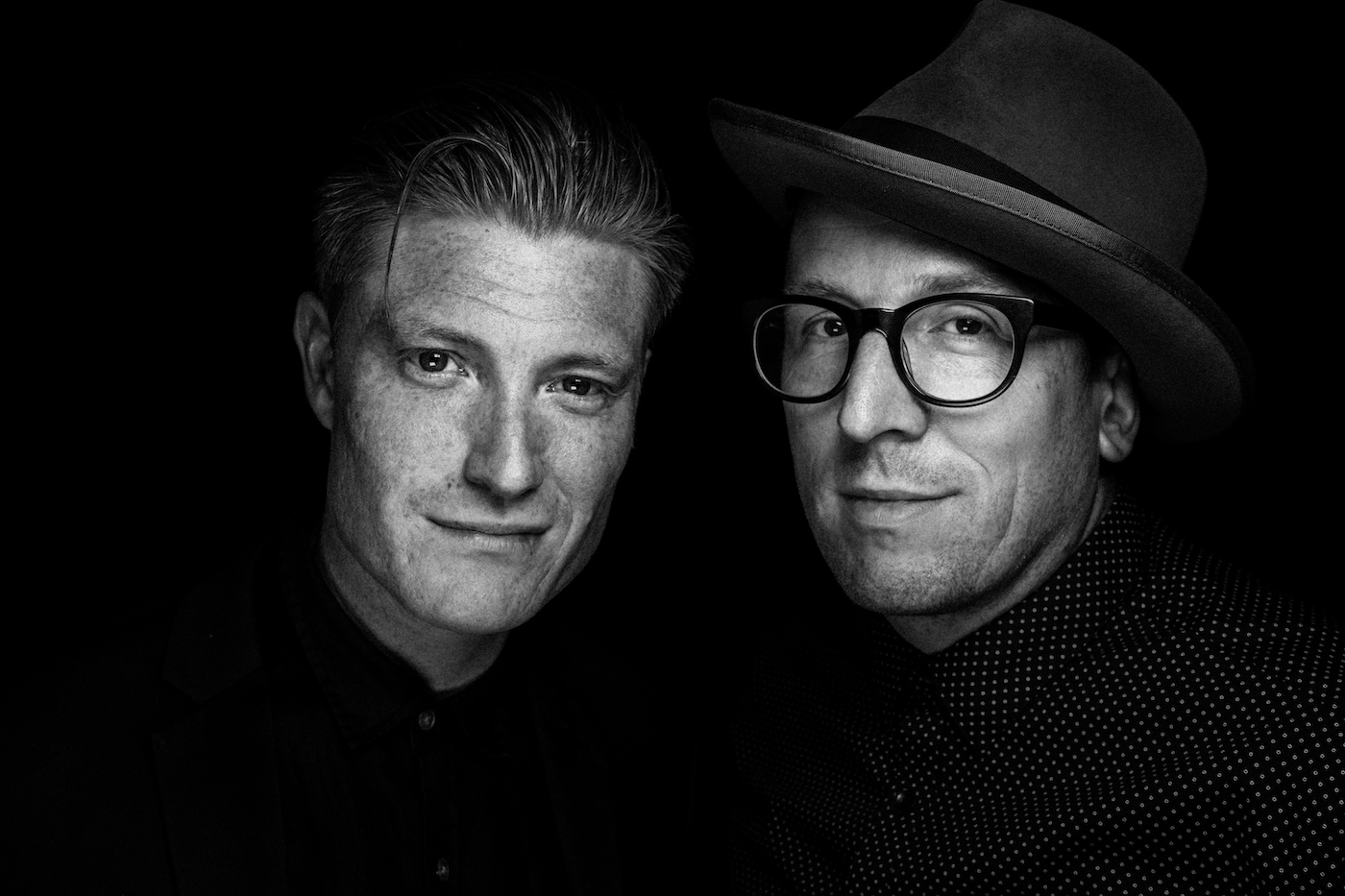 Eight decades or so into the Great American Songbook, it would seem to be near impossible for artists to find a new way of taking on the classic show tunes and pop hits of a couple of generations of songwriters. There have been straight-ahead vocal stylists bebop jazz interpretations, soul-shaking R&B rounds, and even a go at employing a trip-hop or EDM. What's left?
Yet somehow Mikael Jorgensen, the longtime adjunct keyboardist with Wilco, and Aussie-born singer-songwriter Isaac Koren (of pop-rock bands The Kin and the Bråves), found a way to explore the material through an experimental jazz duo called Expandards. Jorgensen employs strange sounds coaxed from his synthesizer to provide unconventional texture and contrast to Koren's classic vocals, with the added element of playing the songs excruciatingly slowly. Unexpected levels of meaning, depths of feeling, both implied and inferred, emerge from such standards as "Someone to Watch over Me," "Angel Eyes," and "Nature Boy."
After coming together late last year when they got to talking at a kids' birthday party in their hometown of Ojai, Expandards have mostly performed publicly only in and around the village, or in pop-up shows between stand-up sets at underground comedy clubs in Los Angeles. In fact, their planned debut at Greater Goods in Meiners Oaks got canceled when the Thomas Fire forced extended evacuations. As it turned out, they both ended up at the Bacara, where they played an impromptu set in the lobby. "It was quite a cathartic moment, feeling a little bit of joy and hope in the music, and having our families be together while it was snowing ash on the beach," Koren recalled. "The songs themselves have been solace."
Now almost a year later, Expandard's Santa Barbara debut at SOhO, slated for Sunday, November 25, represents only their second full-length evening concert. Jorgensen and Koren talked about the project in a conference call earlier this week.
Q. What brought you guys together for this project?
Mikael Jorgensen: Things are pretty open with Wilco, but certain modes aren't quite the right fit for them. I found myself researching and exploring jazz chords and song construction, the technical parts, and had my world blown wide open. When I told Isaac about my interest in doing these classic songs with just a synthesizer and vocals, he loved the idea. We started getting together in the mornings after dropping our kids off at school, just for an hour or so. Pretty soon it became our morning meditation… I loved that it felt risky. We didn't know if it would work, but we thought it would be fun to find out in front of our friends.
Isaac Koren: For some reason, jazz was the first form that got me singing as teenager. But then my brother and I came to New York and ended up performing together as The Kin, and got signed to a major record deal. We were the world's biggest support band for a few years, opening for Rod Stewart and Coldplay, playing 60 arenas in all. It was amazing, a great time. But we didn't really get into the inside of what songwriting was. So, when we moved to Ojai, we started working as both artists and as a writer-producer team called Braves. We're able to explore all the things we never dared to try on as The Kin. Been fun to take on different emotions and characters. It's been great to come back to jazz on my own, and singing these songs adds to the vulnerability because there's an underpinning of instability in two Norwegian-Americans doing songs that aren't from our generation or roots.
The Great American Songbook is a vast catalog. How do you choose the repertoire?
MJ: Isaac had a list of songs that I didn't already know, so I wanted to start there. Then it's just been a matter of finding the ones that have a special resonance with us, whether it's the lyric that sets a mood we like, or just that the music is spectacular. We gravitate toward darker material rather than something like "Happy Talk" from South Pacific.
IK: It probably has something to do with our shared Nordic roots.
MJ: I think you're right. There's a feeling, not exactly a sadness, but there's snow everywhere in Norway in the winter. There's a synergy of atmosphere and music, maybe like positively gloomy. The happiness that comes from being warm inside, with a fire burning and a great meal in the oven, while it's snowing outside. That's what we want to find in our music.
EK: These songs have been somewhat of a cure for disaster fatigue, an inner musical salve.
What is it you are doing in the arrangement to make them your own?
MJ: I scroll through sounds on the synthesizer, and Isaac sings. We record everything we do and then listen back and decide which parts we like and where we want to try something else. There's an infinite combination of sounds on a synthesizer that you can make. You can translate the harmonic information of a piano, or a string section, or a saxophone, and then custom-tailor them to Isaac's voice so we're not in the same register. That gives room for both of us to move around. It's a lot of trial and error: Should it be Music for Airports, or more Aphex Twin, or maybe Enya or Talk Talk? It's great that we have the time to chip away at it for weeks on end. It's such a joy. I know I don't look like that on the stage, but that only betrays the fireworks that are going on inside me. People look at me and wonder if I'm still alive, but to me it's just that it's so good that I want to savor it, not waste any energy flailing around.
Comedy clubs would seem to be a strange place to make your L.A. debut.
EK: There's a rawness and vulnerability in the room that the comic feels, but we also do with these songs. They're so important that we want to do them in a way that honors them, which is very humbling.
MJ: We're used to being in a group where others can carry it. But this feels so vulnerable and immediate that there's a tautness, in a good way, to the show. Every moment there's something at stake. That's a lot like stand-up comedy.
Has the project brought up any thoughts of doing original music as Expandards?
MJ: Absolutely. We've been doing some writing together – really just improvising simultaneously – which has resulted in unique and wonderful coincidences and accidents. It feels really powerful and exciting, and it's a rich territory to mine. We've been toying with the idea of doing one song like that at the show at SOhO. Something like an improv show where the audience gives you a seed, and you use that as a frame to make something up together. That seems even more risky than playing songs that everybody already knows. How about one we don't even know?
(Expandards perform at 7 pm Sunday, November 25, at SOhO. Tickets cost $12 in advance, or $15 on Sunday. Call (805) 962-7776 or visit www.sohosb.com.)
Pops Goes the Symphony
Just a week after diving into some of the most difficult music in the repertoire with a double dose of Stravinsky, the Santa Barbara Symphony ushers in the holiday season with a new pops concert featuring a Santa's bagful of Christmas classics. Broadway singer-actress Capathia Jenkins (Caroline, or Change; Newsies) joins the musicians, led by maestro Nir Kabaretti, to deliver such seasonal favorites as "Santa Claus Is Coming to Town," "O Holy Night," and "Baby It's Cold Outside" among many others.
The show at the Granada Theatre on Saturday, November 24, is a rare local pops concert conducted by symphony music director Kabaretti, who usually spends New Year's Eve – when the ensemble performs its only annual pop concert – in Europe. "But I love the music, and I do them with my other orchestras all the time," he said, noting a recent foray into an homage to Queen (in anticipation of the new movie Bohemian Rhapsody) in Israel, and a Beatles-themed concert in Florida last year. "It's a beautiful way to bring people to a classical concert, especially those who would never go to Stravinsky but love the tunes of Christmas and Chanukah songs. Maybe they hear us play Beatles and Frank Sinatra, and are then ready to check out Gershwin and beyond."
The pops performance also represents the tail end of a two-fer of classical concerts on a single day, as the Santa Barbara Youth Symphony, the top level of the organization's community outreach program, will perform at the Granada for the first time in its laudable history. "The students get a chance to perform in our beautiful hall on the same day as the fully professional orchestra. It's a great plan."
The free family concert begins at noon with an open house with a meet-and-greet with Santa and Mrs. Claus, while the Santa Barbara Symphony's Music Van will also be onsite to offer musical activities and showcase a variety of instruments for the younger audience members to learn about and play. Holiday refreshments will be served. For tickets to either concert, call (805) 899-2222 or visit www.thesymphony.org. 
Classical Corner
UCSB's Department of Music's Fall Concert Series gets going this week, with performances from all of the school's ensembles slated for daily shows between Tuesday, November 27, to Friday, December 7. The Chamber Choir and Women's Chorus kicks things off with a concert Tuesday, November 27, at Trinity Episcopal Church (1500 State St.) featuring works by Harold Darke, Frode Fjellheim, and Christophe Beck, Robert Sieving, Dan Forrest, Norman Luboff, Michelle Willis, Shawn Kirchner, and Elizabeth Alexander, plus a special ""Tis Nature's Voice" segment celebrating the 50th anniversary of the environmentalism movement born in Santa Barbara in 1969, with works by Franz Joseph Haydn, Johannes Brahms, Lili Boulanger, Francis Poulenc, Fanny Hensel-Mendelssohn, Adriano Banchieri, Antonín Dvořák, Frank Ticheli, Randall Thompson, and Alisa Bair… John Adams's Hallelujah Junction is the centerpiece for a transatlantic crisscrossing presented by the Ensemble for Contemporary Music the following night, Wednesday, November 28, at Lotte Lehmann Concert Hall on campus, with the program also boasting works by American radical pioneer Leo Ornstein, the U.K.'s Alan Rawsthorne, Britten's complete Six Metamorphoses after Ovid, and others.
You might also be interested in...