BenShea Bakes Another Level in Staircase for the Soul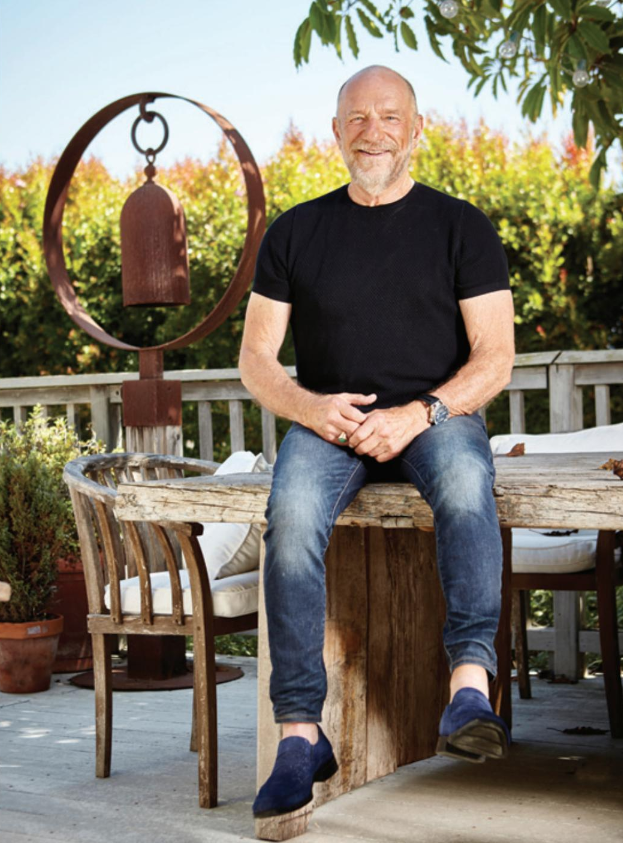 Noah benShea created Jacob the Baker, a simple but wise character whose plainspoken wisdom and common-sense approach to life are delivered as parables with both compassion and humor. Until recently, there were just three books in the series that have provided solace and support for millions of people (and been translated into 18 languages) dating back more than three decades, though the sayings and pearls have shown up on everything from Starbucks coffee cups to sugar packets to hospital meal trays. Now benShea – a former longtime Montecito resident (who now resides in Summerland) and a poet-philosopher, business advisor, former UCLA dean, and New York Bagel Factory founder, among many other endeavors – has produced a new gem titled We Are All Jacob's Children: A Tale of Hope, Wisdom, and Faith (Jacob the Baker), published just last August. It's his first Jacob book in 20 years.
"I'm very excited about it," said benShea about his alter-ego's latest guide for coping in a complicated world. "It's a reflection of what I have learned over the years, or re-learned. As Jacob says in my voice, 'I'm no longer young enough to know everything'."
The intervening years have been transformative, encompassing many major transitions, but also lessons of self-accountability, he said. "I've been looking at my role in my life. I wanted to get this out, down on paper, not so much to convince others, but as truth-teller. That's where I am at this point in my life. What others do with that info is their business. My responsibility is to truthfully capture ideas that speak to issues like loss, addiction, relationships, prayer, and faith. So, I put this out there as an ally, a source of strength, and I'm deeply touched when it plays that role for others."
BenShea will be on site at Tecolote Book Shop in Montecito from 3 to 5 pm on Saturday, November 17, not so much to sign books or even offer a reading, but just to connect.
"People always want to come up and say hello, and be together for a moment," he said. "I do this around the world, but it's very touching when I get to do it where I've lived for more than forty years. This is my community. These are my people. We've all loved and lost together, we've all watched ourselves grow older together. These are the people I share those moments with."
But, he admitted, stories are still likely to arise. "If there are questions," he said, with a twinkle in his voice, "I've been known to not need much of an invite to share an idea."
Chaucer's Choice
Santa Barbara-based writer Karen Gorback, the prize-winning author of numerous short stories and memoirs, signs copies of her new children's book, Nathan and Nana Cassandra – Superheros, 2 pm Sunday, November 18, at Chaucer's. At 7 pm on Monday, November 19, the bookstore hosts both Hazel White, the author of Vigilance Is No Orchard, and Isabelle Greene, the landmark landscape architect who created the Valentine Garden in the foothills of Santa Barbara, which served as muse for the book of poetry and prose.
Accolades for Aussie Actor
Santa Barbara International Film Festival's (SBIFF) actual 34th annual film festival is more than months away, but with November already upon us, we're also deep into awards-hopeful movie season, meaning the Oscar-bait films are either already showing in local cinemas or on their way soon. And it also means it's time for SBIFF's annual Kirk Douglas Award for Excellence in Film, named in honor of the veteran thespian-producer who, at 100, still resides part-time in Montecito. Previous Academy Award-nominee Hugh Jackman gets the honors for the lucky 13th Douglas Award, hot on the heels of his new film, The Front Runner, followinghis much-lauded role as P.T. Barnum in last year's Oscar-nominated musical The Greatest Showman, plus such star turns in the romantic-comedy fantasy Kate & Leopold (2001), the action-horror film Van Helsing (2004), the drama The Prestige (2006), the epic historical romantic drama Australia (2008), the film version of Les Misérables (2012), and the thriller Prisoners (2013), along with the X-Men franchise.
Montecito plays a part in The Front Runner, as Jason Reitman, the village-raised son of famed Canadian comedy director Ivan Reitman, is the writer-director behind the film that tells the story of former Senator Gary Hart's 1988 presidential campaign that turned into crisis after his extramarital affair was discovered. The new film from the director of Thank You for Smoking (2005), Juno (2007), and Up in the Air (2009) is getting lots of attention as award season approaches, not in the least for Jackman's performance as the embattled Hart as he endures the rise and fall of his political career 30 years ago. Ironically, as a pivotal scene in the film finds Hart ambushed by reporters, Jackman has a communications degree with a journalism major from the University of Technology Sydney. (Let's hope someone asks him about it on the Red Carpet or at the ceremony.)
Jackman will receive the Douglas Award at a black-tie gala dinner at The Ritz Carlton Bacara, Santa Barbara, on Monday evening, November 19. Fellow Aussie actor Ben Mendelsohn, Jackman's Prisoners co-star Jake Gyllenhaal, director Reitman, and others will be on hand for the special event that raises funds for the many educational and community programs hosted by SBIFF. Past honorees include Judi Dench, Warren Beatty, Jane Fonda, Jessica Lange, Forest Whitaker, Robert DeNiro, Michael Douglas, Harrison Ford, Quentin Tarantino, Ed Harris, and John Travolta.
Filmmaker Forums
Three chances to talk with the filmmakers behind three new movies take place this week, starting this Thursday, November 15, with 2018 Slamdance Award-winning indie Birds Without Feathers. Producer and co-star Cooper Oznowicz was an SBCC Film Production student back in fall 2007, and he's returning to the seaside campus for the screening of the film that critic Edward Davis describes as "Fellini meets Solondz meets Lynch." Star and director Wendy McColm will also be on-hand at SBCC's Fe Bland Forum for a post-screening Q&A about the movie that follows six emotionally damaged people who are so hungry for human interaction that they risk their self-respect in a desperate attempt to find happiness. Free admission.
Debra Granik, whose 2010 film Winter's Bone starred Jennifer Lawrence in her breakout performance and earned Granik Oscar nominations for Best Picture and Best Adapted Screenplay, will be at UCSB's Pollock Theater for a 2 pm screening on Saturday, November 17, of her new film, Leave No Trace. The movie stars Ben Foster and Thomasin Harcourt McKenzie as a father and his teenage daughter who have lived off the grid in the forests of Portland, Oregon, for years before their idyllic life is shattered and both are placed into social services. After clashing with their new surroundings, the pair set off on a harrowing journey back to their wild homeland. The film earned a 100-percent fresh rating on Rotten Tomatoes and garnered a score of 88 (universal acclaim) from 44 critics on the more stringent Metacritic site when it was released over the summer. Pollock Theater director Matt Ryan conducts the Script to Screen series conversation with Granik, who adapted the book My Abandonment by Peter Rock. Free.
In between, UCSB Vegan Studies is hosting a screening of The Invisible Vegan followed by a Q&A and then a Vegan Buffet, at 6:30 pm on Friday, November 16, at 1104 Harold Frank Hall. The 90-minute independent documentary explores the problem of unhealthy dietary patterns in the African-American community, foregrounding the health and wellness possibilities enabled by plant-based vegan diets and lifestyle choices. The film offers both historical and contemporary perspectives on the dietary trends among African-Americans, showing how intertwined histories of slavery, 20th-century socioeconomic inequalities, and the rise of Big Food have led to the increased consumption of and dependence on meat, processed foods, and fast food. Producer Jasmine Leyva, who appears in the film alongside Cedric the Entertainer, John Salley, Stic of Dead Prez, and Tracye McQuirter, will answer questions before the buffet served by the school's Vegan Studies team. Free. Info at www.veganstudies.org/special-events-calendar/the-invisible-vegan-jasmine-levya.
You might also be interested in...