Oldach Runs for 2nd GSAC Title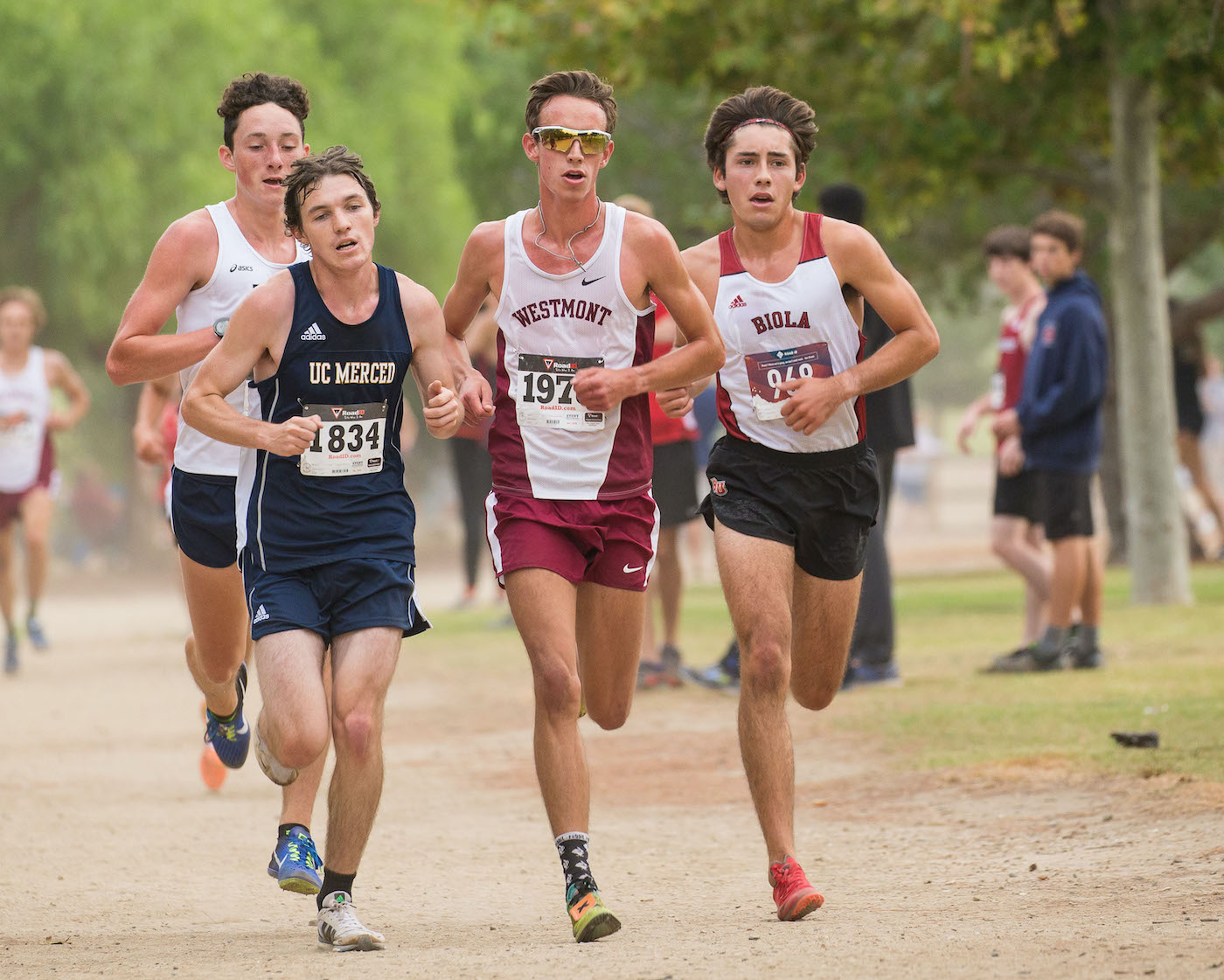 Westmont junior Michael Oldach defended his title and senior Blake Fonda finished second at the Golden State Athletic Conference Cross Country Championships on November 3 in Santa Clarita.
Oldach of Colorado Springs completed the 8,000-meter race in a time of 25:26, and Fonda of Lodi finished in 25:39. They earned All-GSAC honors for their performances, as did freshman Jason Peterson of Santa Barbara, who placed 10th in 26:37.
Volleyball Finishes Strong on Senior Night
Number 15-ranked Westmont volleyball closed out its regular season with a three-game sweep of San Diego Christian (25-10, 25-11, 25-23) on Senior Night, completing the Warriors' 13th win in a row.
Westmont honored three seniors before they took the court for their final home regular-season match of their careers: Amy Buffham of Saugus, Samantha Neely of Whittier, and Libby Dahlberg of Sacramento.
The Warriors finished the season in second place in the Golden State Athletic Conference and are seeded No. 2 in the upcoming GSAC Tournament hosted by Hope International, which begins on Saturday, November 10.
Men's Soccer Kicking in GSAC Tourney
Warrior Gabriel McEwen drilled a 10-yard shot four minutes into the second half, followed by Christian Webb finding the back of the net in the 76th minute to give Westmont (10-5-2) a 2-0 victory over Menlo College (12-6) November 3 in the GSAC Tournament quarterfinals.
With the win, the Warriors advance to the semifinals game against Vanguard on Thursday, November 8, at 6:30 pm at Orange County Great Park in Irvine.
"We have the utmost respect for them, they're the two-time defending champions," said head coach Dave Wolf. "But you know, we've built great momentum, won some games, and put some shutouts together. The question I had about this team this year was really the question of could we put it all together at once."
The number-12 Westmont women's soccer (12-1-3, 5-1-2 GSAC) earned a first-round bye and will open the GSAC Tournament against The Master's on Thursday at 11 am in Irvine.
Christmas Festival Tickets on Sale
Westmont hosts its 14th annual Christmas Festival, retelling the Christmas story by weaving narration with music from the Westmont Orchestra, College Choir, Chamber Singers and Choral Union on Friday, November 30, at 7 pm; Saturday, December 1, at 2 and 7 pm; and Sunday, December 2, at 3 pm, all at First Presbyterian Church, 21 East Constance Avenue. Tickets for this year's event, "Gloria in Excelsis Deo: The Song of the Angels," cost $15 each and go on sale Thursday, November 8, at 5 pm at westmont.edu/christmasfestival. Tickets are sold online only.
Each year, the program tells the Christmas story in a fresh way and from a new perspective. "The theme is evocative of the transcendent joy of the Christmas story," says director Michael Shasberger, Adams professor of music and worship. "You can expect many different iterations of the 'Gloria' of the angels to fill the evening this year that will fill hearts with wonder and joy."
The orchestra opens the program with Rimsky Korsakoff's grand "Christmas Polonaise," followed by the choir's soaring "Gloria in Excelsis Deo" in six parts by Thomas Weelkes.
"The program will also feature the Westmont Chamber Singers and Choral Union performing familiar carols, delightfully fresh compositions of the season, and some exciting music with African cultural roots," Shasberger says.
You might also be interested in...