Taking it to the Beats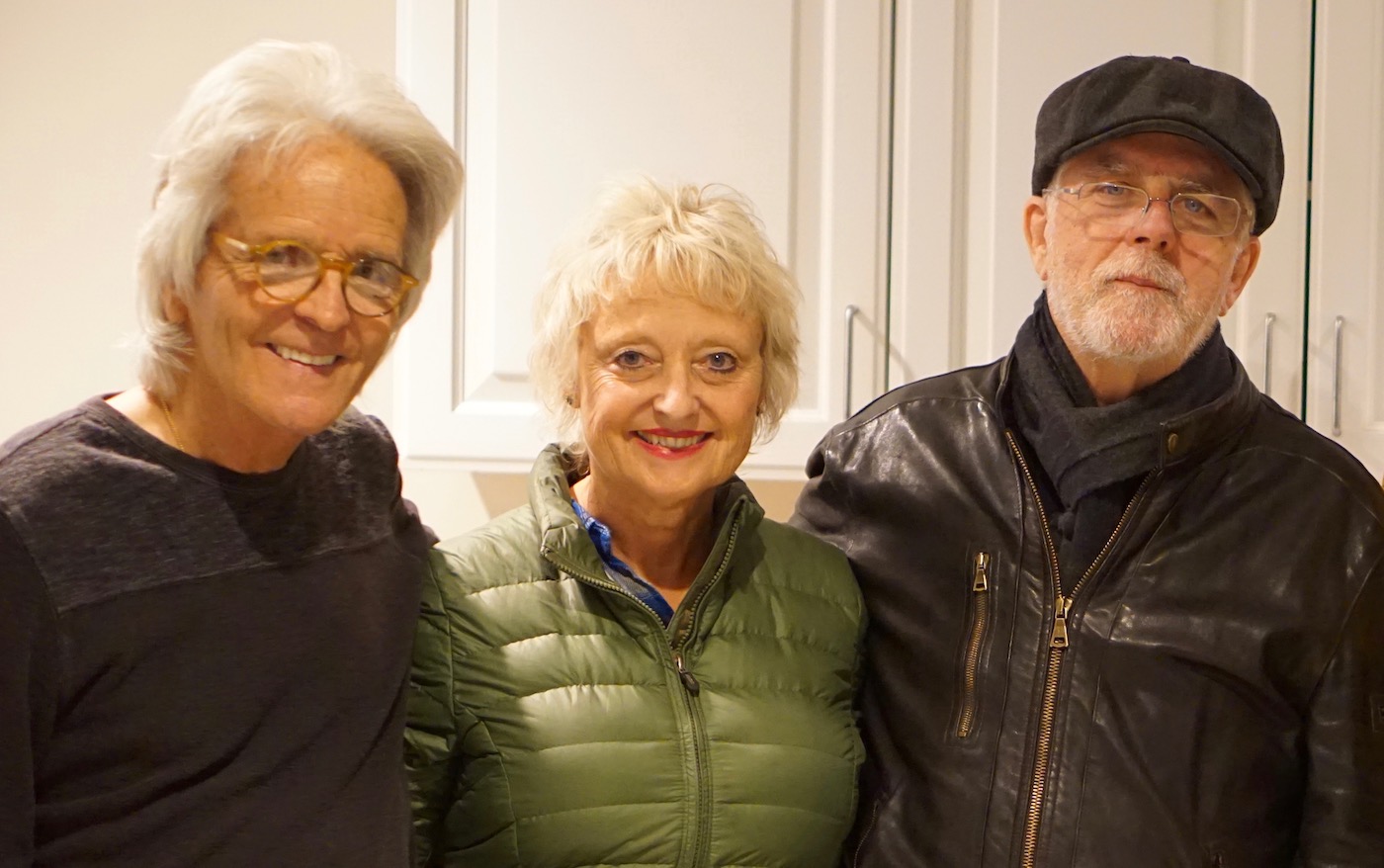 Eddie Tuduri's life turned upside-down when the same thing happened to his body during a surfing accident off Carpinteria back in 1997. The former drummer for The Beach Boys, Rick Nelson, Engelbert Humperdinck, and many other acts broke his neck and was paralyzed. But his recovery began as soon as he was transferred to The Rehabilitation Institute of Santa Barbara, where he began helping his healing via using his drumsticks to tap on the side of his bed.
It wasn't long before he engaged some assistance from percussionist friends he had worked with over the years, and created a program for his occupational rehab class, where fellow patients also found improvement in memory and coordination. That turned into The Rhythmic Arts Project (TRAP), which quickly transformed into an educational program that uses percussion as a medium to improve basic life and learning skills primarily for children and adults with intellectual and developmental disabilities. As TRAP has expanded into dozens of locations across the country and in 14 nations around the world, plus a full online program, one thing hasn't changed at all: The connection with a host of professional musicians Tuduri once played with, who show up to perform benefits concerts for the non-profit organization on a regular basis.
Such is the case with Wednesday's show benefiting and celebrating TRAP at the Lobero, when Michael McDonald will be joined by his wife, Amy, plus rock and blues singer Bonnie Bramlett, R&B vocalist Carl Graves, and former Chicago member Bill Champlin and his wife, Tamara.
"It's all these people I had played with in my career," Tuduri said recently, noting that his associations with the performers date back four decades or more. "I did a lot of sessions with them. I knew Bonnie when I was 21, and I played with both Bill and with Tamara in the band Pockets. They were all there for me when I got hurt, and they still are. They showed up and they never left. It's been a TRAP family for a long time."
While a short film about TRAP will open Wednesday's event, plus a number featuring some of the local kids who have been helped by the program and a silent auction of guitars signed by the cast (plus one by Tom Petty) during intermission, the focus is largely on the music, with a multitude of hits arriving one after another. Bill Champlin will sing on "Turn Your Love Around," and Graves will deliver "Hey Pocky Way" before McDonald takes the stage to croon "I Keep Forgetting" and "It Keeps You Running." He'll be joined by Bramlett for "Superstar" and "After the Love has Gone" (she sang with Leon Russell), Graves for "Yah-Mo Be There," Tamara on "Let's Stay Together," among several other pairings for popular songs.
For Tuduri, having such stars show up to raise funds for TRAP is an affirmation of its value. But even more gratifying is that the musicians aren't just means to staging a benefit.
"They care about more than my accident," he said. "Over the years, they have really become aware of the work we are doing. They've come around to understanding what the program is, and it's a lot more than meets the eye. They all love it. It's been a positive snowball."
FestForums Fast Approaching
Michael McDonald will also speak and perform at the upcoming FestForums conference taking place November 14-16 at the Hilton Santa Barbara Beachfront. Kenny Loggins, Dennis Quaid, and Dishwalla, along with guitarist Chris Pelonis and DJ Darla Bea – all of whom have local ties – will also appear at the industry gathering for event producers, artists, and others. Activities include myriad panels, exhibitions, workshops, and parties along with the entertainment. The event is open to the public. To register or for more information, visit www.festforums.com or call (310) 993-4114.
High School Theater
Santa Barbara High kicks off its 2018-19 season with In the Heights, the musical that propelled Lin-Manuel Miranda into the spotlight, long before Hamilton. First conceived when he was a sophomore in college, the musical chronicles the joys, sorrows, hardships, and triumphs of the Washington Heights, New York, neighborhood via a show that is filled with great characters exhibiting lots of emotions and sassy and brassy music and lyrics. As he has for decades at the school, Otto Layman designs and directs, while musical director Dr. Jon Nathan and the UCSB Jazz Ensemble continue their recent partnership, and Sophia Hurtado, an SBHS alum, makes her debut as costume designer. Heights hits the stage at 7 pm November 2, 3 & 9, 2 & 7 pm Saturday, November 10, and 2 pm Sunday, November 11, at Santa Barbara High School Theatre, 700 East Anapamu Street. Info at (805) 966-9101 x5029, or www.sbhstheatre.com.
Dos Pueblos Theatre Company heads in the opposite direction for its opening show, trading bold, big, and musical for an intimate production of Twelve Angry Jurors, a gender-blind casting version of the classic drama (and film) Twelve Angry Men. The stakes are enormous as the dozen deliberate to decide a young accused murderer's fate, with the individual jurors' inner motivations revealed as they make the life-or-death decision. Decades since its debut, the play deals with many topics still relevant in today's world: peer pressure, the judicial system, the death penalty, racial discrimination, truth, old age, and morality. The 100-member audience will be seated onstage with an intimate view of the action. Show times are 7 pm November 2, and 1 & 7 pm November 3 at Elings Performing Arts Center, 7266 Alameda Ave., Goleta. Info at (805) 968-2541 x4670, or www.dptheatrecompany.org.
Focus on Film
Outing to Ojai: The Ojai Film Festival, which began as a weekend event back in 2000, presents its 19th season from November 1-11 featuring 11 days of events including Lifetime Achievement Awards to actor Malcolm McDowell and cinematographer Ellen Kuras, a Women in Film Legacy presentation with Academy Award- and Emmy-winning actress (and former Montecito resident) Eva Marie Saint, screenings of films drawn from submission from 33 countries in two theaters, and a bevy of other panels, seminars, and parties. Visit https://ojaifilmfestival.com for details, the schedule, and passes to the festival. 
Pollock Projections: University of Michigan film professor Caryl Flinn joins moderator Patrice Petro, director of the Carsey-Wolf Center, prior to a screening of the much beloved musical The Sound of Music (1965) in stunning digital projection, at 1 pm on Saturday, November 3… RBG, the popular documentary that explores U.S. Supreme Court justice Ruth Bader Ginsburg's life and career through interviews, public appearances, and archival material – which played one-and-off at SB International Film Festival's Riviera Theater through the summer and early fall – hits the Pollock Theater at 7 pm Monday, November 5, with co-directors Betsy West and Julie Cohen on hand for a post-screening discussion. Free admission; reserve tickets online at www.carseywolf.ucsb.edu/events. 
Straight (Talk) from the Headlines
Social justice activist Tarana Burke created the "me too" campaign at her nonprofit Just Be in 2006 – long before hashtags – to help young women of color who had survived sexual abuse and assault. The phrase exploded following the Harvey Weinstein sexual assault scandal, when actress Alyssa Milano suggested that other victims respond to her tweet using #MeToo. Burke – who now works under that umbrella to continue to amplify the attention on the issue – will speak at UCSB Campbell Hall at 7:30 pm on Monday, November 5, coincidentally on the eve of the midterm elections…. Another current hot-button topic is the subject of a speech by David Miliband, president of the International Rescue Committee and former British foreign secretary, who discusses "Rescue: Refugees and the Political Crisis of Our Time" on Wednesday, November 7, also at Campbell… Between those talks, performance artist-writer-director Denise Uyehara addresses issues of social injustice in her one-woman show, Radical Time Travel and Other Acts of Resistance, presented for free at 7:30 pm Tuesday, November 6, at UCSB's MultiCultural Center Theater.
Speaking of Stories Seeks Submissions
SOS has expanded its offerings of first-person true stories performed by their authors, adding a Holiday Memories series of shows, taking place December 6-9, to its now five-year-old Personal Stories slate, running February 24-27. Local writers and actors are invited to submit Moth Radio-style true stories, five to 10 minutes in length, for the first round of selection that will lead to auditions, and eventual one-on-one coaching and direction before the shows. Holiday stories are due by Monday, November 5, and the deadline for the regular Personal Stories is four weeks later on Monday, December 3. For details, email speakingof@sbcoxmail.com or call (805) 963-8198.
You might also be interested in...