Let's Rock the Walk for AHA!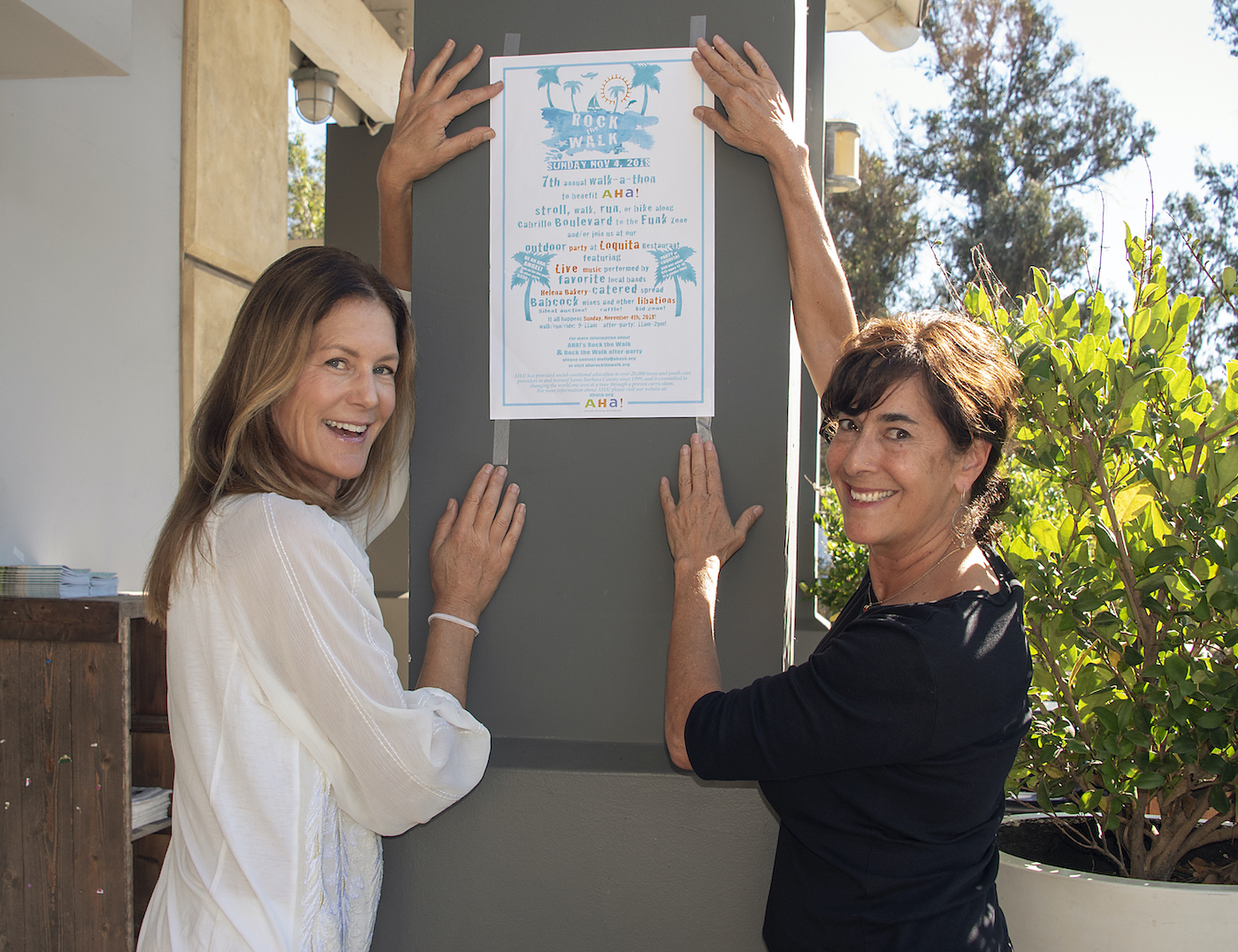 It's time to put on your running shoes for the annual AHA! fundraiser, Rock the Walk, on Saturday November 4, at 9 am with the starting line at Stella Mare restaurant across from the Andree Clark Bird Refuge.
I met with event founder Kyle Brace and development director Molly Green at the Starbucks on Coast Village Road to talk about this year's event. Shout out to Starbucks, which gave a "thumbs up" for the event poster on their outside magazine wall.
Q. How was the Rock the Walk spawned seven years ago?
A. Longtime AHA! Development Committee member Kyle fashioned the event after a walk she attended in Los Angeles. We called it Hike for AHA! and it used to follow the Romero Canyon trail and a party at a private estate; however, we moved it along the Cabrillo waterfront as the trail is closed. Kyle with our board president, Marla McNally Phillips, are the co-chairs.
Is there anything different this year we can look forward to?
Yes! It's a completely redesigned event this year, and our intent is to make it more accessible to the community but moving it downtown with a less strenuous walk. There are a few distance options to make it family-friendly and inclusive.
Can peeps just come to party?
Yes, tickets for the party are also on sale.
What is the distance for the run/walk/bike?
Participants will follow a designated route along the Santa Barbara waterfront and conclude in the Funk Zone at Loquita's parking lot and patio for a celebration of community event. The shorter distance walk/run is 2.4 miles, and the longer distance walk/run is 4 miles. The bike route is 10 miles.
Is there a T-shirt?
Yes, all adult walk participants receive an event T-shirt with sponsor logos on the back, and a water bottle.
What are the entry fees?
Participants are asked to raise or donate a minimum of $250 to join the walk. We encourage those interested to join teams and walk with friends, family members, and colleagues. A minimum $15 donation is requested of youth ages 5 to 16; children under 5 are free of charge.
Where will the proceeds go?
All funds go to our overall budget promoting social-emotional intelligence for local youth. We have programs in school, after school, and during the summer. AHA! is a Santa Barbara-based organization dedicated to the development of socially and emotionally intelligent adolescents through direct service to 3,000+ teens and families through in-school, after-school, and summer programs each year. AHA! Inspires communities to feel safe, seen, celebrated, and emotionally connected, and remains dedicated to empowering youth to become the compassionate, empathetic, and creative leaders we need.
What has AHA! accomplished in the past with the fundraiser's proceeds?
Last year, we received a grant from the Women's Fund to launch an AHA! Peace Builders program in all four SB Junior high schools. Since it was a one-year grant, we are actively raising funds to keep and expand upon service to this important age group.
How many kids and what schools participate in the AHA! programs?
There are over 3,000 students from the local schools: Carpinteria High School, Carpinteria Middle School, Rincon Continuation School, Santa Barbara High School, Santa Barbara Middle School, Dos Pueblos High School, La Colina Junior High, La Cumbre Junior High, Goleta Valley Junior High, and SB Junior High School.
And the festivities at Loquita?
The Dairy Queens band is performing featuring outstanding local musicians, and Brandy Rose (an AHA alumna) is the opening act. There are local artisans selling their creations. Bryan Babcock of Babcock Winery and Vineyards will be pouring, as will Rincon Brewery. Food is provided by Helena Avenue Bakery. There will be a kids zone with face painting and crafts. And several members of our own magnificent staff will be hosting a tongue-in-cheek bad advice booth.
411: Register at www.aharockthewalk.org
Sponsorships: molly@ahasb.org
You might also be interested in...