"A" Train and RTC Show Sent Separately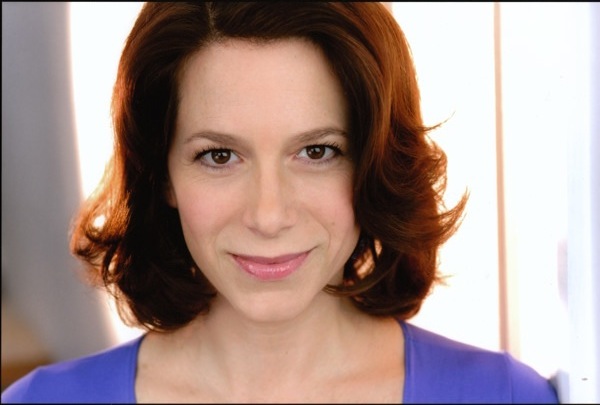 Anne Torsiglieri has been seen on Broadway in Top Girls, Parade, Blood Brothers, and Miss Saigon, as well as in the official national tour of Les Misérables. Her off-Broadway and regional performance have taken place everywhere from Manhattan to the Pacific Northwest, and she earned DramaLogue and Garland awards for her portrayal of Catherine Sloper in The Heiress at Berkeley Rep. Her TV roles include guest shots on Law & Order and Gossip Girl, and she taught acting at Princeton and Dartmouth, as well as Stella Adler and The New School before taking a position on the theater faculty at UCSB.
But by far the most important role she's ever played on a stage is also the most personal piece of professional storytelling of her career: her new solo show "A" Train, which Torsiglieri wrote from her own transformative experience as the mother of twin boys, one of whom lands squarely in the autism spectrum. The work goes beyond autobiography to address more universal themes of handling adversity when life throws one a curve, and opening up hearts and minds to deeper conversations.
"A" Train – which is directed by Launch Pad's Risa Brainin and features music and songs by PCPA's Brad Carroll (Lend Me a Tenor, the Musical) – has been described as everything from funny to profane, and heartbreaking to uplifting. It drew rave reviews at the 2017 United Solo Festival in New York City, where it sold out several performances and earned the Best Production award, warranting Torsiglieri a return slot earlier this month opening the 2018 festival. But nobody outside of a few friends and colleagues who were invited to the work's run-throughs as part of its development at UCSB Launch Pad, or a rehearsal earlier this year, has seen it in Santa Barbara. Which makes "A" Train's local debut at Center Stage Theater on Saturday and Sunday, October 20-21, another huge step for its author, not in the least because it's where her boys live.
That's partly why all of the names were changed in the piece, despite the fact that virtually every word uttered on the stage comes verbatim from her own thoughts or interviews Torsiglieri conducted with fellow mothers of autistic kids, doctors, social workers, and other experts, as well as many people who have autism – characters that she portrays herself on stage. Her son, whose is called Davey in the play, is obsessed with trains in real life, and the title is also a metaphor for the journey she took with her son. "A ride on the 'Autism Train'," she explained in an interview recently. "First stop is 'Freak the F— Out Station."
Q. Why did you want to turn this into a play and share your personal story?
A. To me, it's a very spiritual story about how to live one's life in the face of adversity and when things come your way that were not at all expected. My real hope is to educate people about autism… so that they can have a more visceral understanding you can really only get from a play. Hopefully, it will do some good in the world. People who have seen it have come up to me weeping, parents of autistic children, but also those who had cerebral palsy or drug addiction or depression, or just human beings who struggle who felt that this piece had a different framework for living one's life.
What are some of the misconceptions about autism that still linger? And how do you address them in the play?
Toward the latter half, I talk about that in the world of autism there are two distinct camps: the neuro-diversity camp, where people who identify as autistic themselves want their own voice in how people perceive them and their abilities. The other is "Danger Will Robinson" camp, where parents of very severely affected kids and adults want to protect them at all costs. I call them "Catastrophe" and "Celebration" camps. But the biggest misconception is that there's just one umbrella of autism, but it's actually a very wide spectrum, full of different needs and abilities, points of view, how they want to be perceived, even languaging: "I am autistic" vs. "I have autism." My son is verbal, thankfully, but you know within two minutes that something's going on with him. I don't want to have him give up the parts of him that make him happy in order to "fit in." There's no need to extinguish the behaviors that give it away. And even the ones who might be nonverbal have lots of empathy and something to contribute. The idea that they're not people, that their souls have been plucked from their bodies, is just wrong. Autistic people shouldn't feel less than or not capable of even being worth working with.
I'm curious why you changed even your own name for the play. Are there fictionalized aspects?
It's just to protect my son. We've never framed autism with him in any negative way, and I feel good about how we talk about autism in our family – like it's the same as blue eyes or brown eyes, left-handed or right-handed. It's not a problem for him. There are challenges, but he also sees it as having superpowers. He has perfect pitch and can memorize anything he's interested in, like the subway system. But since the play brings up problems and issues and fears that I had, and those of other people, changing the names gives me the feeling that it's a character, not him. But it's all truthful. There are only characters that are composites.
I would think even for an experienced actor that portraying someone with autism might be a bit like walking a tightrope in balancing between getting across the persona without making it a parody, especially since you can't actually have first-hand experience of what it's like.
I don't want to send anybody up, but I want to honor their words, let them be heard. That's why I use the verbatim interviews. I try to be really honest about what I perceive to be the essence of their personalities, their mannerisms and speech, in a very respectful way. Actors transform all the time, that's inherent in the job and one of the joys in being to become another person. But I've taken a lot of care to make sure it's respectful, to not make fun or even comment, and just present an honest representation of who they are.
A musical about autism is also a hard concept to grasp. How do the songs fit in?
As a young actor in New York, we learn that when you have a problem you sing about it. So, in the play we use music to figure out what the heck was going on – in my life, with my son, autism, how to help him. Part of the fun of the music is that my character channels a lot of different styles within the musical theater realm. One song is a little Gilbert & Sullivan, another kind of Sondheim-y, and something like Hamilton. The different genres represent sharing the next version of what I tried along the way, or what I learned. One song is almost a narration, with the logistics of autism, almost a Greek chorus, but of course, it's just me.
How has doing the play impacted your family life, relationship to the situation?
It's been incredibly cathartic and also incredibly joyful. I've learned how I really feel about these things by having to write them down. And I'm also really excited for what I witness after these shows, how people are affected. More than anything, it's been joyous and exhilarating to share something like this that's so personal and important to me. I'm still working on it. I re-wrote the opening just this morning.
("A" Train plays 7:30 pm October 20-21 at Center Stage. Tickets cost $22 general, $15 students and seniors, and proceeds will be donated to Hidden Wings in Solvang, a nonprofit for young people with autism. Call (805) 963-0408 or visit http://centerstagetheater.org.)
Sick Home Alabama: 4Qs with Bassist Phillips
In just a few short years, St. Paul & The Broken Bones have risen up from the unlikely land of Birmingham, Alabama, to capture critics, listeners and even a slot opening for the Rolling Stones via a visceral mix of classic '60s soul and modern funk beats underpinning emotional lyrics that delve into political and deeply issues. Aside from displaying even more modern hip-hop influences, the band's new album, Young Sick Camelia, dives even deeper, with songs that grapple with the complexity of familial relationships, as Paul Janeway, the "charismatic Christian" who traded a career in ministry to try rock 'n' roll, aims to reconcile his own social and political beliefs with those of his father and grandfather.
But Janeway was actually sick himself, down with some sort of throat ailment that started with a crew member and spread through the bus overnight. So, the fiery frontman who channels soul greats like Otis Redding and James Brown and belts out every note as if his life depended on it needed to save his voice for the set and wasn't up for a phone interview or even an email Q&A.
Instead, we caught up with bassist Jesse Phillips, who in 2014 started the group with Janeway, whom he first met in 2008, and who co-writes the songs and leads the band.
Q. How do the issues Paul explores on the new record extend to you, the other band members, and your listeners?
A. There is a fairly wide variety of political views among the band on the bus – not any Trump voters, I'm pretty sure – but we each have our own set of ethics and values, and our own take on what it means to be southern. There's a lot of baggage that comes with that. Exploring those themes, how poverty, race, class, and religion factor into a Southern identity, the struggle and how you reconcile the things you love with that narrative are things we can all identify with. There are rednecks wherever you go; race and class struggles are everywhere. It's just that where we are from in Birmingham has that weighty history in the not too distant past. On the other hand, the musical traditions we identify with – the Muscle Shoals dudes, who are also in Alabama – they're our mentors. That's what we've embraced for ourselves.
Paul seems to be channeling lots of soul greats when he's on stage. Is that at all a bit of an act, or is it in his blood?
He goes out there being the ridiculous extrovert who dances and gesticulates and falls down on the floor, but on a personal level off stage Paul is a fairly quiet and thoughtful kind of guy. But the passion in his singing is definitely something he does naturally. He grew up on gospel and traditional soul and always thought that's how people are supposed to sing. If anything, he's more refined now than since I met him.
Has grappling with these themes on the new record brought into focus some of these issues for you?
It has made me reflect more on my personal connections to my family and the differences in perspective between generations. But I'm the only one in the band who didn't grow up in Alabama. I'm not saddled with that baggage by birth. I choose to live here because I like it in ways that aren't known outside of the South. But my family also has very different lifestyles, values, and perspectives, and I've been spending some time thinking about that and wanting to empathize more with where my ancestors come from. You want your songs to maybe spark conversations about who we are and how we got to be that way. They're doing that for me.
Five years ago, you guys thought your partnership was done. Barely two years later, you were opening for the Rolling Stones. I'm thinking there've been a few "pinch me" moments.
There have been so many things that all we can do is sit back and say, "Well, yep, that happened today." Even now, I'll be home sitting on the porch with some friends and someone will ask when we're heading out of town and I'll say, "Oh, we gotta fly out to L.A. and play on TV tomorrow," like that's a normal thing. A highlight for me was when we got invited to play Otis Redding's birthday party a couple of years ago, and his widow and family took us on a tour, which was amazing. To me, regardless of the haters, I can take it to the bank that the Redding family has endorsed us as a torchbearer for this tradition. We're working hard to keep that kind of emotion alive in the music.
(St. Paul & The Broken Bones make their Santa Barbara debut at 7 pm Sunday, October 21, at the Arlington Theatre. Info at (805) 893-3535 or www.ArtsAndLectures.UCSB.edu or (805) 963-4408 or www.axs.com/venues/2330)
You might also be interested in...