Kozlowski Celebrates 70 & Finds the Moment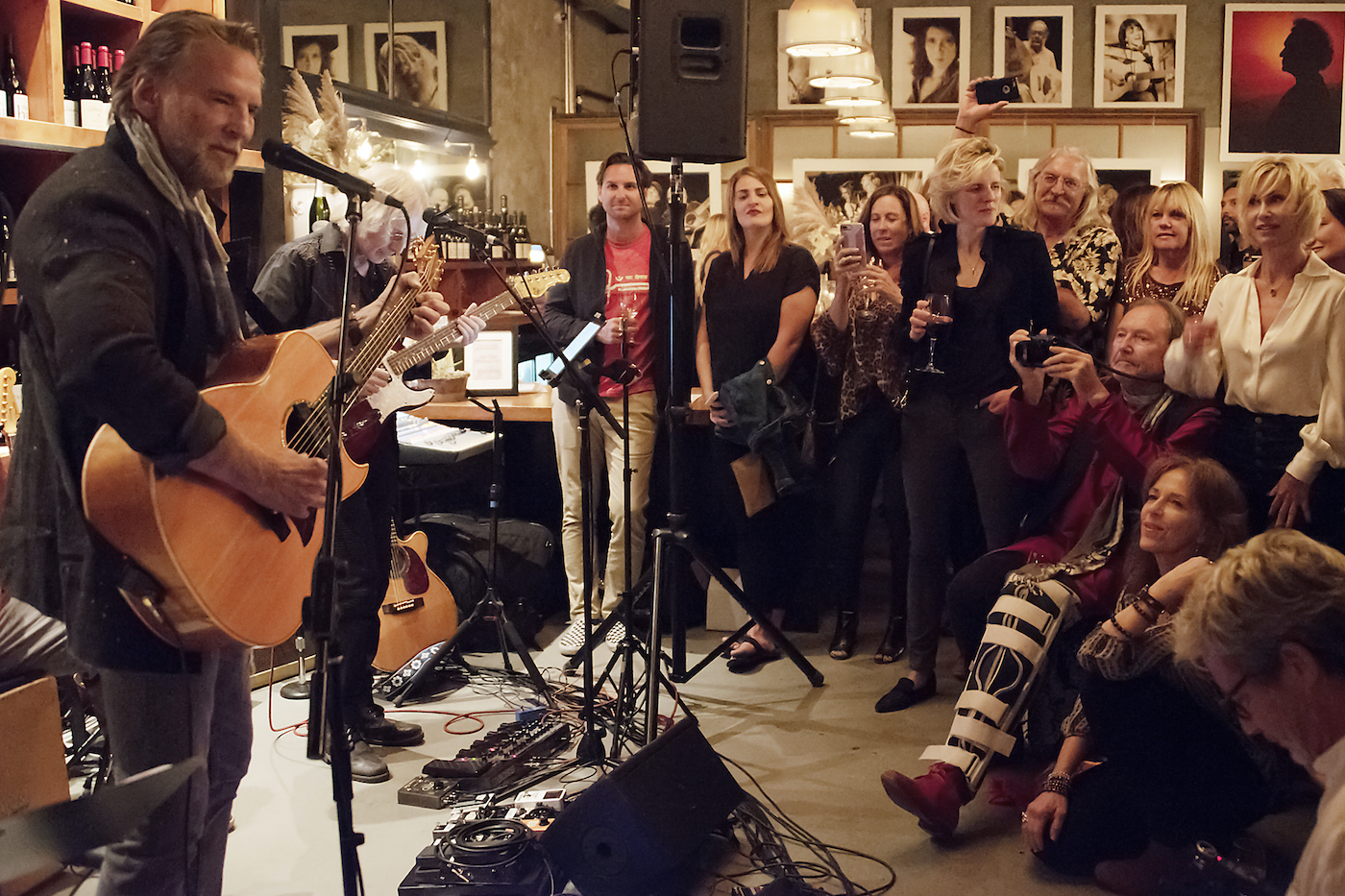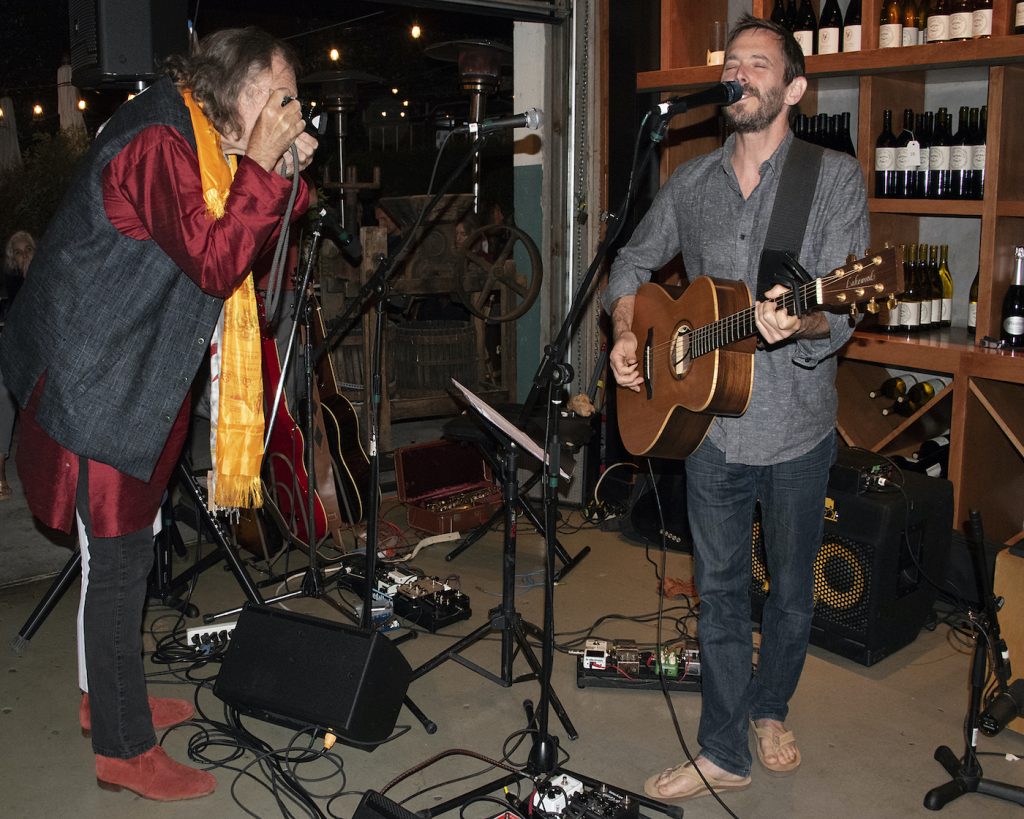 Alan Kozlowski, the 1970s film arts prolific-tarian celebrated his 70th on September 11 in righteous fashion, with both a photography exhibit titled "Finding the Moment" and a star-studded "who's who" sipping wine and telling tales at the Santa Barbara Wine Collective in the Funk Zone. The exhibit featured 25 never-before-released images from his trove, which are digitally sepia-toned and hand-printed by him. Here we find candid portraits of Nora Jones, Ravi Shankar, Jeff Bridges, Leonard Cohen, and other famed musicians, and there were three large wood crates of matted black-and-white prints from his Buddhist travels to Tibet, Cambodia, Cuba, Spain, and India to choose from. Like his peers Diltz and Seef, these works are more about the subject and moment he decided to capture than precise technical elements.
Photography is one of Kozlowski's paths, and his resume includes time as a monk, a multi-instrument musician and instrument collector, working for 35 years with Ravi Shankar, and the owner of an award-winning film and television digital post-production house, Pacific Ocean Post in Santa Monica, which he sold late in the '90s to return to art. Clearly living to discover.
No shame to fame, the "Koz" wearing his long-sleeve silk burgundy Nehru shirt with matching suede shoes and two prayer scarves, he affectionately held court talking with his friends and fans, with daughter Lily by his side.
Blushing like a kid of 7 with his trusty Leica camera in hand, Kozlowski took a photo here and there of the three-hour live music concert in his honor by musicians, most of whom he photographed. The gig started with a melodic set by Laurence Juber the English-born guitarist of Paul McCartney's Wings band.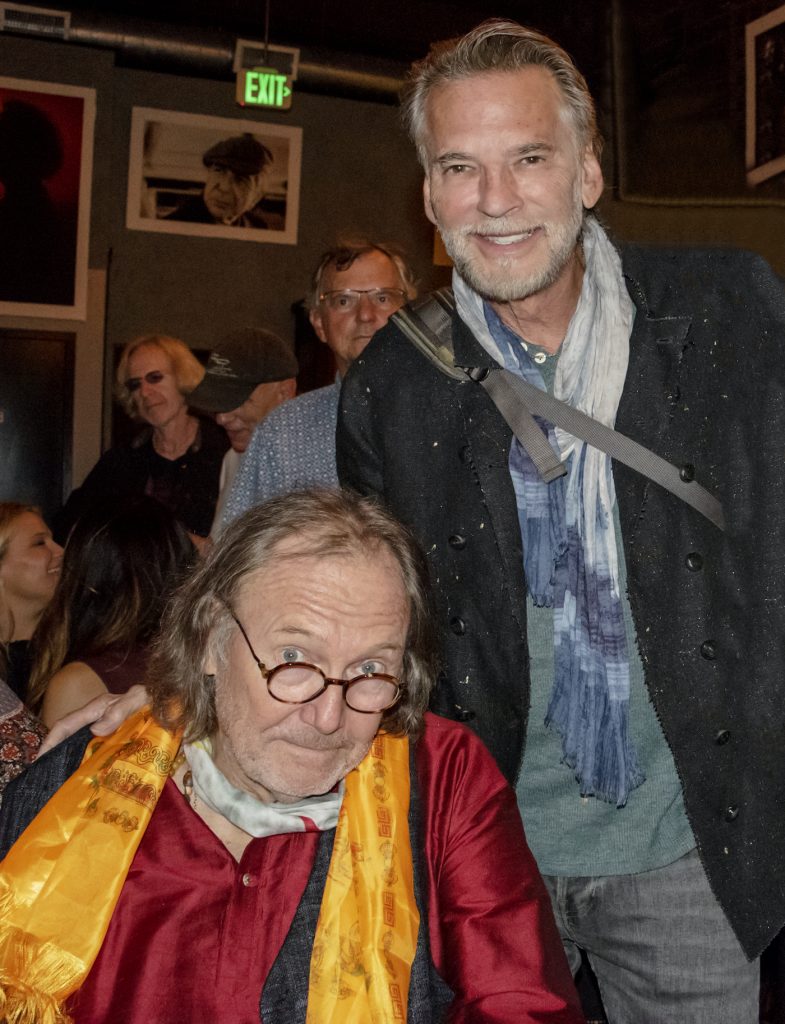 Setting the pace upward was the Jeff Bridges & the Abider's Band of Chris Pelonis on acoustic guitar and vocals, Bill Flores on pedal steel and lap steel guitar, Steve Postell on an electric guitar, Randy Tico on bass, and Tom Lackner on drums – minus Jeff. who was en route to the John Lennon Tour Bus with Yoko and Ringo in New York City to raise funds for music education and No Kid Hungry. Pelonis tore a new suede shoe with his blues original, "Stranger In My House".
Glen Phillips (Toad the Wet Sprocket) did his top 5 songbooks hits, with backup singer Kate. Phillips looked out and said, "Hey, who's up next?" as Kenny Loggins was in the house. Switching places, Loggins plugged in his acoustic guitar, and was joined with Maitland Ward on fender electric guitar, Jason Libs on harmonica and vocals, backed by Postell, Lackner, Flores, Tico, Pelonis, and Sven Holcomb.
Loggins quipped, "What great idea for a band," and ripped up the dance floor with hits "Footloose", "Conviction of the Heart", "Love the One You're With", some Motown covers and audience sing-a-longs. Surprise shredding guitar solos by Postell, Ward, and Holcomb brought the gig to a fevered pitch. The band closed with Neil Young's "Rockin in the Free World" and "The Birthday Song" by The Beatles.
Friends in the house to wish Alan happy birthday included John Kay (Steppenwolf) with wife Jutta Maue, musician Jonathan McEuen with artist wife Ksenia, musicians Anders Bergstrom (U.S. Elevator band), Ray Pannell and Robert Hart, Babcock Winery owners Bryan and Lisa Babcock, Traci Collins PR, Kim Pelonis owner of Lost Chord Guitars, Hale Milgrim, Diane Johnson, Jackie DeMoor, Laurie Kirby, artists Michelle Castle and Hayley Marie Colston, Gail Hansen owner of SOhO nightclub, John Lucchetti and Jacob Tell of Oniracom, Patricia Houghton-Clarke, and Michael De Rose. Libations were a ginormous white birthday cake by Helena Street Bakery and wine by the venue.
You might also be interested in...