Everyone in Harmony, in Voices and Beyond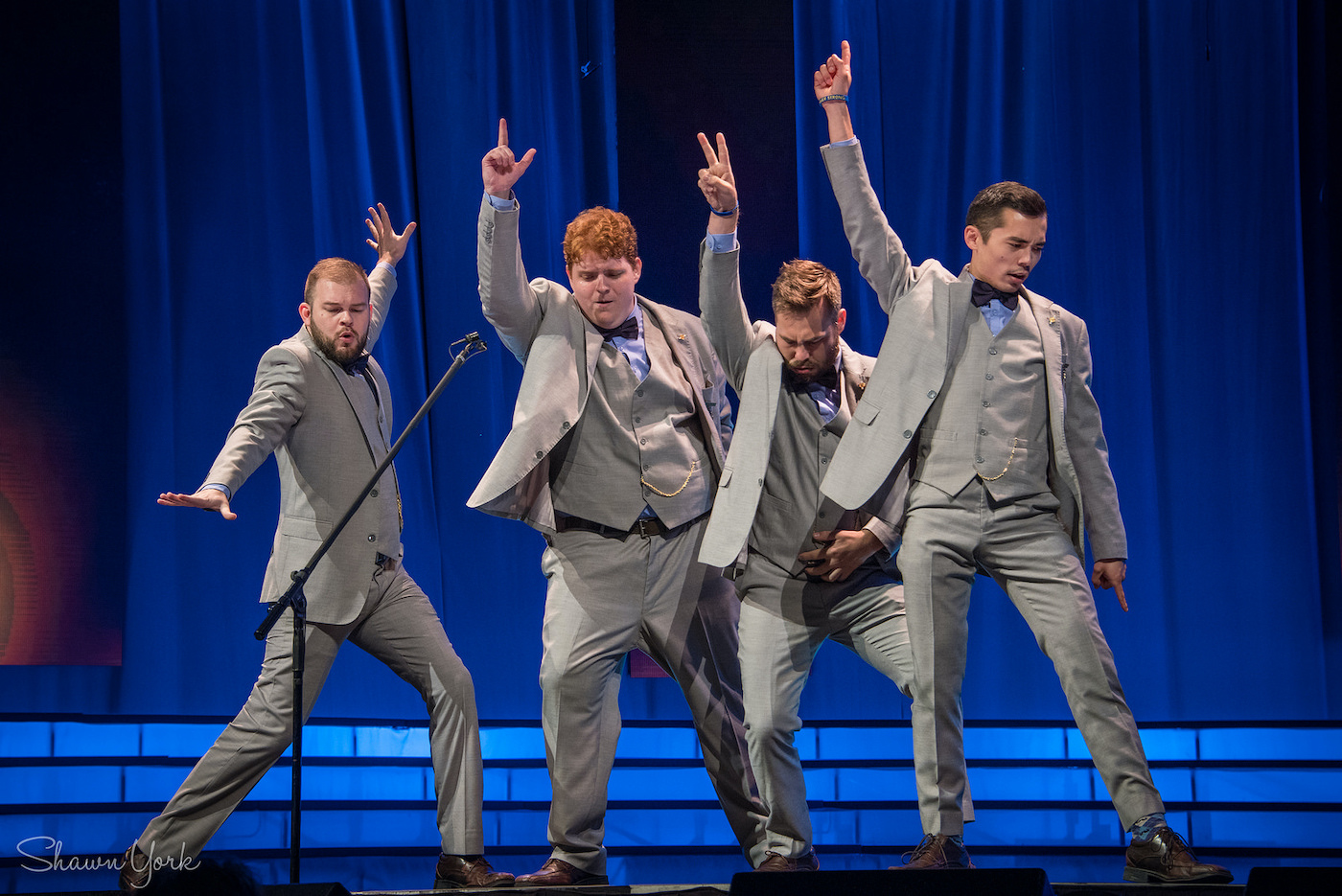 Brent Anderson has been singing in Barbershop Harmony choruses for 40 years, the last 19 as part of Pacific Sounds, a group he co-formed back in 1999 to serve as a competition and show choir long before anyone heard of TV's Glee or the Pitch Perfect movies.
Part of the 700-chapter-strong Barbershop Harmony Society, Pacific Sounds practices weekly and performs regularly, including facing off against other choirs in regional, national, and international competitions. But it's really the camaraderie that comes from singing in a choir that characterizes the main appeal, which will be evident when Pacific Sound anchors its annual concert at the Marjorie Luke Theatre on Saturday, September 15. "Everyone in Harmony" is the theme for the concert, which in addition to Pacific Sound men's chorus also features the a cappella ensembles Carpe Diem women's chorus, The Acetones Quartet, and the Dos Pueblos High School Jazz Choir, all of whom are based in Santa Barbara, plus special guests The Newfangled Four, a young barbershop quartet from L.A. that blends harmony with humor.
"Singing in a choir is really fun," said Anderson, who sings bass and also serves as emcee for the concert at the Luke, and heartily subscribes to the concert's theme. "It's kind of corny, but we believe that if people did more singing it would be easier to get along. No matter what's bothering you – a bad day at work or fighting with your wife – you leave it at the door and sing for three hours, and the world is a whole lot better. It just makes your heart feel good."
Pacific Sounds's members range in age from 24 to 80, and include everyone from students to retirees, and a mix of liberals and conservatives, a variety of races and ethnicities. "If not for our music, we might not get to hang out with each other and get to know each other. We all get along great and really enjoy our time together. And when we perform, we get to bring that joy to others."
The theme's literal musical meaning will also be on ample display at the pair of concerts too, as all of the ensembles have won awards, with Carpe Diem currently holding the prestigious title of world champions just a few years after forming. On the other hand, Saturday's shows mark the final appearance of The Acetones Quartet, Anderson said, because three of its four members are about to earn their Ph.D degrees in material science from UCSB and are departing to launch their careers.
But for Pacific Sounds, Saturday's concerts also mark just the second year since its founding director, Mike McGee, returned from a 15-year hiatus during which he lived in Florida and worked at Disney. He formed another quartet in that area half a dozen years ago, aptly named Main Street after the famed Disney thoroughfare, and brought them to Santa Barbara last year on the heels of winning the international competition.
Now, the ensemble is featuring another up-and-coming outfit in the Newfangled Four, who inject lots of laughs into their shows while delivering harmonies that are utterly heavenly. (Check out their YouTube video of variations on "Hello My Baby" for reference.)
"They're very entertaining and very funny," Anderson said. "They were the collegiate champions a couple of years ago, and I think it's very likely they will be international champions within the next year or two. And none of them are even 30 years old. It's good for young people to see other ones their age singing that way, proving that barbershop harmony singing isn't just a bunch of old guys. The fastest-growing demographic in the genre is actually ages 19 to 24."
(Pacific Sounds's "Everyone in Harmony" concerts take place 2 & 7 pm at the Marjorie Luke Theatre at Santa Barbara Junior High, 721 East Cota St. Tickets cost $15 to $50 and are available online at www.pacificsound.eventbrite.com.)
Sounds at the Soup
Music Month continues at Yoga Soup in mid-September with the first of a planned series of monthly Open Mic Nights, slated for 7 to 9 pm on Friday, September 14. Each contributor will have up to 10 minutes for two songs or pieces in the evening of music and poetry, though it's fine to just come and watch. Admission is by sliding scale of $5 to $10.
Coming up next are two more concert-style events, including a stop on Jai-Jagdeesh's Down Come the Walls tour at Unity of Santa Barbara on Tuesday, September 18, and the return of MaMuse, who are celebrating the release of a new album, Prayers For Freedom, on Thursday, September 20. MaMuse is the duo of Sarah Nutting and Karisha Longaker create uplifting music that weaves haunting harmony with lyrics born of honed emotional intelligence, invoking a musical presence that inspires the opening of the heart. Their concerts at Yoga Soup have lingered long beyond the final notes.
Meanwhile, in support of its month-long musical celebration, Yoga Soup's usual assortment of unique instruments, for purchase and for play, will be on prominent display in the lobby with many of the items on sale, plus the studio plans to share special musical tips, lessons, clips, ditties, and anthems on its Instagram and Facebook pages. For more information, visit needs info here.
Psychedelic Shake
Arts journalist/filmmaker/film educator Ted Mills – who brought the first-ever retrospective of Michel Gondry's music videos to the Santa Barbara Museum of Art, and two volumes of Animated Music Videos to the Museum of Contemporary Art – has curated a new selection of "the weirdest, brain-meltingest, bizarrest, and outlandishest animated videos for two hours of colorful, third-eye expanding fun." The Psychedelic Shake screening will consist of music videos, experimental animation, twisted narratives, psycho-sexual explorations, computer graphic brain explosions, and much more, which means you should definitely leave the kids at home. Catch the "Mind-Altering Evening of Exceptionally Weird Videos" at 7:30 pm, Friday, September 14, at Fishbon's The Pescadrome, 101 S Quarantina St. Call (805) 453-5246 or visit www.fishbon.org.
You might also be interested in...