Labor of Love: Studios Open for Tour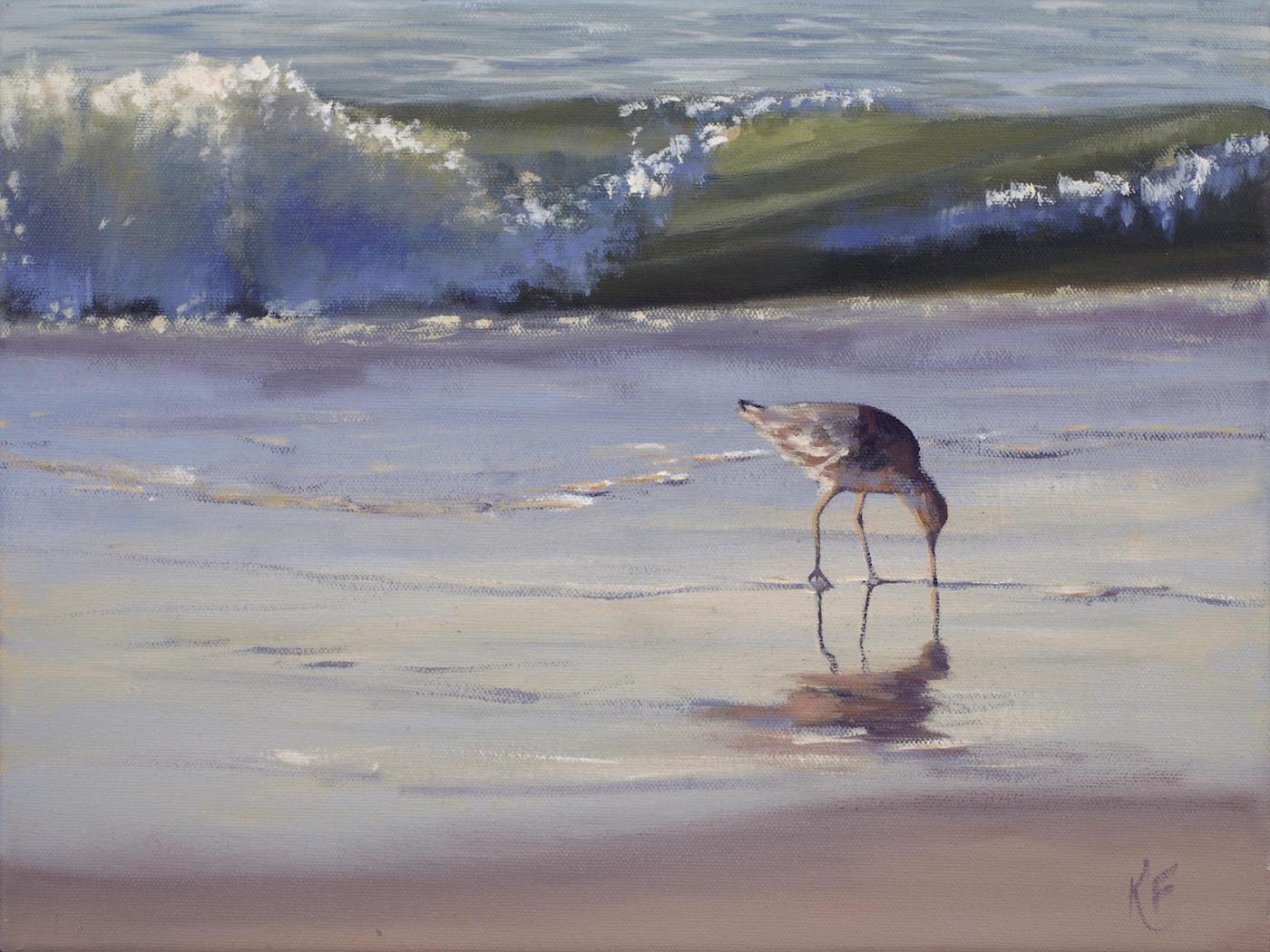 Montecito has always been an integral part of the Santa Barbara Studio Artists (SBSA) Open Studios tour. But not so much this year.
The annual Labor Day weekend event when local artists who are members of the organization welcome guests into their working home studios or off-site locations has just one site for visitors to the village. Some of the attrition is due to the aftermath of the Thomas Fire and especially the Montecito debris flow last January, which either directly caused damage to homes or studios or resulted in closures of roads and bridges that are still not open for passage, so affected artists didn't think it made sense to participate this year.
That leaves Pamela Larsson-Toscher as the only remaining Montecito artist to participate in this year's sojourn through the studios of the Santa Barbara area. "Last year, there were four or five of us all around Montecito, but now it's just me," said the artist whose home and studio are located high enough above Coast Village Road to have avoided the path of the rushing water and debris last January 9. "The only thing that affected us was ash, which was pretty horrible, but I was pretty lucky."
Still, while she hasn't directly confronted the scenes of devastation in her artwork, Larsson-Toscher, an oil painter trained in the old masters-style who favors as subjects everything from portraits to "surrealistic dream images with a modern twist," has discovered that her recent works exhibit a less obvious reaction to the disasters.
"I've noticed that I've been really drawn to the color orange," she said, "Does it have something to do with the fire? I'm not sure. But I've been painting a lot of things that are connected to the color, like road crews wearing orange jump suits. I almost think it's in opposition to what happened, where everything was so dark and down. My work has gone exactly the opposite way, taking a look at things that are bright."
Larsson-Toscher actually had the intention of showing her latest work at 10 West Gallery over the long weekend, when the downtown space will host the annual preview party for the studio tour on Friday night. "It was a large piece, with Monarch butterflies, which I called 'Butterfly Lane,'" she said. "But it sold before I could even put it in the gallery for the reception. That's not such a terrible problem to have."
So, Larsson-Toscher had to find another piece to hang at the preview, where she'll be joined by some 30 other artists who each display a single work as an enticement to come check out the artists' complete catalog at their studios over the actual tour, which takes place Saturday through Monday, September 1-3, and maybe take home a piece or two.
However, making point-of-purchase sales isn't the only purpose for the Studio Tour, though the artists are happy to sell you their work on location. It's more about meeting and talking with the creators of the work, learning about the processes, and developing on-going relationships.
"You get a peek into the lives of the artist as opposed to just the art work itself," explained Rick Garcia, a longtime SBSA member and past president who also works with oils, though his are committed to linen and feature California landscapes, architecture, and botanical subjects. "You get to see how an artist organizes their studio, and how they work their medium, and you get to ask questions about what inspires their work. It's really amazing how different all the artists are. Everybody who comes through my house over the course of the years I've been doing the tour have loved the event because it's so diverse."
Garcia also pointed out visitors get the chance to view an entire body of work, not just specific pieces that happen to be hanging at an exhibition at a gallery. "That helps the artist gain a following in a way that goes beyond other avenues, which can be beneficial for the galleries too. Over the years, people keep coming back to see the new stuff that I've done."
The gallery owners themselves often participate in the tour to check out artists with whom they aren't familiar or to view new work. Indeed, Francis Scorzelli, the current president of the Santa Barbara Studio Artists, hosted the owner of the GreySpace Gallery in the Funk Zone at his downtown Santa Barbara studio last September, and now he's readying work to hang as part of a solo exhibition at the space at the beginning of next year.
The Studio Tour allows for visitors of any stripe to interact with the artist at leisure, Scorzelli said, "You get to be one-on-one with the artist in their own space, spend time with them, talk about their art, and get everything you need," said the artists whose abstracts are created on the floor of his studio space and are definitely open to personal interpretation. "I've had people on the tour spend two hours with me going through everything with me. Last year, there was a couple who had just moved up here from Los Angeles and had nothing on their walls. After we talked for a while, they bought a couple of pieces."
Meanwhile, if Montecito has suffered some attrition, there are also some Santa Barbara artists who are participating in the Open Studio Tour for the first time in its 17-year history. That group includes Rick Schloss, who has been painting for more than 45 years, the first 31 in Santa Barbara, where he studied at college and then made his home in town, before the family relocated to the San Francisco Bay Area for nearly a decade. Schloss moved back to town just two years ago, and just recently leased the space in Arlington Plaza that formerly housed the Santa Barbara Frame Shop, which itself hosted the preview show and opening reception for the SBSA Open Studio tour for several years.
"I showed there back in the 1980s when it was the Delphine Gallery," Schloss said, explaining why he decided to relocate his painting work space from his home studio on Santa Barbara's west side. "It's such a great place, with a great gallery and a space in the back, where they used to do the framing work that's perfect for a studio."
Schloss said that his studio is different from those you might encounter elsewhere on the tour in that it's already set up as a gallery, with a professional work space featuring his own self-designed and built easel. "It's worth coming just to see how it's set up," he said.
You'll also get a chance to check out his latest creations that are part of his current show, Viva Santa Barbara, which featuring a focus on Fiesta, plus other Santa Barbara scenes. "This is where I started to paint and grew into being a painter. I have an affinity for the local landscape, the atmosphere, just everything.
What you won't see is anything depicting the local disasters of last winter, nor even an indirect reference, a conscious choice, Schloss said.
"I've avoided painting areas that were burned and those that were in the flood. We live where it was safe, so it didn't affect us directly. And I didn't want to do anything that reflected what happened, because people are still recovering and may not want to be reminded of it. It's different for a friend who lost his studio in the fire who has done a lot of painting full of fiery images because it's been cathartic for him."
Speaking of friends, Larsson-Toscher noted that making connections is the reason she keeps participating in the tour. "I've made some really good friends with people who came to my studio over the weekend. I enjoy it, and I really do love talking about my work."
(Santa Barbara Studio Artists 17th Annual Open Studios Tour takes place 11 am to 6 pm on Saturday & Sunday, and 11 am to 2 pm on Monday, September 1-3. The Artist's Reception is 4 to 8 pm Friday, August 31, at 10 West Gallery, 10 W. Anapamu St., just across from the Santa Barbara Museum of Art. Tickets cost $25 each, with a $5 discount per ticket for more than one. Children 12 & under are free. Visit www.SantaBarbaraStudioArtists.com.)
Travelin' on
Rubicon Theatre Company's (RTC) 2011 original show Lonesome Traveler proved quite popular with Ventura audiences and beyond, who reveled in the concert-within-a-play format that traced the evolution of folk music from 1920s hillbilly and mountain music unearthed by John Lomax to the 1965 Newport Folk Festival, when Dylan changed everything by "plugging in." The cast members more or less assumed the personas of a variety of folk-music early heroes, from Ledbelly to Pete Seeger, and tried to make their renditions sound like the originals.
But that approach wasn't going to work for the sequel, said Rubicon co-founder James O'Neil, who directed and conceived of the Traveler with musical director and arranger Dan Wheetman and George Grove. That's because the music itself moved in so many directions that a linear telling wasn't practical, he said.
"The music from the 1920s to '65 was pretty much performed in similar fashion even as the years passed by. But after Dylan brought his electric guitar, everything just exploded, like a supernova, from funk to country rock to folk-rock to pop. Musicians were experimenting, and the sound was all over the map. I simply wanted to tell the story about the explosion of creativity."
The result is I Dig Rock-and-Roll Music, billed as a concert featuring American music from 1965 to the late '70s, which has its world premiere at the Rubicon September 1-16. (Info at 805-667-2900 or www.rubicontheatre.org.)
The show not only traces the stylistic forays, but also thematic ones, from a deeper dive into the political spectrum examining events on the world arena, to the internal exploration of emotions that sparked the still thriving singer-songwriter era. "Suddenly, it was permissible for people to talk about their inner feelings, not just the outer world," O'Neil noted. "That definitely takes us away from the linear path of folk music to a place where everything is up for grabs."
Dig features songs by everyone from Joni Mitchell and Carole King to The Eagles, The Beatles, Creedence Clearwater Revival, Elton John, Aretha Franklin, Edwin Starr, Buffalo Springfield, and even Tony Orlando & Dawn. What's more, about one quarter of the show will feature original songs reflecting the period written by four members of the cast, plus RTC friend Noel Paul Stookey (of Peter Paul & Mary) "Standing on the Shoulders", which serves as the thematic centerpiece of the concert.
"It's based on the major theme of Traveler, which was that we borrow in all ways and times from the past," O'Neil said. "We build on what has come before. The song is about taking the best of what others have learned and expand on it."
While the plurality of protest songs night be jarring for the audience given that many of them have renewed relevance in the current political climate, O'Neil said that the intent of the show is to be uplifting. "People will hopefully come away with a hope that we're going to be okay, that creativity will win out and we'll come through a tough time with our heads held high."
Arcadia, Again
PCPA Theaterfest does its own version of traveling, as in time travel, as the repertory company takes on Tom Stoppard's Arcadia, which takes place in the elegant Coverly estate in both 1809 and 1993. Indeed, PCPA even goes meta in presenting the play, a romantic mystery that is considered one of the greatest works of its time, as director Roger DeLaurier is revisiting Arcadia for the second time with PCPA, having also helmed its earlier production in 1999. Penned by the co-screenwriter of the Oscar-winning film Shakespeare in Love, the play involves both a precocious 13-year-old mathematics genius and a patronizing academic who puzzles over different issues. However, said DeLaurier, Arcadia isn't really about math or quantum physics, but is instead "a love story across time, juxtaposing emotion and intellect." See it at Solvang Festival Theater on Thursday, August 30, to Sunday, September 9. Call (805) 922-8313 or visit www.pcpa.org.
Talk It Up
The next one-day spectacular of speeches known as TEDxSantaBarbara is right around the corner, taking place next Saturday, September 8. This year's theme is "Yes and…", inspired by veteran producers Mark Sylvester and Kymberlee Weil's four-year involvement with comedy improv workshops and performance troupes in town. So, it's no surprise that among the dozen speakers is Jennifer Bascom, a longtime improv veteran from Los Angeles whom the couple brought to town for a workshop earlier this summer, who will talk about "What happens when you're right?" Other presenters and their timely talk topics include Doc Searls ("Picking up where journalism leaves off"), Garrett Teslaa ("The importance of second responders"), Harry Grammer ("Incarcerated children are still children"), Holly Lohuis ("Pygmy seahorses, coral reefs and us; making the connection for a more sustainable future"), Ian Bentley ("Fashion on purpose"), Jeff Babko ("Harmony in the silences: the secrets of good timing"), Kelton Temby ("The heartbeat of a beehive"), Kevin Ward ("Adult bullying: The epidemic no one talks about"), Sam Kadi ("Unmuting millions of voices one story at a time"), Tyson McDowell ("Preserving humanity as AI takes us over"), and Michael Lombardi ("Leadership is destroying culture").
Tickets on sale now for the 10 am to 6 pm event that takes place at the New Vic theatre, with the $100 fee including the official After Party a block away at the Impact Hub. As a sellout is expected given the venue's intimate size, people can also watch the show in its entirety in real time via live stream sponsored by LogMeIn. Get more info and reserve tickets online at https://tedxsantabarbara.com. That's also where you can stream the pre-performance podcast created and hosted by Sylvester that delves into a variety of TEDx-related topics with frequent new episodes available right up until show time.
Polo PCO Final
It's been awhile since the royal family visited Santa Barbara and took in a polo match at our famed Santa Barbara Polo & Racquet Club. But if princes and princesses aren't hanging around the stables, you can be sure that some of the finest polo ponies and players in the world, from Britain and beyond, are still thrilled to call the club in Carpinteria home for the summer.
The 16-goal season comes to a close with the final match of Silver Air Pacific Coast Open at 3 pm Sunday afternoon, September 2, when many in the crowd will be there as much for the ambiance and scene as are for the action. But even if you don't know a chukker (which is what each of the six periods in a polo match are called) from a chimichanga or a polo patron from Patrón Spirits, the game is still fascinating to watch if only to see the ponies put through their paces, as they sprint as fast as any champion thoroughbred but are also able to stop and turn on a dime while chasing the hard plastic ball all over the huge field. In other words, you shouldn't have to be hit over the head with a mallet to march down for this final match before the players and the ponies head off for greener pastures. The day begins with a Polo Pony Parade, followed by a live singing of the national anthem, a mid-match Divot Stomp out on the field, trophy presentation following the match, and a no-holds barred after party till dark. Tickets are just $12 to $22 general seating. Call (805) 684-6683 or visit www.sbpolo.com.
You might also be interested in...