Santa Barbara's Symphony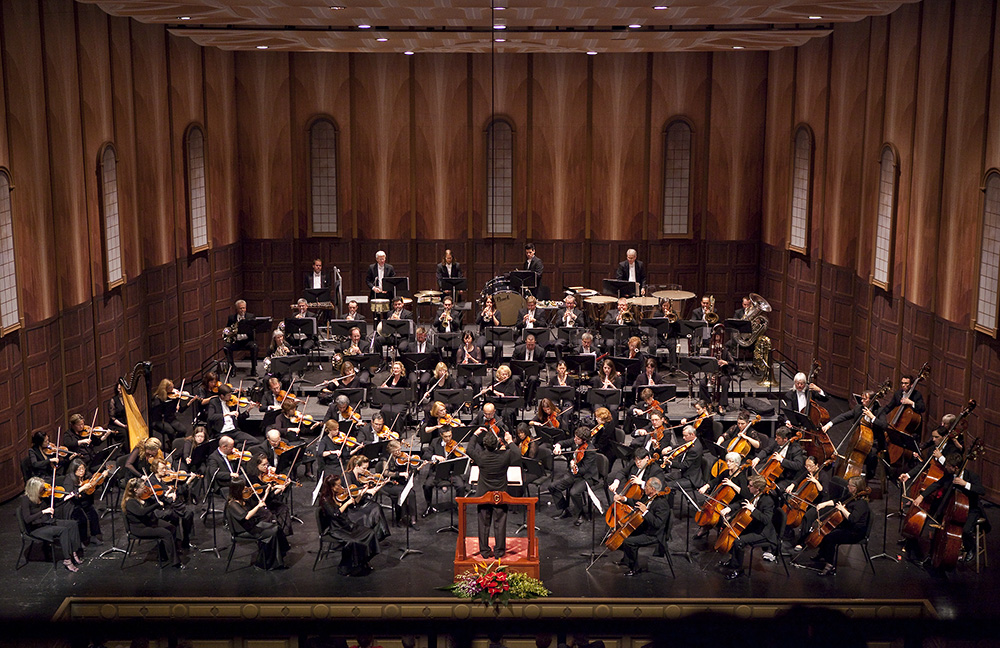 The concept of the Granada Theatre as the acoustic jewel that the city of Santa Barbara deserves gets no argument from Kevin A. Marvin, the executive director of the Santa Barbara Symphony, which is also receiving a Granada Legend Award at this year's gala. Marvin took over the orchestra's reins in December 2016 after an 18-month stint in a similar position with the now-defunct Santa Barbara Chamber Orchestra, but it didn't take him long to develop a deep appreciation for the venue's attributes.
"It's a really great hall, and they did a tremendous job on the renovations, both from the decorative point of view as well as acoustical," he said. "It's great to play and works very well for us, with a seating capacity of 1,550 being perfect for our two shows. Everything about it works very smoothly, which allows us to execute our concerts flawlessly."
The symphony is celebrating its 65th anniversary in the upcoming season and is thrilled that the Granada allows for the flexibility to accommodate a smaller orchestra or an extremely large ensemble, such as will be on stage for the Verdi Requiem in the spring.
"There will 150 singers plus the full orchestra, which is no problem at the Granada," he noted. "And more importantly, it sounds really good."
Marvin has also been impressed by the breadth of the arts organizations that call the Granada home, as well as others that perform in various venues around town, and he is well aware that it's largely through the generosity of sponsors and other benefactors who support the arts in any number of ways, including attending such benefits as the Granada Legends Gala. "There's a mantra some cities use – and it was part of the dialogue of why the Santa Barbara Symphony was created in 1953 – that every great city deserves its own orchestra. But that's actually a reality here, where people really believe in the community and they want the best for it. That's why these great resident companies in ballet, opera, and classical music have not only survived but flourished here, while you see others in cities of similar size fall by the wayside."
That love was returned to the community last January, when the symphony was forced to cancel its live-to-film performances of The Red Violin last January in the wake of the closure of Highway 101 following the Montecito debris flow. The benefit concert populated solely by local musicians that took its place raised $60,000, but Marvin was even more impressed by the ambiance at the event. "I didn't see our core audience there that night, but rather people from the community who needed a respite, a place to go where they felt safe to escape for a couple of hours. I watched as the music washed over them, washing their cares and grief away, at least for a couple of hours. That's why we need our own symphony here, to respond and be an impactful part of the community."
Receiving the Granada Legend Award couldn't come at a better moment, Marvin said.
"It's great timing because we're heading into our 65th anniversary season, and it means a lot to be honored for that milestone alongside Kenny Loggins and Sara Miller McCune. "It's amazing and humbling, as well as a great place-holder for where the symphony is headed, our momentum for expanding. There's a lot we need to do to secure the symphony for the future, and getting this kind of recognition always helps."
Giving Back
Also being honored is Kenny Loggins, the longtime Santa Barbara-based singer-songwriter who lived for many years in Montecito in the 1980s and '90s. His nearly half-century career as a Grammy Award-winning recording artist that began in a duo with Jim Messina back in the early 1970s has been matched by his longstanding involvement in local initiatives to bring music and joy into young peoples' lives. He has appeared almost annually at the Unity Shoppe Telethon for decades, and has supported countless local organizations in a variety of ways, most recently performing in a benefit concerts for Thomas Fire and Montecito debris flow relief efforts.
The Gala
The fourth annual Granada Theatre Legends Gala takes place on Friday, September 14, bringing honorees, talented performers, and dedicated patrons of the arts together in one place for a single night to support Santa Barbara's cultural community. The black-tie affair takes place onstage at the Granada Theatre, where guests enjoy a gourmet dinner by Duo Events and a night of entertainment along with the awards. All proceeds from the Legends Gala go toward ensuring that the state-of-the-art venue continues to actively engage the community through diverse live performance and filmed entertainment programming.
•••
For tickets to the Legends Gala and information about sponsorship opportunities, please contact Hayley Firestone Jessup, vice president of advancement, at (805) 899-3000 or hjessup@granadasb.org.
You might also be interested in...