Conquering a Club Foot Created Confidence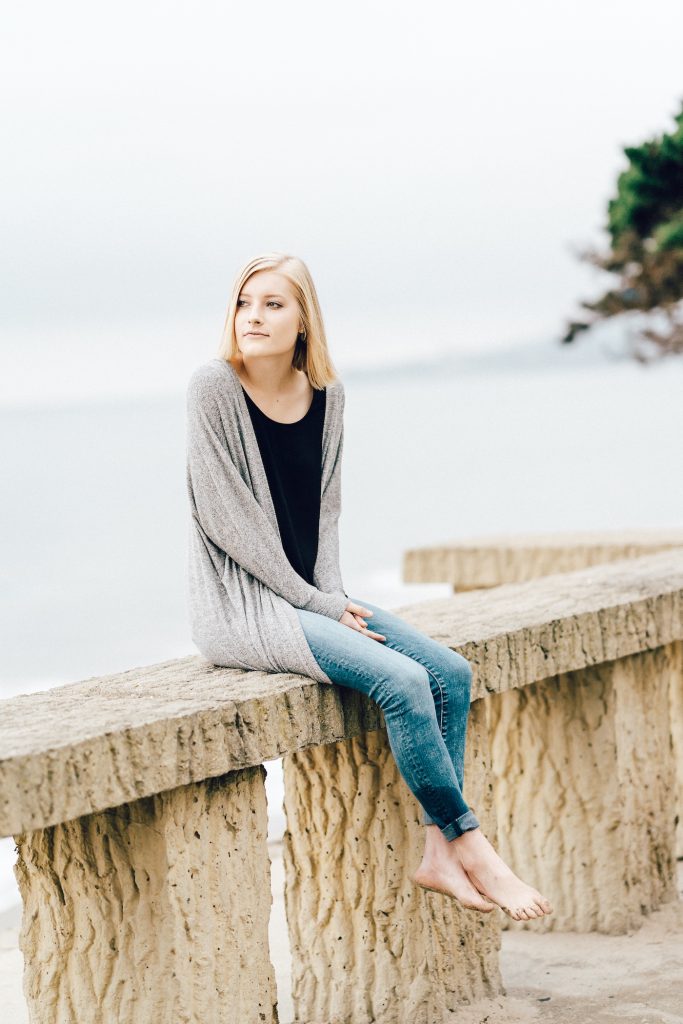 Chloe Howard didn't consider her deformity to be a disability before a horrible incident of bullying in high school left her ashamed and suffering from PTSD. But just a year later, the Washington State native living in Los Gatos found a new source of inspiration in the person of U2 lead singer Bono, whom she met backstage at a concert in December 2015 as part of a prize package won through a nonprofit.
"Chloe got up the nerve to tell Bono her story, and he showed up and he told her what happened was an injustice," her father, Dane, recalled this week. "He told her to use her voice and speak for those who have none, which really inspired her to take action." Bono also gave her a guitar that he'd used at a recording session in Dublin when he was writing the song "Invisible" – the same song that, her dad said, "got her through the rough times after the assault. it was an incredible coming together of circumstances."
Driven by Bono's words, Chloe began embarking on speaking engagements, including giving the keynote offering at the 2016 TEDxSanta Barbara, where she walked on stage barefoot. After having spoken out more than 40 times in locations around the world, Howard also wrote about her experiences. Stand Beautiful: A Story of Brokenness, Beauty & Embracing It All, published just this spring and oriented toward teens, with a forward by Bono, recounts her story of overcoming injustice and battling self-doubt, and what led her to live fully and embrace her unique self. She also adapted it into a picture book for kids, inspired by Gemina, the late giraffe at the SB Zoo that had a markedly crooked neck, whom she first saw at age 2 while visiting her grandparents, retired Westmont College education professors Gayle and Ruth Tucker.
"Even as a young child, she was very moved by Gemina," her dad said, noting that the family has spent a lot of time in Santa Barbara, as Chloe's parents both attended the Christian college in Montecito. Chloe, now 18, is set to begin her freshman year at Westmont.
But first she's got a date at Chaucer's Books next Thursday, August 30, where she'll sign copies of her book and talk about her experiences at 7 pm.
Beat the Rush for Broadway's Best
Individual Show Ticket Presale is now underway for the upcoming Broadway in Santa Barbara Series at the Granada Theatre. The new season begins with the debut of Rodgers + Hammerstein's Cinderella, transporting the audience back to childhood to rediscover some of the famed composing duo's lesser-known songs including "In My Own Little Corner," "Impossible/It's Possible", and "Ten Minutes Ago". The lush production, which features a full orchestra, costume/character transformations and all the checkpoints of the fairy tale from the pumpkin, the glass slipper, the masked ball, and more, plus some surprising new twists, runs November 27-28.
Perhaps the most cherished Rodgers + Hammersteinclassic follows, as the (foot) hills come alive with The Sound of Music, in all itsTony, Grammy, and Academy Award-winning glory, for a two-day stay January 29-30, 2019, before Evita,another smash hit, albeit a more modern based-on-a-true story tale, takes its place February 19-20. The Andrew Lloyd Webber-Tim Rice musical follows the rise of the ambitious Eva Peron as she becomes the beloved iconic Argentinian first lady. Skipping ahead both in the season and in period, Legally Blonde – which follows the transformation of California girl Elle Woods as she tackles stereotypes, snobbery, and scandal in self-discovery at Harvard Law School – closes out the main season with a high-energy production equipped with LED technology, fresh inventive design, and snazzy modern scenery, running April 9-10.
Rent, the 1996 rock musical by a then little-known composer Jonathan Larson that revolutionized Broadway two decades ago, remains one of the most popular musicals of all time. The Pulitzer Prize- and Tony Award-winning show that broke the musical mold and still speaks to the outsider in all of us is enjoying a 20th anniversary touring production, which comes to the Granada for one night only on June 11 as a special add-on show.
Visit https://theaterleague.com/santabarbara/granada-presale/?utm_source=GranadaEblast&utm_medium=email&utm_campaign=1819SantaBarbara&utm_content=EBlastPresale or call (805) 899-2222 and mention the code STAGE to take advantage of the early seats, as general tickets go on sale at 10 am on Monday, August 27.
SBIFF Shorts
Time is running short to take advantage of the SB International Film Festival's annual sale on all of its popular passes for the following year's festival. State Street Passes are already sold out for SBIFF 34, which takes place January 30 to February 9, 2019, at theaters all over downtown SB, but the others (save for the ultra-VIP Concierge pass) are still available at a healthy 25-percent discount through Friday, August 31. Options range from the all-encompassing Platinum Pass discounted to $1,275 to the Cinema Pass ($488), Tribute Package ($503), Film Geek Package ($420), and Intro Package ($244). Otherwise, you'll have to pay full price, become a sponsor, or buddy up to someone who is. Visit www.sbiff.org.
SBIFF is also currently accepting applications for its student Rosebud Program, named for the closing line of Citizen Kane, one of the films discussed in executive director Roger Durling's ongoing film class at SBCC, where he is a Film Studies adjunct professor. Students attending any Santa Barbara County college – both film majors and others alike – are eligible for the free program in which 10 applicants, who are selected through a competitive application process, receive access to 20-plus screenings and Q&As at SBIFF's Cinema Society from September-December, which invariably brings some of the year's most important, Oscar-baiting films to town along with filmmakers and other talent. Last year's attendees included Guillermo Del Toro (The Shape of Water); Greta Gerwig, Laurie Metcalf, and Tracy Letts (Lady Bird), and Jordan Peele (Get Out).
The students also have the opportunity to select films of interest out of the Cinema Society line-up and engage in research to help develop the Study Guides, plus one-on-one guidance from Durling on creating an effective Q&A, and the option to include a research component and receive credit through Durling's Independent Study Course at SBCC. The application deadline is Friday, August 31. Visit www.sbiff.org/rosebud.
Rooftop Ramblings
The Canary Hotel in downtown SB – which seems to have some sort of entertainment, if usually private parties, at its rooftop lounge every night – hosts a couple of public events this week, beginning with The Rosé Soirée. Dubbed a "FUNraiser" to support Planned Parenthood, the event, which takes place noon to 3 pm on Sunday, August 26, on the open-air rooftop, has a bit of a twist. Not only will guests be drinking a variety of rosé wines all afternoon and enjoying offerings from other local winemakers and restaurants who will be showing off their best culinary creations, they'll also take home a complimentary gift bag (no auction required) filled with local wine courtesy of Riviera Wine Group WINECULT, plus other goodies. One-quarter of the $150 ticket cost goes directly to the local Planned Parenthood organization. Purchase tickets online at https://nightout.com/events/rosesoiree/tickets or visit www.facebook.com/events/2139102256373661.
Tickets are a considerably less pricey for the next installment of Sip & Swirl, the Canary's monthly gathering on the rooftop where visitors sample local wines and cheeses and enjoy entertainment. Actually, the 5:30 to 7:30 pm event on Tuesday, August 28, represents the second sampling soirée this month, as there was a special Fiesta-inspired Sip & Swirl at the beginning of August, so this one is a rare pop-up featuring the standard wines and cheese offerings. Tickets are $35, which includes tastings of all the wines and cheeses, and are available online or at the door.
You might also be interested in...