Here Comes Trouble at Summer Festival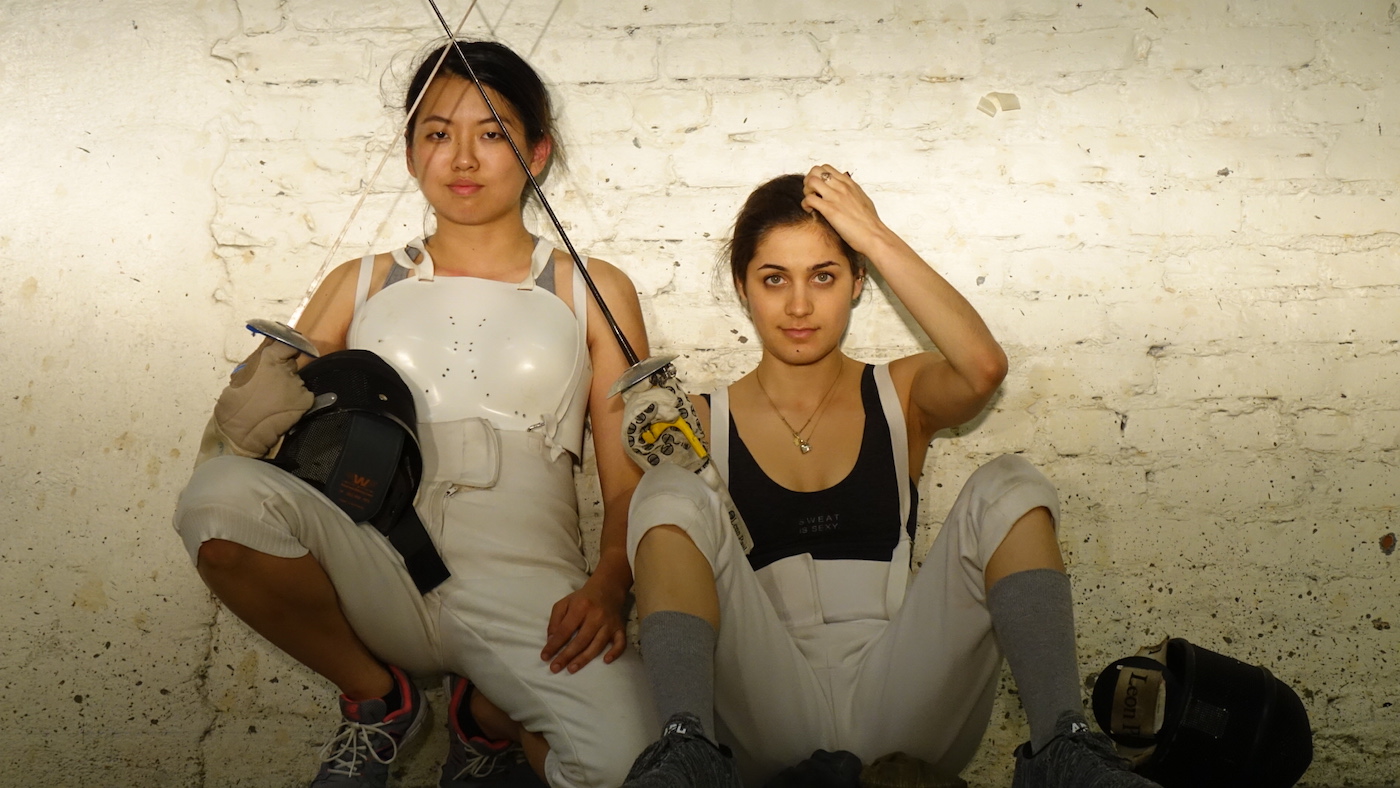 On the Verge (OTV), Santa Barbara native Kate Bergstrom's repertory theatre company founded in 2015 with a mission of marrying new work created by female and LGBTQ writers with the local community of actors, directors, producers, and theater-goers, is taking a slight detour for its fourth year. In place of presenting several different plays in readings or semi-produced formats rotating with other engaging events, OTV is focusing on just two works this month. Plus, the playwrights are not the typical neophytes but authors with established records.
The change is largely due to time constraints and shifts in personnel, in light of Bergstrom finishing up her master's in directing at Brown while maintaining a busy schedule all year. In addition, OTV company member Riley Berris, the Montecito-raised actress-director who spent the last three years running the San Marcos High School theater department, recently moved to Los Angeles while another integral member is on maternity leave.
"We're a little in flux," explained Josiah Davis, OTV's associate artistic director, who has known Bergstrom since they appeared in a play together at UCLA and is now working toward a directing degree at Brown. "We've always made the company adaptable to all the artists involved. So with fewer people available, we decided to focus on two productions, so that the work that we do put up can have the attention that it deserves."
The good news is that Caridad Svich's Trouble in Kind,the main play for 2018 OTV's Summer Theatre Festival – which runs August 2-13 – is a work that both delves into the cultural divide currently plaguing the country and the forces of nature. The work is part of the seven-play cycle called American Psalm and takes place in a small town on the edge of the bayou in the aftermath of the hate crime.
"There are a lot of others plays about that subject, but this one focuses on the community, and how it comes to terms to deal with the event and move on," explained Davis, who is directing. "It has a lot to do with the earth, and what it gives us – the water rising, the rain that's coming. You can't stop the nature part, and the conflict with the people feels as powerful. I felt strongly about doing it here in SB because of the battle with the elements that took place here last winter. Having both of those messages together at same time as Fiesta – which celebrates a culture that was responsible for the massacre at the Mission – made a lot of sense. The piece feels really 'now'. And it's about resolving. Caridad Svich is asking the question: How do you heal?"
The "developmental premiere" gets the bulk of the performances during the OTV festival, and the Obie Award-winner Svich will be on hand for a talk back on Saturday, August 11. A reading of Gracie Gardner's Athena takes up only two slots, but the story about two female fencers is an inspired counterpoint, Davis said.
"It's hilarious and raw, with these two women who are completely at odds with each other somehow finding a love and connection that is undeniable and heartwarming. It's fast-paced, a terrific contrast with Trouble."
(On The Verge Summer Theatre Festival takes place August 2-13 at Community Arts Workshop, 631 Garden St. For details and tickets, visit www.onthevergefest.org.)
PHOTO CAPTION:
A) On The Verge Summer Theatre Festival starts Thursday, August 2
Avalanche of Arts
Good news! Single tickets go on sale at 10 am Saturday, August 4, for all UCSB Arts & Lectures events for the 2018-19 season – its 60th anniversary – at least those that have been announced, as the ambitious arts organization invariably finds one-offs to add to the schedule as the season progresses. The bad news? That also means that time is rapidly dwindling for subscribing with the best choice of seats, as once the individual events go on sale as stand-alones, many of them sell out or end up with limited availability.
As in the past, subscribers to any of the thematically linked series save 20 percent per ticket, and there are two promising new official groupings being offered this year, including "Mind & Body" and "Hear & Now". Or you can create you own "series" and save 10 percent per ducat. Arts & Lectures's new season features 16 Santa Barbara debuts and premieres, including the world opening of a new piece by the Silkroad Ensemble co-commissioned by UCSB for the group's 20th anniversary, followed the next day by a talk from sometimes Silk Road cellist Yo-Yo Ma.
Bold Moves & Big Ideas, as the special season has been dubbed, also boasts actor Jeff Goldblum performing with his jazz band The Mildred Snitzer Orchestra, and Alan Cumming's one-man show Legal Immigrant among the 65 events that have already been announced. Visit www.ArtsAndLectures.UCSB.edu or call (805) 893-3535.
Fiesta Faves
Celebración de los Dignatarios has not only started using a cool new nickname – DIGS!, which works out nicely in texts and Twitter – but also gone all-inclusive, meaning no longer do you have to fork over dollars to drink at what has become one of Santa Barbara's most popular annual parties. But you will be employing forks to chow down on the appetizers and other eats from a wide swath of local eateries, many with special Fiesta-themed morsels. No more live music, either, as DJ Hecktik provides the dance tracks. The grounds and gardens of the Santa Barbara Zoo with its spectacular bluff-top views of the beach and beyond serve as the host for the event (but not the animals themselves, as they're put away for the night), which is always held on Fiesta Thursday, this year August 2.
Music in the Mercados
Mezcal Martini, Heart & Soul Band with Friends, The Rincons, Heavy Hitters, Cornerstone, The Kinsella Band, The Bomb, and Spencer the Gardener are the headliners Thursday-Saturday, August 2-4, at de la Guerra Plaza, while Soul Cats, Area 51, Hogan's All Stars, Spencer the Gardener, Anthony Prieto Band, The UpBeat, the La Boheme Professional Dance Company, and Elements occupy the same time slots at Mercado Del Norte, at Mackenzie Park at the corner of State Street and Las Positas. Teka & New Bossa, Gilberto Gonzales, Flamenco Santa Barbara, and Katie Fritzke & Los Amigos are among the musical acts performing at Paseo Nuevo, which also has dance companies all day longs, as do both Mercados.
Mariachi bands seem to show up out of thin air during Fiesta week, strolling the streets, serenading revelers in restaurants, and posing for photos in parks and at Paseo Nuevo. But if you want to hear the ones that matter – or at least actually make music for a living – head on over to the Santa Barbara Bowl on Saturday night, August 4, for the 23rd Annual Santa Barbara Mariachi Festival, featuring Alicia Villareal, Lupillo Rivera, Mariachi Nuevo Tecalitlan, Mariachi Mariposas, and Mariachi Angeles. Showtime is 5:30 pm, tickets cost $55 to $115.
Classical music even gets a nod during Old Spanish Days, as Michael Shasberger conducts the West Coast Symphony Orchestra in the annual Free Fiesta Concert at 4 pm Sunday, August 5, at the Santa Barbara County Courthouse Sunken Garden. Among the musical highlights of the show featuring an appearance by 2018 Performing Arts Scholarship Competition winner Timothy Beccue are excerpts of Bizet's Carmen, Saint-Saëns' Cello Concerto, Dvorak's Carnival Overture, and Mitch Leigh's Man of La Mancha Suite.
Visit https://oldspanishdays-fiesta.org/events for info on all Fiesta events.
You might also be interested in...