Oh, Mamma Mia!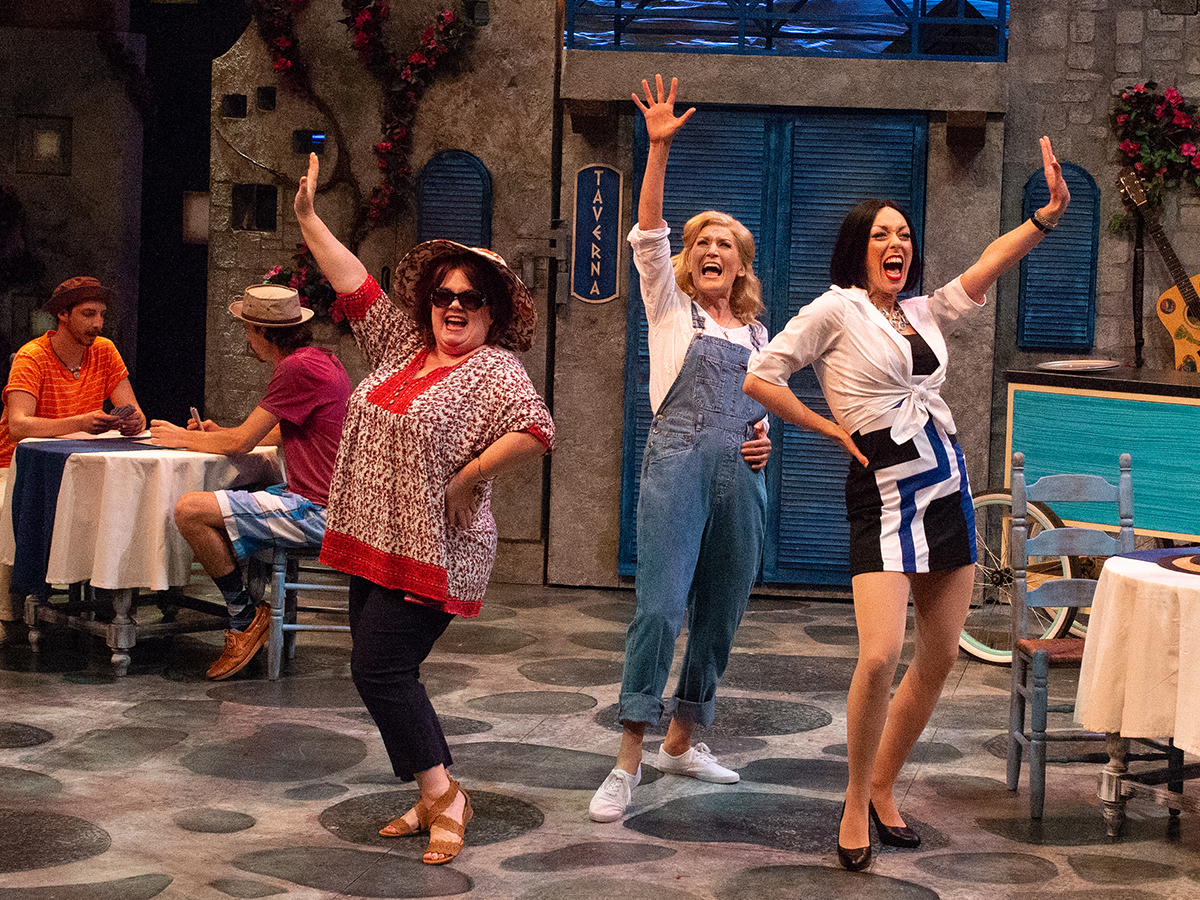 Director Brad Carroll said it was just a coincidence that the sequel to the movie version of Broadway smash-hit musical Mamma Mia opened just days before PCPA Theaterfest's production opens at the Solvang Festival Theater this Friday night, July 27. But there's no accident that the long-standing conservatory booked the show as the centerpiece of the summer in Solvang as the bubbly extravaganza based on nearly two dozen songs by the 1970s pop quartet ABBA enjoys a long run through August 26. The warm weather and kids-out-of-school season calls for frothy fun, and Mamma Mia is just the thing, he said.
Q. Your bio on the PCPA website says always having your students focus on "Why this story?" and "Why now?" is a big part of your teaching approach. So, let me ask you: Why Mamma Mia now?
A. The whole thing about the show is that it's fun. It's nostalgic, and there are some beautifully human moments about relationships between people, but it's mostly a giddy, guilty pleasure. I don't know about you, but as I read the headlines these days, that's what I need. This last weekend in Santa Maria, people are literally leaving the theater telling me how happy they are that we're doing it and how much they just needed to laugh. The students are saying they never heard audiences scream in delight like that before. It's sweet. It's not deep. It's not King Lear. You don't have to think a whole lot to stay with it. It's great to see a story that actually turns out well. It's like all the meringue on a lemon meringue pie. You go to the theater and let it wash over you.
The movie sequel just opened last weekend. Were you a fan of the original?
(Pause). I watched it. I hesitated because I wasn't sure I wanted to be influenced at all. But it was fine. To me, I have a hard time watching these amazing actors doing such weird roles. I couldn't ignore that it was Meryl Streep, Colin Firth, and Pierce Brosnan on the screen. I know that's what sold the movie getting made, but to me I'd rather it was people I never heard of who were just good. Still, it was a hoot. But I don't need to see it again – unlike this show, which I can't wait to direct again. I really have become such a fan.
How does your own cast compare? I know you are limited to the pool of conservatory students who are on hand each year, plus some visiting actors.
Actually we have the perfect cast for this show. That's only the third time ever in my career that it's happened, but everybody is spot-on. You never see that in regional theater, the festival format, because it's hard to find someone who can both sing and dance and do Shakespeare. But for some reason, all the pieces fell into place. So, directing is a breeze. All I have to be is a traffic cop and referee. I don't have to pull things out of them or try to make it work, even though they're not exactly right for the roles because everyone is. It's a big giant matrix to put it together, but it just worked out great.
It is kind of a strange story, about a girl wanting to know who her father actually is. Why does it work so well?
There is that Greek tragedy element in the conflict between the character who is in search of her father and going through a lot trying to figure out who he is, while her mother is trying to run in the opposite direction and not have to face the issue. That's what keeps the story heart-driven. It might not be what we go through, but all of us have had to work out relationships, whether it's with our parents or kids, or lovers, or teachers or bosses… but mostly it's the songs by ABBA. There are something like 22 of them in the show and they're all great. The audiences have been going crazy in Santa Maria, so I can't imagine how fun it will be in Solvang outdoor under the stars. I told the kids to buckle up, because there will be people singing along with you whether you want them to or not. You just have to go with it. The show just makes people happy.
PCPA's Mamma Mia! plays July 27 to August 26 at the Solvang Festival Theater, 420 Second St., Solvang. For tickets, call (805) 922-8313 or visit www.pcpa.org.
Road Trip
It's almost like a meta-version of a drag race as two completely different car shows compete for attention on Saturday afternoon, July 29. Groovin' in the Grove, an annual fundraiser for Santa Barbara Elk's Lodge No 613 since 2006, concentrates on both classic cars and vintage travel trailers dating back to the late 1920s, with specialty vehicles also participating. More than $2,000 in cash awards is up for grabs in such categories as stock, modified, custom, truck, and America's Big 3 of GM, Chevy, and Ford (the latter in both pre- and post-1970 sections).
Among the added attractions are Santa Barbara native Tanis Hammond's 300 mph Lakester #77, one of the cars the septuagenarian has put the pedal to the metal to out in the Salt Flats – although it'll be stationary in Goleta. Local rock and roll band Ernie and the Emperors – which has been playing in Santa Barbara and around the nation since the 1960s – will also perform providing the soundtrack for the summer session. Food and refreshments will be available for sale, and be sure to check out the Chili Cook-Off. The 10 am to 2 pm event takes place at 150 North Kellogg Ave. Free admission. Call (805) 452-0376 or visit www.groovininthegrove.org.
Meanwhile, Woodies at the Beach goes back another five years, as the 18th annual event heads back to the gorgeous ocean-overlooking grassy knoll at SBCC on Saturday, July 28. Featured here are the "Best of the Best" Woodie Wagons from all over the western United States, and you don't have to be a Beach Boy, or even a fan of the iconic band, to enjoy the artistry and craftsmanship that made the Woodie legendary in the 1950s and '60s surf culture. Also on site are some classic cars dating back to pre-1973, plus raffles and a silent auction to benefit local charities. Bring a picnic or purchase the eats at the award-winning gourmet food truck "HEAT Culinary" providing offerings for both breakfast and lunch. Peruse the paneled vehicles from 9 am to 3 pm at Santa Barbara City College West Campus, 721 Cliff Dr. Free. Info at (805) 341-6644 or www.facebook.com/events/845913575587566.
Condor Opera Cruise
It might seem like the Music Academy of the West is only option for classical music of any kind in the summer in Santa Barbara. That's largely true – at least on land. But if you're willing to take to the sea, you can enjoy some of opera's greatest love songs while cruising along the beautiful Santa Barbara shoreline on board the Condor Express on Saturday, July 28. The performers are Santa Barbara favorites soprano Deborah Bertling and mezzo soprano Danielle Marcelle Bond, who will be accompanied by pianist and producer Renee Hamaty. Bertling's opera credits include Italian Girl in Algiers (Elvira), Magic Flute (Queen of the Night), Merry Widow (Olga), and others, as well as appearances on stages throughout central California in plays, concerts, and staged readings. Bond debuted in Germany as Maddalena in Rigoletto with Opera Classica Europa and has an extensive oratorio repertoire which garnered her a 2014 American Prize award. Hamaty previously served as faculty vocal pianist for the Music Academy of the West's Summer Merit Program.
The Condor Opera Cruise departs from the Sea Landing dock in Santa Barbara Harbor at 7 pm, and the $65 boarding pass includes complimentary appetizers (no host bar on board). Call (805) 882-0088 or visit https://condorexpress.com/opera-cruise.
You might also be interested in...