From Grape to Glass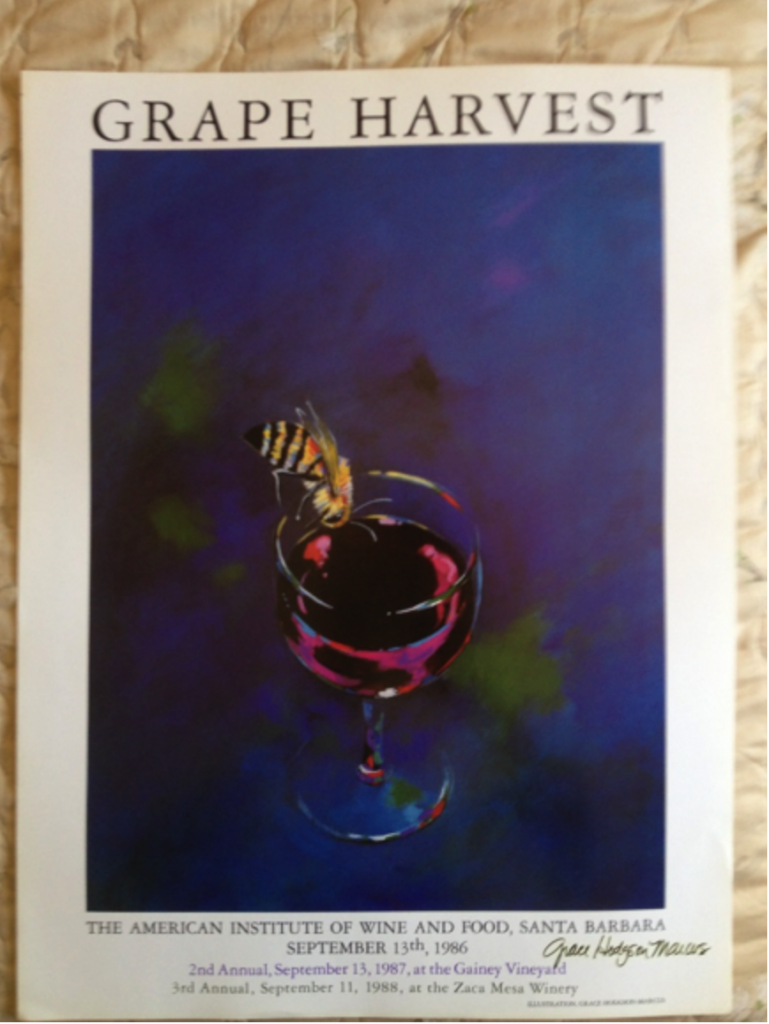 Back in the late 1970s, Bob Lindquist of Qupé Winery was the leader of the local Les Amis du Vin group. He organized wine-tasting lunches with guest winemakers at the University Club of Santa Barbara or Mattei's Tavern. Bob invited me to help him bottle his first vintage. We worked with an early bottling truck, and my reward was a case of Qupé wines!
Jim Clendenen and Adam Tolmach invited me to pick Chardonnay grapes with them back in 1983-'85. Their Au Bon Climat label was in its infancy. They made their wine in a small building on Mary Vigoroso's vineyard property. It was so much fun picking grapes with clippers, making sure not to cut myself, not to get any leaves, and enjoying talking to the person picking on the opposite side of the trellis.
Evening harvest parties were legendary, with Jim leading the initiation with the Burgundian "Igloo, Igloo, Igloo" song as initiates guzzled down a full glass of wine while standing before the group. Everyone joined in the merriment that lasted well past midnight.
In 1985, Adam's Ojai Vineyard was ready to harvest. He invited me and a few of my friends to help pick. Not only did I get to pick Zinfandel grapes, but I also was able to get into the fermentation tank and foot-stomp the grapes. At day's end, Adam said the tanks were full and suggested we go out and pick grapes for ourselves to make wine. We picked enough fruit to make a barrel of wine, took them home, foot stomped, and made our first barrel of homemade wine. We named our wine Compañeros, meaning "buddies" in Spanish. After 33 years of home winemaking, we are the best of friends.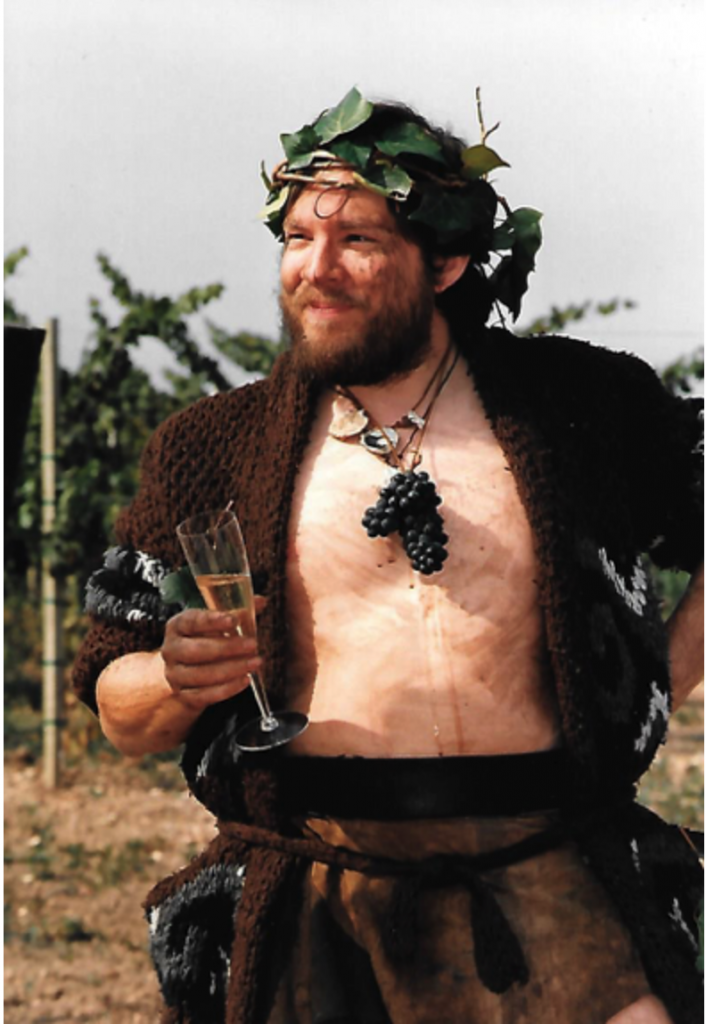 I heard that Julia Child, Robert Mondavi, and Dick Graff were launching the American Institute of Wine and Food. They held an initial meeting at El Encanto Hotel. I attended and so wanted to be part of the group but did not know how. I asked the appointed Santa Barbara Chapter secretary, Charles Fairbanks, if he would let me take minutes of their chapter meetings for him. He agreed, so I got to sit in monthly Santa Barbara AIWF meetings, take the minutes and present the typed minutes to the board. 
They liked what I did so much, they officially made me secretary. At a meeting, I spoke up about my joy of grape harvest. They suggested I lead a hands-on event at a winery, giving guests the opportunity to harvest and learn winemaking.
The AIWF Grape Harvest Festival took place in 1986, '87, and '88 at J. Carey Cellars, Gainey Vineyard, and Zaca Mesa Winery. Twenty of the best local restaurants and caterers cooked a grand meal to celebrate after winemakers led small groups picking, tasting out of barrels, foot-stomping, tasting free-run juice, identifying grape varietals by taste and ampelography (study of grape leaves), going up over the vineyard in a hot-air balloon, and toasting all the winemakers and chefs at the closing ceremony.
I got to know chefs and winemakers from Santa Barbara. What a treat to have local wine country just over the coastal mountains; we are so fortunate. When I started in the wine world, there were fewer than 10 local wineries. Now, there more than 250 and the number keeps growing with no end in sight, as more and more people become enraptured with the wonders of the wine grape!
You might also be interested in...