Dance for Montecito: Carroll-ing for a Cause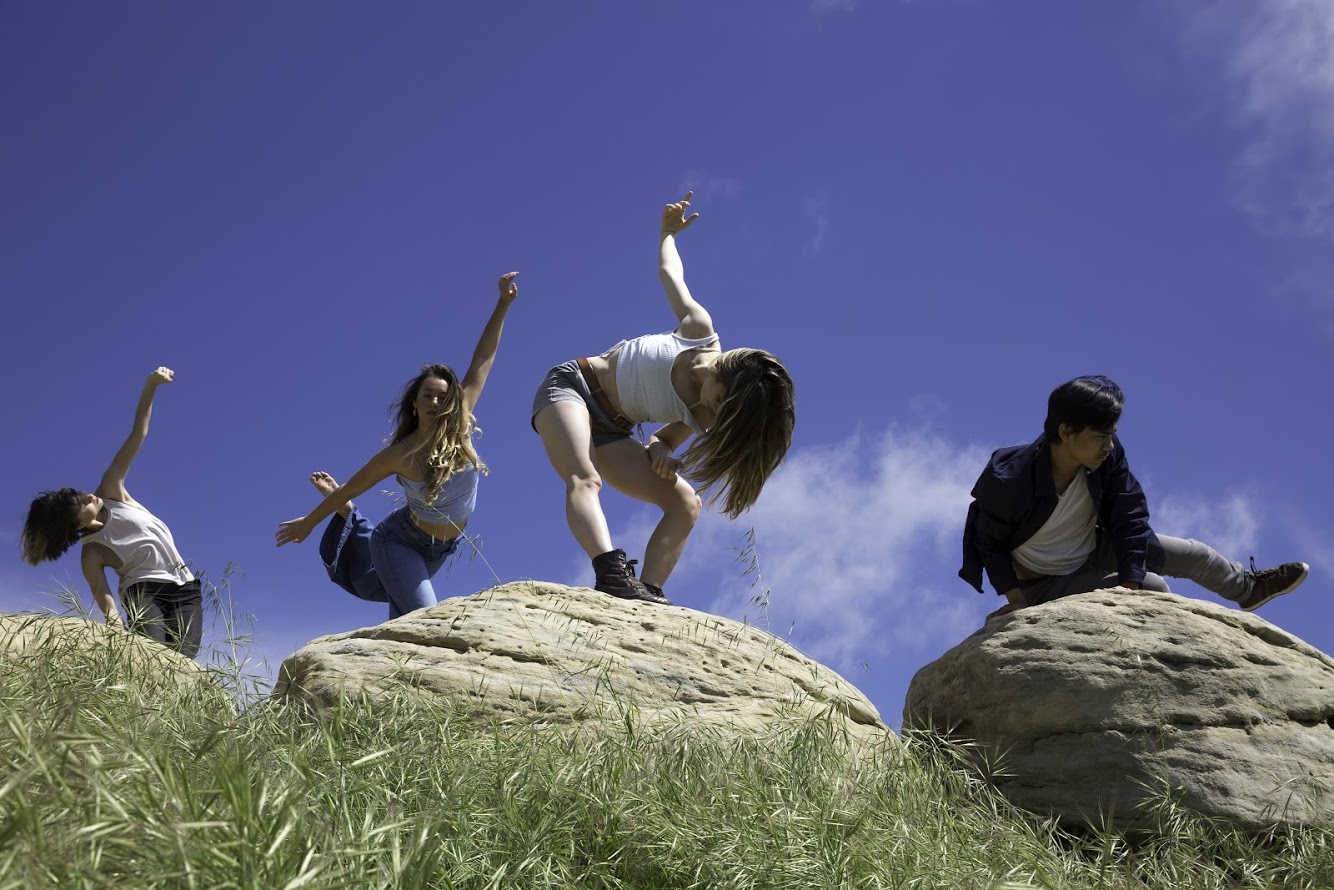 Santa Barbara native Carisa Carroll began her dance training with Montecito School of Ballet at the age of 7. She started her professional career with American Dance & Music's Carrie Diamond, and trained with State Street Ballet, performing in every work in the company's repertoire during the 2012-13 season, including tours, and appearing in the original cast of William Soleau's striking American Tango. In 2015, Carroll performed with Santa Barbara Dance Theater, collaborating in the original production of Common Ground by Edgar Zendejas, and dancing Joshua Beamish's new work Salt, then trained at UCSB with former Alvin Ailey dancer Christina Sanchez. Her choreographic work has been performed at SBCC's Dance Collective 2015 and 2016, Nebula HH11 Dance Festival 2016/2017, and Voices of L.A. by Brockus Project Studios.
Seeking greater exposure and more opportunity, Carroll decamped for Los Angeles early last year, where she created the collaborative company Palm Dance Collective to find opportunities to more consistently choreograph and perform. She was already planning to move back to town, though, when the Thomas Fire and Montecito debris flow hit and made her miss her community even more.
"There were lots of good choreographic opportunities and I still have those connections, but I'm not a fan of the cement city," she said earlier this week. "I just really didn't like L.A. I wanted to come back home."
Back in Santa Barbara, Carroll wanted to join the scores of other artists and musicians striving to do something to help the healing in her hometown. Thus was born Dance for Montecito, which takes place Sunday afternoon at 6 pm at Center Stage Theater. "I wanted to give back to the community in the best way I knew how, and that would be a dance show."
So, the black box space will host performances by more than a dozen companies from Santa Barbara and Los Angeles, plus one from Tennessee (Lilit Hogtanian), among them local faves SBCC Dance, and many others rarely if ever seen in town before, such as Nicholas Shopoff/The Unaffiliated and DagDag Dance.
"Many of them are friends, and others are just dance colleagues who I didn't even know, because I held an open forum for those who were interested in coming here to dance. The more the better," Carroll explained. "I just picked the ones I loved. But honestly, the art is really great. There are some amazing performers who are coming. I'm super-excited to see it myself."
Indeed, four of the pieces were created by Carroll, including the modern portion "kənˈfôrmədē" that opens the show, and a contemporary balletic piece "One Accord" that serves as the closing number. Both will be danced by students who are in a summer intensive workshop with Carroll this week. The young dancers will also join Lauren Titus for a new work by Carroll called "Haze", while Carroll herself will perform a revision of her two-year-old duet "Sticks and Stones" with one of the Palm Dance Collective dancers from L.A.
Tickets cost $20 and, as sponsors have handled the theater rental and program costs, all of the proceeds will be donated to Habitat for Humanity's relief project to support the families who were displaced by the Montecito mudslide. The nonprofit will also have a booth on the patio outside the theater and give a talk before the show updating the progress of the recovery effort, Carroll said. Call 963-0408 or visit www.CenterStageTheater.org.
As for Carroll's future, she employed a metaphor for the fluid state of her plans. "I'm going where the river takes me. Lots of doors are opening for teaching, helping out local schools, and getting the company going with dancers who recently graduated from UCSB. And I will still do collaborations with my L.A. dancers. We're working on an evening-length piece."
Asher Alley
Already a child actor, Peter Asher's music career began in 1964, the year he turned 20, with the duo Peter & Gordon, who amassed nine Top 20 records beginning with the smash debut "A World Without Love", the song given to them by Paul McCartney, who was then dating Asher's 18-year-old sister, Jane. Four years later, Asher became head of A&R for the Beatles newly formed label, Apple Records, where he discovered, signed, and produced James Taylor and worked with The Beatles on their individual projects. (He also founded the book shop and art gallery Indica, where John and Yoko met).
Among the artists he has produced or otherwise worked with are Linda Ronstadt (whom he managed and produced a dozen albums, including Heart Like a Wheel and Prisoner in Disguise), Bonnie Raitt, 10,000 Maniacs (In My Tribe), Cher, Diana Ross, Neil Diamond, Olivia Newton-John, Julia Fordham, Kenny Loggins, Sarah Brightman, Wilson Phillips, Morrissey, and most recently, Steve Martin and the Steep Canyon Rangers. The two-time Grammy winner also produced dozens of movie soundtracks and Broadway recordings, and even served, via early photos, as an inspiration for Mike Meyers's Austin Powers character.
Through it all, though, Asher, who turns 74 on Friday, has never stopped singing and performing, and he still tours frequently. The current trip finds him collaborating with fellow septuagenarian Albert Lee, the "ego-less" finger-picking English guitarist whose licks have graced recordings and/or concerts by everyone from Eric Clapton to Eddie Harris to Earl Scruggs to the Everly Brothers. The pair appears at 7:30 pm Saturday, June 23, at SOhO before heading overseas for dates in Tokyo and London. Miss it at your own peril.
Taylor-Made Music
The appealing Atascadero singer-songwriter Dulcie Taylor has been making the rounds of folk-friendly venues around Santa Barbara and the South Coast for several months, dating back to a March show at the Cambridge Drive Concert Series, plus appearances at Rideau Vineyard in Solvang also in March, and the Carr Winery Barrel Room in May. Hot on the heels of a new CD, Better Part of Me, and an intriguing first single titled "Halfway to Jesus", Taylor now travels to Oreana Winery in the Funk Zone this weekend. Unfortunately, her show takes place at 3 pm on June 23, smack in the middle of Solstice Saturday, barely post-parade. The good news: it's free, and chances are it won't be too crowded. Info at www.oreanawinery.com.
We Could be Heroes
Time was the Santa Barbara Summer Solstice celebration was just a one-day affair, the people-powered parade followed by a few hours' long festival at Alameda Park. But several years ago, it turned into a three-day extravaganza, with festival fun, food, and frolicking at the downtown park starting Friday night and continuing straight on until Sunday evening.
Among the main stage entertainers this year are DJ Lin Aubachon, the Super Stoked Band, Johnny Cash-tribute group No Simple Highway, Soul Machine, One Two Tree, and Cornerstone, plus Area 51, who always get the prime-time spot at 4 pm on Sunday, an hour or so after the final float finishes up its journey. But to purists, it's still the parade that provokes and delights, as artists and amateurs proudly prance up State Street showing off their wildly creative masks, costumes, and floats, largely constructed from recycled or donated materials at the official workshop, and all devoid of signage, motors, or animals.
In keeping with the area's recovery from the fire and flood with a focus on the positive, the theme this year is "Heroes", which can be interpreted any way the artists desire. Show time starts at noon at State and Cota streets. Details online at www.solsticeparade.com. For many of us, it's the best day of the year!
Summer Solstice Showcase
Nicola Gordon's ongoing songwriting seminar participants perform this Thursday, June 21, at MichaelKate, the furniture store and gallery that was an early adopter in the gentrification of the Funk Zone. Show time is 5:30 to 7:30 pm, just before sunset on the longest day of the year, which means the shortest night, which is when songwriters usually find their muse. So, celebrate or commiserate with colleagues or just come for the tunes. Free. Bring snacks to join in the mid- and post-party.
Online Opportunities
The 2018 Downtown LIVE Art & Wine Tour made its revival on May 24, focusing on shops and such south of Carrillo Street with a Final Party at the Santa Barbara Historical Museum. The good news is there won't be another hiatus before the once-popular event returns, as the 2019 affair has already been scheduled for Thursday, May 23, 2019, balancing things out with venues north of Carrillo Street. But first, there's a little more business to attend to from this year's bash: finding new owners for the unsold auction items. No problem if you were too busy dancing, drinking, or dining to dash off a bid at the event – the Downtown Organization of Santa Barbara staff has "deconstructed" the remaining silent auction packages to create items to "fit all budgets," including gift cards to local restaurants and businesses, certificates for professional and personal services, museum memberships, gift baskets, and several interactive experiences. And you don't even have to leave home to shop, as the auction is now online at www.biddingowl.com/Auction/home.cfm?auctionID=15200, with final bids due Sunday evening, though you'll need to stop by the DO offices if you win.
You might also be interested in...