Violinist is Red-y to Sync or Swim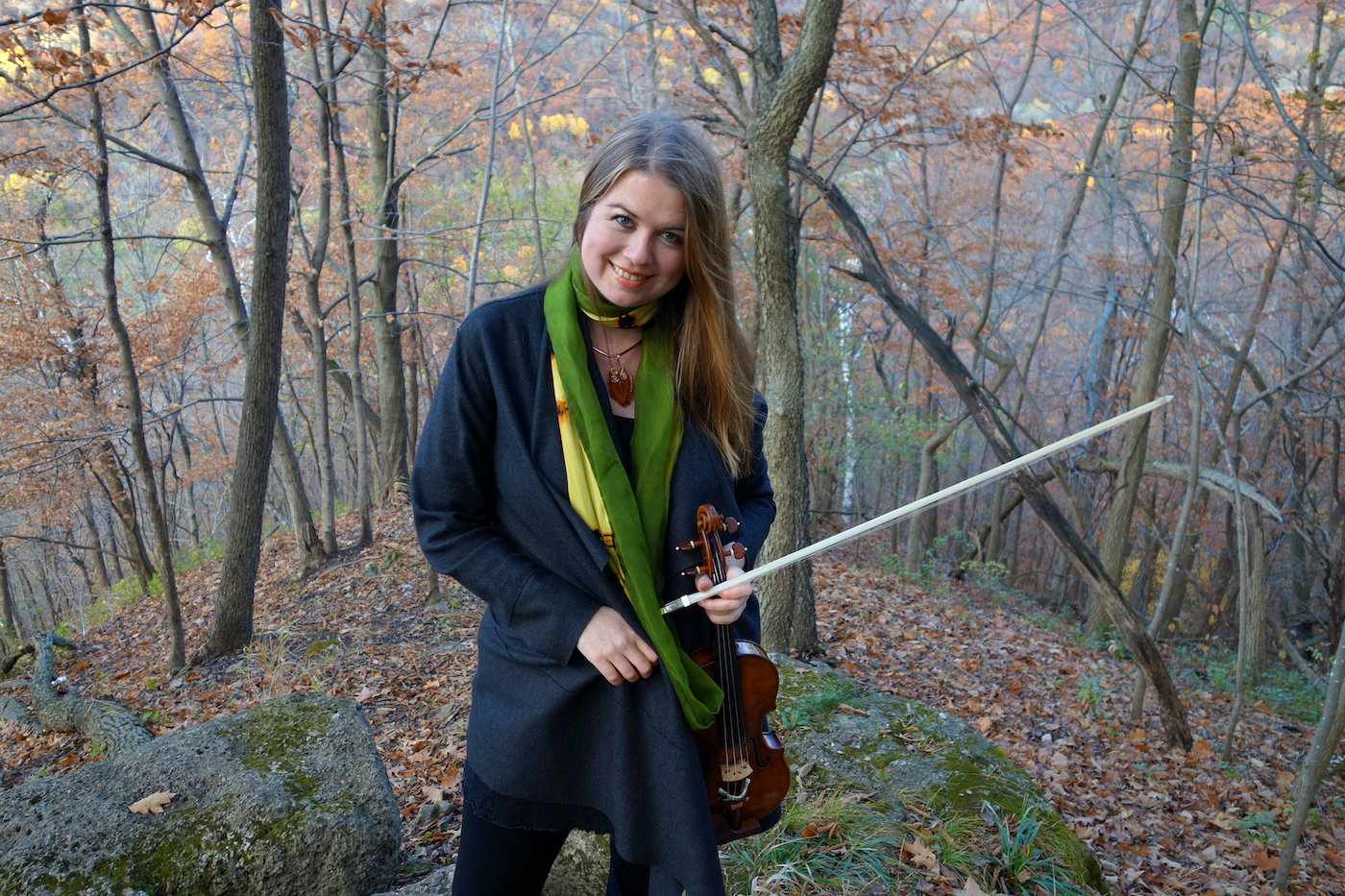 Normally, there's nothing major on the classical calendar between the closing of the Ojai Festival and the opening bell of the Music Academy of the West's summer festival, which this year is on Monday, June 18. But due to the closure of the 101 Freeway in the wake of the Montecito debris flow, the Santa Barbara Symphony's season is running an extra month to accommodate the rescheduled program, which also features a fine fiddler as its centerpiece. Canadian violinist Lara St. John serves as soloist as the orchestra performs John Corigliano's Academy Award-winning score for The Red Violin to a simultaneous screening of François Girard's film in its entirety at the Granada Theatre on Saturday night and Sunday afternoon, June 16-17. Carolyn Kuan, music director of the Hartford Symphony Orchestra in Connecticut since 2011, will be the guest conductor for the pair of concerts.
St. John is a former child prodigy who made her first solo appearance with an orchestra at age 4 and later received attention for her controversial – at least for classical music – photo on the cover of her debut album, Bach Works for Violin Solo, in 1996. Four years later, St. John founded the artist-owned record company Ancalagon LLC. (named after her pet iguana) to gain more freedom of choice about repertoire and artwork.
The Red Violin follows the trajectory of an antique violin from its creation in 17th-century Italy to an auction in present-time Montreal, tracing the instrument's journey as it impacts in the lives of its owners in Austria, Oxford, and China. Superstar violinist Joshua Bell performed the solos on the original soundtrack, which was conducted by Esa-Pekka Salonen (who, coincidentally, was originally penciled in as this year's Ojai Festival music director).
When we talked over the phone back in January before the concerts were postponed, St. John had already twice previously performed the piece live to the movie, although that number has increased in the interim. It's a role she relishes because, among other more musical reasons, she said, "My violin has a reddish tinge."
Q. Third time through. You must be a fan of the film.
A. Oh, yeah. It's a beautiful movie. And the music puts it over the top. I saw it when it first came out, and I've been playing all the stuff that it inspired all these years. So, it's cool to be playing along with it and watching the scenes that inspired the music. But it's very challenging. It's not like other live-to-film projects. If you're doing ET and you're a half-second off cue, it's okay. He still flies off the bike into the moonscape and phones home. But here, there is a violist on-screen, so I can't be even a nanosecond off, or it doesn't work .It's way more complicated than you'd think. It took over a month of rehearsals to get it working the first time when we did the premiere in Quebec. But we have it down to a science now.
Have you traced the lineage of your own instrument (the 1779 "Salabue" Guadagnini, on loan), maybe researched the previous players and their personal stories?
Like in the movie, my violin was in fact entombed for a number of years, not far from Santa Barbara in Los Angeles. It was buried with a young boy, but they brought it out during the Depression and sold it. Then it was in the hands of some amateurs for a while, before a collector bought it who doesn't play. It came to me almost 20 years ago. The same donor also had two Strads that had belonged to the Canada Council for the Arts. I won a competition to play one of them for two years, but then I was in Toronto and they invited me to Glen Gould studios to try some other violins. They offered me to keep using the Stradivarius, but I loved the Guad. That was confusing for them, because it's only worth half as much, but to me it's twice the violin. He's been my companion ever since. We've probably gone a million miles together… and a few years ago, it went back to its birthplace, or where it was created, in Turin when I performed The Red Violin concerto there. So, it's come full circle too.
You're playing virtually the whole time, right? Seems like that would take a lot of stamina?
You're not only on your feet for two hours straight, but it's also non-stop critical listening. It is challenging. But the film is so great and it never gets boring. And there are some breaks. I'm only actually playing for about an hour. And by this point, I know the movie like the back of my hand – every moment, every pan of the camera. I'm glad it's so good, otherwise it would be hard to watch. It's a real work of art.
What's the biggest challenge?
The scene where the young boy is practicing with metronome that gets faster and faster. The teacher is yelling "Une. Duex. Trois!", but he doesn't play in time. And it's so fast, it's nearly physically impossible. The only way is to have the onscreen metronome blasted into my ear. The big concert scene is tough because the actors aren't musicians, although sometimes when you see the violinist from the back, it's Josh in a wig. That's easier, because I know what he's doing and he keeps tempo. But one of the actors has no idea how to play. So, I have to do the best I can to make it look and sound like what he's doing on the film.
I'm thinking you don't really have a chance to show your own personality if you have to stay in sync with the movie? Or is there room for interpretation?
A little. For a lot of the more lyrical stuff, there's no violin on the screen. You have to start and end on time, but otherwise it's up to us. I can't decide to change the tempo, but there are only a couple of scenes where I have to be absolute. There are lots of place to put my own stamp on it.
Out on the Edge in Ojai
The 72-year-old Ojai Music Festival has always been known for its commitment to innovative, inventive, and often unpredictable programming as it bends to the whims of a different music director every summer. Last year, for example, the venerable weekend of wonder leaned toward jazz with Vijay Iyer at the helm, and went even further afield a couple of years before that with Mark Morris, the choreographer who brought along his dance ensemble and even programmed a late-night karaoke session.
This year's fest, which runs Thursday-Sunday, June 7-10, mostly in and around the Libbey Bowl in downtown Ojai, is no less adventurous, though the roaming remains largely in the modern classical realm, with Moldovan-Austrian violinist Patricia Kopatchinskaja serving as music director in her first major exposure in the area. The focus, as it has been for much of Ojai's seven-decade history, is on recent music, with Kopatchinskaja's adventurous programming featuring mostly works from the 20th century and newer.
Among the highlights are a pair of themed offerings, semi-staged concerts conceived and directed by Kopatchinskaja with different focuses. The first, Bye Bye Beethoven, set for opening night, is described by Kopatchinskaja as a commentary on "the irrelevance of the classic concert routine for our present life." The classical musical mash-up features works by Charles Ives, John Cage, Joseph Haydn, György Kurtág, Johann Sebastian Bach, and Beethoven Violin Concerto in D Major that Kopatchinskajahe recorded back in 2009 to a rousing reception. The collaboration with the Ojai-debuting Mahler Chamber Orchestra finds the musicians also plying unconventional roles employing sound, space, and imagery. Dies Irae, on the other hand, serves as the violinist's provocative commentary on the consequences of global warming, which has its American premiere on Saturday night and features pieces by Heinrich Ignaz Franz Biber, George Crumb, Michael Hersch, Giacinto Scelsi, and Galina Ustvolskaya's title work for eight double basses, piano, and wooden box.
Also of note are the JACK Quartet's Ojai debut (they've already been at the Music Academy), whose multiple offerings include John Luther Adams's "everything that rises", a work commissioned by the quartet, that will performed in a free community concert in tribute to the Ojai Valley following December's devastating Thomas Fire, plus Kopatchinskaja's collaboration with her parents, Viktor and Emilia Kopatchinsky, in an exploration of Moldavian folk music. The full schedule, artist bios, details, and tickets are available online at www.OjaiFestival.org or call 646-2053.
Classical Corner
Santa Barbara Master Chorale sings Petite Messe Solennelle (Little Solemn Mass) by Gioachino Rossini, to mark the 150th anniversary of the composer's death at its spring concert at 3 pm Sunday, June 10, at First United Methodist Church. This version of the Mass – written toward the end of Rossini's life when he was no longer composing operas – features two soloists, choir, and three keyboardists, with soprano Christine Hollinger and alto Elena White join pianists Erin Bonski-Evans, Renee Hamaty, and Heather Levin in the key roles. Conductor and chorale artistic director Steven R. Hodson is past president of the Western Division of the American Choral Directors Association (ACDA) and a professor of music at Westmont College. Despite "solemn" in the title, much of the work is full of the joy and exuberance expressed in many of Rossini's popular operas. Tickets cost $22 general, $20 seniors and disabled, $12 college students, and free for children in K-12. Call (805) 682-6516 or visit www.sbmasterchorale.org.
Part II of the Santa Barbara Music Club's annual Scholarship Winners Showcase takes place at 3 pm this Saturday, June 9, at First United Methodist Church, where the young classical musicians – who range in age from 9-year-old pianist Noelle Hadsall to 21-year-old flutist Sofia Prykhitko – will perform excerpts from sonatas, concertos, and other works. The showcase closes out the club's series of bi-monthly free concerts. Full line-up and more details online at www.sbmusicclub.org.
Book it!
Marking its first decade, the Carpinteria Writers Group will host its first-ever Festival of Books at the Carp Women's Club, 1059 Vallecito Road, this Sunday, June 10. The festival is open to the public with no entrance fee, and there will be complimentary refreshments available. Local authors will display and sign copies of their books for sale, as well as talk with visitors. Categories available include children's books, young adult fiction, mysteries, memoirs, travel tomes, and self-help books. The Carpinteria Writers Group meets 10 am to noon Tuesdays at the Carpinteria Library, where members read passages of their work and other members provide feedback. Email carpbookfest@gmail.com.
Journal Just around the Corner
The Santa Barbara Literary Journal, which was inspired by and birthed from the 2017 Santa Barbara Writers Conference, features works from conference alumni Yvette Keller, Matt Pallamary, Stuart Orenstein, Janet Rendall, Max Talley, Reina Warnert, Lisa Lamb, Sacha Wamsteker, and Silver Webb – who is also the editor – along with work from other writers, poets, artists, and lyricists. The publication has its official premier appropriately at Karpeles Manuscript Library Museum with an afternoon of readings and songs from the first biannual volume, titled "Andromeda", on Saturday, June 9, just eight days before this year's conference gets underway. The free event takes place 1 to 3:30 pm, with a second reading hosted by the Santa Barbara Writer's Night from 7 to 9 pm on Tuesday, June 12, at Oreana Winery in the Funk Zone. You can also pick up a copy on Amazon.com.
Not Kidding
Alyssa Antoci is doing her part to combat bullying. The 15-year-old Santa Ynez resident penned The Purple Marble (Break the Circle of Bullying) about Max, a boy who spends his summer making fun and fancy pizzas only to find himself being treated unfairly for being overweight. Antoci wrote the story when she was just 8 years old, with a mission to help kids gain tools to break the cycle of bullying through reading and discussion. Antoci, who is co-founder of Just a Little Cloth, a children's charity that collects dresses and donates them to homeless and underprivileged girls, will discuss and sign the book at Chaucer's at 2 pm Sunday, June 10…. Kids are also the focus of Santa Barbara writer Stacy Pulice's new work, Listen to the Children: How Empowering Students Can Fix Our Broken Schools, which posits that today's educational system is broken, an archaic process based on a colonization that is both dulling and ineffective. Pulice, who says that the solution is to tap into the creative souls of children, seeing them as free thinkers from a position of love and secure relationship, signs copies at Chaucer's at 7 pm Tuesday, June 12.
Literary Locals
Montecito Journal Magazine managing editor Leanne R. Wood's The Power of Things Unseen: Tales of Choosing Crazy over Normal encourages people to listen to their inner voices to find the guidance to overcome fears that might otherwise hold them back. She talks about the work and signs copies at Float Luxury Spa, 18 E. Canon Perdido St., from 6 to 8 pm on Thursday, June 7…. Santa Barbara native and naturalist Nino Maiani, who began his quest for spiritual meaning after graduating from UCSB with a major in experimental psychology, just published The Seven Secrets of Turning Your Dreams into Treasure. The book draws on mythology to discuss the journey one takes to recover an invaluable part of one's life. Maiani signs copies at Paradise Found at 5 pm, Thursday, June 7…. Dr. Michael Fischer, who is co-medical director of acute dialysis at Cottage Hospital, offers stories, tips, and tricks for surviving kidney disease drawn from his career, in his new book at Tecolote in the upper village in Montecito at 3 pm, Saturday, June 9.
You might also be interested in...