Confessions of a Wine Salesman
I became intrigued and enamored with fine wine once upon a time, long ago in my early 20s when a friend brought a bottle of Montevina White Cabernet Sauvignon to our table. I liked it so much better with our lunch than my usual soda pop or milk. I envisioned wine to be a giant ball of barbed wire that to understand needed to be uncoiled slowly and with steady care.
Forty-plus years later, my wine wisdom has certainly taken root and flourished. With focused attention of my eyes, nose, and taste buds, thousands of different wine bottles are explored each year. I have had the pleasure to taste, travel, and share vinous vistas in vineyards and wineries around the world. Dining in far off destinations hosted by wineries, and diving into tasting days at Vin Italy and other wine festivals brings so many stories.
Los Amigos del Vino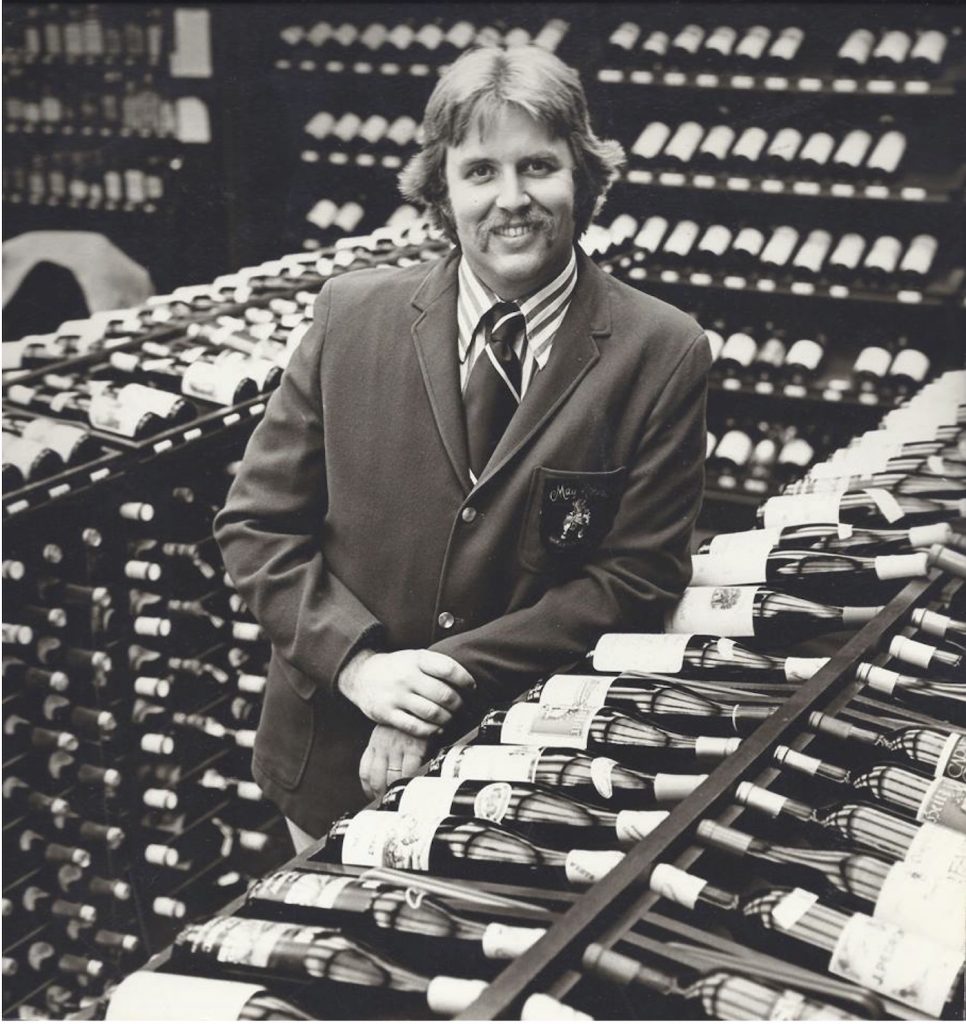 In my role as a Fine Wine Specialist with the Henry Wine Group I focus on selling the wines and spirits of the suppliers I represent to restaurants and wine shops of Santa Barbara. For more than 25 years, this career has been rich with joy and hard work. I join friends in monthly group wine tastings in pursuit of camaraderie and wine knowledge. Our Los Amigos del Vino group has been meeting monthly for 30-plus years.
The mystery and magic of this magnificent world of wine never ceases to amaze me. New indigenous varietals, unheard-of wine labels, wine magazines, websites, wine reviews: so much to take in daily to keep abreast of the momentum of this burgeoning business.
In the 1970s, I started out visiting a few wine shops in town: the early Wine Cask owned by Ralph auf der Heide, Brinks in La Cumbre Plaza with Jim Fiolek, and May-Fare Wine & Spirits on Coast Village Road run by Chris Whitcraft. They would steer me to a few bottles that I had to buy, bring home, and study on my kitchen table. I examined the shape of the bottles, the wine labels, the color of the foils, design of the corks, and especially the luscious liquid inside the bottle.
Soon, my cellar grew from a handful of bottles to several cases. I would line up all the bottles and pick my favorite label. I would soak the labels off the bottles, let them dry, and iron them flat, and then catalog them in shoeboxes by varietal or wine region of origin. I attended Wednesday and Friday afternoon wine tastings put on by Chris Whitcraft in the basement of the original May-Fare, surrounded by cases of wine stacked five-high lining the walls. Each time, I learned more about wine and met new friends who shared the same passion and interest.
I bought three wine books: Napa Valley, Sonoma Valley, and Central Coast, all written by Richard Paul Hinkle and illustrated by Sebastian Titus. I wrote to each winery to get on their mailing list, introduced myself, and let them know that I would be visiting their area during a week's vacation. Once settled in a motel, I would make phone calls with a pocketful of dimes and set up tasting appointments.
There weren't any tasting rooms back in the 1970s. I tasted one-on-one with the winemakers meeting such illustrious wine personalities as Robert Mondavi, Chuck Wagner Sr., Joel Peterson, Paul Draper, Andre Tchelicheff, Josh Jensen, Richard Sanford, Eleanor McCrea, Joe Heitz, Randall Grahm, Zelma Long, Dick Graff, and hundreds of others. My car's trunk would be loaded with cases of purchased wines direct from the wineries. While in the Bay Area, I would check out the best wine shops: Trumpetvine, Singer & Foy, Pacific Wine Co., Draper & Esquin, and Alamo Wine & Spirits whose proprietor, Steve Eliot, was always so fun to talk with.
My vintage journey continues in the next installment of Wine Country Notes.
You might also be interested in...