Give Peace (Sticks) a Chance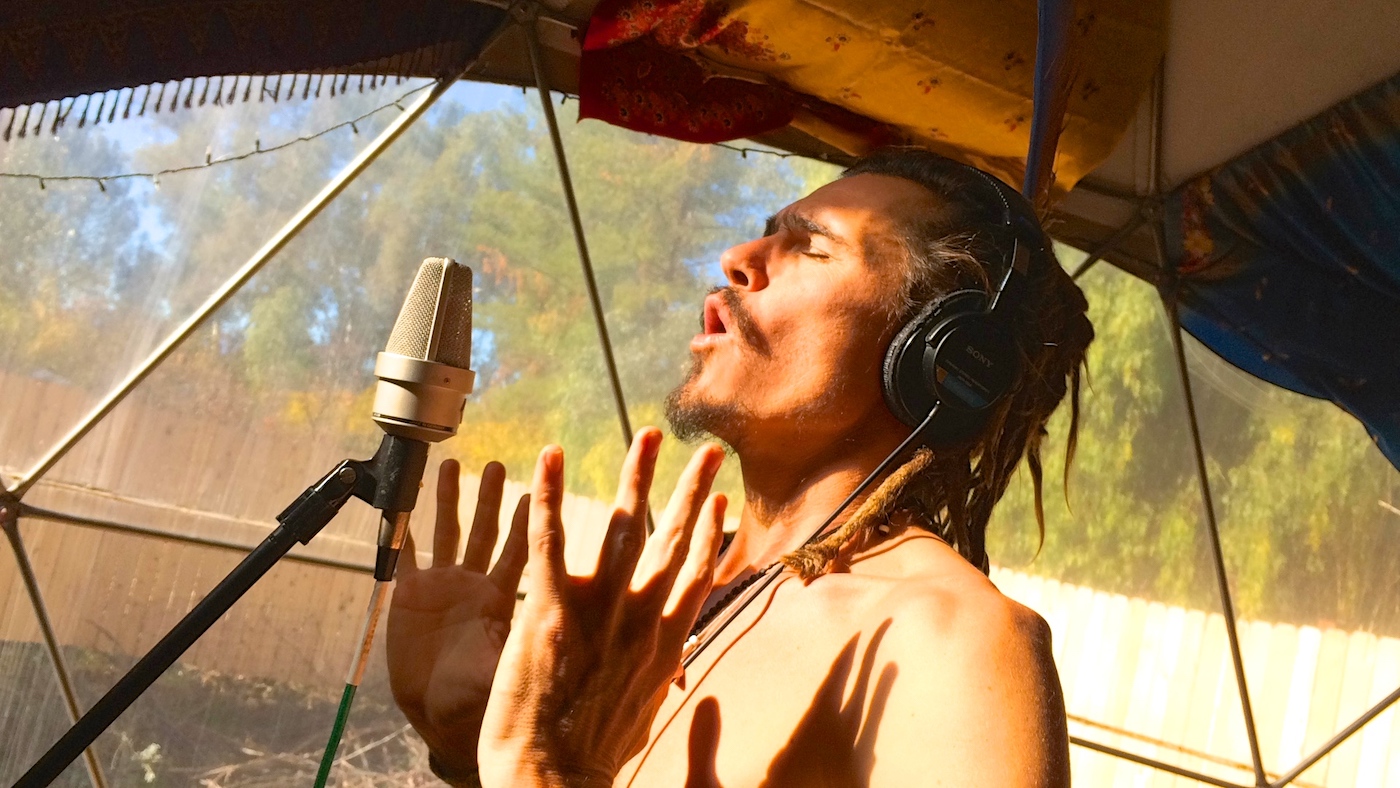 Peace Sticks seems like a super-simple concept – participants toss a pair of sticks back and forth with a partner. And that's exactly how it started with Shane and Evan Rilling, the Ojai-based brothers who created the practice.
"It came to us on a hike more than a decade ago, when we picked up some sticks and stated throwing them to each other," Shane Rilling recalled last weekend. "We had a profound experience of connection and found ourselves going into a zone – the flow state, a moving meditation of being highly present, and witnessing our bodies functioning at what felt like a super-natural level."
Rilling, who graduated with an honors major in biology and minors in Spanish, philosophy, and psychology, as well as in deep interest in surfing and indigenous cultures, brought Peace Sticks to the Lucidity Festival half a dozen years ago, which is where I first encountered the practice just minutes after arriving on site. It was astonishing how just tossing sticks with changing partners – none of whom I'd met before, created an instant connection that continued to deepen as the practice progressed to more complicated patterns of changing hands while simultaneously passing the pair of painting sticks.
The explanation is fairly straightforward, Rilling said.
"It's all about collaboration. It only works if both people are choosing to help each other," he explained. "That's a huge shift, because most sports and games are about competition. When you go into the field of collaboration, there's a much higher potential of what's possible."
What also helps is that there's no judgment. Or at least no space for self-critical thinking to settle in and take over.
"There's no space for fear about how you're doing," Rilling said. "It's just pure presence, because you're playing continuously. Once you start, you just keep throwing the sticks even if they fall. So, eventually the mind will let go, because you're not stopping to evaluate."
What happens is akin to how animals operate in nature. "They move with pure perfection," he said. "It's not a mental process. Life just knows how to do it. When a cheetah chases an antelope, it's 100-percent natural instinct. Human beings have that ability, but we're out of nature so much that we don't often go into that state often. But once you wake that up by playing for a while – and you're literally holding a part of tree in your hand – that native intelligent force starts moving your body for you in the best way possible."
Indeed, that was what I experienced back at Lucidity, as my partners and I kept exchanging the sticks almost gracefully through gradually more complicated movements, creating what felt like an intuitive dance in tossing and catching odd-shaped sticks that would be hard to explain with the mind.
"It's a phenomenon that just happens," Rilling said. "I call it the activation of our wild life force energy."
As Peace Sticks grew, Shane began teaching and developing in incorporating other methodologies to awaken life force energy and connect human beings using the sacred crafted sticks – which he acquires from indigenous cultures – to employ awareness and empathy to create connections with harmony and balance in more structured environments. He's brought Peace Sticks as a team-building course for top executives of Fortune 500 corporations as well as leaders in environmental and sustainable business, and taught the practice in schools and retreats, and even as group therapy at a renowned rehabilitation/recovery center.
This weekend, he's bringing the practice to a public workshop in Santa Barbara for the first time since appearing at the Sol Food Festival several years ago. Peace Sticks Life Force Workshop takes place 6:30 to 8 pm at DiviniTree Santa Barbara, the yoga studio where Shane Reeling and friends offer the "moving meditation" with the Peace Sticks as a tool to experience the "Chi Flow State". The 90-minute session will be immediately followed by his Shining Lion Cacao ceremony, Rilling's take on the sacred practice drawn from indigenous cultures from around the world.
"I've been of many ceremonies from lots of different cultures, with many ritual offerings," he said. "Cacao is great because it's the legal and very accessible one. It's not as committed as, say, peyote. But at the same time, it's an opportunity to let a healing medicine from the earth touch our hearts and activate through us, connecting the group in harmony, and share prayers and songs. We're basically giving our love back to each other and to the earth, practicing our sacred reciprocity."
Rilling will perform his own music as part of the ceremony, with he and his friends employing didgeridoo, Native American flutes and drums in mostly original song. Much will be drawn from his Shining Lion's latest album, Love Vibration (listen to tracks online at www.shininglionmusic.com.) "It takes people into a good connection to nature and each other, focusing on the planet we are creating together," he said. "It's very positive music."
Admission is $20 for each event, or $36 for both. DiviniTree is located at 25 E De La Guerra St. Call 897-3354 or visit http://sb.divinitree.com. Visit www.peacesticks.com for more information on Rilling or the practice.
Dance It out
There's certainly no dearth of opportunities for ecstatic dancing in Santa Barbara, what with the popular weekly Dance Tribe gatherings at the Towbes Center for Dance every Sunday from 11 am to 1 pm, and a separate smaller experience every Wednesday evening called Rhythms of Life, where the frequent Tribe DJ and coordinator Marcelino Poppa Sepulveda creates a transcendental journey that blends devotional and deep beats at the Santa Barbara Dance Center.
Now, there's another entry on the scene, as Yoga Soup has begun offering First Fridays Ecstatic Dances. The "barefoot, substance-free, no talking, live DJ get-down dance party" takes place 8 to 9:30 pm on the first Friday of the month, with the next session taking place on June 1. The 90-minute jam follows a one-hour Contact Improv warm-up that's included in the $15 admission. There's a Tribe connection here too, as that time period used to be occupied by an additional monthly Dance Tribe offering, but that went by the wayside. Now, the Soup, which is a significantly smaller (and much more intimate) space, is counting on some support for the event that will loosely follow the typical ecstatic dance "wave," as slow and mellow music builds to a chaotic intensity before returning to stillness at the end. Enjoy a meditative inward movement journey or dance and connect with your neighbors. Plus, it's a charity fundraiser, as all proceeds will he donated to local nonprofits to support the community.
More at the Soup
Santa Barbara-based sound journey leader Shane Thunder brings his 432hz Sound Healing offering back to Yoga Soup for a 7:30 to 9 pm session on Friday, June 1… Alexis Slutzky hosts a Young Adults Council Circle at the downtown studio at 7 pm on Wednesday, June 5, when those 18-28 are invited to share and listen from the heart about what is moving inside during our times. What are the dreams you are carrying for yourself and the world? The intention is for this to be as inclusive an event as possible, and poet and musicians are invited to bring your craft to share. Admission by $10 donation at the door. Slutzky also leads another of her periodic Community Grief Rituals at Arroyo Hondo Preserve next weekend. (See more details in next week's column.)
Ongoing Opportunities
Santa Barbara Mantra Lounge Kirtan gathers to chant meditative/devotional songs in call-and-response style in the small chapel at Unity of Santa Barbara on Saturday, June 2. All are welcome regardless of beliefs, experience, or quality of voice. Partaking of plant-based refreshments follows the 7 pm kirtan. Details at www.facebook.com/MantraLoungeKirtanSantaBarbara.
Sunburst's Sunday Meditation Gatherings continue weekly at 10:30 am (Gates open at 9:30) at the Sanctuary located at 7200 S. Highway 1, Lompoc. Enjoy live spirit-filled music, an insightful talk, and guided and quiet meditations followed by a camaraderie-building gathering over a delicious vegetarian brunch. A special children's program is offered for ages 4+. Upcoming themes include Practicing Honesty & Truthfulness (June 3), Stilling the Mind (June 10), God as Divine Father (June 17), The Science of Kriya Yoga (June 24), and Change Your Thoughts, Change Your Life (July 1). Free (Donations accepted). Info at 736-6528 or http://sunburst.org.
You might also be interested in...