Chalk It up to Time: I Madonnari at the Mission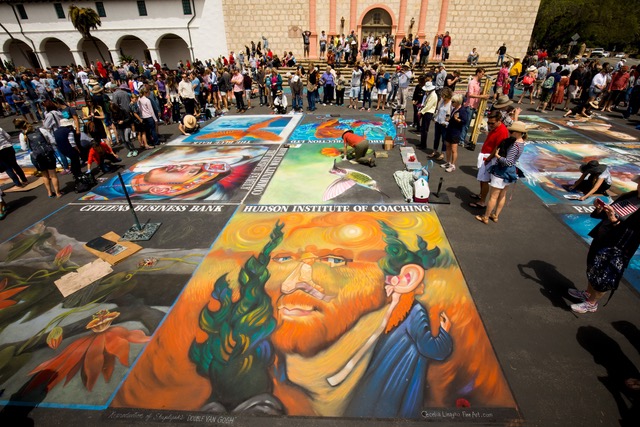 While great works of art have survived centuries and millenniums, with each new generation having the chance to appreciate what came before, there's also something magical about embracing the ephemeral. Perhaps it's in the parallel to our own lives, which – though they span many decades on average – are only a brief instant in the greater scope of time. Santa Barbara's famed Summer Solstice Parade is really an exercise in ephemeral performance art, as no matter how many months and man hours go into creating the imaginative floats, they all end up in recycling bins or reused for future projects just a few hours after the procession ends.
The same is true for I Madonnari, the street painting festival that has taken over the plaza in front of the Santa Barbara Mission every Memorial Day weekend since 1987. Each year, about 200 artists create 140 street paintings hand-drawn with chalk pastels on the blacktop while the public watches. The elaborate compositions with remarkably vibrant colors eventually get washed away by the weather, either a late spring storm or just by wind, sun, and foot steps.
"It's one of the aspects that I love about the festival," said Kathy Koury, the executive director of Children's Creative Project, who founded the festival and the concept of sponsored street painting art as a fundraiser for the nonprofit arts education program of the Santa Barbara County Education Office after witnessing first-hand the street painting competition in Grazie di Curtatone, Italy. I Madonarri, named for the 16th-century practice of reproducing the image of the Madonna in the chalk drawings, was the first of its kind in North America, though the idea has since spread far and wide and now includes similar events in more than 150 cities throughout the Western Hemisphere.
"It demonstrates and connects to what we do at the project," said Koury. "It's about the joy of creating, not about the finished product. That's what art is, and it's also what is so fascinating to the public. They're exposed to the whole idea of putting a lot of effort into doing this, even though it's just going to get washed away."
That's also part of the appeal for many of the artists, including Jennifer LeMay, a graphics artist who has been painting with the chalk pastels at I Madonnari since the festival's third year, when she was still an art student at UCSB. "I'm totally cool with the idea that people are walking all over them the day after we finish," she said. "With something so large, where would you put it anyway? I love the idea of just being able to go big and just walk away from it afterward. But it is great that they don't wash it away like some festivals do, so you can linger and come and see it after the weekend."
Most folks, of course, take a look during the three days when the painting and festival itself take place, over the Saturday to Monday of Memorial Day Weekend. Half the fun is watching the artists create their works, either from original drawings or photographs, or reproductions of existing works of art. Nearly all of the artists enjoy interacting with the onlookers, answering questions about the process, and explaining how it all works.
"That's actually how I learned to get better myself," explained Ann Hefferman, a 20-year I Madonarri veteran who last year joined several other experienced chalk artists on a reciprocal visit to Santa Barbara sister city Puerto Vallarta to create street paintings with local artists and children. "So, I especially love it when little ones come and plunk down by my square and just watch. What we're doing is really performance art. There's a responsibility to interact with people."
The bruised knees, aching joints, sunburned necks, and filthy fingers are all just part of the fun, a badge of honor signifying membership in the close-knit community of artists who create the drawings in their assigned rectangles. The individual artists decide what to draw, with simple guidelines including no nudity, advertising, logos, or anything that might be offensive, said Hefferman, who this year has settled on painting garden eels, a breed that lives in the Indian Ocean, boasts stripes or polka dots, sprouts out of the sand, and goes with the current, she said.
The spaces range in size from 4×6 feet to 12×12 feet, with sponsors picking up the $150 to $700 fee. The festival has sold out its entire allotment of squares ever since year one, Koury said.
Children are also encouraged to take matters into their own hands, via painting a 2×2-foot square of their own; 600 are available for $12 each including chalk, which form a 40×60-feet patchwork of paintings when complete. Other activities include nonstop live music on a stage all three days, plus an Italian market featuring authentic cuisine.
And then, when the music stops, food is all eaten, and the paintings finished, the weather takes over, eventually fading the colorful drawings back to basic blacktop on the Mission's plaza.
"When I first stared, I had the idea that everything was so precious," Hefferman admitted. "But as a veteran, I know the elements rule. There will be busloads of tourists walking all over our paintings. But I'm fine with it. I know I created it, so I know I can do it again if I want to."
For hours, band line-up and more information, visit www.imadonnarifestival.com.
You might also be interested in...