Blowing into Town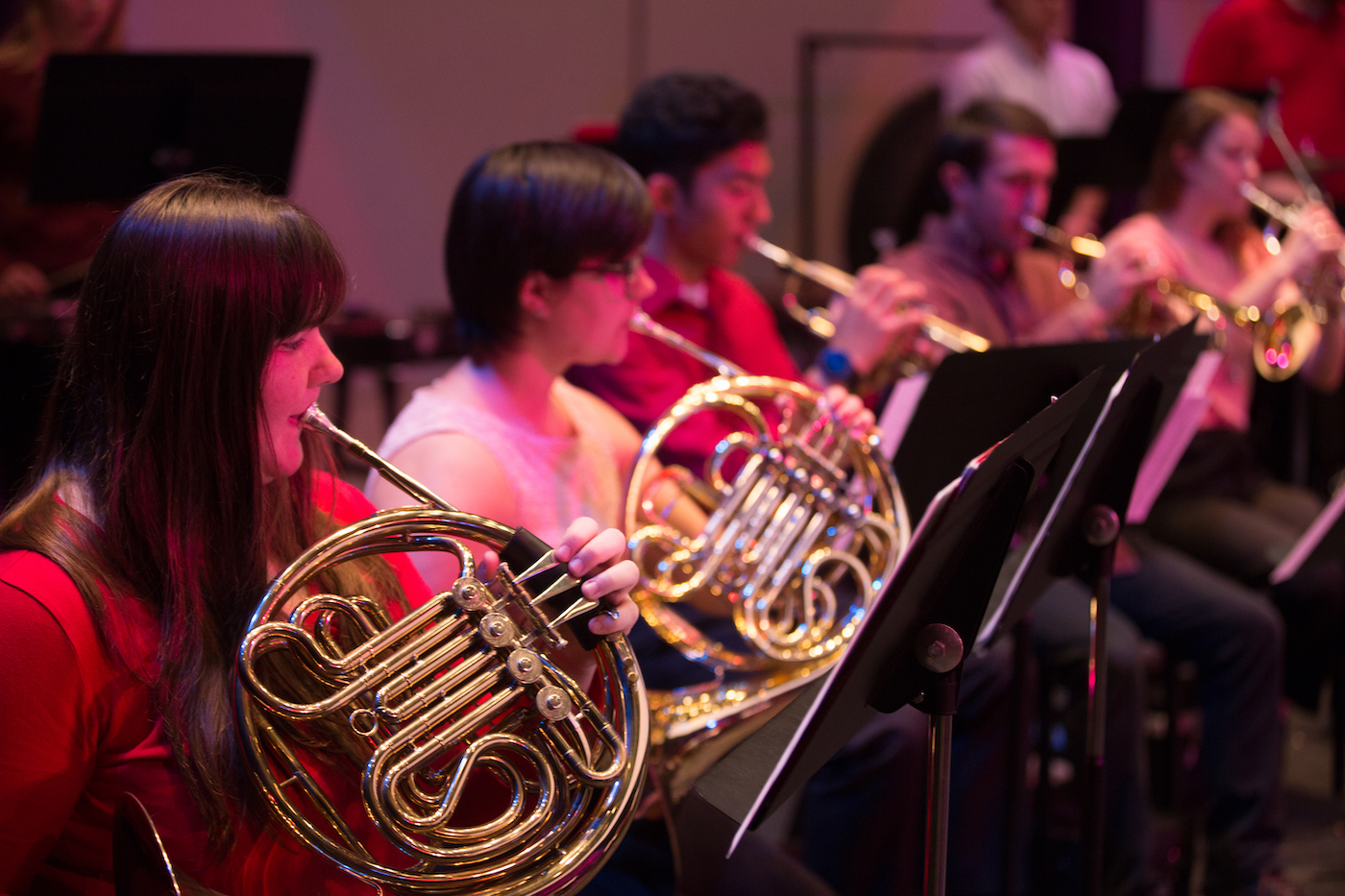 The UCSB Department of Music annual Spring 2018 Concert Series – in which nearly all of the student ensembles perform for the public from Sunday, May 27, to Friday, June 8, to close out the academic year – is perhaps putting its best foot forward with the opening offering this weekend. The University Wind Ensemble is celebrating its 25th year, and the quarter-century milestone is bringing some big names and past participants back to the seaside campus.
Paul Bambach, a senior lecturer in clarinet and director of the ensemble who founded the group back in 1993 after spending his first couple of years in town coaching woodwind and brass students as a volunteer, has invited all of wind ensemble's alumni to return as guest performers sitting in with the current members for the second half of Sunday afternoon's concert at Lotte Lehmann Concert Hall.
One in particular also gets the singular honor of conducting the "Star Spangled Banner" to kick off the music: Air Force 2d lieutenant Brian M. O'Donnell, who currently serves as a flight commander in the academy band in Colorado Spring. "He will be wearing his military uniform to conduct the national anthem," Bambach said. "Having a person like that as an alumni is a real thrill for all of us."
Opening concerts with the anthem is a longstanding tradition for the ensemble, Bambach explained. "Back even before 9/11, I had some ROTC members in the ensemble, and they asked me if we could play the anthem in every concert as long as service members are in harm's way," he said. "So, we've been doing that at every concert we play. I'm aware there are people who get upset about that and refuse to stand. I don't argue with them. I don't have an opinion on that behavior. But personally to me, it's an honor to be able to honor the people who put their lives on the line so we can do what we do."
What they do is play exciting pieces of music either composed or arranged for wind ensembles, including the mid-size work that follows The Star Spangled Banner: John Frantzen's symphony for band, "Catalyst". "The piece has to do with an individual wanting to make a change in their life," Bambach said. "The movements reflect that in the titles: "momentum", which is what it takes to get started; "euphoria", which arises in knowing you are committed; "last twilight", which reflects the battle within of holding on to what's familiar while desiring the change; and finally, "catalyst", when there's no turning back."
As an added treat, the composer himself will be on hand to introduce the work after earlier attending rehearsals and teaching a composition class for students in College of Creative Studies, Bambach said. It's an echoing of Frantzen's first appearance in town, when the Wind Ensemble's performed the Los Angeles-based composer's work "Euphoria" for its 20th anniversary.
"He had seen that we were performing the piece and asked if he could come up for the performance," Bambach recalled. "He came to rehearsals and really helped the kids understand the piece, and then he stayed after the end, and spoke to everyone at the reception. I was very excited about the way he presented himself and how he was with the students, so kind and gentle and warm, just the kind of person to serve as a role model. So, when we were doing another one, I wanted to bring him again."
The second half of the concert is devoted to patriotic works celebrating the Memorial Day holiday, including Morton Gould's American Salute, Charles Ives's Variations on America, Carmen Dragon's arrangement of Samuel Ward's America the Beautiful, and John Phillip Sousa's Stars and Stripes Forever. Among the expected 20 to 25 alumni joining the ensemble's approximately 35 to 40 members are three who were in Bambach's first group 25 years ago, including bassoonist Derek Katz, a current UCSB faculty member and musicologist. "I'm not really sure how many there will be, because last time many more came than I was expecting, although some of them just wanted to be in the audience."
Also, four of his former teaching assistants will be performing, while his current graduate assistant Cynthia Vong will conduct Eric Whitacre's Lux Aurumque in the middle of the patriotic works as a tribute to victims and survivors of the 2014 Isla Vista massacre. "It's a beautiful band arrangement of the choral piece that means light and gold," Bambach noted. "People hear the music and see imagery, thinking up outer space, the beyond. It's overwhelming. My goosebumps get goosebumps. We're playing it not just for the victims but also the survivors to see the beauty in life that they can continue experiencing."
Admission to the University Wind Ensemble's concert at 3 pm on Sunday is free, but reservations are strongly recommended. Also performing in the music department's Spring 2018 Concert Series are the Ensemble for Contemporary Music (ECM), Chamber Choir and Women's Chorus, Middle East Ensemble, Gamelan Ensemble (with the community gamelan ensemble Gamelan Sinar Surya and a Tarling ensemble), Chamber Orchestra and Chamber Players, Jazz Ensemble (featuring special guest Jeff Babko of the Jimmy Kimmel Live house band on piano/keyboards), Music of India Ensemble, and Gospel Choir. Admission ranges from free to $15. For dates, locations, program details, and tickets, visit www.music.ucsb.edu or call 893-7194.
You might also be interested in...