A Nack for Christmas Critters
Brad Nack's 100% Reindeer Art Show has been an annual tradition in town for more than two decades. The native second-generation Santa Barbara painter never expected a one-off show of antlered-animal art to be such a hit, but the tiny, elegantly framed oil paintings featuring wittily and whimsically rendered creatures, have virtually sold out ever since 1997. The new herd, more than 80 strong, opens as usual at Restaurant Roy, 7 West Carrillo Street, at 6 pm next Thursday, November 29, and if you want to take one of the crazy caribou critters back to your home on the range, get there before the doors open, as the hooved animals find homes on a first-come, first-served basis.
The good news again this year is that the reindeers paintings – which are priced from $150 to $350, with most going for $175 to $250 – will stay up in the special exhibit room at Roy until midnight and then, if the new owners don't take them home right away, hang on the restaurant's walls through New Year's Eve, with the missing slots filled by earlier unsold works and treasured reindeer renderings from Nack's personal collection amassed over the years.
The painter dished on the deer earlier this week.
Q. What's new and exciting in the world of 100% reindeer paintings?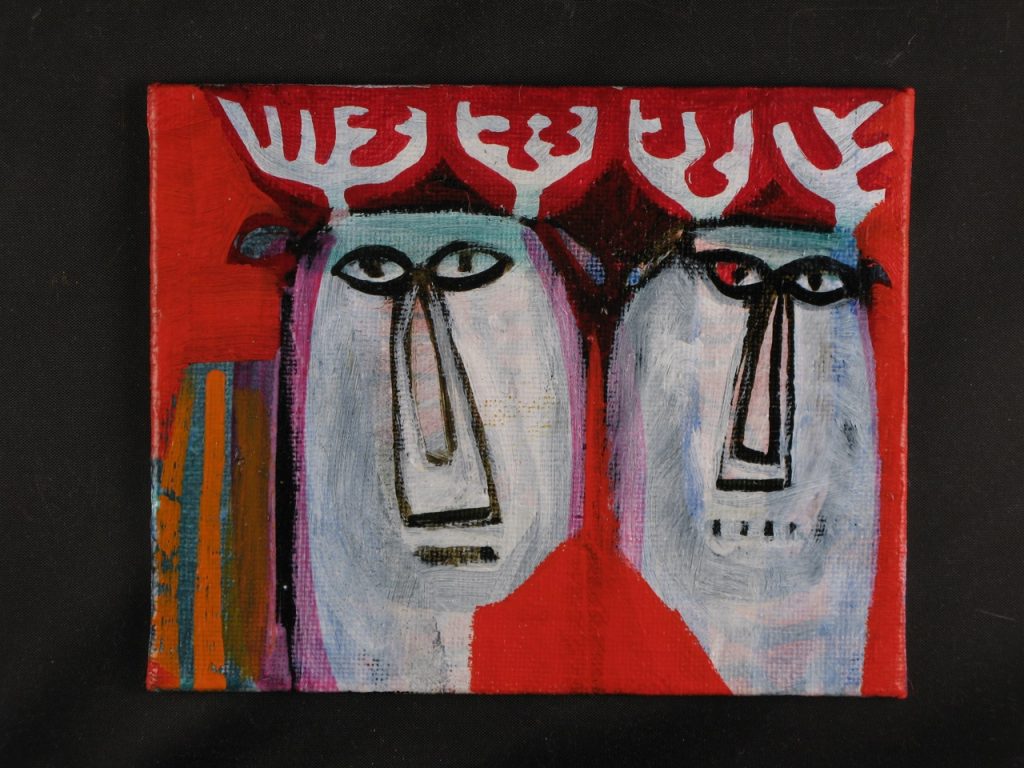 A. Last year was the 20th anniversary, and I took it very seriously and worked on them for a long time. But then there was the [Thomas] fire, which really changed the mood, even though it wasn't so bad on the night of the actual opening. But this year, it's been a lot more lighthearted for me. So, the reindeer are too. They were really fun to paint. Everything fell into place and they came out great.
You've said in the past that the reindeers' moods represent the inverse of your own emotions over the year as you work on them: when you're happy, they're more angry or sad, and vice versa. That still true?
I think this is more of a medium year. I haven't been so happy that the reindeer look forlorn and gross, but they're also not giddy. There's been some attempt to have them be a little happier than usual, but of course, some of them are still at least a little grumpy.
How are you not tired of doing these after 21 years? Do you still have something new to say? Are they just a part of you? Or is it something else?
I grappled with that in year four, when I was pretty tired of it, but the gallery where I started showing them really wanted me to keep going. So, I agreed to do five years total. But when I put that boundary around it, I realized there was so much to discover within that structure. There's a lot of possibilities within the idea of a small painting of a certain subject in a series. I discovered an amazing depth of variety in what I could do. Having the container opened it up again, and now it's 17 years later and I still love it.
You usually have one or two that you price a lot higher because you hope they don't sell. What the story with this herd?
Oh, I have a lot of them I really like, and three that I love. One has this weird look, and another one looks exactly like my dog even though it doesn't look anything like my dog, whatever that means. I'd be very happy if they don't sell. But I do like having my art go out there into the community. I'm not just doing it for myself.
You also just opened a new pop-up gallery in the Funk Zone (219 Gray Avenue) through Christmas Eve, and you've announced that you want to do 20 openings in the next six weeks. Say what?
What happened is the owner wanted to take a break from the gallery over the holidays, so instead of just "gallery sitting" I'm renting it as a pop-up. We had a big opening last weekend for the First Friday Funk Zone Art Walk, and this week there's a Black Friday crafts show, with tables for photographs, jewelry, even kimonos. Then starting in December, right after the Reindeer Show, I have a lot of ideas, including a Merch Festival, which is really just all my friends who are or have been in bands coming together to sell T-shirts and CDs, including some that have broken up or never play. No music, just lots of hanging out and talking and trading stuff.
There's a lot of other ideas, and about 70 artists have already expressed an interest in showing. The plan is to have at least one show each of the weekends before Christmas and events during the week. But 20 is probably overly ambitious.
You might also be interested in...