Young Alum Focused on Environmentalism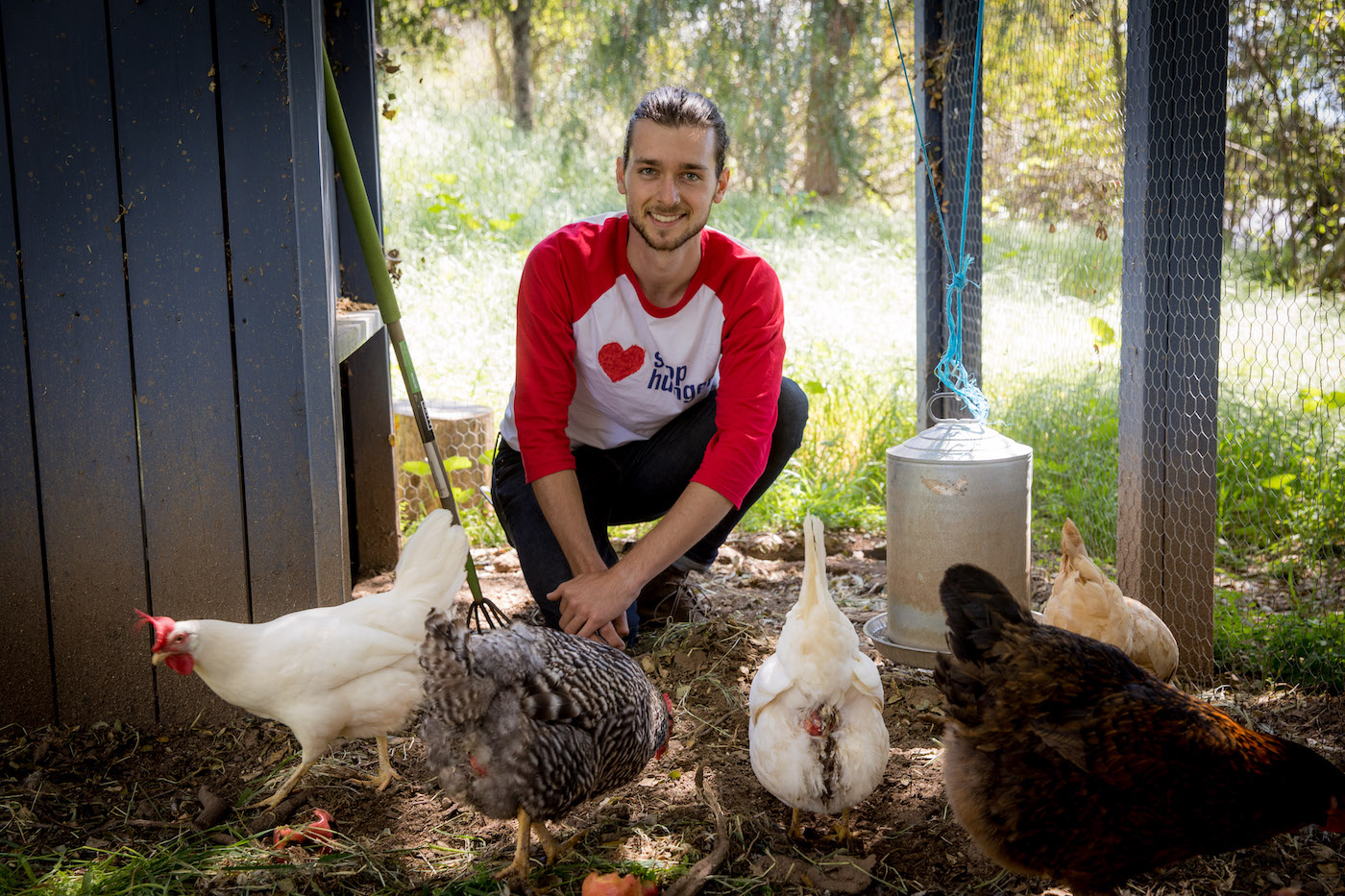 Westmont alumnus Kenny Chism '17, sustainability/marketing coordinator for Westmont dining services by Sodexo, focuses on protecting the environmental health of Westmont and the planet. "It is of paramount importance for me," he says. "I hope to reflect that in every aspect of my life, through how I eat, which stores and markets I support, how I get around, and how I engage those around me.
"I've come to see that all forms of exploitation are interwoven and environmental degradation plays one of the largest roles. When environments are destroyed by trash, pollution, ocean rise, deforestation, et cetera, the people lose the possibility of a livelihood grounded in their natural resources — in agriculture and in other precious commodities. They might lose their homes and feel forced to exploit themselves and others (sweatshops, resource wars, human trafficking, and further environmental exploitation) to support themselves and their loved ones. If I can make a difference with my life, refusing to buy into exploitative systems as much as possible, why would I choose to consider only myself? That's what Earth Day (and creation care on a whole) symbolize for me. Using my life to take a stand in love for the Lord's creation — plants, wild creatures, and humans included."
During his time as a student at Westmont, Chism sang with several choral groups, acted in theatrical productions and conducted research with Westmont professor Amanda Sparkman on Western terrestrial garter snake populations that had experienced severe drought. He was actively involved with the Westmont Garden and Sustainability Club and took part in two study-abroad programs: a creation care semester in New Zealand and a semester studying theater and literature on Westmont's England semester.
While working at the Westmont Dining Commons, Chism has been managing the Westmont Organic Vegetable Gardens, working with student clubs, including the Garden and Sustainability Club and the Student Environmental Awareness League, to put together campus events that promote sustainable living in the Westmont community. He also helps create interesting new dishes in the Dining Commons, where he is working to limit the amount of leftovers and food that is thrown out.
"Taking over the organic gardens in November has brought quite the wild ride because of the disasters and evacuations this year," he says. "The gardens definitely took a hit, since I didn't have campus access in order to water and take care of the plants. Our chickens, however, were evacuated as the fire loomed closer and were returned once the threat subsided."
As the region returns to a sense of normalcy following the Thomas Fire and Montecito mudslides, the variety of vegetables has increased in the Dining Commons and stress-free chickens are producing more eggs.
"I love serving the Westmont community while honing my skills as a gardener and as a promoter of sustainability," he says. "I intend to continue promoting sustainability wherever I go, but for now, I couldn't ask for a more amazing community to serve than that of Westmont College."
You might also be interested in...